This blog post was originally posted on October 21, 2015 and was updated on August 24, 2017
When people think of tapas in Malaga, most often the foods that come to mind are fried fish, espetos, and little else. It's logical considering that Malaga has always been a fishing city, with its prime position on the coast of the Mediterranean Sea. But one cannot "tapear" on fish alone. Here are some more equally delicious typical tapas from Malaga you can't leave without trying.
11 Tasty Typical Tapas from Malaga
1. Ajoblanco
This delicious cold almond and garlic soup is served during the summer months and often garnished with a few green grapes. The garlic flavor is not too strong and it is a light soup usually served as a tapa or a starter. It's one of the most popular vegetarian tapas in Malaga.
Make it: This homemade ajoblanco recipe couldn't be easier.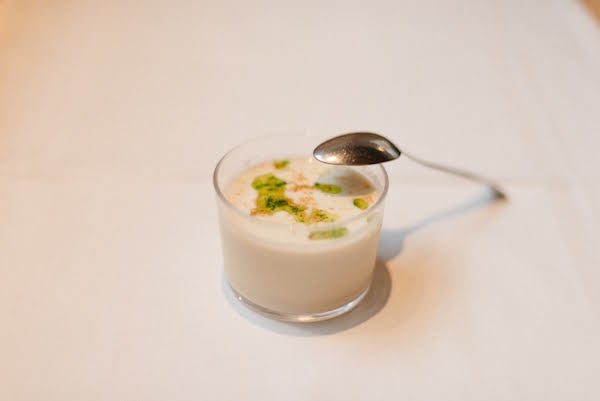 2. Boquerones en Vinagre
People from Malaga are nicknamed "boquerones" or "anchovies." Of course, these marinated white anchovies are very different from the salty ones you might put on a pizza. The boquerones en vinagre are more similar to a ceviche and are great paired with a glass of cold white wine.
Try them: These tasty little fish are easy to make at home—try this recipe.
3. Berenjenas con Miel
This is one of the typical tapas from Malaga that might seem strange, but will absolutely surprise you in the best way. Thinly sliced eggplant is fried using only a bit of flour and fresh oil, then drizzled with cane honey (miel de caña) which is very similar to molasses. The salty sweet combination is absolutely perfect, and the honey comes from the white town of Frigiliana just outside of Malaga, so it's all local!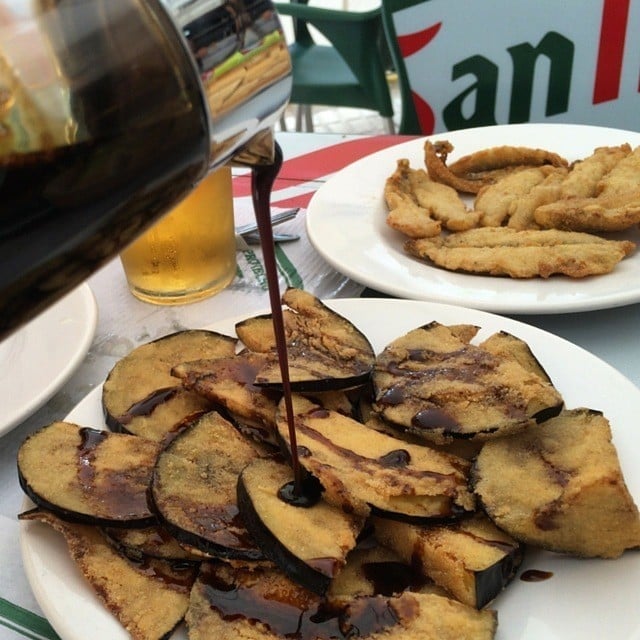 4. Marcona Almonds
Perhaps the simplest of the typical tapas in Malaga, the marcona almond is also extremely tasty. The almonds are fried and salted, and often they are sold in a little paper cone on the main streets of the historic center. There's no better snack to nibble on as you enjoy a cold drink or a glass of wine with friends!
5. Boquerones Fritos
The same white anchovies mentioned earlier are back again in another of the typical tapas from Malaga. You can eat these little fish whole—the bones are so tiny that you don't even notice. Also, they make the best tapa to enjoy by the sea!
6. Ensalada Malagueña
A potato salad with a twist, ensalada malagueña is made with potato, orange, hard boiled egg, onion, salt cod and olives. The dressing is simple—just a bit of olive oil, salt and pepper—but you wouldn't want anything else, as the flavors of the ingredients marry perfectly together. It's an unexpected treat and you're not likely to find it outside of Malaga.
Make it: Ensalada malagueña comes together in a flash.
7. Boiled Shrimp
Due to its seaside location, there are lots of tapas in Malaga involving fried fish. But locals sometimes like to order a tapa of boiled shrimp, as it makes them feel a bit healthier. The catch? You have to peel your own, so don't be surprised when the shrimp arrive with the heads still attached.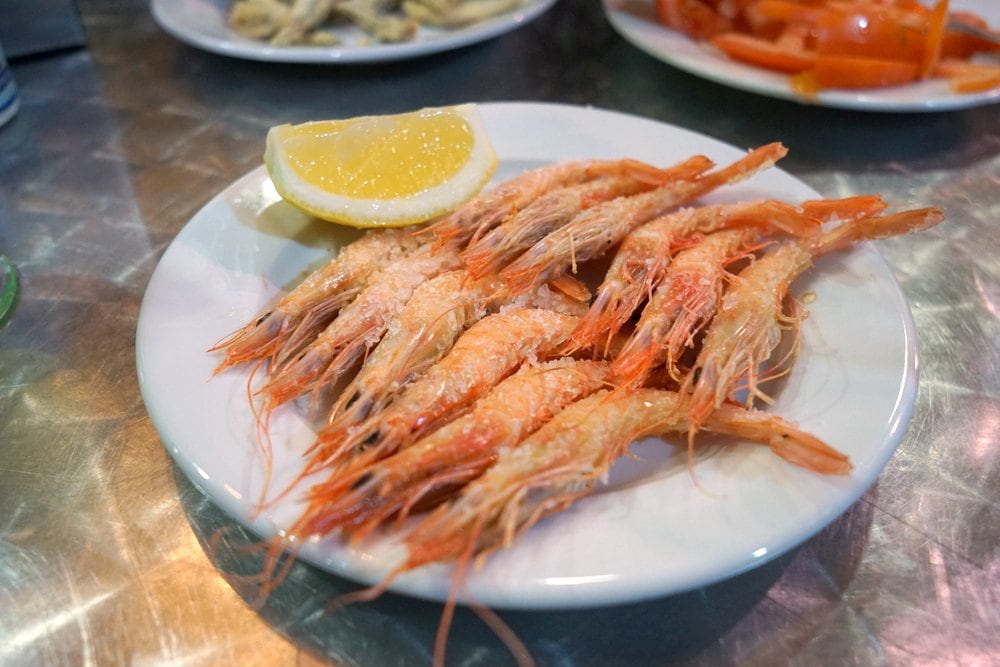 8. Porra Antequerana
Porra is a thick cold tomato soup similar to salmorejo (which is more typical in Cordoba). Porra, like salmorejo is made using bits of stale bread, tomato, olive oil, and garlic. However porra antequerana is generally topped with tuna, hard boiled egg and ham. It is delicious in the summer as a tapa or a starter.
9. Aloreña Olives
Spain has a wide variety of olives, and you might be surprised how much the taste varies across the different regions. In Malaga, the most common variety are aloreña olives. These are generally flavored with herbs and have a very distinctive taste which you'll likely learn to love, although it might be stronger than what you're used to. This is one of the most typical (and common) tapas in Malaga.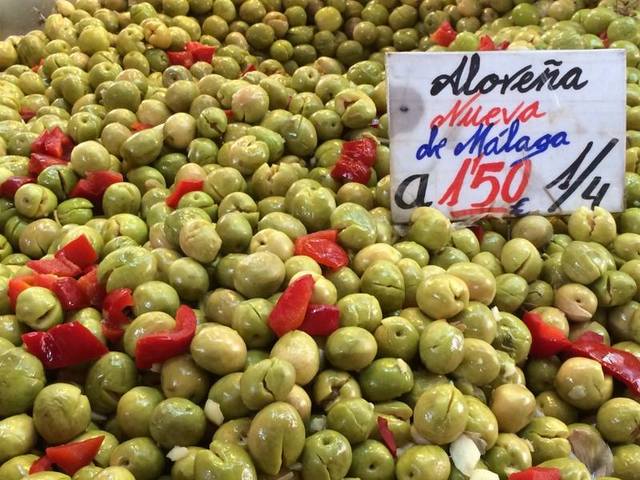 10. Salpicón de Mariscos (or Pipirrana)
Its name might be strange, but this seafood salad made with shrimp, mussels, onion, green and red pepper makes for a great choice when you're looking to try some seafood but would rather avoid something fried.
11. Cold Cuts and Cured Meats
There are various types sausage including salchicón and chorizo made right here in Malaga. You can also enjoy cured meats including Iberian ham from the area. Make sure to ask if the cold cuts you try are local, as this is another of the many delicious tapas in Malaga.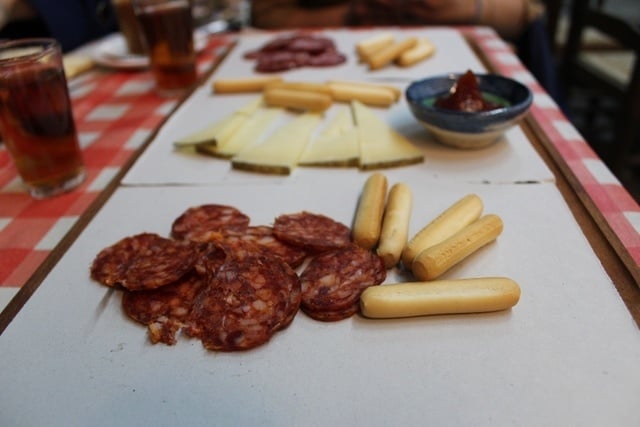 Know where to go: Try one of these fabulous historic bars in Malaga.
Pin me!