I've got good news for all you churro lovers out there!
Just in case you don't happen to live a five-minute walk from a delicious churrería, these crispy tubes of fried dough can easily be made in the comfort of your own kitchen. I know this because I recently watched my Spanish friend Sensi whip them up in a matter of minutes with ingredients that almost anyone has in their cabinets. Luckily, I took notes and came up with a great (and easy!) Spanish churros recipe for you guys!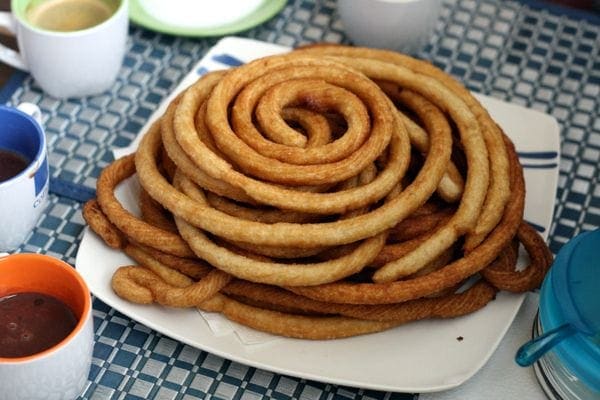 Sensi was my good friend Sarah's roommate the first year that Sarah and I lived in Seville. Sarah got lucky with Sensi, and they became so close that when we visited Seville earlier this summer we were able to stay with her.
In true Spanish style, our stay not only included a pullout sofa and some bath towels but also various home-cooked meals throughout the weekend. Spanish hospitality is alive and well down south, and Sensi provided us with the essentials: tortilla de patatas, salmorejo, and, to our delight, homemade churros.
5 Ingredient Easy Churros Recipe
I was surprised to see how easy it is to make churros– my mother-in-law had always told me it was quick and simple, but I never believed her since she never actually made them herself!
If you want to feel like you are in Spain without actually getting on a plane, this authentic Spanish churros recipe is the perfect solution.
Tip: If using the plastic bag to pipe out the churros proves too difficult, you can now buy a churro maker!
Sensi's Spanish Churros Recipe (Serves 4-6)
Homemade Churros Recipe
This delicious and authentic Spanish churros recipe is easy to make and only includes four ingredients! You have to try it!
Ingredients
1 cup + 1 tablespoon water
1 cup flour (Sensi used pastry flour but all other recipes I've seen use all-purpose)
1 teaspoon baking powder
½ teaspoon salt
¼ teaspoon cinnamon (not typical in Spanish churros but Sensi used it and it was delicious!)
Olive oil for frying (you can substitute vegetable oil if you must, but everyone in Andalusia fries with olive oil)
Instructions
Sift the flour and stir in the baking powder, salt, and cinnamon.
Bring the water to a boil, then take off of the heat and whisk in the dry ingredients.
Stir for two-three minutes until the dough is consistent and lump free (you could also beat the mixture with an electric mixer for one minute on a medium speed)
Let the dough rest and cool for about 5 minutes
Fill a churrera (churro maker) or a pastry sleeve with a star tip with the churro dough
Heat the oil to a medium heat and when it's hot enough pipe the dough in a circular motion.
Separate the spirals so that they don't stick and flip the spiral if necessary
When they are golden on the outside take out and let rest on paper towels
Repeat the process until all the churros have been made
Cut the spirals into sticks of churros and serve with hot chocolate or sprinkle with sugar
Ready to try my homemade churros recipe? Check out the picture tutorial!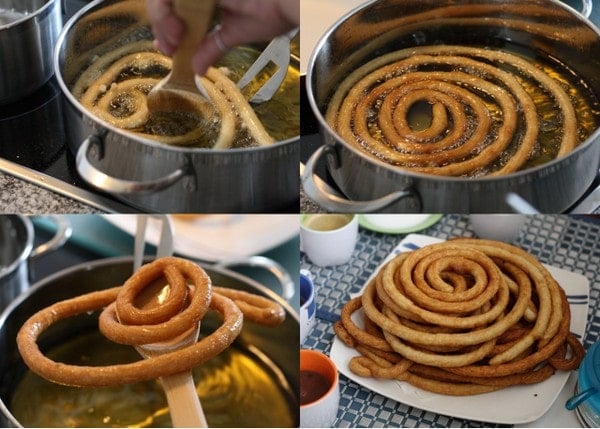 This homemade Spanish churros recipe is easy, quick and yummy. So next time you are thinking pancakes, why not try something new? Enjoy your homemade churros!
Pin me!