Spanish breakfast foods can be tricky to get the hang of, but once you know where to go and what to order, you're guaranteed the perfect start to your day!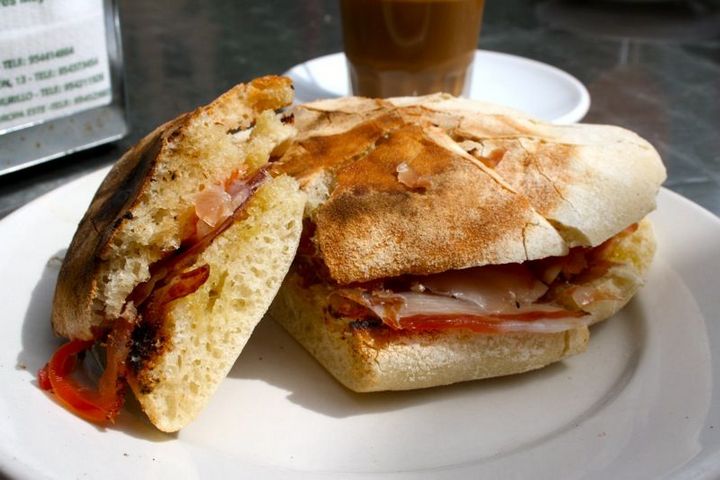 I have a confession to make: I often skip breakfast. Well, actually, I skip the "first breakfast." Let me explain...
It's not that I don't like breakfast foods, but I don't usually get hungry for a few hours after waking up. So when I do eat breakfast, it's often quite late (around 10 a.m.), which here in Spain is called "second breakfast." This works quite well since lunch is around 3 p.m.!
Spanish mealtimes can be a bit confusing at first, but once you get used to them, you're in for a variety of delicious meals throughout the day (including two breakfasts!).
So what are my favorite Spanish breakfast foods? It's hard to narrow them down, but here are my top 8 breakfasts in Spain—and where to find them!
My 8 Favorite Spanish Breakfast Foods (& Drinks)
These are the Spanish breakfast foods that I never get tired of. They can be combined in infinite ways, from a savory sandwich with freshly squeezed orange juice to a sugary pastry with café con leche. Whatever you wake up craving, there's a Spanish breakfast for you.
1. Tostada con Tomate, Aceite, y Jamón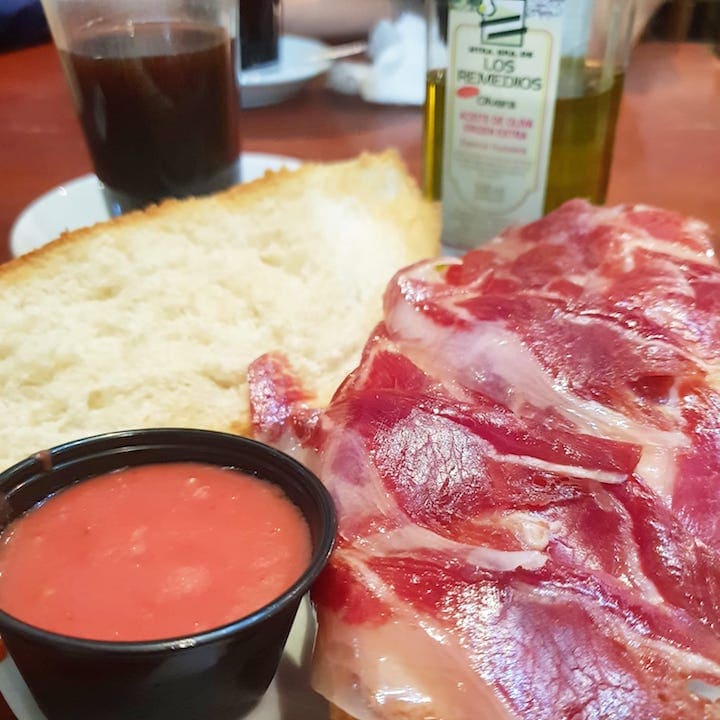 One of the most traditional Spanish breakfast foods is a tostada: a piece of toasted bread. It's always served at least two ways, topped with either butter and jam (con mantequilla y mermelada) or olive oil and tomato (con tomate y aceite).
There are other regional variations too, such as the manteca colorá (colored lard) in Andalusia—perfect if you want something that will really stick to your ribs!
The best breakfast in Spain for me (something I could eat every day!) achieves the perfect balance: toasted bread (I prefer a flatbread called a mollete), extra virgin olive oil, crushed tomato, and Iberian ham. This tostada will set you up for a successful day.
Pan con Tomate Recipe (Spanish Tomato Bread)
Pan con tomate is toasted bread topped with juicy tomatoes, extra virgin olive oil, garlic, and salt. It's simple and delicious!
Check out this recipe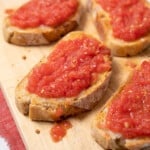 2. Chocolate con Churros, Soletillas, or Melindros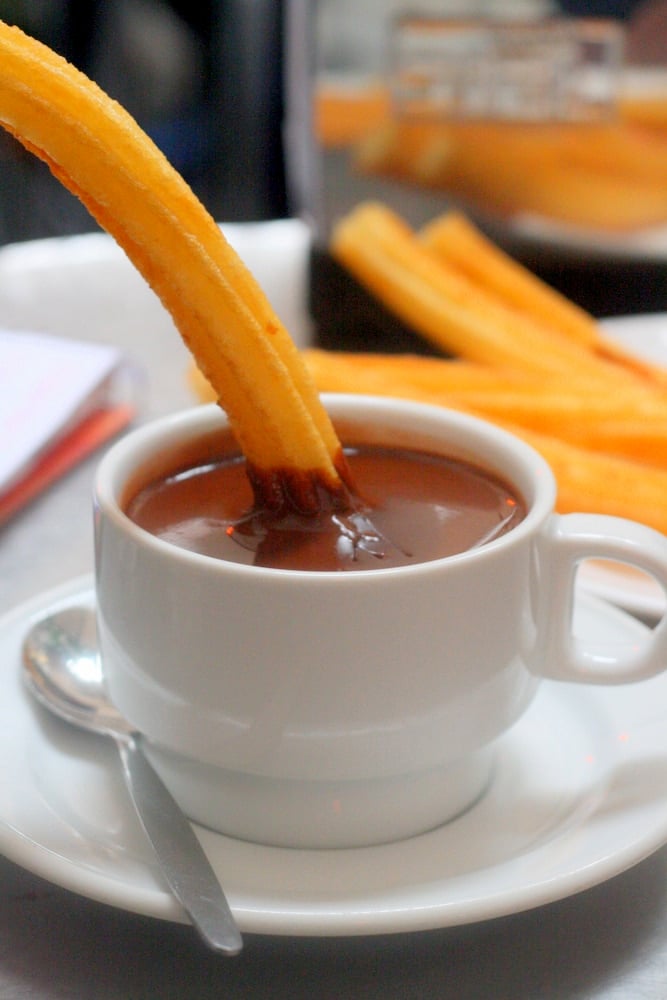 Did you know that churros are actually a Spanish breakfast food (not a dessert)? This indulgent treat is often paired with super thick, sweet hot chocolate. And although Spain may be (rightfully) famous for its hot chocolate, there honestly aren't too many places that do it well.
Too often it's thickened with loads of cornstarch and made with low-quality chocolate powder. But this isn't the case at my two favorite places for hot chocolate in Spain: Confitería El Riojano in Madrid and Granja M. Viader in Barcelona.
Interestingly, I wouldn't pair the chocolate with churros at either place. Instead, I'd opt for the ladyfinger cookies called soletillas in Madrid and melindros in Barcelona.
For churros, I love the ones found in Cadiz, which are thin and crispy, or Madrid's chewy porras—churros' thicker cousin.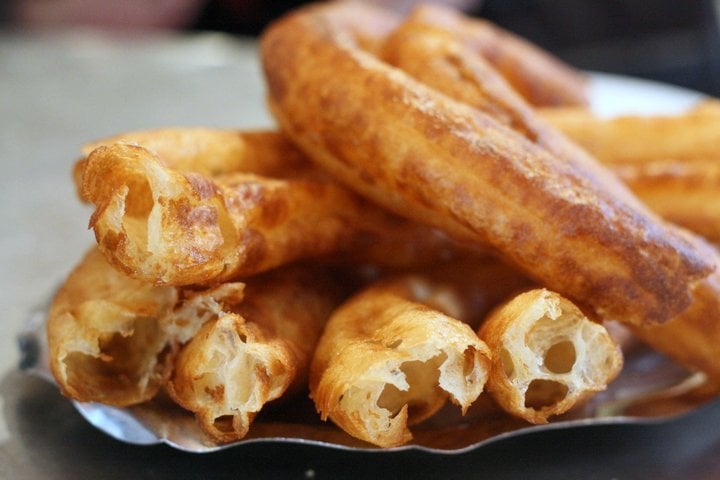 Homemade Churros Recipe
This delicious and authentic Spanish churros recipe is easy to make and only includes four ingredients! You have to try it!
Check out this recipe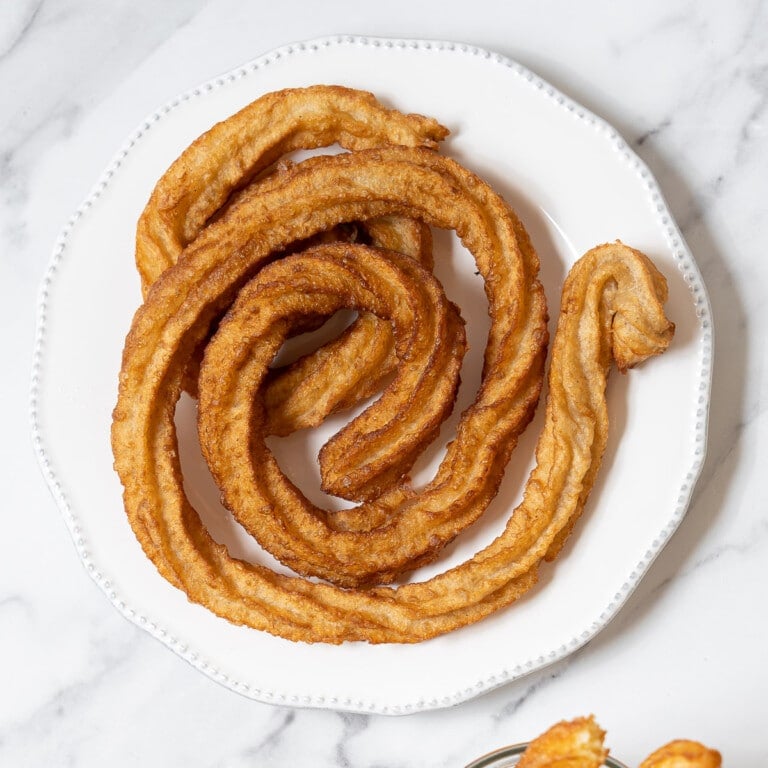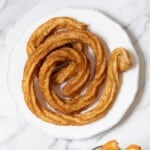 Authentic Spanish Hot Chocolate Recipe
This thick and gooey Spanish hot chocolate recipe is the perfect way to combat winter chills! It's easy, tasty, and oh so cozy.
Check out this recipe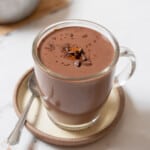 3. Pincho de Tortilla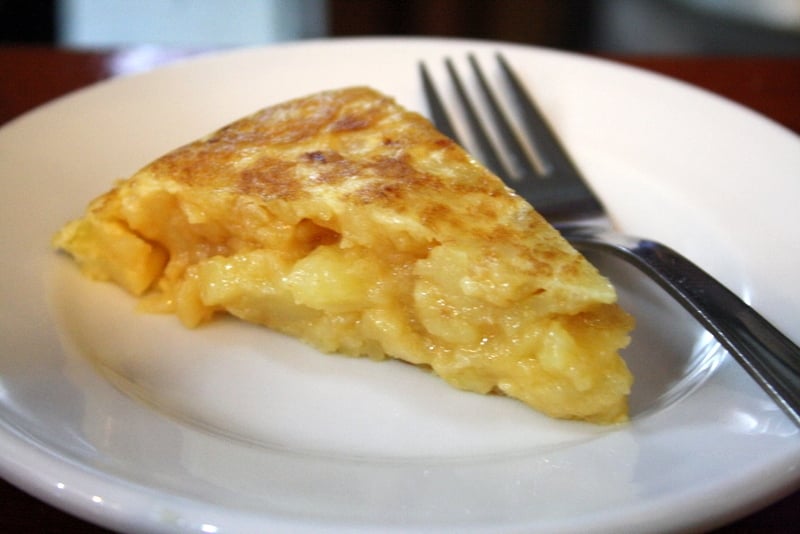 Very popular in Madrid and most of northern Spain, a heaping slice of Spanish potato omelet (a pincho de tortilla) is the best way to have a second breakfast.
I accompany my tortilla with a strong coffee, but you'll see plenty of people opting for a mid-morning caña (a small draft beer). I love the pincho de tortilla at Casa Dani in Madrid (which has been named the best tortilla in the city!).
Spanish Tortilla Recipe (Tortilla de Patatas)
This easy and authentic Spanish omelet recipe combines egg, potato, onion, olive oil, and salt to make the best Spanish tortilla you'll try.
Check out this recipe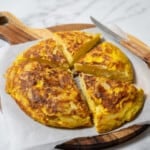 4. Croissant de Almendras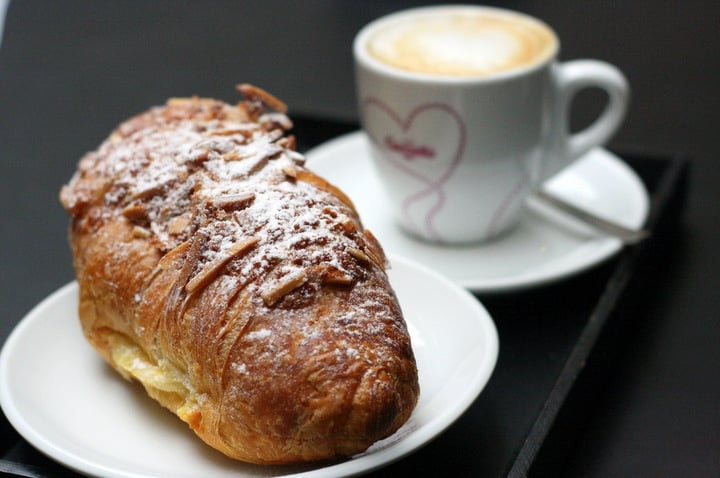 You can't find a good almond croissant (or a good croissant in general) everywhere in Spain, as many use lard instead of butter and are industrially made. But there are few gems—especially in Barcelona.
When visiting Barcelona you must try the croissants de almendras (almond croissants) at Pastelería Hofmann and Baluard. And if you're in Madrid don't worry; La Duquesita will not disappoint.
More of a chocolate croissant lover? Try the napoletana de chocolate at Madrid's La Mallorquina for something similar (and just as delicious).
5. Huevos Rotos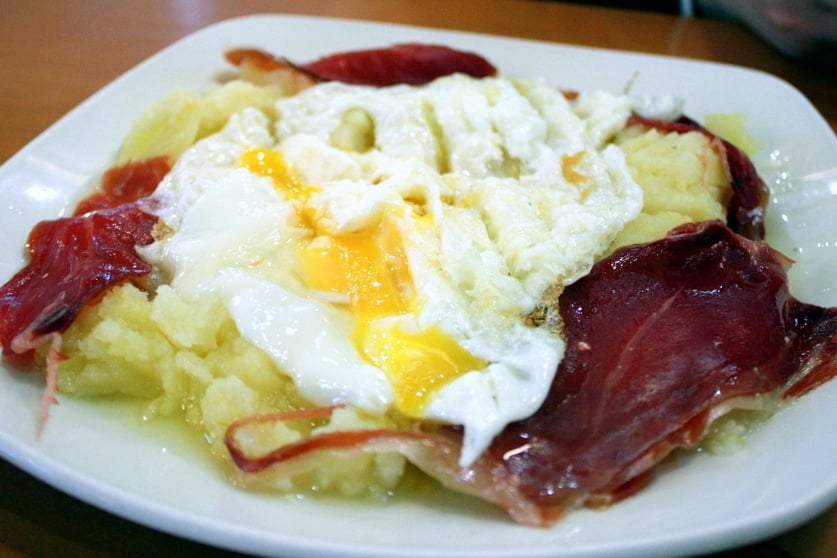 Okay—this is cheating a bit.
Huevos rotos is a classic dish, but it's among the many Spanish egg dishes that aren't typically eaten for breakfast. Unless you come over to my house on the weekend!
I think huevos rotos (sunny side up fried eggs served over potatoes and "broken" up before eating) are the perfect brunch food. I love making them with a bit of chorizo, but you could also use jamón or sautéed vegetables.
Huevos Rotos Recipe: Spanish Broken Eggs with Ham, Chorizo, & Peppers
This delicious and easy Spanish huevos rotos recipe makes the perfect last minute dinner (or breakfast)!
Check out this recipe
6. Sandwiches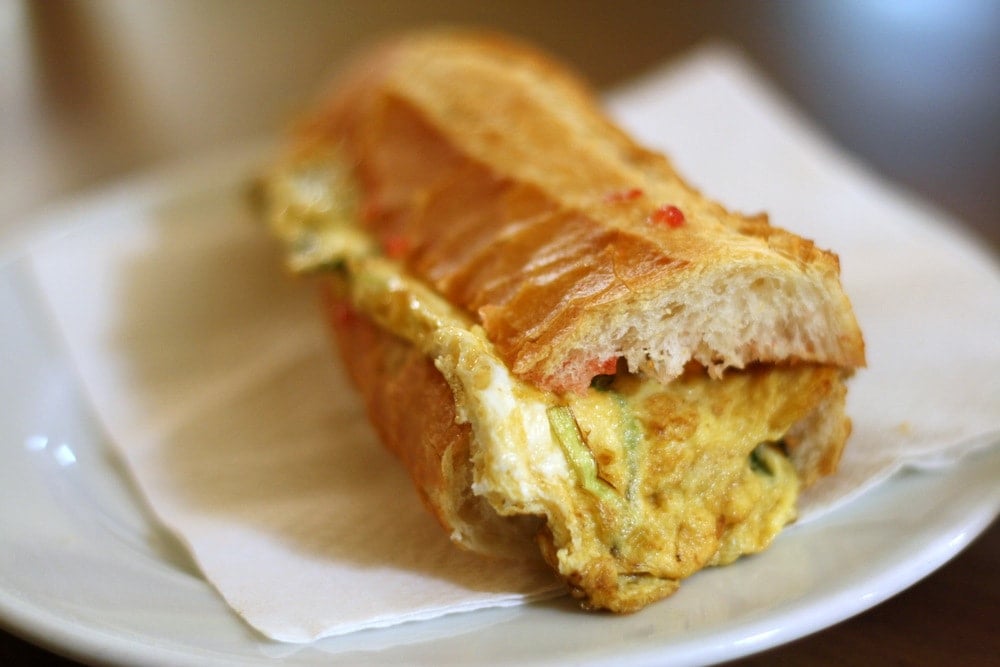 Every region of Spain has its own version of the humble sandwich, and with good reason; they're the perfect quick and delicious Spanish breakfast food.
In Madrid, you'll find small sandwiches called pulgas or pulgitas at most cafés and bars for breakfast. In Barcelona, you'll order an entrepan—Catalan for "sandwich."
There's also the famous bikini in Catalonia, a sort of grilled ham and cheese on white sandwich bread. And in Andalusia, you may find montaditos (mini sandwiches) on offer.
So what do we put inside the sandwiches? Anything from Iberian ham and olive oil to freshly made tortilla or even tuna salad. My all-time favorite is pringá in Seville, a mix of the leftover meats from a local stew that's full of flavor.
See Also: 8 Must-Try Spanish Sandwiches
7. Freshly Squeezed Orange Juice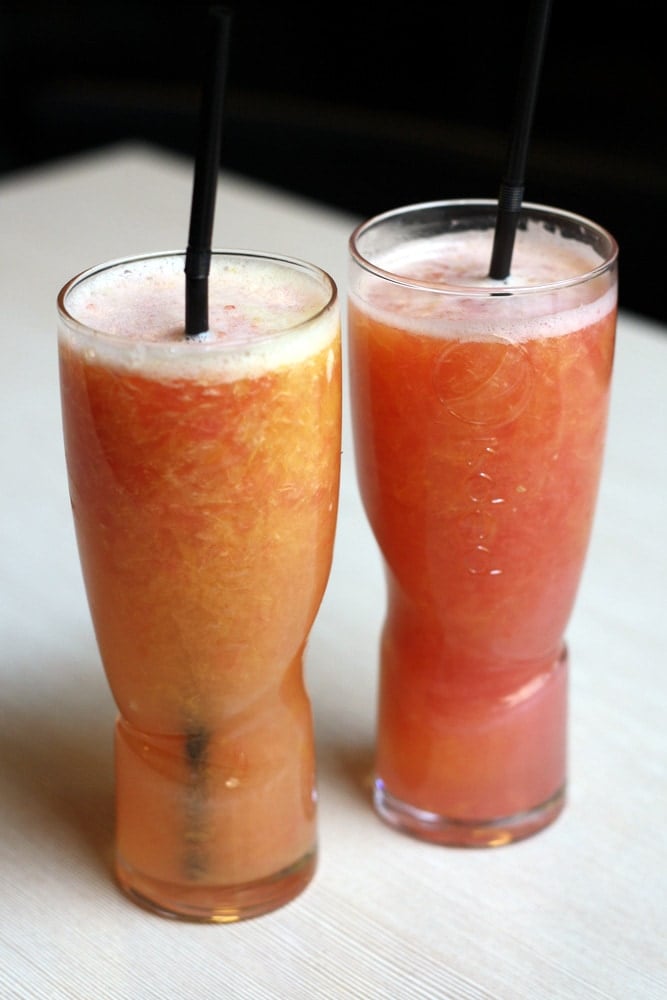 The orange juice in Spain is naturally sweet and delicious. Incredibly high-quality oranges can be found all year round, but the true season is winter—just in time for the cold weather, when a hearty dose of vitamin C is the perfect way to start the day!
In most of Spain, you can add on a small glass of zumo de naranja for as little as €1 when ordering breakfast. When in doubt, just do it!
8. Café con Leche
Remember when I said I don't really do "first breakfast"? Well, I most definitely do coffee!
While I generally enjoy café americano these days (espresso with extra hot water), café con leche is perhaps the best-known coffee in Spain. Half steamed milk and half strong espresso, it's the perfect drink to accompany the best Spanish breakfast foods.
Spanish Café Con Leche Recipe
Try this Spanish café con leche recipe to get a taste of Spain's classic coffee at home!
Check out this recipe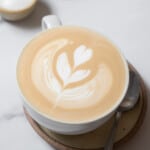 Wondering how to order coffee in Spain? Check out this video!
Regional Spanish Breakfast Foods to Try
There are many more Spanish breakfast foods to discover, some of which are quite regional.
Spanish Breakfast Foods FAQs
What are typical Spanish breakfast foods?
Popular Spanish breakfast foods include toast with tomato and olive oil or butter and jam, pastries, churros, sandwiches, and tortilla de patatas (potato omelet). It's common to drink coffee and/or juice for breakfast as well.
Do they eat breakfast in Spain?
Yes! Most Spaniards eat at least one meal in the morning—and often two. The first breakfast is usually light and sweet, and the second one is more like a hearty mid-morning snack.
What time is breakfast in Spain?
There are two common breakfast times in Spain; the first is around 7–9 a.m. and the second is around 10–11 a.m. Of course, this varies according to each person's schedule and preferences.
Is Spanish breakfast sweet or savory?
It can be either—or both! There are plenty of common sweet Spanish breakfast foods, including croissants and churros with hot chocolate. But the savory offerings are just as delicious, ranging from cured ham on toast to the classic Spanish tortilla with potato and onion.
Hungry for more? Sign up for my free weekly newsletter and receive a new Spanish recipe once a week! Join today and get my FREE Spanish ingredient essentials guide!