Today Lindsey shares her tips for a self-guided Barcelona walking tour for foodies -- needless to say it's worth the calories!
Barcelona is a world within a city—a buzzing hub of culture, cuisine, and endless things to see and do. And despite its claim to fame as Spain's second largest city, it's a place best discovered on foot (though you can always take advantage of the excellent local public transport if need be). A self-guided Barcelona walking tour is the perfect way to discover everything the Catalan capital has to offer, from iconic tourist attractions to lesser-known hidden gems.
This curated route will take you a bit off the beaten path into the Eixample neighborhood, a chic and dynamic district sandwiched between Gracia to the north and Born to the south. Fresh and full of life, with fabulous shops, bars and restaurants on nearly every corner, Eixample is one of Barcelona's hottest neighborhoods among locals and in-the-know visitors. Its clean, gridlike structure makes it easy to get around, and it's well situated within the city itself, making it easily accessible from just about anywhere.
Ready to discover it for yourself? I hope you're hungry—this Barcelona walking tour is packed with foodie finds and fascinating hidden gems alike.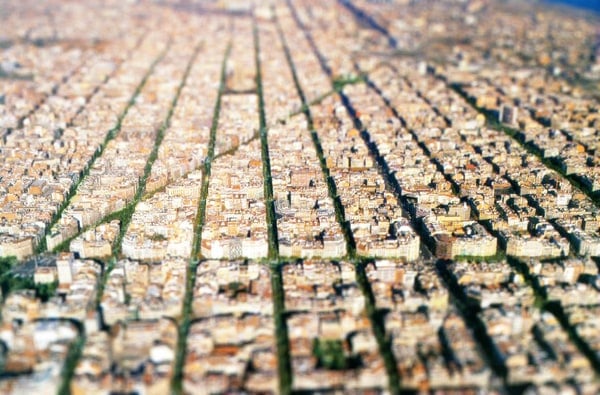 The Best Self-Guided Barcelona Walking Tour for Foodies
1. Breakfast at a century-old bakery
Despite its sprawling size and bustling atmosphere, if you look just below the surface, you'll see that Barcelona locals tend to take things slowly. Spanish and Catalan culture, after all, both emphasize taking the time to enjoy the little things in life—those precious everyday moments that make it worth living—and that starts with the most important meal of the day.
Not much has changed in the 100+ years that Forn Sarret (Carrer de Girona, 73) has been open. Everything—from the hearty, crusty loaves of bread to the temptingly sweet pastries and cakes—is baked completely from scratch every single day, and much of the interior remains the same as well. All in all, it's the perfect spot to start your self-guided Barcelona walking tour.
Order up a soul-warming cup of coffee and a pastry (you can't go wrong with anything here, but for the full experience, try a Catalan delicacy like a xuixo or a slice of brioche coca), then settle in to enjoy your breakfast. You can even watch the bakers hard at work behind the counter preparing the next round of treats as you enjoy your own.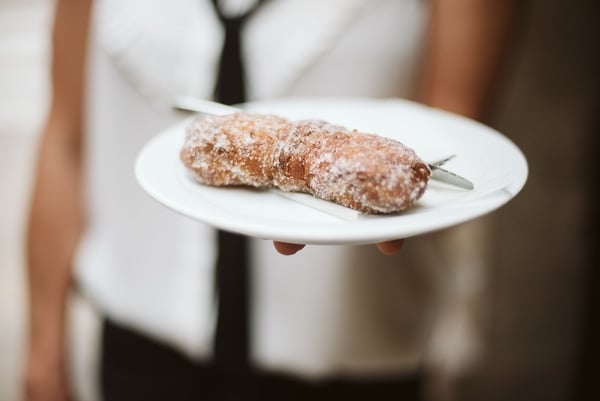 See Also: The complete guide to breakfast foods in Spain.
2. A refreshing alternative to the touristy Boqueria
It wouldn't be a Barcelona walking tour for foodies without stopping at at least one market, and luckily there's one of the best in the city just around the corner from the cafe. Housed in a historic wrought iron building that's been a fixture in Eixample for more than a century, Mercat de la Concepció (Carrer d'Aragó, 313-317) is the traditional food market at its best: a bustling, colorful center of local life; a meeting place where locals come not just to do their grocery shopping, but to wave to their favorite vendors and to catch up with friends over drinks and small bites at the market bars.
Sounds perfect, right? Luckily, that's the next stop on your Barcelona walking tour. With eight fabulous deli stalls, it's the perfect place to sample the local charcuterie and cheeses that Barcelona natives know and love. Another great option would be to grab a spot at the market bar for second breakfast (yep, that's a thing here in Spain, and it's wonderful)—go with a glass of cava and a hearty bocata to do as the locals do.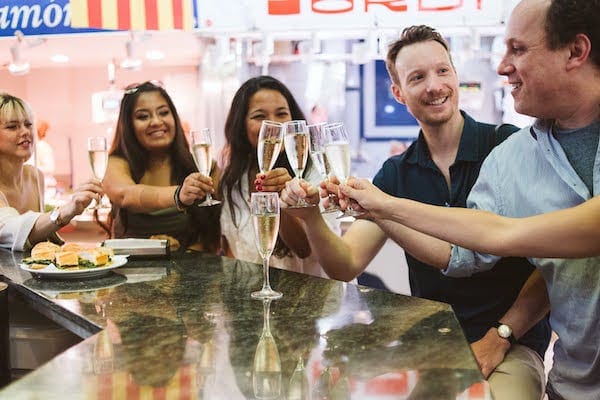 See Also: The ultimate list of the best markets in Barcelona.
3. Vermouth time
You've had your first breakfast. You've had your second breakfast. Now it's la hora del vermut—or "vermouth o'clock," more or less. If you're picturing vermouth as an old-fashioned drink enjoyed by gruff old men, think again. While that certainly was the case in the past, vermouth is in once again here in Barcelona, and the age-old vermuterías are experiencing a resurgence in popularity among the younger generation.
One such spot is Cafè del Centre (Carrer de Girona, 69), a favorite hangout for Barcelona's modernist bourgeois that looks much the same as it did when it opened in 1873. Still owned and operated by the same family, the spot has rightfully earned its place in Barcelona's history books. Keep it simple here with a glass of their house vermouth and a small tapa of a salty snack like potato chips or olives—that's how you "fer el vermut" (literally, "do the vermouth") the Catalan way.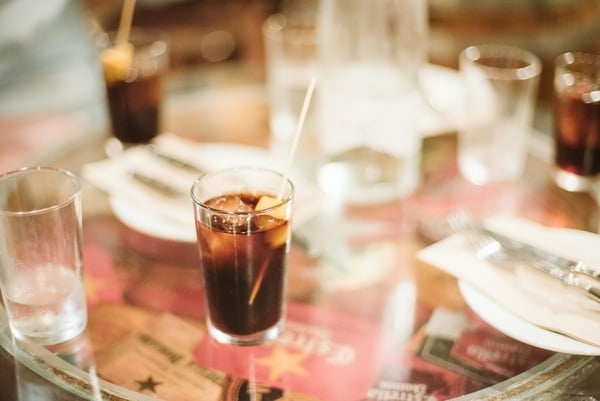 See Also: Need a primer on Spanish vermouth? Check out Ewan's vermouth guide to Spain's favorite aperitif.
4. A church given new life
After discovering the wonders of vermouth, head back the way you came, passing Mercat de la Concepció again as you make your way along Carrer d'Aragó. At the corner with Carrer de Roger de Llúria, keep your eyes peeled for a seemingly quaint stone church: the Basilica of the Immaculate Conception (Carrer d'Aragó, 299).
A quick glance might lead you to believe that this unassuming parish is just another European church, but you'd never know its centuries-long history just by looking at it. Originally constructed as a monastery in Jonqueres, a town about 16 kilometers (10 miles) outside of Barcelona, the structure itself dates back a whopping 700+ years to 1293! After the nuns who called the monastery home were driven out during the Napoleonic years in the early 19th century, it took on a plethora of new roles—military hospital and prison among them.
The building fell into disrepair over the years, and things looked grim when it was slated for demolition in the mid-19th century. Fortunately, the diocese managed to save this historic building, which was then moved brick by brick from Jonqueres to its present location in Eixample, in Barcelona proper. If you have time, be sure to step inside and marvel at the stunning interior, which will certainly take your breath away.
5. Old-school grocery shopping
Don't worry—the foodie fun on your self-guided Barcelona walking tour isn't over yet. Next up: Queviures Múrria, a traditional colmado (corner store) that will whisk you back in time to the glamorous Barcelona of the turn of the century.
You'll get your first glimpse at Múrria's vintage charm before you even step inside—the exterior walls still display bright, colorful advertisements from the 1920s. Once inside, step up to the original counter and take your pick from the fabulous array of Spanish and Catalan products that await you inside. Personally, I'd go for the classic combo of a rich red wine and a plate of hand-sliced Iberian ham—a true match made in gastronomic heaven.
See Also: The complete guide to eating in Barcelona, full of even more foodie stops you won't want to miss.
6. An under-the-radar Modernist gem
As you leave Múrria once you've had your fill of delicious local deli products, look out for one of Eixample's most fascinating Modernist structures just across the street. Casa Josefa Villanueva (Carrer de València, 312) was actually comprised of two buildings after its original construction in the early 20th century, but later remodeling projects joined the two into one impressive structure.
7. Eixample's best-kept secret
You've spent a whole morning discovering the indisputable charm of Eixample—now, it's time to cap off your Barcelona walking tour with lunch at one of its top foodie hidden gems. With a crisp, clean interior and exceptional service, Restaurant Embat (Carrer de Mallorca, 304) offers one of the best-vale dining options in the area. With exquisite dishes made with market-fresh seasonal ingredients, the quality here is exceptional, and prices are extremely reasonable given the excellent quality of the food. There's no better (or more delicious) way to end your morning.
The Food Tour Continues!
Want to experience a Barcelona walking food tour with a passionate local guide? Devour Barcelona's Tastes & Traditions of Barcelona experience explores the Born and Barceloneta neighborhoods and features 12+ food tastings. This experience is a must for anyone looking to devour the ultimate in Catalan cuisine!
Pin me!