This blog post was originally posted on August 28, 2015 and was updated on March 6, 2017
Travel is often associated with spending a lot of money, but in fact, Spain is a relatively cheap place to take a vacation! You often get a free snack or tapa with your drink, you can take advantage of the filling three-course menu del día, and even just walking around the old section of the cities or having a coffee in the plaza can make for a lovely afternoon.
That doesn't mean you should throw caution to the wind, however—it's worth knowing how to spot a good deal when you see one. There are lots of cheap things to do in Malaga that will keep both your wallet and your inner explorer happy.
7 Cheap Things to Do in Malaga
1. Visit a Moorish Fortress
For less that you would pay for a cup of coffee back home, you can visit a Moorish fortress that dates back to the 11th century. The Alcazaba is one of Spain's best preserved Moorish citadels and a gorgeous place to get a glimpse of the past.
Walk along the paths and step into the buildings. It's like walking back in time, with gorgeous views of Malaga to boot. This is a must on any list of cheap things to do in Malaga.
Price: €2.20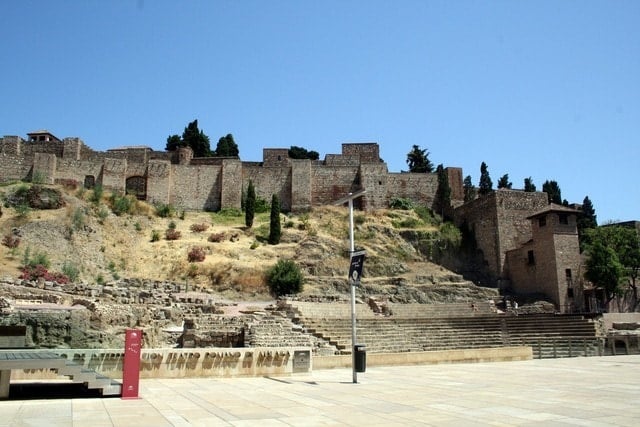 2. Stroll Through the Market
Another one of the best cheap things to do in Malaga is also a foodie's dream. Take a stroll through Atarazanas Market and enjoy the smells, sounds and colors of this centuries-old market.
Make sure to take a taste of the dried fruit and nuts, as well as the fried and salted almonds which are nothing short of addictive. Next, head to the far corner where you can find delicious shrimp skewers and ice cold beer, which is the perfect snack as you continue your sightseeing!
Price: Under €5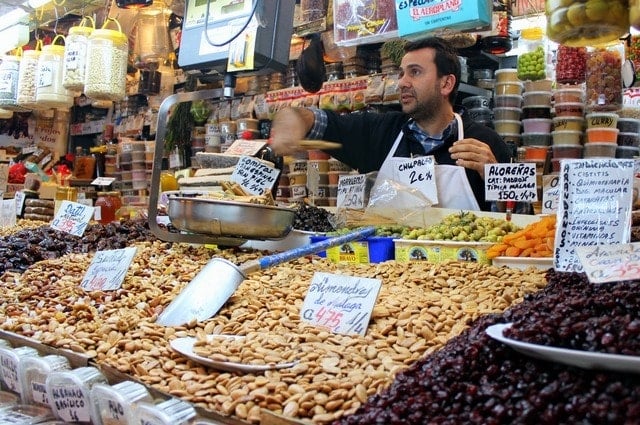 See also: Guide to Malaga's best markets
3. Learn About the Wines of Malaga
Malaga is a city known for its museums, and one of the more unique ones is the Wine Museum. You can learn about the different wines of Malaga, as well as taste two of the wines from the area during your visit.
The museum also partners with different wineries and can assist you in booking a tour! This is a great way to get an introduction to different local wines at the beginning of your trip so that you'll know what you like and what to order.
Price: €5 gets you entrance to the museum and a taste of 2 wines (with an additional wine tasting for €1 more).
See also: More unique museums in Malaga
4. Satisfy Your Sweet Tooth with Churros and Chocolate
If there's one thing everyone can agree on, it would have to be that churros and chocolate are the quintessential Spanish treat! Another one of the best cheap things to do in Malaga is to head over to Casa Aranda for some churros dipped in thick chocolate. Pick a table outside so that you can people watch and if you find that you need a few more churros to share, that's okay. You can splurge!
Price Tag? Less than €5 for chocolate and churros to share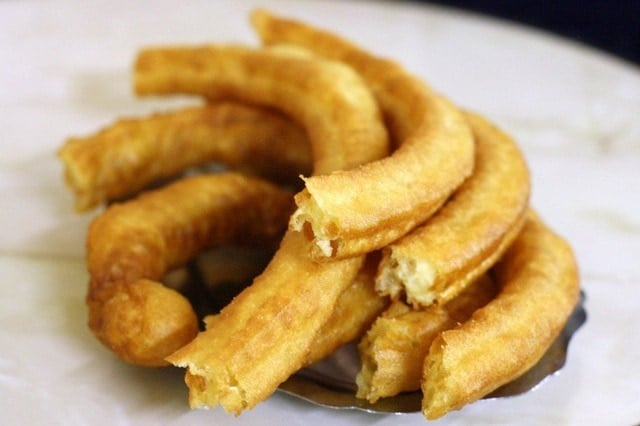 Still hungry? More great spots for churros in Malaga
5. Enjoy the Sunset with a Drink and a View
Drive up to the Parador Hotel at Gibralfaro just before sunset. From there you will have a spectacular view of Malaga from up above, and there's a little bar where you can order something to drink as you watch the sun slip away. This is a gorgeous spot to begin the evening and one of the best views of the city!
Price Tag? The view and parking are free (drink prices vary.)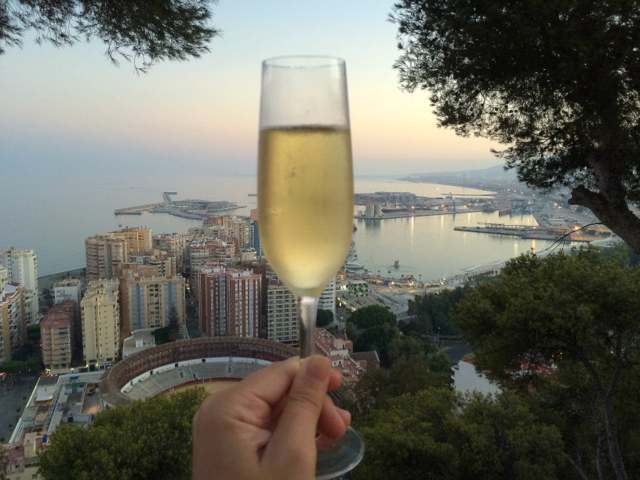 More inspiration: Where to find some of the best views in Malaga
 6. Have an Artistic Afternoon
Museums fees can get expensive, especially when you're in a touristic capital city. But just because you're watching your budget doesn't mean that you have to forego the artistic experience!
For some budget friendly experiences, visit Malaga's lesser known museums including the Museum of Art and Popular Customs or the Interactive Music Museum. Some galleries are even free, such as the Jorge Rando Museum and the Center for Contemporary Art!
Price: General admission to the Interactive Music Museum is €4, or €3 for students and free for children under 6. General Admission to the Art and Popular Customs museum is €4 or €2 reduced price.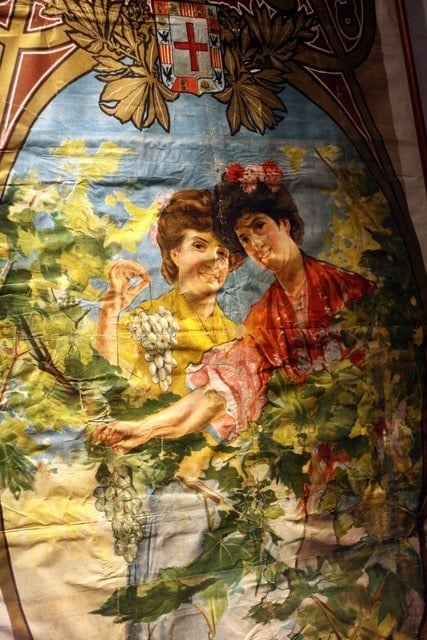 7. Have Dinner by the Sea
One of the most typical sandwiches in Malaga is the campero, a special round bread that's toasted panini-style and stuffed with ham, cheese, lettuce, tomato, mayo and sometimes chicken. You can find variations of the campero all around the city.
Head out to the Pedregalejo neighborhood and try your campero sandwich at a place called Mafalda (Paseo Marítimo el Pedregal, 71), which is a family run place with 15  different types of camperos. It's located just just steps from the beach making it the perfect place to take a stroll after your meal!
Price: €5 for a campero sandwich
Save more cash: Here's what to do for free in Malaga.
Pin me!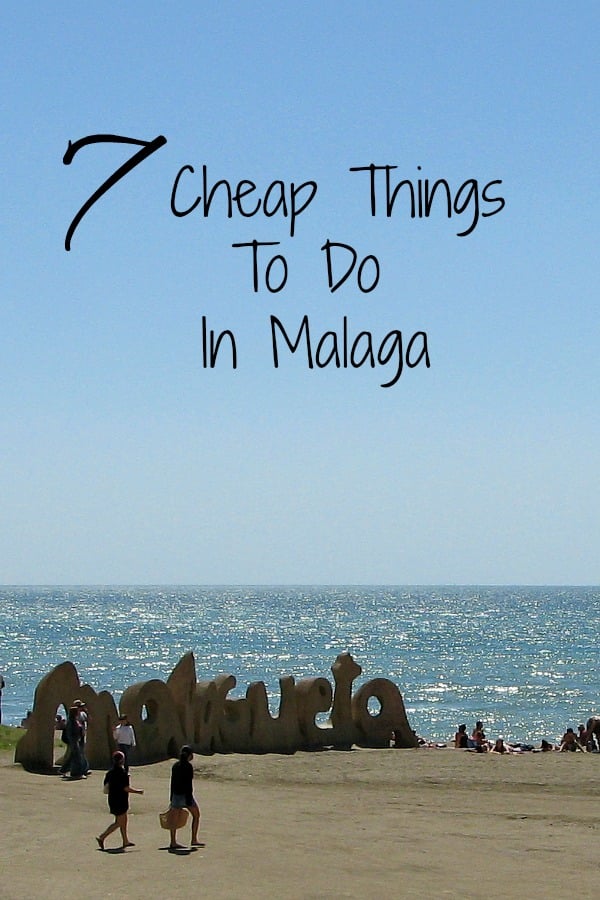 Photo Credit: Marlies Strobl