One of the many things about the south of Spain that holds such appeal for international travelers are the remnants of its ancient Arabic heyday. Remember: Spain has actually spent more time as a majority Islamic country than it has a Christian one throughout its history, a fact which is still very apparent in many elements of the culture. The language, for one thing, retains its heavy Arabic influences, as does the architecture and, of course, the cuisine.
Nowhere is that more apparent than in the traditional desserts from Granada. Three central ingredients typical of the east—almonds, sugar and honey—are key components of sweets throughout the region. While you'll of course find some classics that are popular throughout the country, if you really want to sink yours sweet tooth into some local delicacies, these typical desserts from Granada are the local gems you absolutely must try on your visit to the city.
Top 5 Typical Desserts from Granada
1. Soplillos de la Alpujarra
A perfect example of the sweet Moorish heritage is the soplillo de la Alpujarra. The central ingredients of this tasty treat are the classics found in most typical desserts from Granada: almonds, honey and sugar, all blended into a base of egg whites. Essentially a Moorish merengue, they are also similar to macaroons, but one thing's for sure, they're a perfect accompaniment to a good afternoon cup of coffee.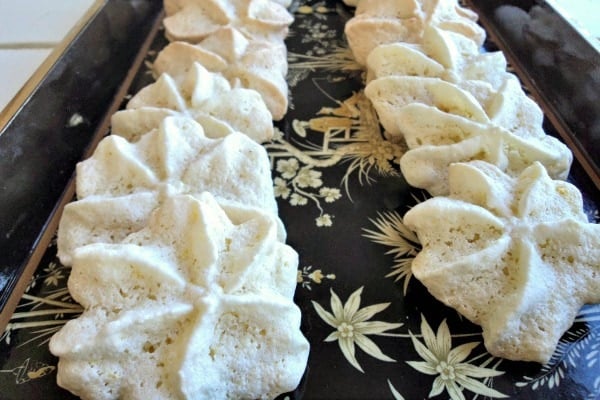 See Also: Top Cafes with Wifi in Granada
2. Torrijas
This special seasonal dessert is traditionally served during Semana Santa, or Holy Week, and is essentially a Spanish take on French toast. Bread is the central ingredient, which gets soaked in milk, dipped in egg, and fried. The thick, moist slices then get drizzled with a delicious mix of cinnamon, sugar and thick honey. If you're not in town during Holy Week, no worries—the best thing about this wonderful Spanish treat is how easy it is to make at home.
Top tip: The best way to make these is with 3-day-old bread—a great way to use up the stale stuff.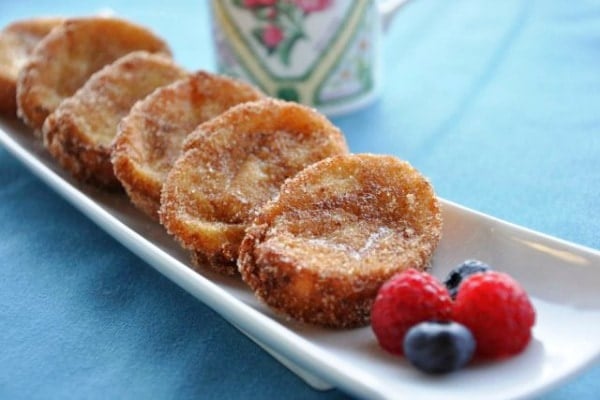 Try it: Lauren's foolproof torrijas recipe is a great way to recreate this classic anywhere.
3. Piononos
Piononos come from Santa Fé, a small town in the Granada province, and their name is a tribute to Pope Pius IX, whose name in Italian is Pio Nono. While there is quite a wide variety of pastries which fall under the name in the Spanish-speaking world, Granada's version is the most famous. The base is a rolled-up sponge cake—think something like a Swiss roll—that gets bathed in a sweet syrup and topped with a toasted cream. Locals often gobble piononos up in just two bites as an after-meal treat or with their afternoon tea or coffee.
Related: 5 Fabulous Pastry Shops in Granada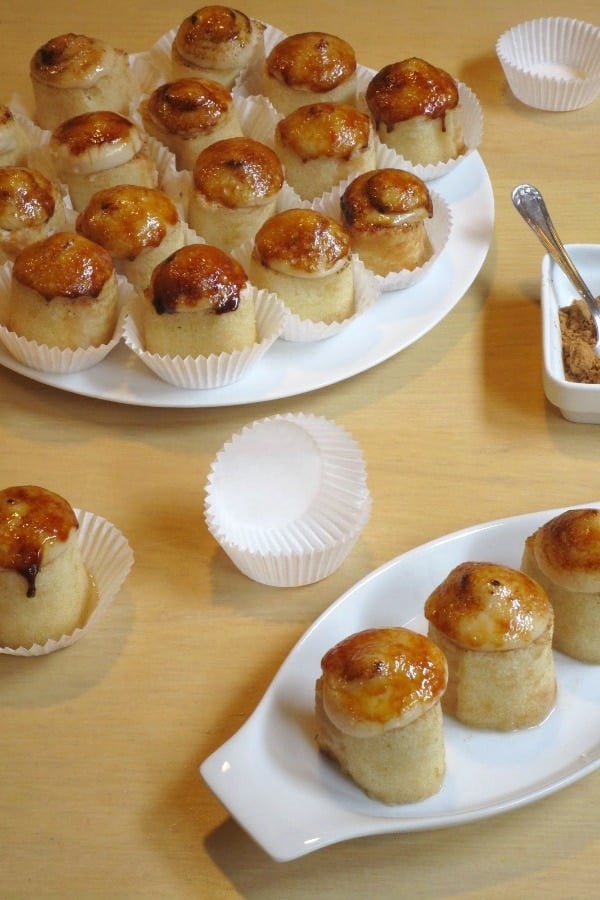 4. Pestiños
The pestiño is a staple of Spanish holiday season, eaten across Andalusia during the Christmas and Easter periods, though it can be found in bakeries all year round. This sugary little snack is made of sesame-flavored dough deep fried in olive oil. You then cook the dough until crispy and golden before coating it with sugar and honey. But beware; they're so tasty that it's quite easy to polish off a handful without even realizing it! When it comes to desserts from Granada, why limit yourself?
5. Huesos de Santo
El Día de Todos los Santos, or All Saints' Day, on November 1 is the typical time to gorge on these small marzipan-based bites. Tiny rolls of the almond paste rolled into small cylindrical shapes and filled with cooked egg yolks, this sugary treat is for those with the sweetest of teeth. Despite its minuscule size, the intense flavor of its ingredients means it packs quite a punch! Locals consider this one of the best desserts from Granada, and it's certainly worth trying if you're in the city at the right time.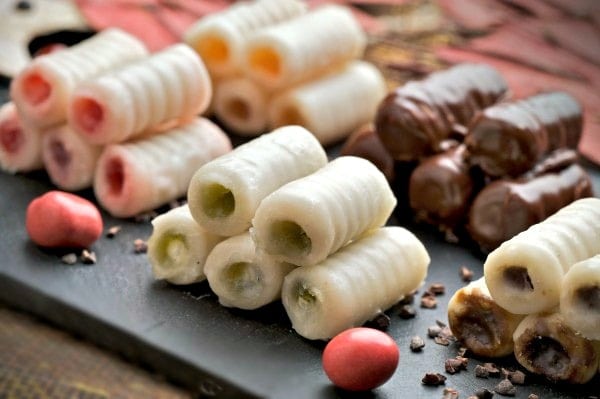 Craving more? Check out these top spots for churros in Granada.
Pin me!