From seafood to beef, wine to cheese, Galicia has local specialties across the board. These typical plates and products are celebrated throughout the year at regional gastronomy festivals. Galicians love a good party in addition to fabulous food, and there's no better way to combine the two than at one of the top gastronomy festivals in Galicia!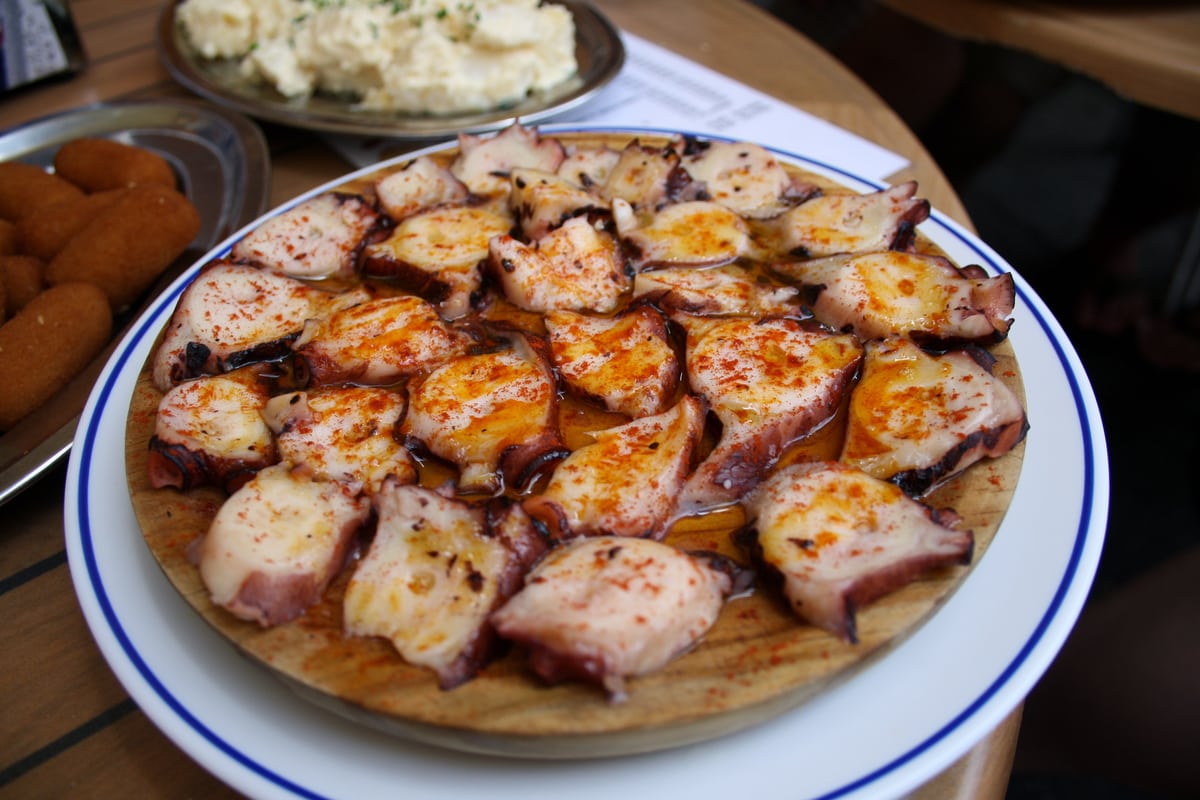 Related: Top 27 Popular Spanish Festivals
The Top 5 Gastronomy Festivals in Galicia
1. Festa do Pulpo in O Carballiño
This summer fest celebrates the most iconic Galician dish: octopus, or pulpo a feira. O Carballiño is about 40 miles outside Santiago and Vigo, making it easily reachable by car or train. The town has events every day for two weeks leading up to the big outdoor market and feast, including concerts, art exhibitions, and even a competition for the biggest octopus tapa in the world! Without a doubt, this fortnight of fun and octopus is one of the essential gastronomy festivals in Galicia.
When: Always the second Sunday in August
If you can't make it: Santiago de Compostela has no shortage of places to try pulpo, but for the best, head to Bodegón Os Concheiros (Rúa de Berlin, 3) or Los Sobrinos del Padre (Rúa da Fonte de San Miguel, 6).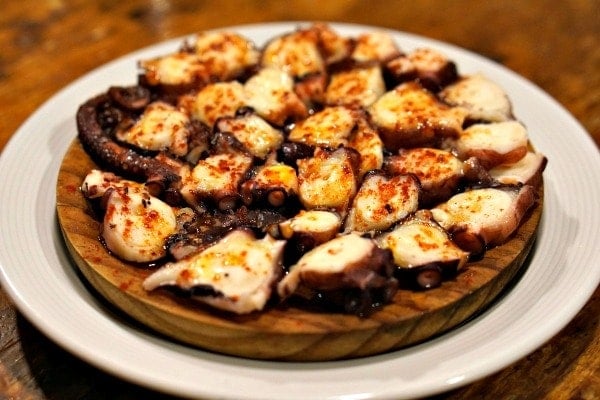 2. Festa do Queixo in Arzúa
Taking place at the tail end of winter, Arzúa's Festa do Queijo is both a music festival and a gastronomy fair celebrating one of Galicia's most scrumptious specialties: cheese! Located a 40 minute car or bus ride from Santiago de Compostela, this is the place to catch local music acts at night or taste and buy various types of Galician cheeses (especially the local Arzúa cheese) at the bustling food festival during the day. How could this not be one of our favorite gastronomy festivals in Galicia?
When: Early March
If you can't make it: Stop at specialty shop La Fromaxerí (Rúa San Pedro, 15) in Santiago de Compostela for shopping, or O Filandón (Rúa da Acibechería, 6), with a deli in the front and bar in the back where you can order delicious toasted bread topped with Galician cheeses and charcuterie.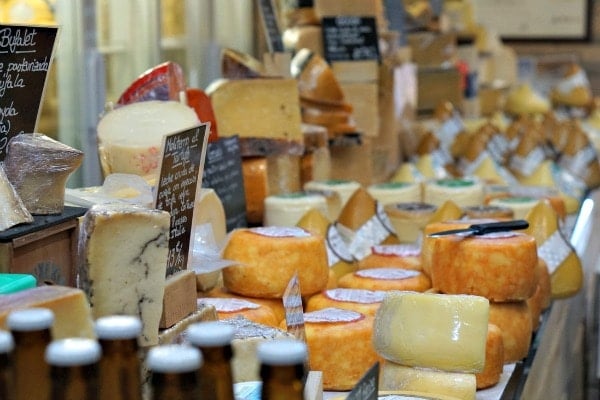 3. Festa do Marisco de O Grove
To many in Spain, high quality seafood is synonymous with Galicia. Each summer, thousands of Spaniards flock here to enjoy the coast and the cuisine. The O Grove Seafood Festival celebrates not just Galician seafood and tourism itself, but those who dedicate their lives to these pillars of the Galician economy.
When: Early-mid October
If you can't make it: Terra Nosa (Calle Nova De Abaixo, 5) and La Tacita de Juan (Calle del Hórreo, 31) in Santiago de Compostela have impressive seafood offerings.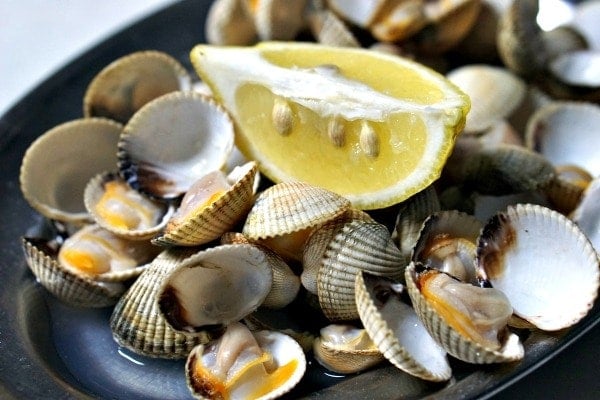 4. Festa do Albariño in Cambados
Albariño is Galicia's most popular wine, and for good reason. This crisp white wine is fine and versatile in all of its variations, and pairs perfectly with Galicia's excellent seafood and cheeses. Going strong for more than 65 years, the Festa do Albariño is the place to try award winning wines, catch local acts in concert, and participate in cultural activities.
When: Late July-early August
If you can't make it: Enjoy a glass of Albariño at one of the top wine bars in Santiago de Compostela.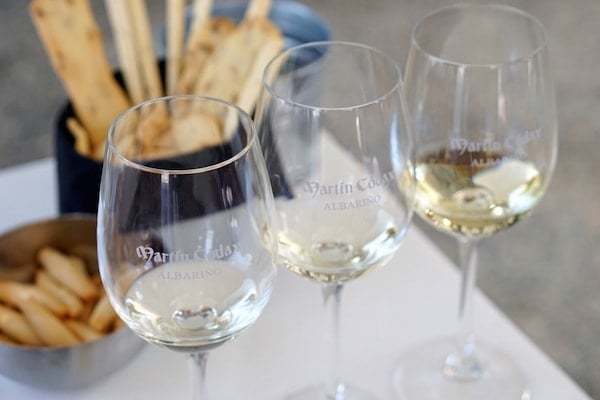 5. Festa da Empanada e do Ripote en Noia
Don't be fooled by the more portable Latin American varieties: the Galician empanada is the original! The town of Noia celebrates this popular delicacy alongside ripote, a bun that is less famous but similarly filling at one of the top gastronomy festivals in Galicia: the Festa da Empanada. From Santiago, Noia is an hour bus ride or thirty minute car trip away. While you're there, try the empanada with berberechos, or cockles. It's supposedly the best in the world!
When: The last weekend in August
If you can't make it: Try the homemade empanada at O Gato Negro (Rúa da Raiña in Santiago). Accompany your hefty slice with wine straight from the barrel!
Bonus: Santiago(é)tapas
Each autumn, there's a tapas festival in Santiago de Compostela. During this marvelous week, you can enjoy deals on drinks and a specialty tapa at any of the participating bars. It's also technically a competition for best tapa, so the dishes are extra tasty and inventive! Just be sure to rate your plate after you eat.
Still hungry? Don't leave Galicia without trying all of these tasty typical dishes!
Pin me!