Trying to make your way around a new city can be confusing. Throw in the fact that maps and signs in Barcelona use not just one, but two different languages, and figuring out the public transportation system may seem downright intimidating. However, there's no reason to freak out just yet—getting around Barcelona is easier than you think.
The city boasts an extensive network made up of more than 150 metro stations, dozens of bus lines and more. Public transportation in Barcelona is fast, safe, efficient and easy to use, making it perfect for visitors and locals alike. Throw in the fact that the city is easily walkable, and you'll soon see that getting around Barcelona is a breeze.
Guide to Getting Around Barcelona
Before you go: Check out my guide for traveling between Madrid and Barcelona so you can pick the best long-distance transport option for you!
Metro
With nearly a dozen lines carrying thousands of passengers per day, it's no surprise that the metro is one of the most popular options for getting around Barcelona. Trains come every 2-6 minutes on average, so you'll never be waiting long, and the extensive network covers all the major points of interest in the city and then some.
Using the metro: Each metro station features electronic ticket machines available in four languages. Simply select your language, the type of ticket you want, and pay. Swipe your ticket through the turnstile (if it's a paper ticket rather than a travel card, be sure to pick it back up—you'll need it again to exit the metro) and make your way through. When you arrive at your destination, swipe your ticket or travel card again to leave the station.
Best ticket type: If you plan on traveling by metro or bus frequently, save yourself some euros and get the T10 pass. This handy card allows you 10 metro trips for as little as €10.20. In comparison, 10 single journey tickets at €2.20 each would set you back nearly twice that much.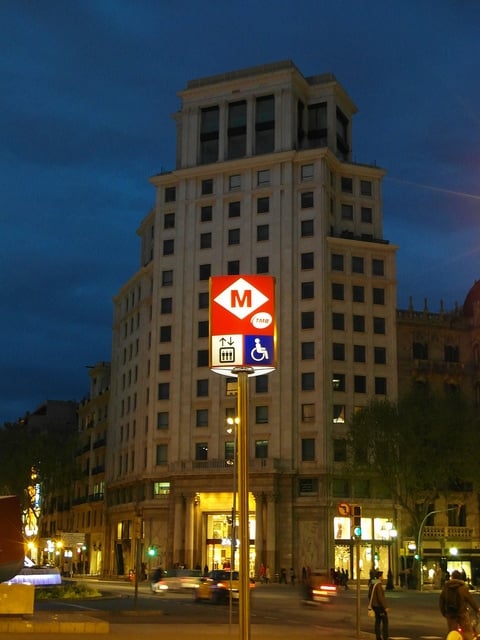 Bus
More than 1,000 buses are out and about on Barcelona's streets every day, transporting locals and visitors alike along dozens of different lines. There's a bus stop on nearly every block in the city center, making getting around Barcelona by bus quick and easy. Frequency of the buses can vary depending on route and time of day, so check the schedule posted at the stop to get an idea of how long you'll be waiting.
Using the bus: On most buses, you can purchase a ticket from the driver. On others, there will be a machine where you can buy tickets using a contactless card. When your stop approaches, be sure to press the button near your seat to signal to the driver that you'll need to get off.
Best ticket type: Good news: the T10 pass works for both the bus and the metro! However, you cannot purchase it on the bus and will need to buy it at the metro station. Also, like the metro, a single journey ticket on the bus costs €2.20.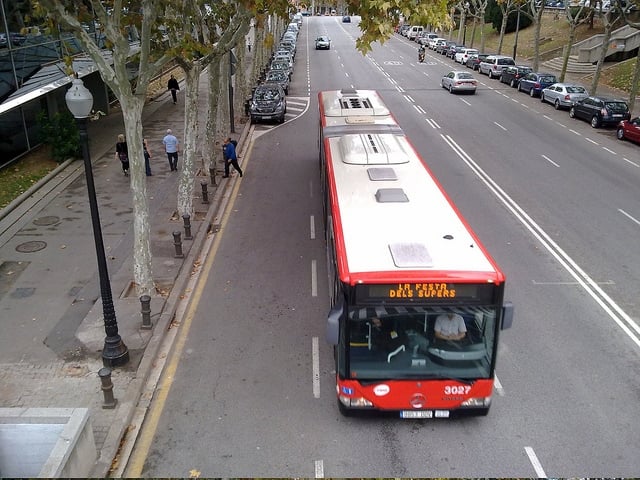 See also: Lauren's insider's guide to where to stay in Barcelona, as well as Devour Barcelona's seasonal packing guide!
On foot
Take advantage of Barcelona's stunning weather and easy-to-navigate center! When you're in a city this beautiful, sometimes the best method of transportation is simply your own two feet. Barcelona's tourism website features several different themed walking routes, or you can simply let yourself get lost and see where you end up!
Keep in mind: Only cross at crosswalks when the green figure for pedestrians is lit up. When you're on the sidewalk, stay out of the bike lane or risk getting sideswiped by cyclists!
Discover Barcelona on foot with one of Devour Barcelona's award-winning food tours through the city's most emblematic neighborhoods!