From picturesque Christmas markets to the snow-capped Sierra Nevada mountains in the background, Granada takes on a magical air in the winter. This festive time of year presents the perfect opportunity to get to know the city, so bundle up and get ready to visit Granada in December for a winter holiday vacation you'll never forget.
What to Do in Granada in December
1. Go market hopping
What's winter in Europe without Christmas markets? It's no surprise that the mercadillo de Navidad in Plaza Bib Rambla is the top thing to check out in Granada in December. With 28 stands in the plaza (as well as another 22 in nearby Puerta Real), you could easily spend all day marveling at the offerings, from Christmas trees to books to gourmet food items. You'll find something for everyone on your list, but be sure to grab a one-of-a-kind souvenir for yourself as well.
2. Visit a jaw-dropping nativity scene
Take your expectations of an average manger scene and raising them to eye-watering levels. Spain's belenes are extravagant displays that depict the entire town of Bethlehem on the night of Jesus's birth (the word belén actually translates as "Bethlehem"). Taking a walk to visit several of these incredible scenes is a favorite tradition in Granada in December.
Belenes are made by everyone from schoolchildren to religious brotherhoods. Some of the biggest and most famous are on display in the city center. Use a map to plan your route—and try to pick a favorite!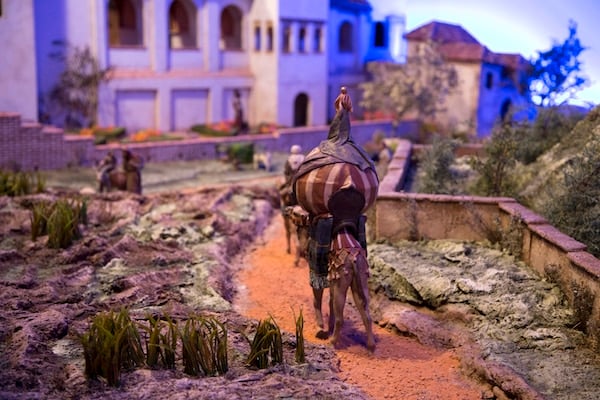 3. Chow down on churros con chocolate
With average daily highs of just 11 degrees Celsius, Granada in December can be on the chilly side, which is particularly surprising for southern Spain. That means that after walking around at the Christmas markets and visiting as many belenes as possible, it's time to warm up. This is undoubtedly one of the best times of year to duck into a cozy café and share some churros con chocolate with friends and family.
See Also: Top Picks for Churros in Granada
4. Indulge in a coastal escape
Going to the beach in Granada in December is...surprisingly possible! Granada capital is just about an hour north of the coast of its eponymous province, and the Costa Tropical is every bit as pleasant as its name sounds. With quaint fishing villages composed of whitewashed houses, it's an especially perfect destination if you want to escape the hustle and bustle of the city and head somewhere more tranquil.
See Also: The Best Day Trips from Granada
5. Hit the slopes
Where in the world can you enjoy a joint ski-beach holiday? Only in Granada, most likely. Following your beach trip, head back inland to the north—the Sierra Nevada mountains are just a little ways away from the city. These world-famous slopes are the perfect winter getaway and a favorite weekend escape for locals in Granada in December.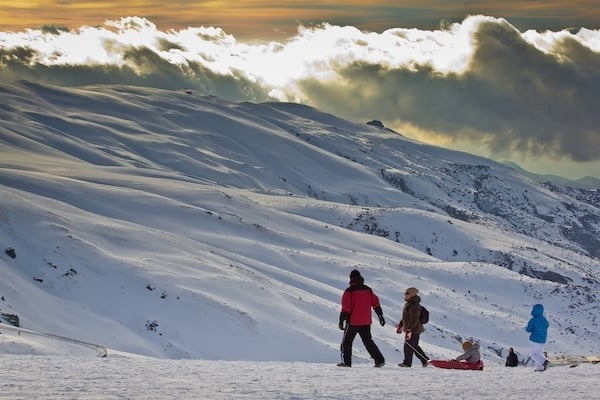 6. Shop 'til you drop
Two birds, one stone: check holiday shopping off your to-do list and experience Spain's famous shopping scene. Granada is home to some of the best malls in Andalusia, from local favorite Centro Comerical Nevada (Avenida de las Palmeras, 75, Armilla) to Serrallo Plaza (Paseo Lagunas de Cameros, 1) just south of the city center, where you'll be able to find everything you need and more.
See Also: Guide to Shopping in Granada
Pin me!
Photo Credit: Iglesia en Valladolid