Picture it: the crispy, freshly-fried dough. The steaming mug of thick chocolate. Is there anything better? Any Spaniard will likely tell you no. Churros and chocolate are the perfect combo at any time of day, whether as a leisurely weekend breakfast or a mid-afternoon snack. If you're wondering where to eat churros in Granada, just take a look at these five places that locals love.
Top Spots for Churros in Granada
1. Café Fútbol
If you're looking for the best chocolate in town, there's no question: come to Café Fútbol. Centrally located and economically priced, this is one of the best places for churros in Granada at any time of year. When the weather is warm, you can enjoy a breakfast of churros in the outdoor seating of the normally-shady Plaza Mariana Pineda, and on chilly or rainy days there's plenty of space on the sprawling top floor for you to sit and enjoy your breakfast or merienda (afternoon snack).
Address: Plaza de Mariana Pineda, 6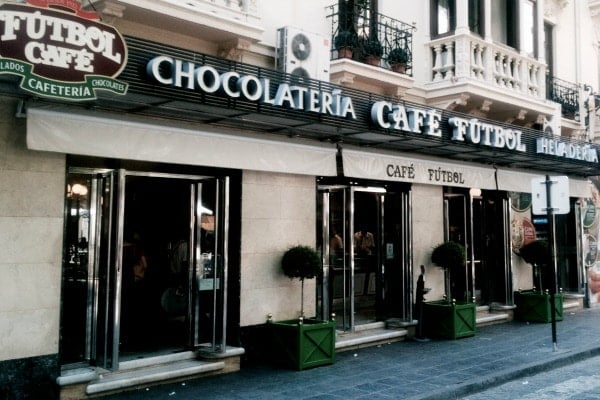 2. Torres Bermejas
Don't be put off by the touristy location—Torres Bermejas is a true locals' spot. If you're feeling peckish after a walk through the Albayzín neighborhood, or have just finished a stroll on the picturesque Paseo de los Tristes, this is the perfect place for churros in Granada. It's a full-fledged restaurant, but their churros are one of the highlights. The friendly owners are true "Granaínos"—make sure to say hi!
Address: Plaza Nueva, 6
3. Alhambra Cafetería
Did you know that churros are the typical Spanish breakfast on January 1st each year? After a long night of festivities, people all over Spain head to their local churrería for the first breakfast of the year. In Granada, Alhambra Cafetería is where all the locals go.
But if you're not in town on New Year's Day, no worries—this spot serves up some of the best churros in Granada any day of the year. It's also a restaurant and pizzeria, but it's the churros that keep locals coming back again and again.
Insider's Tip: Thinking about doing as the locals do and visiting Alhambra Cafetería on January 1st? Have a great time and enjoy your churros—just look out for the long lines.
Address: Plaza de Bib-Rambla, 27
4. Churros la Romanilla
Ask any Granada local and they'll tell you: Churros la Romanilla is the most typical place for churros in Granada—it's the kind of place that's been there forever. Generations of Spanish abuelas have been bringing their grandchildren here for churros, perhaps because of its convenient location in the old market square in the historical center of the city.
If you're looking for a churros spot that offers bang for your buck, this is your spot. Pull up a chair before sight seeing, and prepare for your day with a mountain of delicious churros. Their terrace offers a lovely view of the bell tower of the Cathedral, or you can take your breakfast to go.
Address: Plaza Romanilla, 7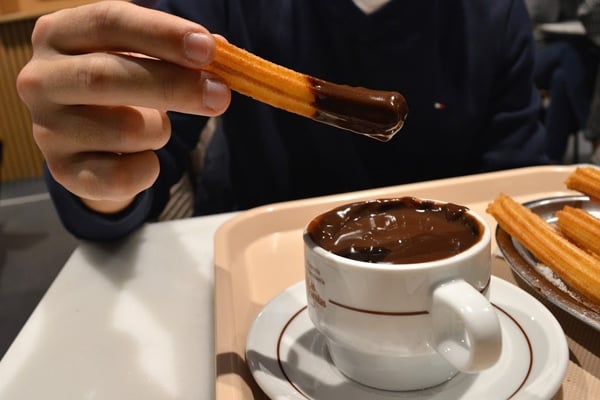 5. Churrería Desi
For a true, locals-only spot for churros in Granada, try Churrería Desi. The spot originally opened in 1944 as a coffee shop, but their churros and tapas became so popular that they ended up opening an Italian restaurant a few years back as well.
A few minutes outside of the city center by car, it's located in the Zaidín neighborhood, which is one of the most modern areas of Granada. Taking a trip to Churrería Desi is the perfect excuse to discover this lesser-known part of the city. Be sure to enjoy the amazing tapas bars in the area and visit the soccer stadium while you're there.
Address: Calle Palencia, 20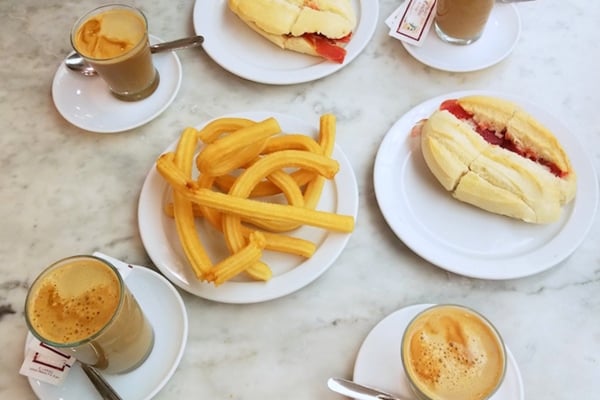 Craving more? Try one of these delicious typical desserts from Granada.
Pin me!