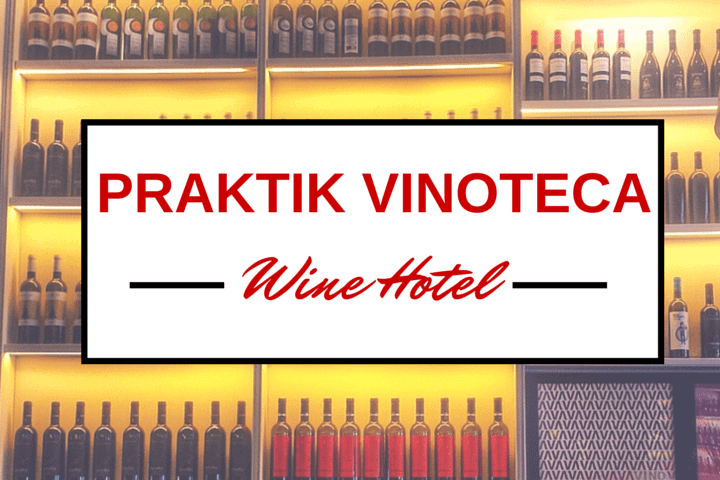 A wine themed hotel in the center Barcelona featuring local Catalan wines? Sounds like a plan to me!
In today's age of speed and technology, of online check ins and express check outs, it's obvious that something often gets lost when it comes to human interaction. Your normal hotel check-in these days goes something like this:
Name?
Passport please!
Here's your key card-- enjoy!
But then there are the rare places like the Praktik Vinoteca-- a wine themed hotel in the center of Barcelona-- where, despite its cosmopolitan vibe, you are greeted with a big smile and a glass of crisp cava or local wine. Much more than just a keycard!
The brainchild of the Praktik Hotels group (which is quickly becoming my favorite small hotel group in Spain), the Vinoteca is their newest property located in the heart of the elegant Eixample neighborhood. After trying the Praktik Bakery (and falling in love with their to die for almond croissants), we were invited back to try the Vinoteca.
Multiple glasses of wine later, we were beyond sold on the concept, and would highly recommend the experience to friends and family looking for something comfortable, affordable and friendly in Barcelona.
In Wine We Trust
When you walk inside the newly opened Praktik Vinoteca, the decor immediately puts you at ease. Surrounded by wine bottles in a comfortable lounge, it's easy to forget you're supposed to be checking in to your room.
Opened in late 2014, the Praktik Vinoteca is an affordable boutique hotel (rooms start around 45€/night) that strives to educate its guests about local wines (if they're interested!). They kindly offer a glass of wine upon arrival (which you can choose to have later if you prefer), and offer a variety of wines by the glass and by the bottle in their comfortable lobby lounge or outdoor terrace.
We were able to meet with their sommelier, Tomás, who comes in every Friday and Saturday evening to educate interested guests about the wines on offer, and even leads wine tastings or wine events by request. He recommended  we try a lovely rosé and later an oaky Rioja. His selections change often and the menu features primarily Catalan wines, though there are other excellent options as well.
But enough about wine-- what about the hotel?
Rooms and Amenities
We stayed in a double exterior room on the 6th floor which looked out onto a quiet street. Like their Praktik Bakery location, the room was compact, but every inch of space is well utilized, making it a very comfortable experience. Most importantly, their beds and linens are amazing, and their rain head shower is one that makes you want to shower for fun! If I ever buy a house, I'm getting one of those for sure!
Location
The location of the Vinoteca is super convenient for just about anything. It's in the stunning Eixample, located a few blocks from the ritzy Passeig de Gracia, but only a ten minute walk into the Old Town. We walked everywhere from the hotel, from the international Raval neighborhood, to the beach at Barceloneta and also into Gracia for our food tours.
Our Stay
We spent most of our time at the hotel enjoying the comfortable lounge, where it was wonderful to be able to get a great glass of wine after a day spent touring and working (it was a work trip, after all!).
The breakfast spread, while standard, is offered in yet another beautifully designed room, and had it been a tad bit warmer we would've taken advantage of the great terrace.
Most importantly for us, the hotel had fast wifi and was near some great restaurants. We opted to try Tandoor for modern Indian (a 15 minute walk) and Nanit for traditional Chinese (only 3 minutes away) and Takashi Ochiai for Japanese pastries-- all great places (full reviews coming soon!).
I would definitely recommend the Hotel Praktik Vinoteca to anyone who is looking for a comfortable stay in Barcelona. We'll certainly be back!
Looking for wine tasting in Barcelona? If you can't stay at the Praktik, you can still join Devour Barcelona of their Evening Tapas and Wine Tasting Tour-- learn the ins and outs of local wines and eat some fantastic tapas!
Hotel Praktik Vinoteca
Carrer de Balmes, 51
[mappress mapid="56"]
Looking for more tips on where to stay in Barcelona? Check out my insider's guide!