My Spanish lentils have been known to turn any lentil hater into a lentil lover. Read on for my authentic Spanish recipe!
The first time I tried Spanish lentejas con chorizo I was studying abroad in Granada. My host mom, Josefina, served me a heaping plate of hot lentil soup, and proceeded to add a healthy splash of sherry vinegar. My first bite of Josefina's lentejas was memorable-- she wasn't a great cook, but her lentils were one of the best things I ate during my time in Granada!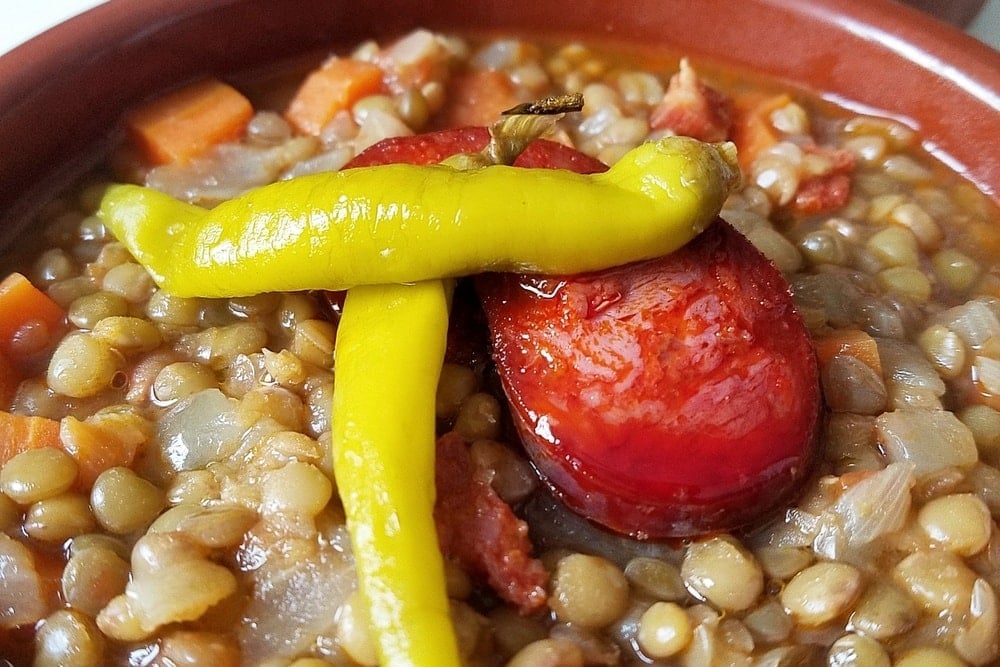 Good Spanish lentejas are hearty yet light-- they don't make you feel heavy and sleepy after eating them. The splash of vinegar or pickled toppings is a must in my opinion, as is using a small quantity of excellent quality chorizo (I like spicy chorizo from León -- but any will do).
Every Spanish household has its own lentejas con chorizo recipe, and the variations are endless (as are the varieties of Spanish lentils themselves!). The following recipe is my go-to for a simple Spanish lentil soup. I make my lentejas in big batches and freeze the leftovers.
I learned this technique for Spanish lentils while attending culinary school in Spain. It uses two pots instead of only one... but I think the couple of extra steps are totally worth it. My Spanish husband has been eating lentil soups for nearly forty years now -- and he claims these are the best he's ever had!
More Hearty Spanish Stews
If you like lentils, bookmark these recipes for next time!
Spanish Lentil Stew
Lentejas con Chorizo Recipe (Simple Spanish Lentil Soup)
A simple and delicious lentejas con chorizo recipe. This Spanish lentil soup is traditional and perfect for cold days!
Print (images optional)
Pin
Rate
Ingredients
2

cups

dried lentils

in Spain there are many types, but use brown or green lentils for this dish, rinsed

12

cups

3 quarts of chicken stock (you can also use water, or half stock and half water)

1

stalk of celery

cut into inch long pieces

Aromatics of choice

rosemary, thyme, bay leaf, black peppercorn

1

ham bone

1

large link of chorizo

semi-cured if possible to find -- about 160g

Olive oil

4

medium onions

finely diced

3

large carrots

small dice

4

cloves

of garlic

minced

2

teaspoons

tomato paste

2

teaspoons

ñora pasta

this is a roasted red pepper paste -- substitute a mashed roasted red pepper if you can't find it.

3

cups

of crushed tomatoes

drained
Instructions
Rinse your lentils and look them over carefully for pebbles or debris.

Since cooking the lentils is what takes the longest, start by covering them with cold water or stock and bringing to a simmer.

Add the celery, aromatics, and ham bone and simmer as you prepare the sofrito (the lentils should take about 40 minutes to cook, though this depends on the variety - taste them often so that they don't overcook and become mushy).

Cut ¾ of the chorizo into rounds, place them in a heavy frying pan and turn up the heat. Sear the chorizo on each side, allowing the fat to render.

Remove the chorizo from the pan and reserve for later. Mince the uncooked ¼ of the chorizo for later use as well.

In the pan with the chorizo grease, add ¼ cup of olive oil over a medium heat

Add the onions and cook slowly until starting to brown (about 7 minutes)

Add the carrots and cook another 5 minutes or so, until everything is cooked through and golden

Add the garlic for another couple of minutes

Add the tomatoes, minced chorizo, tomato paste and roasted pepper paste

Cook over medium heat, stirring, until completely reduced to a paste (sofrito)

Add this sofrito mixture to the lentils, and simmer together until all of the flavors are well combined. Taste the lentils often to make sure you don't overcook them.

Once cooked through, remove the aromatics and the celery from the pot and let the soup sit, uncovered, for as long as you can wait (the longer, the better combined the flavors will be)

Serve hot and top with the seared chorizo and some pickled peppers if you can get them!

Enjoy your homemade lentejas con chorizo!

Tip: if you like a thicker version, remove a couple of ladles of lentils before adding the sofrito (make sure they're cooked through) and run this through the blender until smooth. Add back to the soup for a thicker version.
Nutrition
Calories:
437.1
kcal
|
Carbohydrates:
56.67
g
|
Protein:
27.2
g
|
Fat:
11.61
g
|
Saturated Fat:
3.33
g
|
Cholesterol:
23.3
mg
|
Sodium:
907.56
mg
|
Potassium:
1281.65
mg
|
Fiber:
18.03
g
|
Sugar:
14.39
g
|
Vitamin A:
4181.97
IU
|
Vitamin C:
17.74
mg
|
Calcium:
92.84
mg
|
Iron:
6.22
mg
UPDATE NOTE: This recipe was originally published on March 20, 2018. It was updated with new photos and text on October 20, 2020.
More delicious Spanish soup recipes:
What do you think? Is Spanish lentil soup something you'll be making this season?