Wondering where to eat in Malaga? Below I'll share all my favorite spots for food, wine, and more—plus recommendations for the local specialties you absolutely must try in Malaga!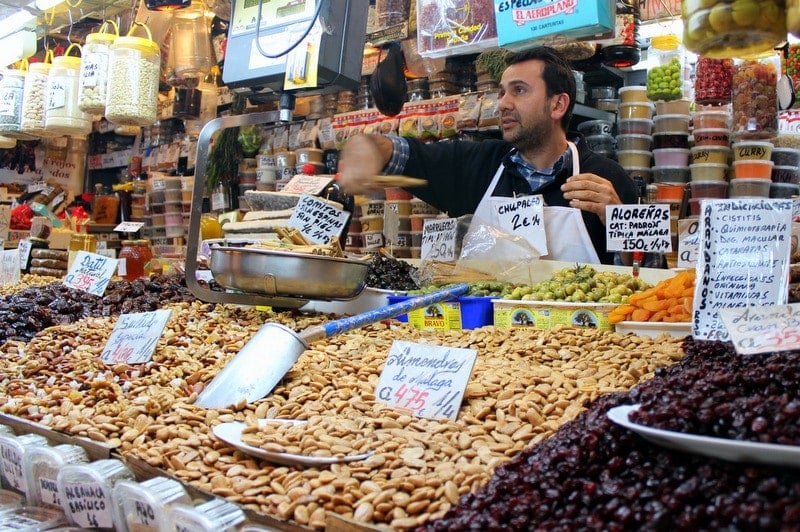 I still remember my first "tapas" meal in Malaga back in 2007. I was visiting Malaga for the first time and had no idea what to expect—I'd barely been in Spain a month.
Three minuscule clay dishes later, I made the conclusion that tapas in Malaga left a lot to be desired. Little did I know that nearly 10 years later Malaga would become one of my favorite cities in Spain for tapas.
Today Malaga is a wonderful place to taste some of Spain's best tapas. The tapas in Malaga are generally not free (though you may receive a complimentary tapa with your drinks in some establishments), but they're well worth paying for.
The city is an exciting mix of traditional tapas bars and modern tapas bars, each offering a unique spin on Spain's famous small plates.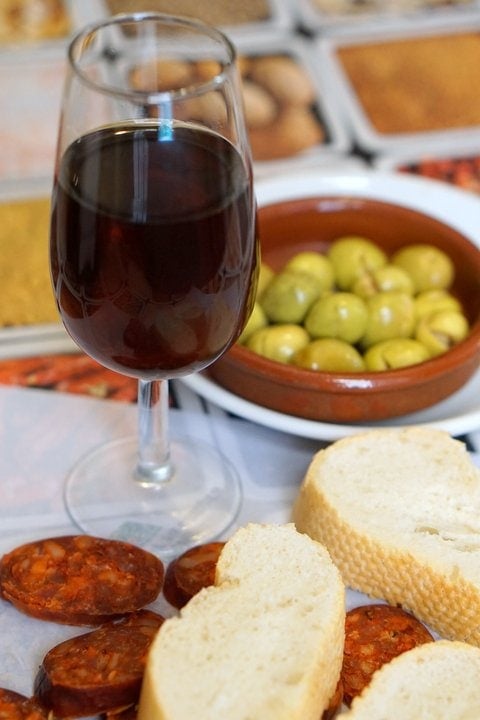 But Malaga isn't all about the tapas! This gorgeous city is also home to a handful of fantastic places for a hearty Andalusian breakfast, Spain's most colorful local markets, delicious fried fish shops, and some of the best chiringuitos (beachside seafood restaurants) in the country.
If you're wondering where to eat in Malaga, rest assured that there are plenty of wonderful places to choose from! I visit Malaga various times throughout the year, as it's one of my favorite cities for great food, and only two hours from Madrid by train! These trips are the perfect excuse to do lots of eating (I mean research!) for my food tour company and this blog!
Here are some of my personal favorite places to eat in Malaga, which I update each time I visit the city.
See Also: Where to Stay in Malaga
Malaga Tapas 101
Malaga's tapas follow what I call "the Seville system" (though perhaps we should just say the Malaga system here!).
In Malaga, tapas are basically a serving size. They are small dishes (though not as small as the tiny clay dishes I received back in 2007!), and on many local Malaga menus you will find three columns:
Tapas
Media raciones (half plates/portions)
Raciones (full plates/portions)
These are three serving sizes of the same dish. Media raciones and raciones are meant to be shared, and tapas are generally individually sized, although many people share a few tapas among close friends or family. Spaniards don't mind double dipping!
Here are some more important things to know:
In Malaga you usually pay for your tapas, unlike in cities such as Granada or even Madrid where "free tapas" are included in the price of your drink. This allows you to have full control of what makes it to your table, and the quality is generally better than free tapas places. Of course, it all depends on where you go!
Tapas prices in Malaga range greatly between the traditional tapas bars, where a small tapa of potato salad may cost under €2, and a more modern bar, where a tapa could be closer to €6. Unfortunately, modern "gastro bars" have become quite trendy in recent years, so you really have to know where to go so that your money doesn't go to waste!
Never rush your tapas experience. Order little by little when out for tapas in Malaga. Tapas in Andalusia usually come out quickly, as they are prepared in advance and reheated when ordered. Often they're even microwaved to heat them up (this is not considered a bad thing in the right place). The best way to enjoy tapas in Malaga is to order little by little, pairing each tapa with a drink. This ensures you won't over order and you'll be able to enjoy everything while still hot!
What to Eat in Malaga – 15 Must-Try Foods & Drinks
Before I get to where to eat, it's important to know what to eat in Malaga! And sorry, but paella isn't on the list...
Pitufos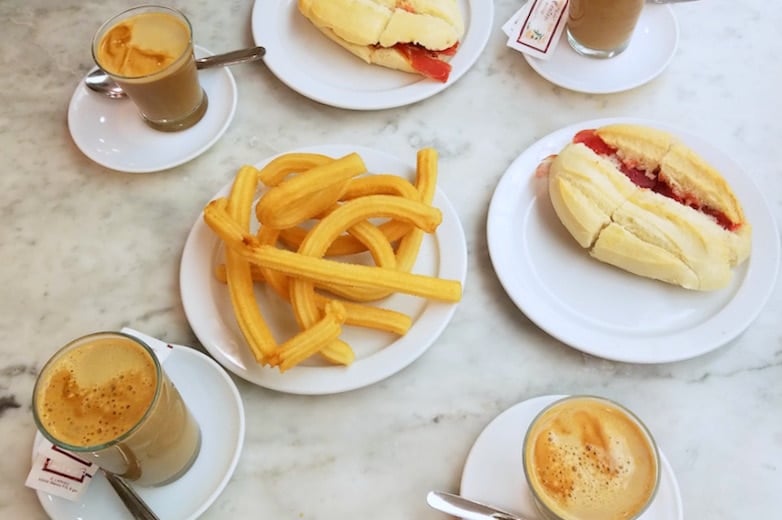 Literally translated to "smurf," these are little breakfast sandwiches that are usually filled with tomato and olive oil, and often jamón—cured Spanish ham. When they're made properly, the freshly grated tomato and local olive oil work their magic and it is one of the most satisfying ways to start the day!
Tejeringos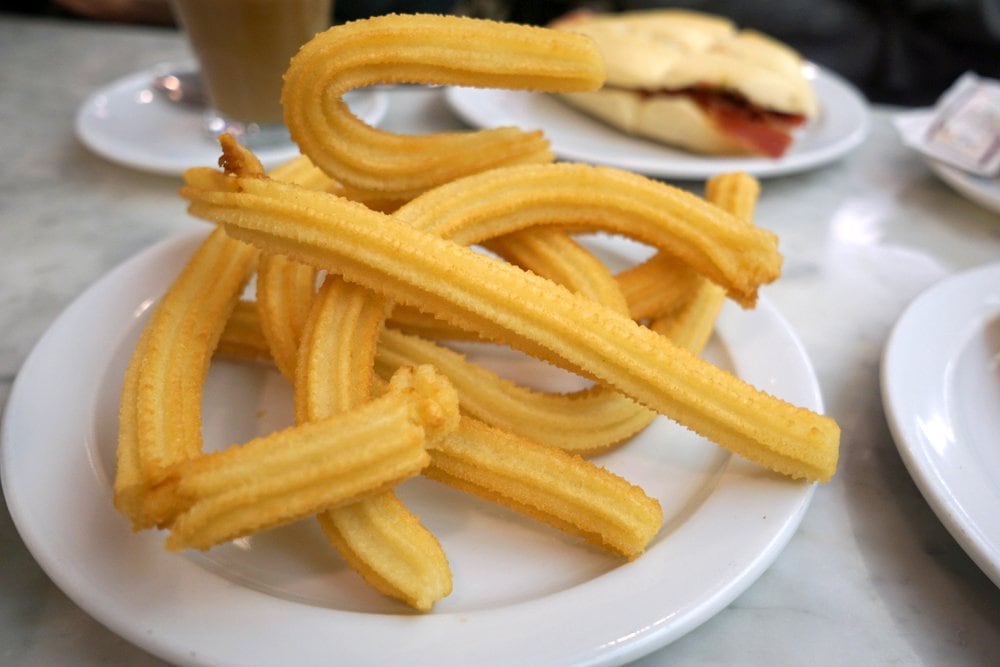 Another breakfast option (or an afternoon snack) is the Malaga version of churros, called tejeringos. Just don't order these for dessert—the locals will look at you like you're crazy!
See More: Where to Find the Best Churros in Malaga
Zurrapa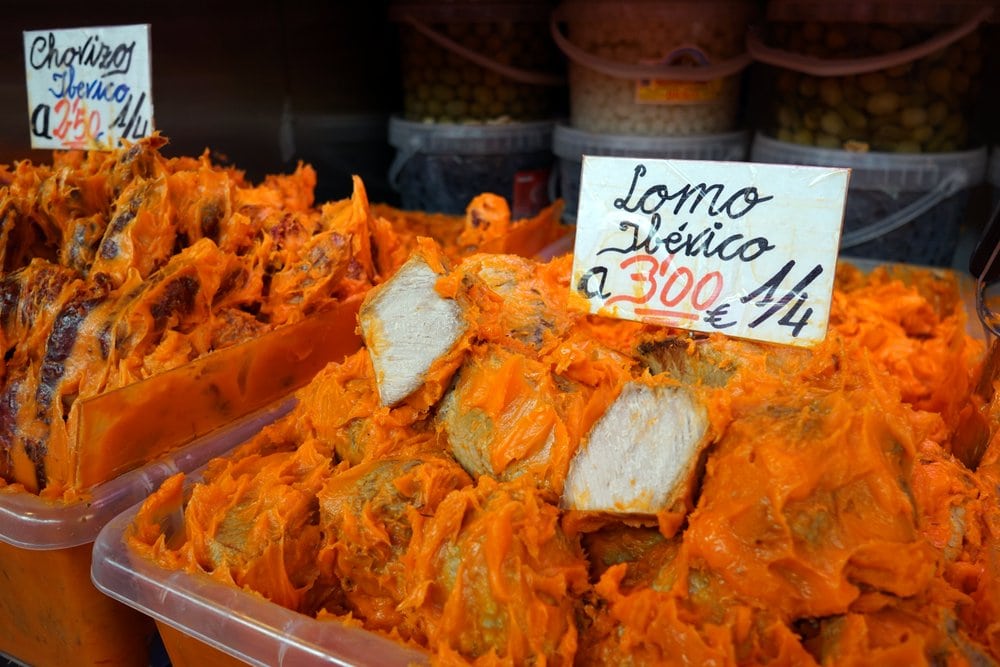 If you want to get daring with your toast toppings, try zurrapa, a rich lard spread with ground meat.
Fried Fish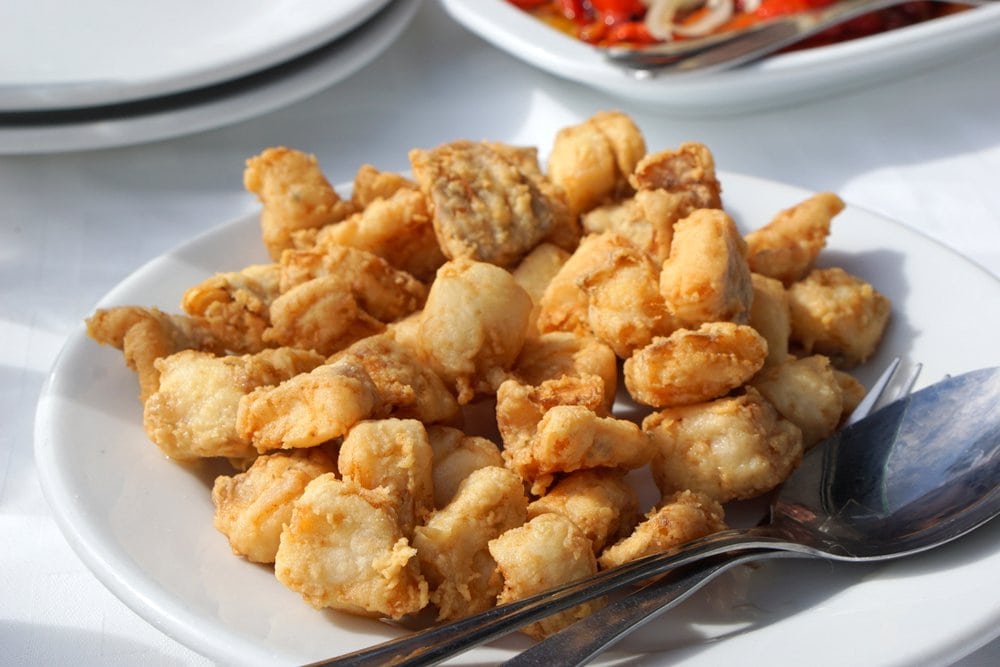 Malaga is famous throughout Spain for its top-quality fried fish. I especially love pintarroja, or sand shark, which is covered in a cumin-lemon batter and deep-fried to perfection.
Anchovies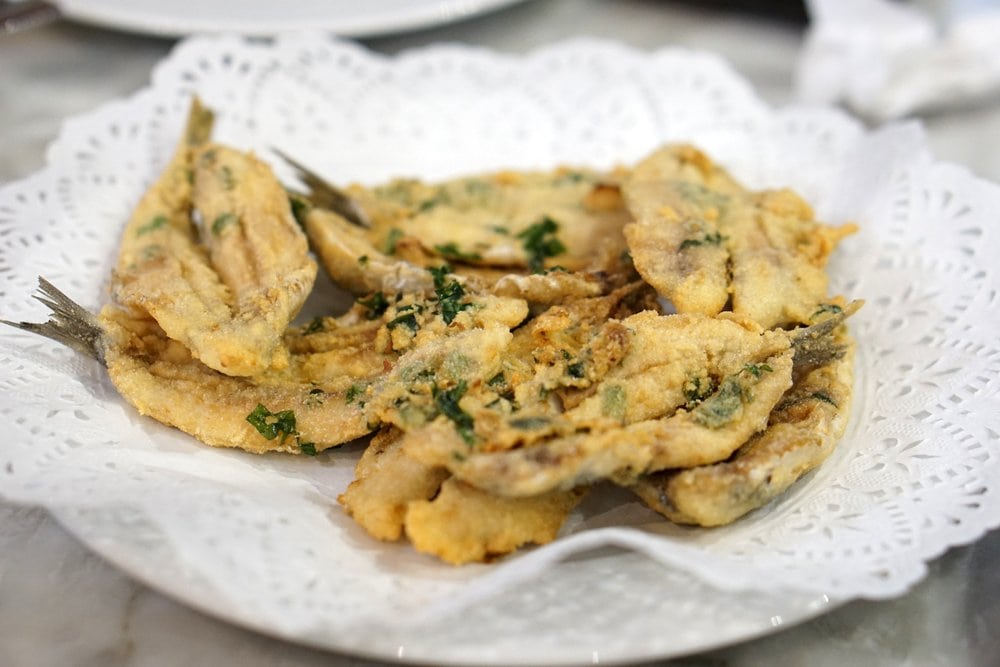 Anchovies are especially important in Malaga (the locals even call their football team boquerones—anchovies!). They are prepared many ways, but I love them butterflied and fried.
Sardines
The best sardines in Malaga are called espetos after the sticks that they're grilled on. Head out to the fishermen's neighborhoods of Malaga for the best espetos—and don't forget, only order them in the months without an "r"!
Malaga Salad
This traditional Malaga salad (ensalada malagueña) is made with salt cod and oranges. It's a refreshing (but filling) tapa that you'll find in most of the city's traditional tapas bars.
Get the Recipe: Malaga Salad Recipe
Ajo Blanco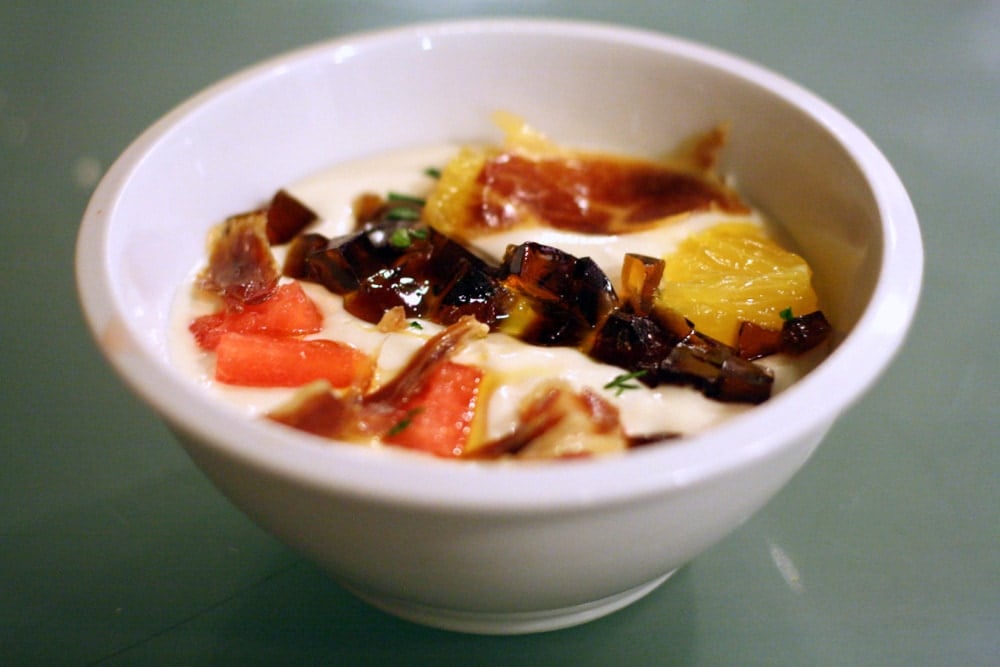 Before tomatoes came to Europe with Spanish conquistadors (they were a food brought from the Americas), Spanish dishes like gazpacho and salmorejo didn't exist.
What they ate instead is called ajo blanco, a delightful cold soup made with garlic and blanched almonds. You'll still find this Andalusian specialty in some of Malaga's most traditional restaurants.
Get the Recipe: Ajo Blanco Recipe
Porra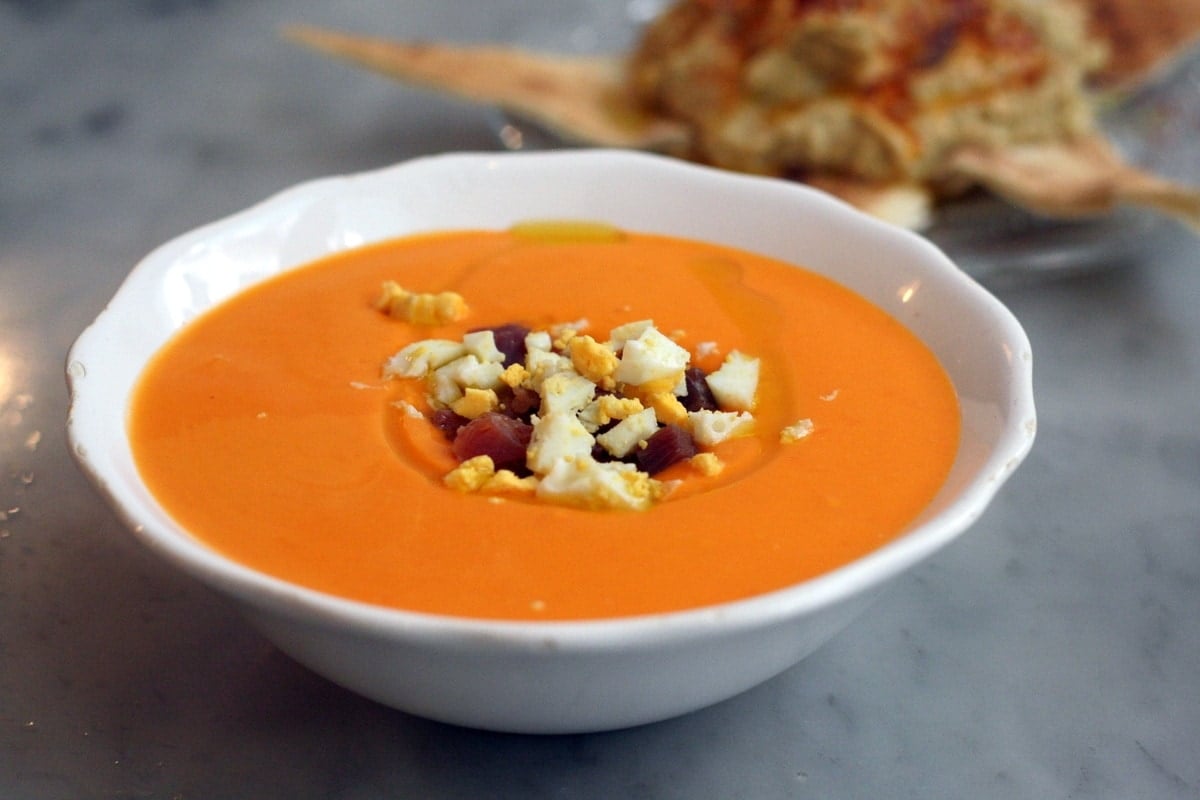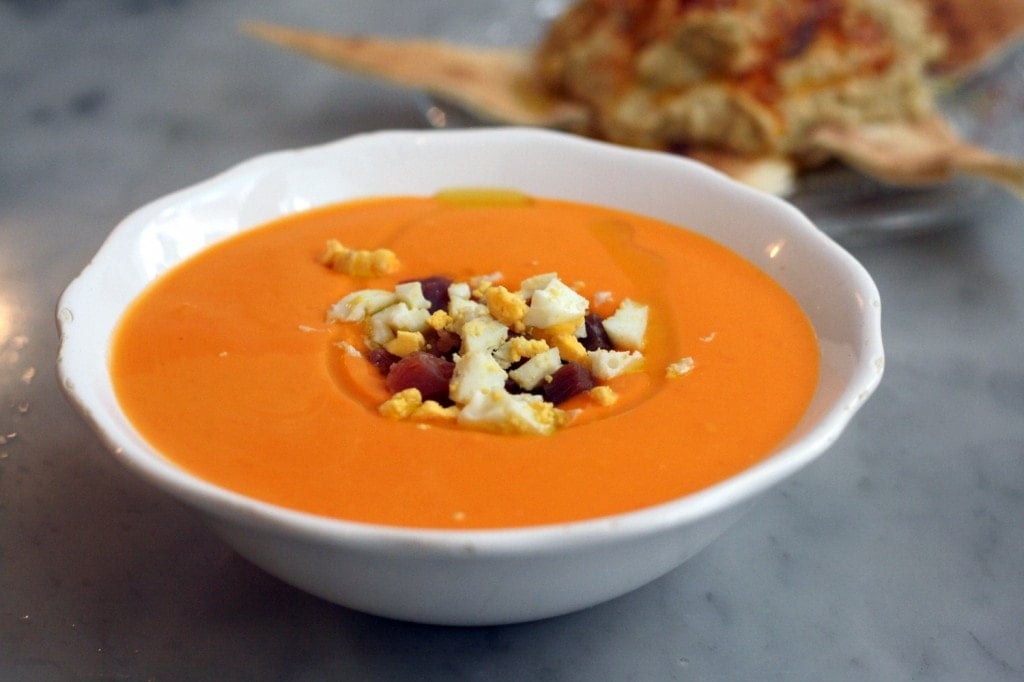 And after tomatoes were introduced, porra came about! Porra is similar to salmorejo, and is made with tomatoes, stale bread, vinegar, and olive oil. But instead of being topped with hard-boiled egg and ham, it's usually topped with tuna. It's delicious and refreshing!
Raisins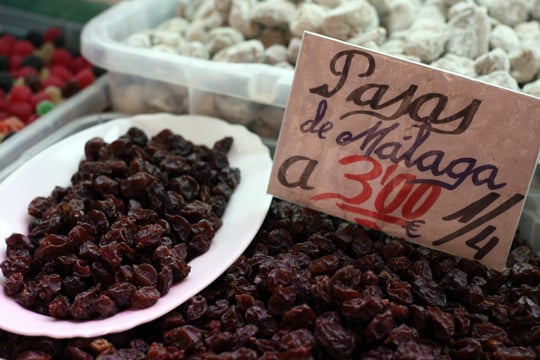 It might sound crazy, but yes, you must try raisins in Malaga! Visit the Atarazanas Market and sample the delicious local Malaga raisins, used to make some of the famous local sweet wines.
Almendras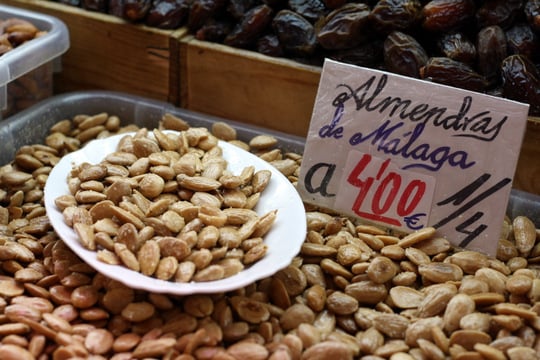 While visiting the market (or while strolling the city center) pick up some local almonds, some of the best I've ever had. This is another Malaga specialty that sounds simple enough, but is truly wonderful when you taste it. The almonds are perfectly toasted and salted and make the best snack.
Turrón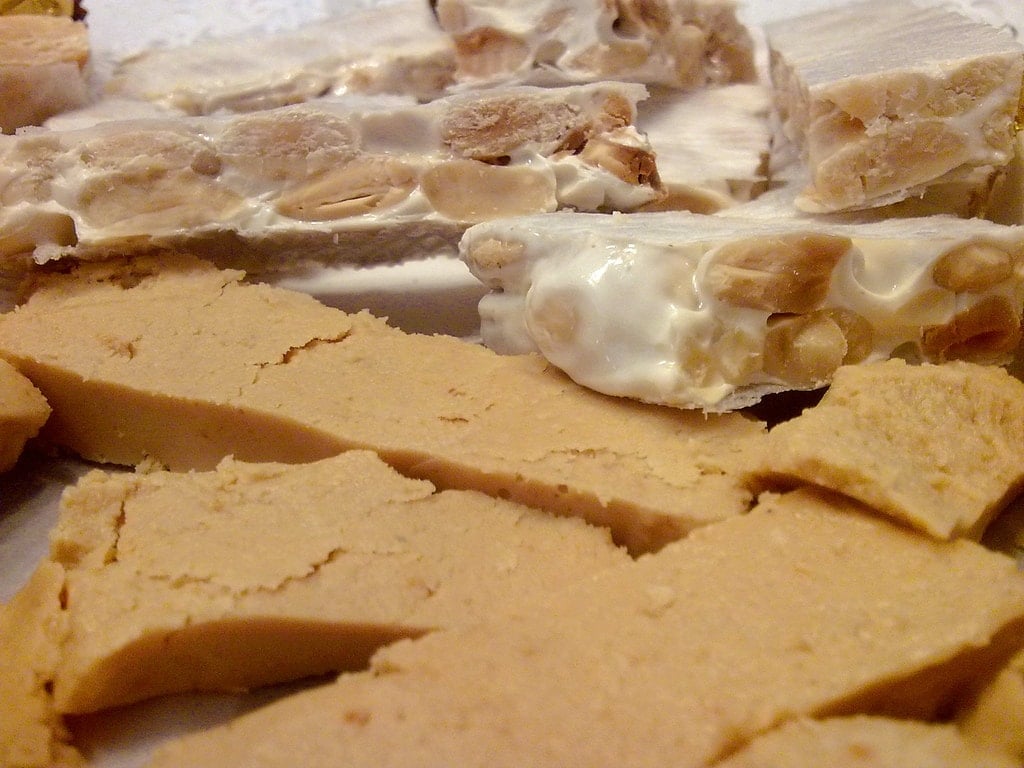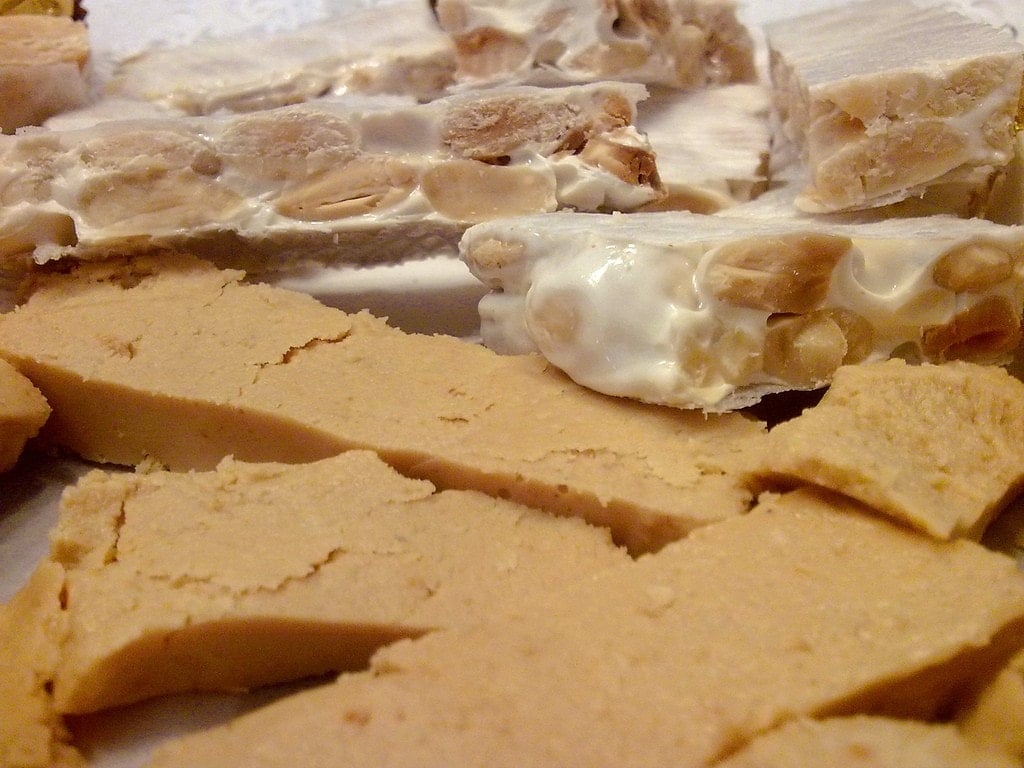 If you have a sweet tooth you must taste Malaga turrón. This sweet nougat is the perfect snack or dessert. It's usually full of nuts (most likely almonds, of course) and isn't too hard to bite into.
Ice Cream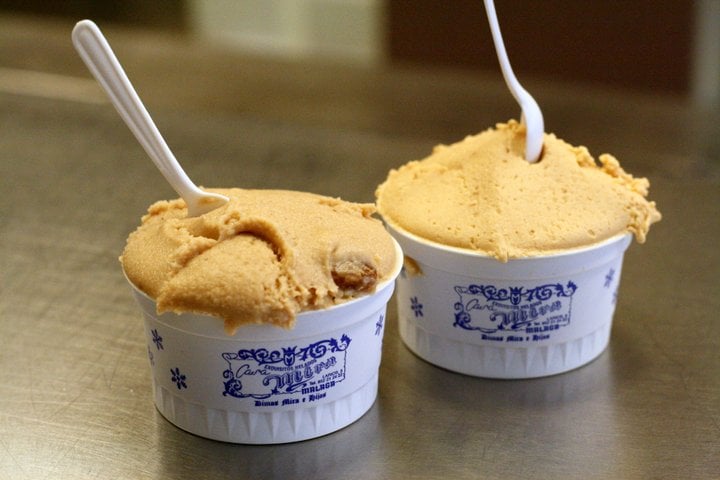 Malaga has some excellent ice cream shops (check out the historic Casa Mira or delicious Heladería Freskitto), which often offer seasonal flavors as well as the classics (turrón is one of those!).
Sweet Wine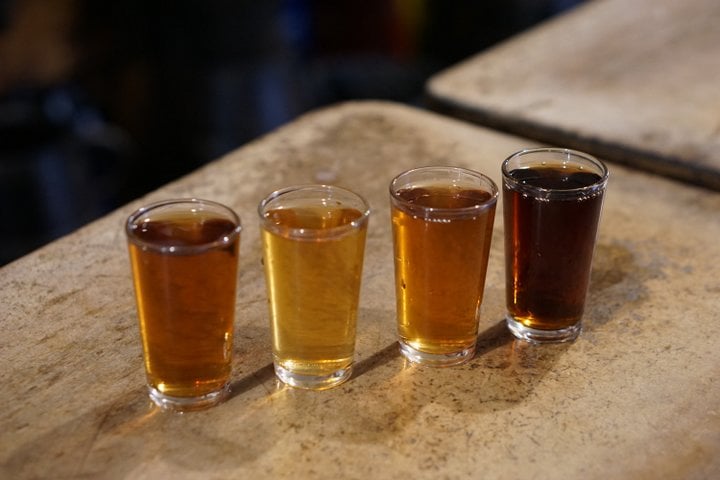 Malaga is world-famous for its sweet wines, mostly made from Moscatel and/or Pedro Ximénez grapes. Even if you aren't usually a fan of the sweet stuff, give them a try, as some have a cutting acidity that leaves you wanting another sip. And if you must, there are plenty of dry fortified wines in Malaga as well!
Dry Wines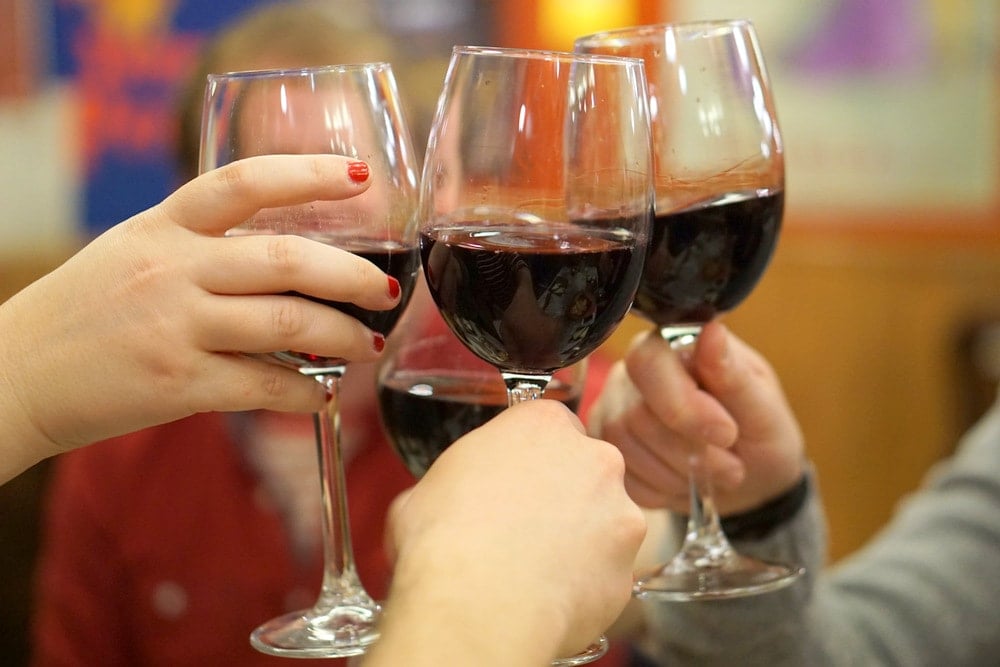 Modern wines in Malaga are becoming a big deal. People are straying from the bulk wine of the past and really dedicating themselves to producing some of the best dry wines in the region.
Try the whites made with the Moscatel grape—the same grape used in the sweet wines. On the nose you'll be expecting honey, but then you take a sip and it's as crisp and dry as can be!
Where to Eat in Malaga – Best Tapas Bars & Restaurants
El Pimpi
It's touristic, but iconic at the same time! Located in the heart of Malaga, El Pimpi is a must-visit for any first-timer in Malaga. Admire the sherry barrels signed by celebrities (more than one you'll recognize) and enjoy some of the best cheese and charcuterie in town.
Calle Granada, 62
Mercado Central de Atarazanas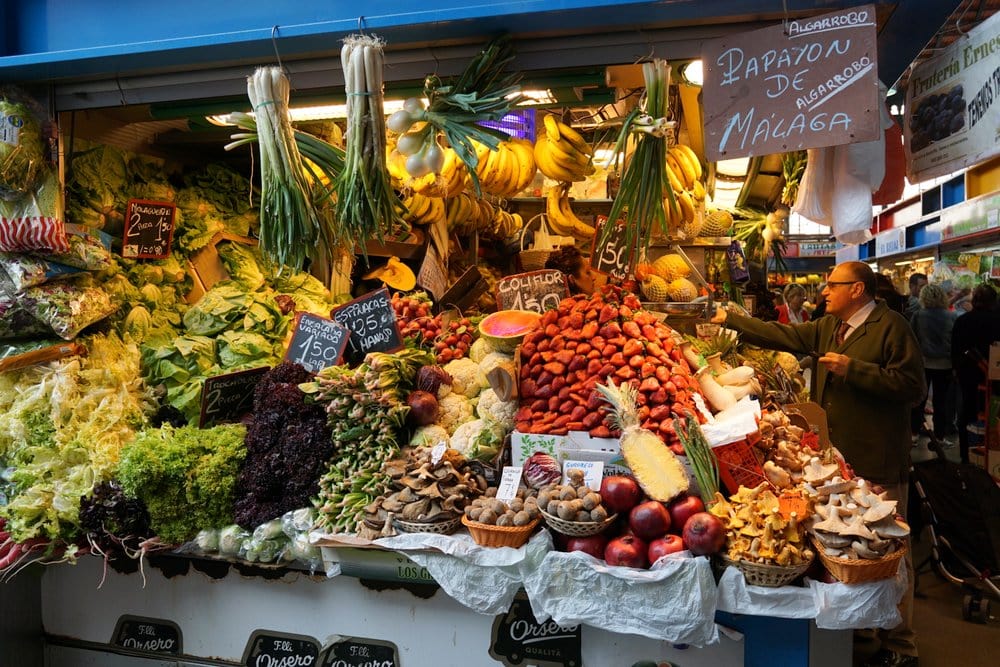 I LOVE this local Malaga market and have ever since the first time I stepped inside. It's a gorgeous building (the former Malaga shipyards, centuries ago!) and home to one of the best fish markets in Spain. There are also some yummy tapas bars inside, serving up fried fish and more.
Calle Atarazanas, 10
See More: The Best Food Markets in Spain
Uvedoble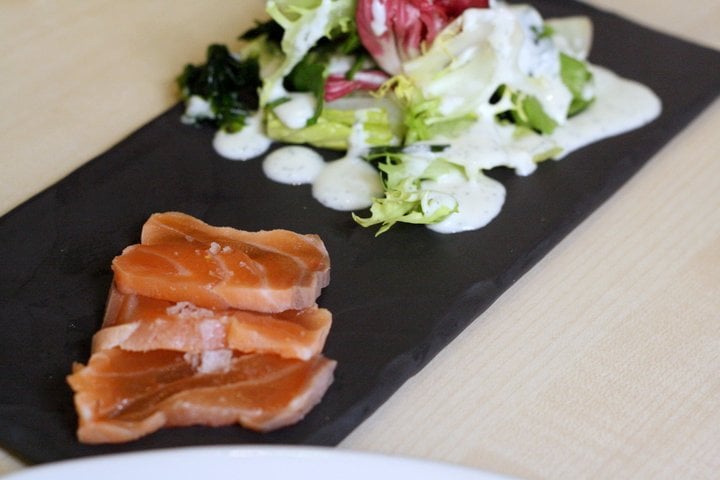 For tapas with an upscale twist, try Uvedoble. It's a tiny tapas bar, so either get there early or make a reservation in advance. Their ajo blanco is a delicious choice!
Calle Alcazabilla, 1
La Tranca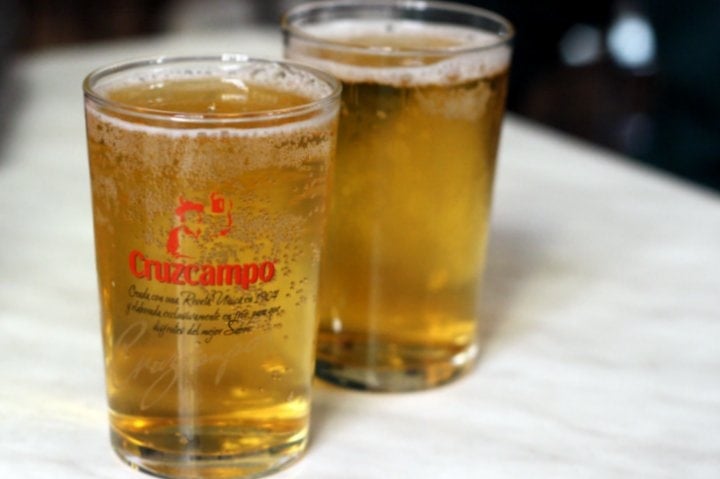 Fun and filled with locals, La Tranca does cold beer and yummy empanadas. It's a place where a lot of younger people (25–35) hang out, and a fun place to have a quick beer before something more substantial.
Calle Carretería, 92
Los Gatos
Started in Madrid, Los Gatos is as Madrileño as it gets—so what's it doing in Malaga? Well, the husband and wife owners decided to divide their time between the two cities (I don't blame them!) and they brought Los Gatos with them. Visit for excellent tostas (delicious toppings on toasted bread) and vermouth on tap!
Plaza de Uncibay, 9
Las Merchanas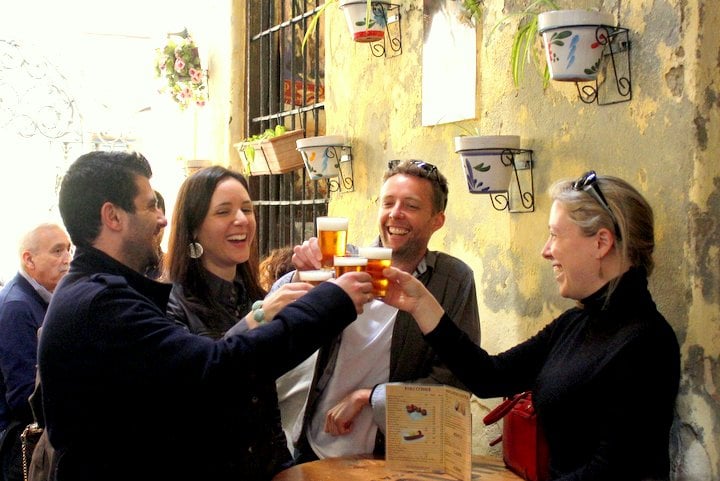 Probably one of the most peculiar bars in all of Spain, this Semana Santa (Holy Week) themed bar goes to show just how much the locals love the Easter traditions. Smell the incense and see the many virgins adorning the space, all as you chow down on yummy traditional tapas and drinks.
Calle Mosquera, 5
El Tapeo de Cervantes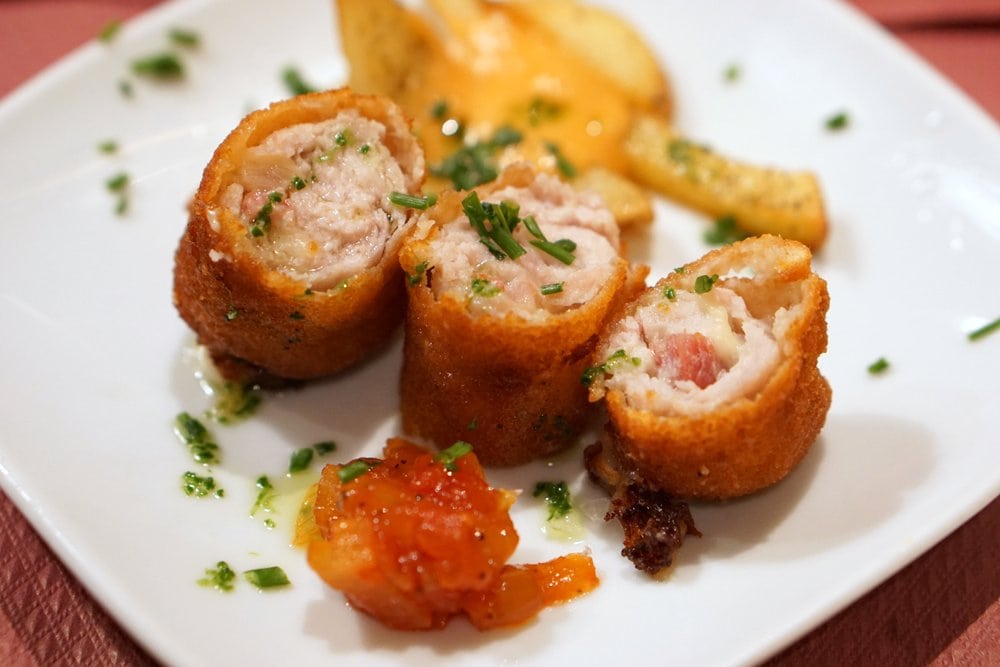 This comfortable tapas bar is one of Malaga's most popular—so reserve if you can. Their tapas are high quality and inventive, and they have some great wines by the glass. Desserts are great too—so save room!
Calle Cárcer, 8
Mesón Mariano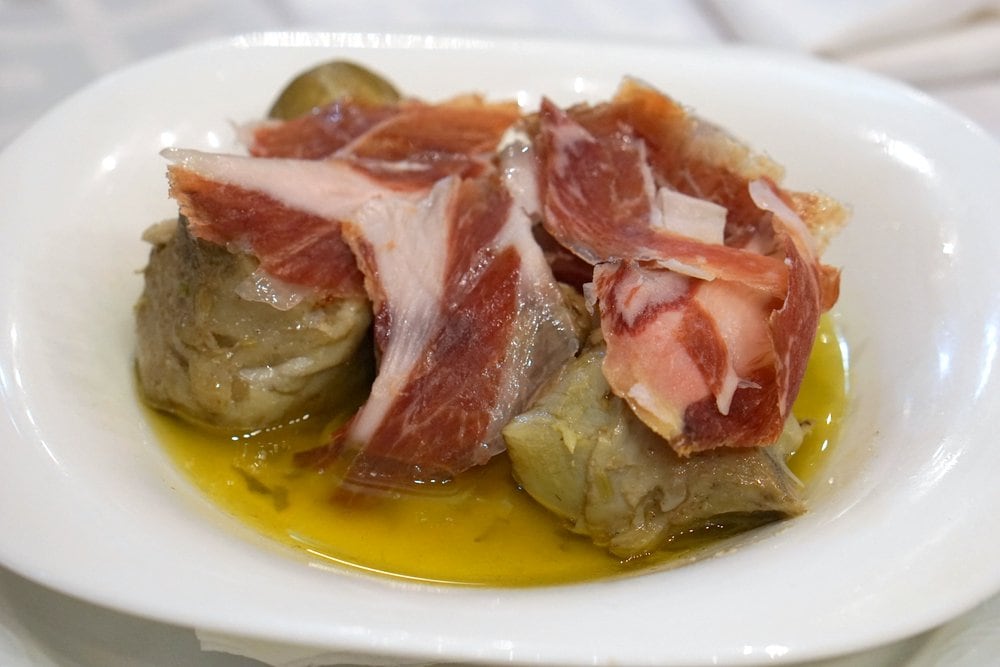 I love the family atmosphere at Mesón Mariano, owned by Mariano himself, who comes in every morning at 9 a.m. to start preparing for the day. The most famous dish here is the artichokes, which are prepared just about any way possible. They're delicious... as is everything!
Calle Granados, 2
The Best Seafood Restaurants in Malaga
Bar La Comba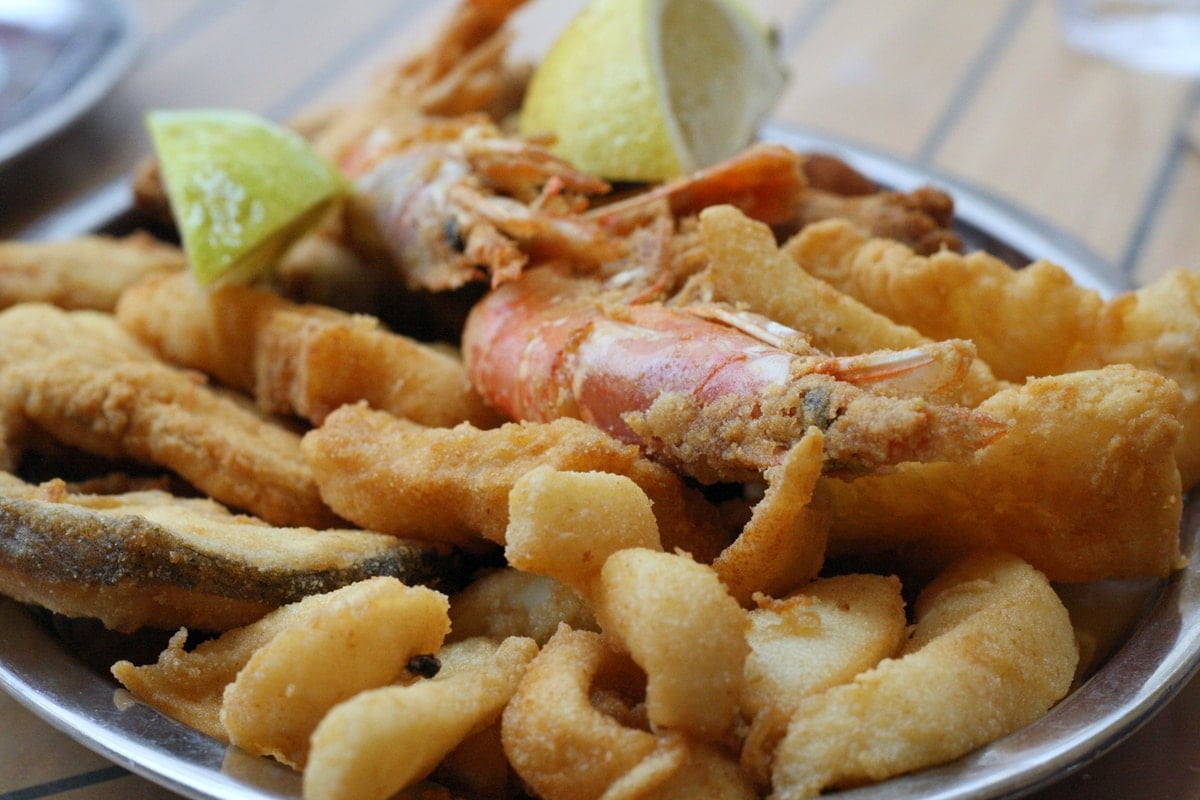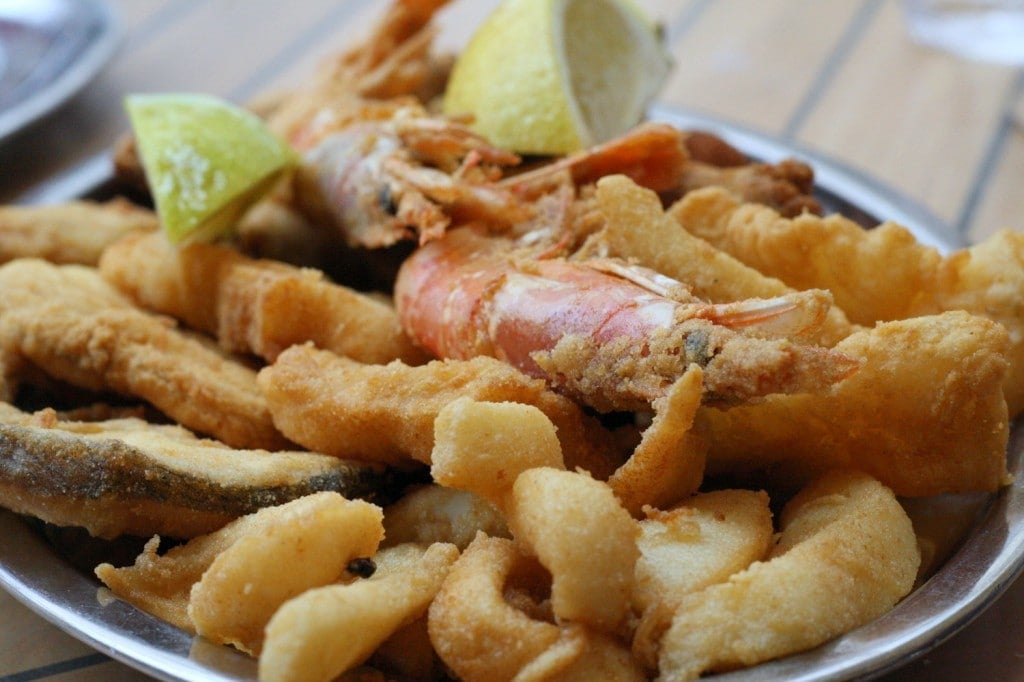 Venture out to Bar La Comba for some of Malaga's yummiest fried fish, sold in paper cones. You can grab and go, or eat at their sidewalk tables. It is super casual, but if you love fried fish, don't miss it!
Calle Compás de la Victoria, 17
Marisquería Casa Vicente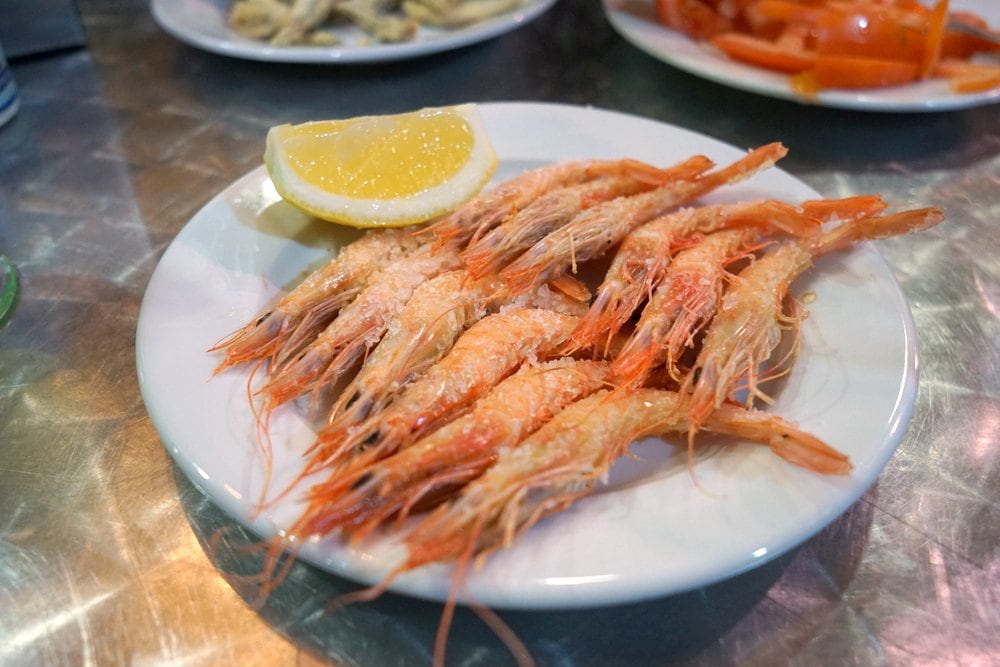 In downtown Malaga, Casa Vicente is known for its shrimp (it's been selling them since the 1960s!), served by the plateful with a pink bucket on the side for the shells. Sprinkled with salt and a touch of squeezed lemon, they are perfect with a cold beer any time of day.
Calle Comisario, 2
Pez Tomillo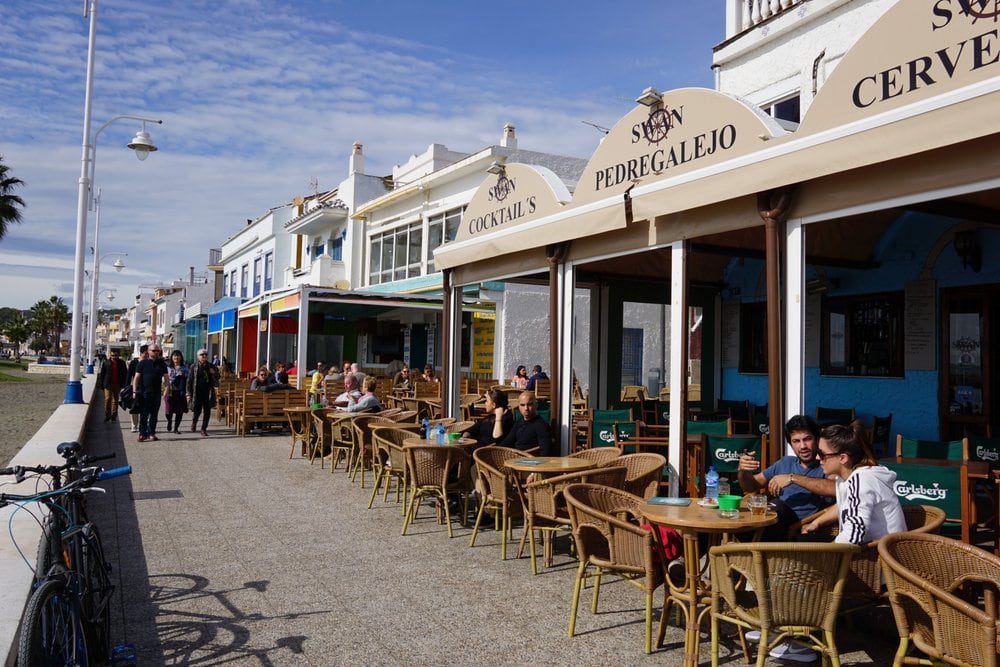 If you head to the part of Malaga called Pedregalejo, you'll be in for a treat. The beach is lined with restaurants and chiringuitos, beachside seafood shacks. Pez Tomillo is far from a shack, but it is a great restaurant with modern interpretations of Malaga classics, and really yummy seafood too.
Paseo Marítimo el Pedregal, 1
El Cabra
Another excellent (and recently renovated) seafood restaurant in this part of town is El Cabra. Their espetos de sardinas and roasted red peppers are to die for. I try to make a trip here every time I come to Malaga—even if it means taking a taxi straight to the train station after lunch!
Paseo Marítimo el Pedregal, 17
El Tintero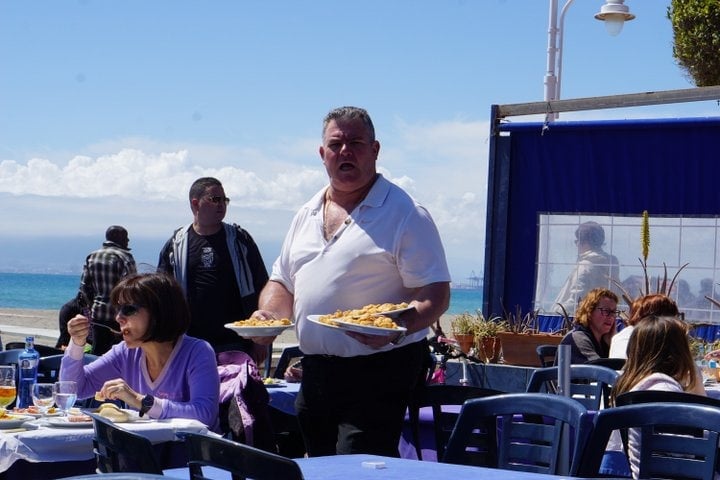 The most famous of Malaga's beachside bars is El Tintero. The quality of food isn't quite that of the others, but the experience is completely unique. Waiters will walk around, auctioning off their plates, fresh from the grill.
Most plates cost €8.50—though some are more expensive. You accept what you want, and at the end of the meal they'll come and count your plates to give you the bill. It's a great time, family-friendly, and beautiful chaos—a must!
Avenida Salvador Allende, 340
The Best Wine Bars in Malaga
Antigua Casa de Guardia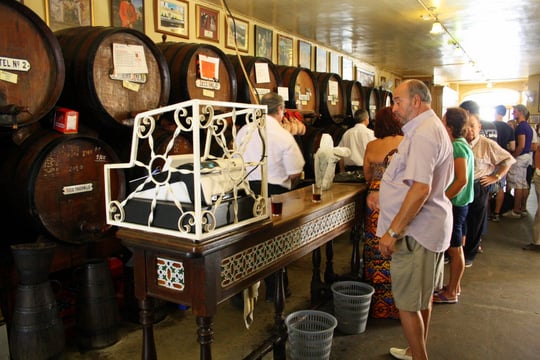 This is one of the most traditional wine bars in Malaga. They're known for their old barrels filled with Malaga's fortified wines. Try the pajarete (sweet, but not overly so) or a seco trasañejo for something dry—with a kick!
Alameda Principal, 18
Los Patios de Beatas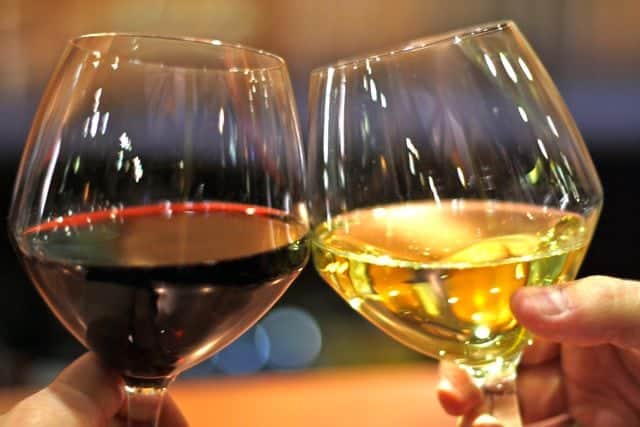 Wine lover? You must try Los Patios de Beatas. This wine shop/bar/restaurant serves a huge variety of wines, many of them by the glass. If you stay for dinner, you can order their tasting menu, and enjoy a wine pairing. Don't miss the local Malaga dry wines, which are up and coming and a great value for money!
Calle Beatas, 43
Read More: Malaga's Best Wine Bars
The Best Places for Breakfast in Malaga
La Recova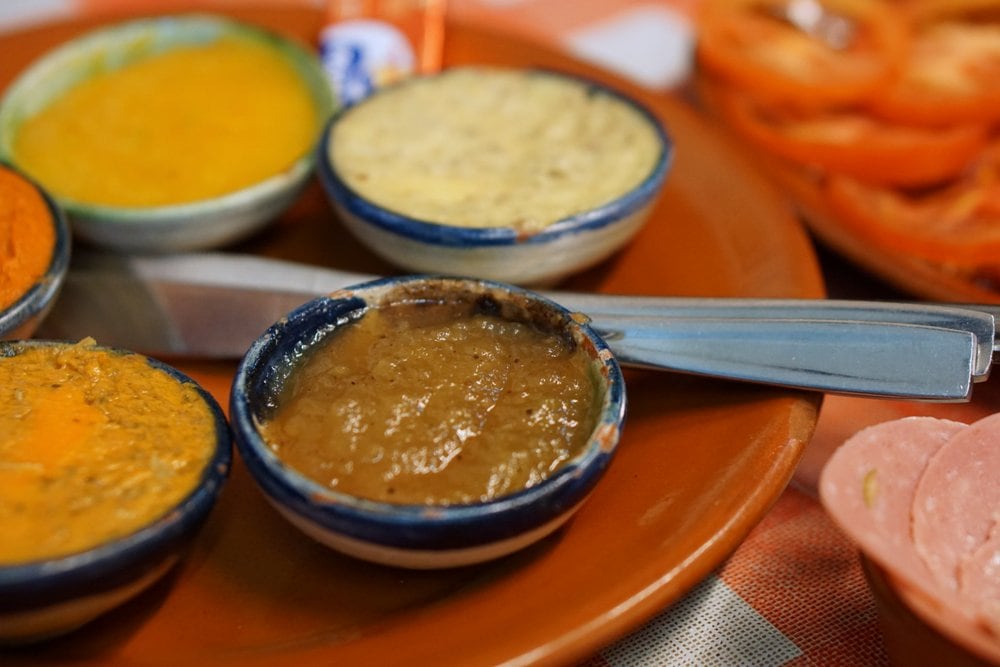 This is hands down one of my favorite breakfast spots in Malaga. If you order the house specialty you'll get a piping hot coffee and a large piece of toasted bread.
Then you'll have about eight toppings to choose from—three different lard spreads, two homemade marmalades, extra virgin olive oil, fresh tomato... the hardest part is dividing your toast into enough pieces to try it all!
Pasaje Nuestra Señora de los Dolores de San Juan, 5
Casa Aranda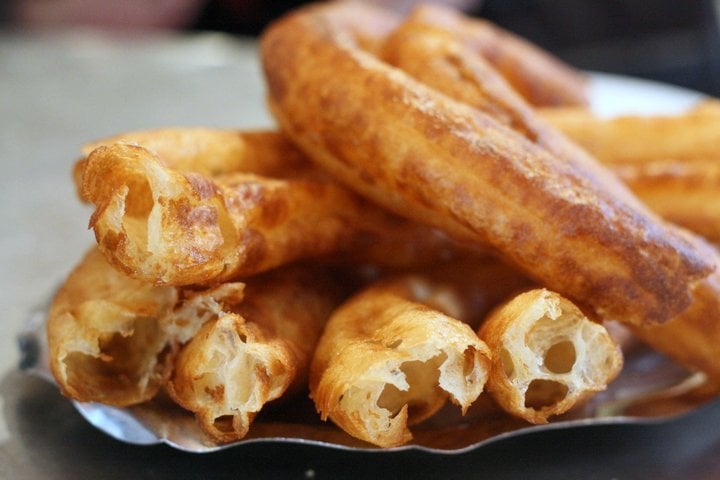 Churros! This is one of the most classic places in town to have them. So many people love them that they have an entire little alleyway serving them all day long.
Calle Herrería del Rey, 3
Dulces Dreams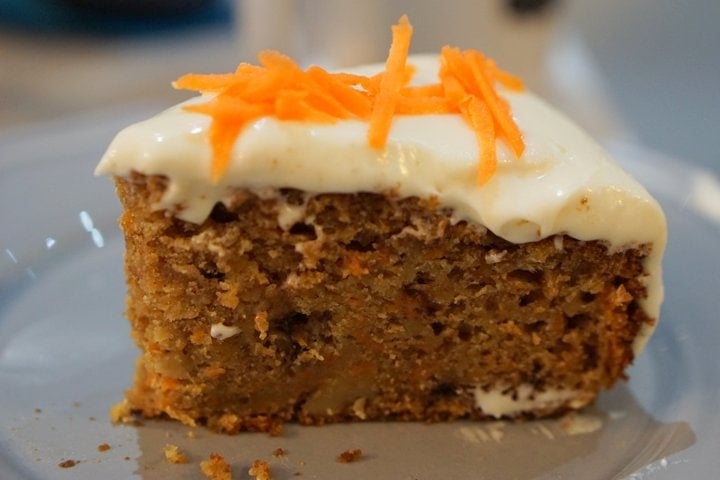 If you are looking for a more modern breakfast (think green juice and an avocado toast), Dulces Dreams is your place. They also do delicious homemade cakes.
Plaza de los Mártires Ciriaco y Paula, 6
Eating in Malaga – Know Before You Go
A bread and service charge is common to see on your bill and can range from €1 or less per table to €2.50 per person, depending on the restaurant. In fine dining establishments, it might even be more, if it also includes a few appetizers. If you don't want bread brought to the table, specify "sin pan por favor," though unfortunately sometimes you'll still be charged. Feel free to complain if this is the case, though the easiest thing to do is to eat like a Spaniard and enjoy your bread!
Don't take offense if in a traditional place, the waiters are running around and slam down your drink—it's not rude, just a part of the show they put on! You often have to be assertive to get a waiter's attention—feel free to signal them over. This is not rude. Don't expect to be asked if you want a second drink, more food, the check, etc. Just be assertive and ask!
You aren't required to tip in Malaga, but rounding up the bill and leaving about 10% for excellent service is definitely appreciated (I always tip my servers). Waiters earn a very low monthly wage in Spain.
Learn to love the afternoon merienda. From around 5:30 to 7:30 p.m. you'll see locals having a drink and a bite to eat in local cafés and pastry shops, instead of having dessert right after a meal. And remember—an afternoon snack at 7:30 means dinner is late! Do as the locals and don't dine before 9:30 p.m.!
This is a city I love more and more with every visit. It's an incredible combination of old and new, where tradition meets modernity. You do need to know where to eat in Malaga, however, because so much of the city caters to tourists, and the quality of many restaurants is low.
But luckily, with a little research or guides like this one, you can avoid the tourist traps and taste the real Malaga—which is so worth it!
Love Spanish food? Sign up for my free weekly newsletter and receive a new Spanish recipe once a week! Join today and get my FREE Spanish ingredient essentials guide!