Today David shares a Catalan classic, a simple recipe for sauteed spinach with pine nuts and raisins. If you need your dose of greens, this is a recipe for you!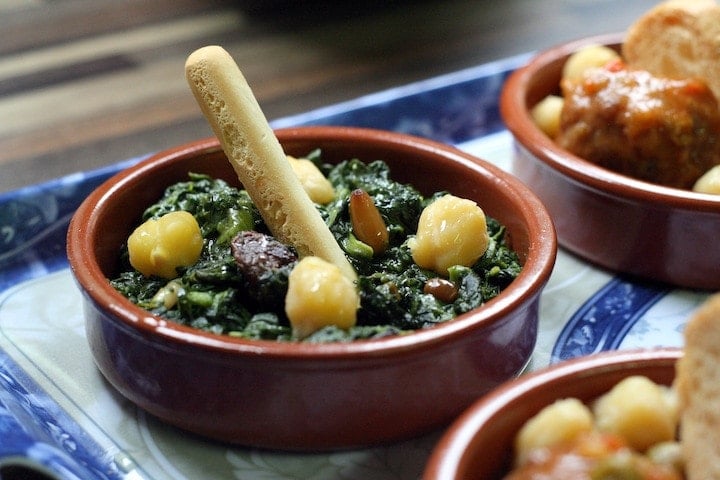 One of the most frustrating food myths about Spain is "it's not a good place for vegetarians!". I hear it all the time.
And I get it; at first glance, Spanish cuisine is all about meat and seafood. There are more ways to eat pork in this country than you ever thought possible! Any good tapas bar will be serving at least a dozen pork dishes, alongside delicious fish, lamb, and (in some parts) beef and bull.
But as a vegetarian myself, I can honestly tell you that Spain is a great country to not eat meat in!
There are so many delicious veggies grown here—it's not for nothing that Spain is known as the 'vegetable garden of Europe'. With so much sunshine and fertile soil, you can grow almost anything! I love chowing down on dishes made with fresh and sweet tomatoes, earthy mushrooms, and all manner of classic rice recipes.
But my favorite veggie of all is spinach. This often underwhelming leafy green is used in some of the most delicious vegetarian Spanish recipes; from Andalusia's espinacas con garbanzos (spinach with chickpeas) to my personal fave, spinach with pine nuts and raisins.
How to Make Espinacas a la Catalana
Also known as espinacas a la catalana, this dish comes from (you guessed it), Catalonia. It's part of Spain's rich Jewish heritage, and you'll see similar Sephardic recipes across the Mediterranean. In Italy, it's called spinaci con pinoli e passerine, and it also pops up in Greek and Turkish cuisine.
To make this recipe, you simply cook fresh spinach leaves with excellent quality extra virgin olive oil, fried garlic slivers (optional), raisins, and toasted pine nuts.
It's a delicious plate of food, perfect for a light meal, appetizer, or as a side dish alongside meat, fish, or more veggies! For best results, I like to use baby spinach leaves. Apart from being way easier to clean (always a plus), the leaves are also a bit sweeter and have a slightly less coarse texture.
Pine nuts can go from golden brown to burned in a scarily short period of time, so make sure to watch them like a hawk. Apart from that, it's a super simple recipe! I also love how adaptable it is. Want to add some meat? Some thin strips of bacon or jamón will give it a real salty, umami kick. Need some more tang? Some pickles or capers might liven it up for you!
So let's dive into the recipe for one of my favorite vegetarian tapas in Spain!
Spinach with Pine Nuts and Raisins Recipe
Spinach with Pine Nuts and Raisins Recipe - Espinacas a la Catalana
This classic Spanish dish of spinach with pine nuts and raisins is a delicious way to get your daily veggies! Make your own espinacas a la catalana at home in no time at all.
Print (images optional)
Pin
Rate
Ingredients
2.5

pounds

just over 1kg fresh baby spinach leaves

½

teaspoon

sea salt

½

cup

water

⅓

cup

golden raisins

2

tablespoons

extra virgin olive oil

plus more to serve

⅓

cup

pine nuts

2

cloves

of garlic

finely sliced

Salt and pepper

to season
Instructions
Place all of the raisins in a small bowl and cover with water. Put to one side and leave them to rehydrate.

To prepare the spinach, wash any dirt or soil off of the leaves, and trim the stalks (not necessary if using baby spinach). Once clean, place in a large pot with the salt and water over medium heat. Cook, stirring, for 3-4 minutes or until the spinach is wilted.

Strain through a colander and gently squeeze with your hands to remove any excess water. Leave in a colander over a bowl to continue draining.

Place a large skillet or frying pan over medium-low heat and add the pine nuts. Toast the pine nuts until they are lightly golden brown, about 1-2 minutes. Shake the pan quite a bit to move the nuts around and toast evenly on all sides. Remove the nuts from the pan and place on a plate to one side.

Put the pan back on the heat. Add the olive oil and increase the heat to medium. When the olive oil is hot, add the garlic and begin to fry until lightly golden (about 1-2 minutes).

Drain the raisins and add them to the pan. Also add the spinach, stirring to mix together with the raisins and garlic. Cook, stirring constantly, until any excess water has evaporated completely.

Add the pine nuts back into the pan and stir to combine everything.

Remove the pan from heat and serve immediately. Season with salt, pepper, and more olive oil.
Nutrition
Calories:
241.53
kcal
|
Carbohydrates:
21.87
g
|
Protein:
10.15
g
|
Fat:
15.86
g
|
Saturated Fat:
1.72
g
|
Sodium:
525.46
mg
|
Potassium:
1739.21
mg
|
Fiber:
7.14
g
|
Sugar:
8.76
g
|
Vitamin A:
26583.35
IU
|
Vitamin C:
80.52
mg
|
Calcium:
289.78
mg
|
Iron:
8.52
mg
Do you have your own favorite vegetarian recipe from Spain? Let me know what it is in the comments below! I'm always searching for more veggie dishes that I can try out at home.
Pin me!