Update!
My love for Seville and its amazing cuisine has inspired me to start offering food tours in Seville as a part of my company Devour Tours. Starting in April of 2015 guests to Seville can join me (or one of our awesome guides) for a tour of Seville's food and culture that is like no other. More details at the end of this post!
This past January I visited Seville for three days of non-stop eating as my friend Jen (Partaste) and I researched for upcoming articles. Seville has always been one of my favorite food cities in Spain, and the tapas culture is as strong as ever. As my former home, I have so many great memories there, yet am always surprised at how many new businesses I discover on each visit.
Cheat Sheet: 5 Best Bites in Seville
Zanahorias aliñadas at Taberna los Coloniales
Montadito de lomo con cabrales at Casa Moreno
Alcachofas con jamón at Azotea (seasonal)
Costillas de cerdo con miel de romero at Eslava
1. Zanahorias Aliñadas
For this food-filled trip, we rented a car with Hertz at Madrid Atocha and drove down with a quick stop for a menú del día in Trujillo. Upon arrival, we were starving, and we weren't quite sure where on our long list to start. As Jen was covering a variety of places, both traditional and modern, we decided to start with one of the most popular traditional tapas bars in town, Taberna Coloniales. This small tapas bar is located in the middle of an ugly square, and there is always a waiting list for a table. The tapas are the opposite of refined-- many are fried and the meats are surely cooked in advance. But there is one dish that I really do love, and haven't found better anywhere else: zanahorias aliñadas. Perfectly par-cooked, and covered with garlic, cumin, tangy Sherry vinegar and extra virgin olive oil, I've tried making these carrots at home to some degree of success, but they are never quite as good as the one at Taberna Coloniales.
Taberna Coloniales: Plaza del Cristo de Burgos, 19
2. Montadito de Lomo con Cabrales
Another of my absolute favorite bites in Seville (which was first introduced to me by my friend Shawn who offers Seville tapas tours) is a montadito (small sandwich) stuffed with lomo (pork loin) and creamy cabrales cheese. This delicious morsel is found in the tiny shop Casa Moreno, where the hidden bar in the back room is a must visit (but never with a group!).
Casa Moreno: Calle Gamazo, 7
Read more: 5 Epic Pork Sandwiches in Seville
3. Crispy Artichokes with Ham
No visit to the self-proclaimed "tapas capital of the world" would be complete without a meal or two at Azotea, one of Seville's best tapas restaurants. We visited their Calle Zaragoza location and were in for a treat with one of their seasonal dishes: crispy artichokes with Iberian ham, migas (sautéed bread crumbs) and an onion-spearmint aioli. These artichokes were perfectly cooked, and the ham, migas and alioli were the perfect combinations. I think I could eat these every day...
Azotea: Calle Zaragoza, 5
4. Serranito de Cerdo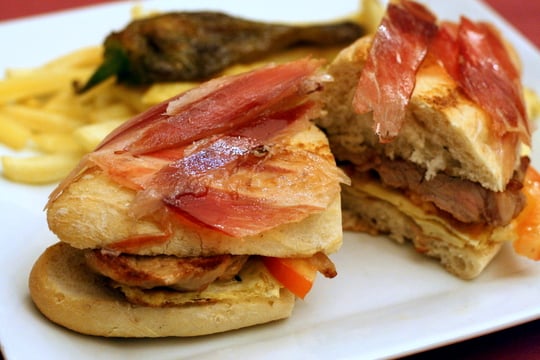 One of my favorite sandwiches in the world is a perfectly made serranito. My favorite version consists of grilled pork loin, Serrano ham, a fried green pepper, tomato and alioli. I'm always searching for the best one, so if you have a favorite let me know for my next trip to Seville! Get the classic serranito sandwich recipe here!
5. Pork Ribs with Rosemary Honey
The last dish I'll leave you with today is the honey ribs from Eslava. I think these are the only times I've enjoyed Spanish ribs more than American style ones! Eslava has been perfecting its tapas for more than 20 years and is still one of the most popular tapas bars in Seville. Go early to grab a spot at the narrow bar (or better yet a hightop on the sidewalk). Their costillas de cerdo con miel de romero (pork ribs with rosemary honey) are truly delicious.
Eslava: Calle Eslava, 3
I also have a full Seville gastro guide of what to eat in Seville (and where!). I'm always updating, so if you have any insider tips that should appear, please leave me a comment.
Devour Seville Food Tours!
We are offering a delicious, fun-filled, and informative food tour in Seville where you'll:
Taste some of the city's best bites
Get a hold on Seville's unique culture and history
Learn all about tapas culture and receive our exclusive Devouring Seville Guide with our favorite spots
Visit local markets, tapas bars, bakeries, breakfast spots, ham shops, and much more!
Fall in love with Seville like I have by signing up for Seville food tour (or register for our free newsletter The Bite for upcoming news and offers!)