If you want to bring Spanish flavors into your kitchen, you're in the right place. We've collected 50 of our favorite Spanish tapas recipes—all of them easy, authentic, and guaranteed to make you fall in love with this country's cuisine (if you haven't already)!
Spanish tapas have earned an international reputation among chefs, foodies, and culinary travelers. These iconic dishes come in many forms, from traditional specialties to international fusion. If you ask 10 different people, "what are tapas?" you'll probably get 10 different answers.
That said, the most authentic tapas tend to be simple combinations of high-quality ingredients: cured ham, local cheeses, seasonal produce, fresh seafood, and plenty of olive oil (to name just a few).
It's also easy to find vegetarian tapas and vegan tapas in Spain—in fact, some of the most classic tapas happen to be plant-based.
If you want to enjoy this iconic aspect of Spanish cuisine at home, all you need are a few quality products, a bit of motivation, and—of course—good recipes! To give you some inspiration and help you get started, we've rounded up 50 of our best Spanish tapas recipes.
Top 50 Spanish Tapas Recipes
Here are our favorite Spanish tapas recipes, from simple snacks to more complex cooking challenges. One thing they all have in common? The end result is delicious, authentic, and perfect for parties—or just a nice meal at home.
The Classics
1. Tortilla de Patatas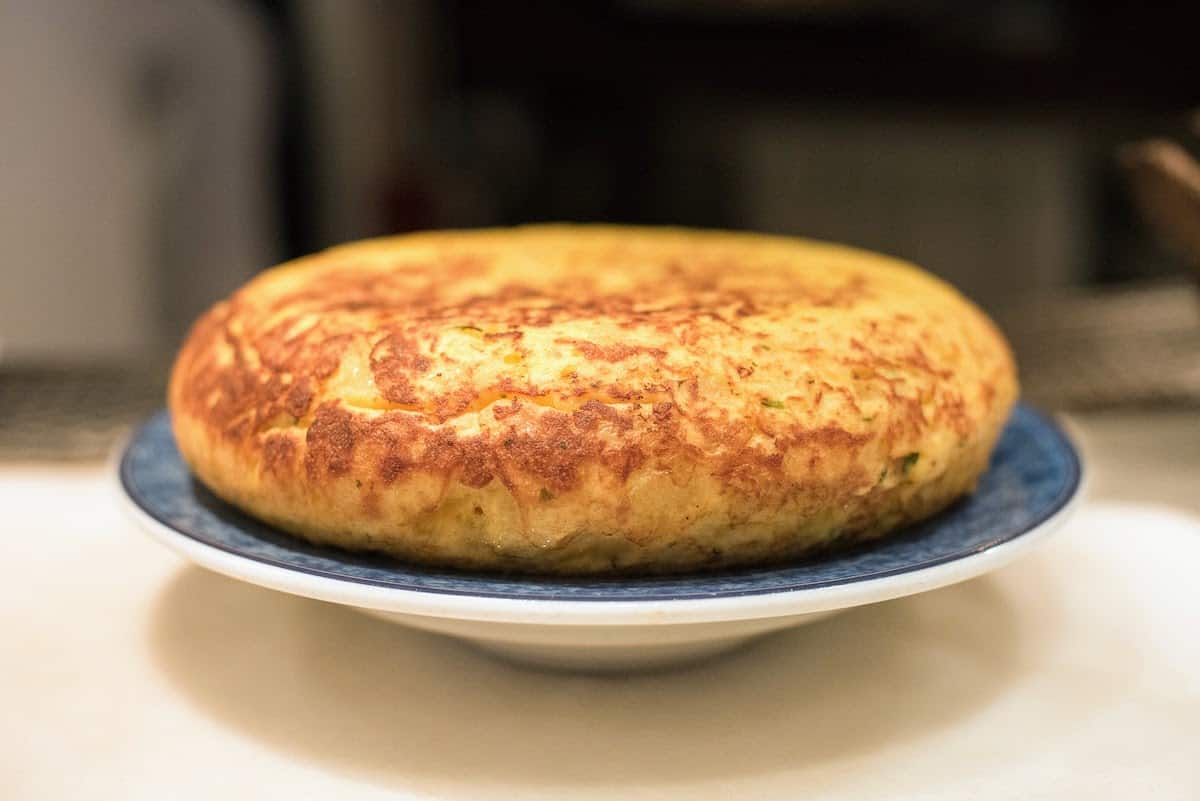 This is pretty much the quintessential tapa: a Spanish omelet that's often served at room temperature and accompanied by crusty bread.
It's usually made with just eggs, potatoes, and onions—but once you've got the basic recipe down, you can switch things up by adding veggies, cheese, or even ham.
2. Pan con Tomate
Before I lived in Spain, I never would've thought to put grated tomatoes on toast. But this combo is a staple of the Spanish diet, and now it seems like the most natural thing in the world.
Our recipe calls for plenty of garlic, making this simple tapa even more addictive. Don't skimp on the salt and olive oil!
3. Spanish Olives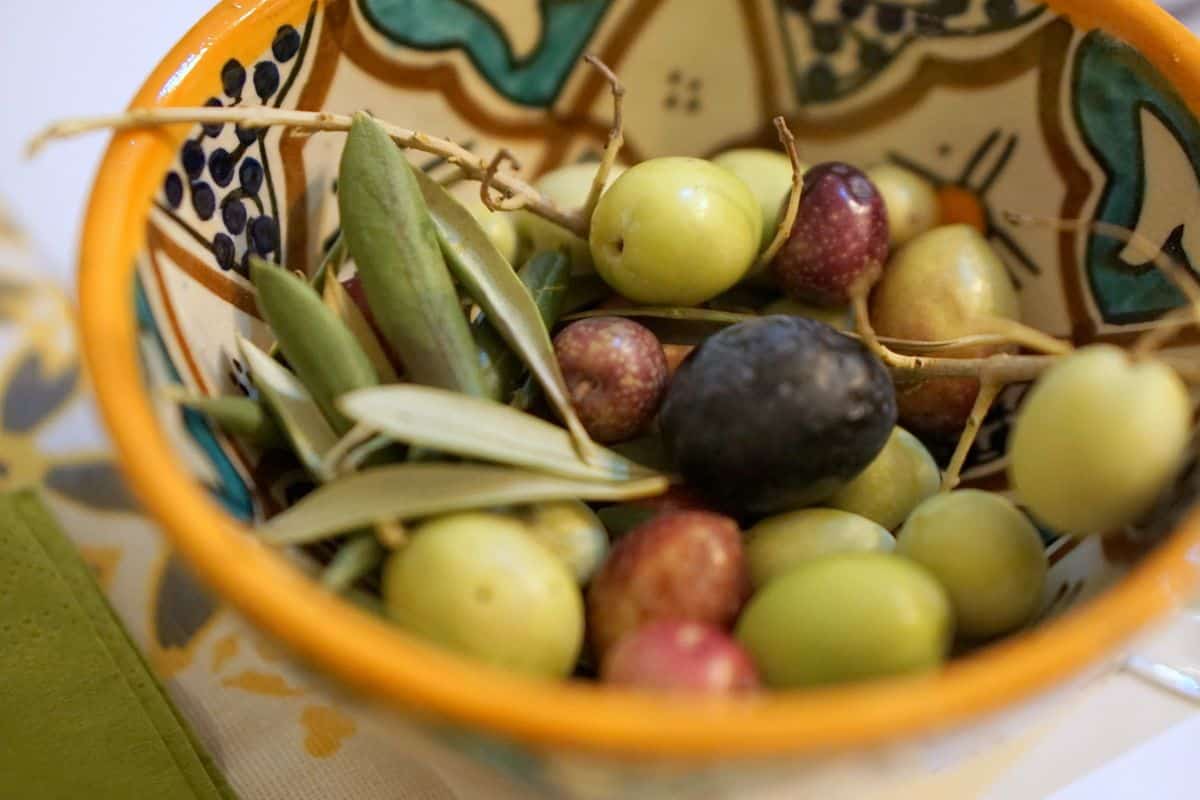 At Spanish bars, one of the most common tapas is also the simplest: a dish of olives. But these aren't just any old olives from a jar—they're often locally grown, incredibly juicy and flavorful, and sometimes marinated in herbs or garlic.
No tapas spread is complete without a bowl of Spanish olives, ideally including a few different varieties.
4. Spanish Cheese & Cured Meats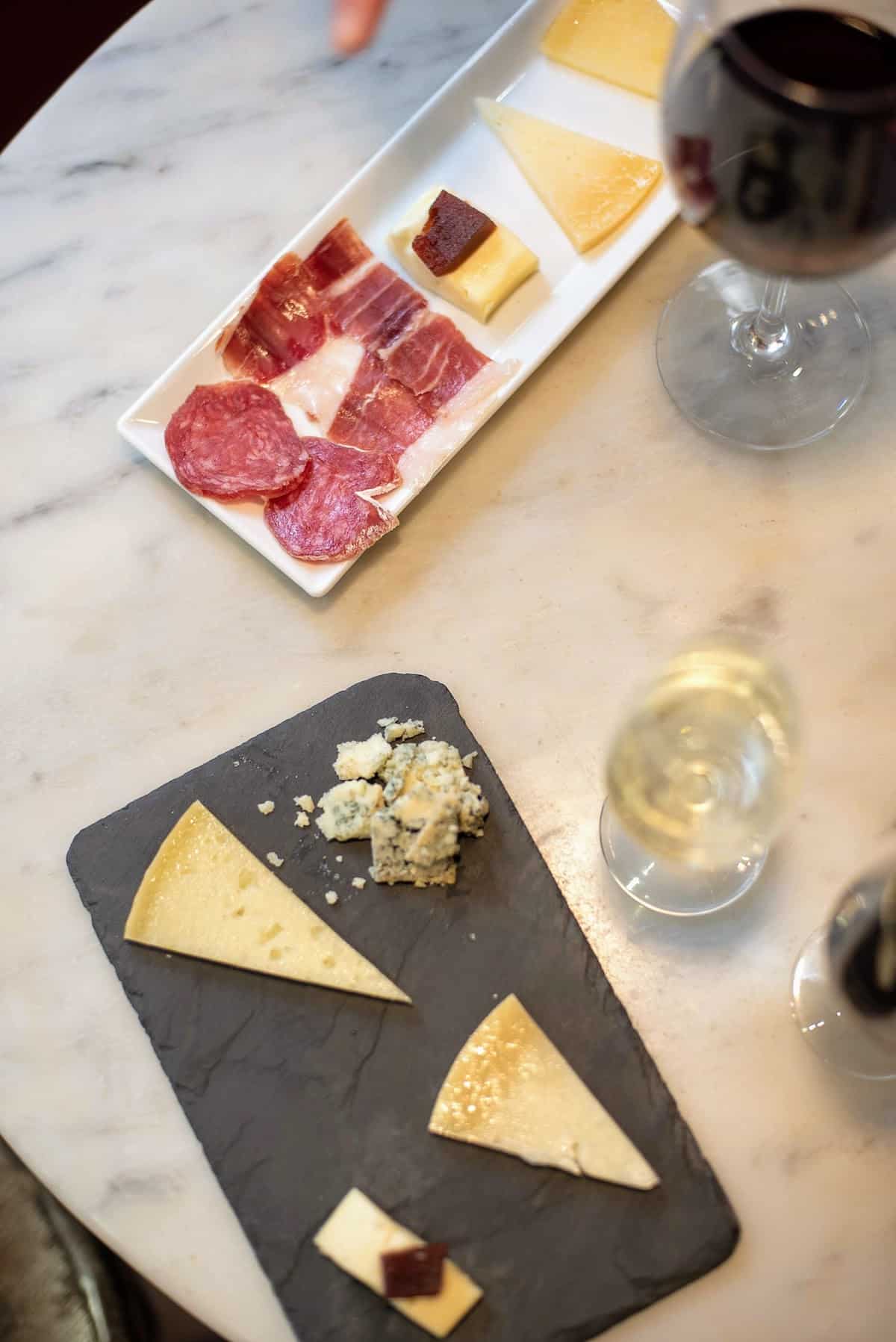 Showcase some of the country's best products by creating your own Spanish charcuterie board. You can never go wrong with the basics: Manchego and jamón ibérico.
But don't stop there! Spend some time exploring the wonderful world of Spanish cheeses, and add a selection of chorizo, salchichón, and whatever other Spanish cured meats you can find.
5. Croquetas de Jamón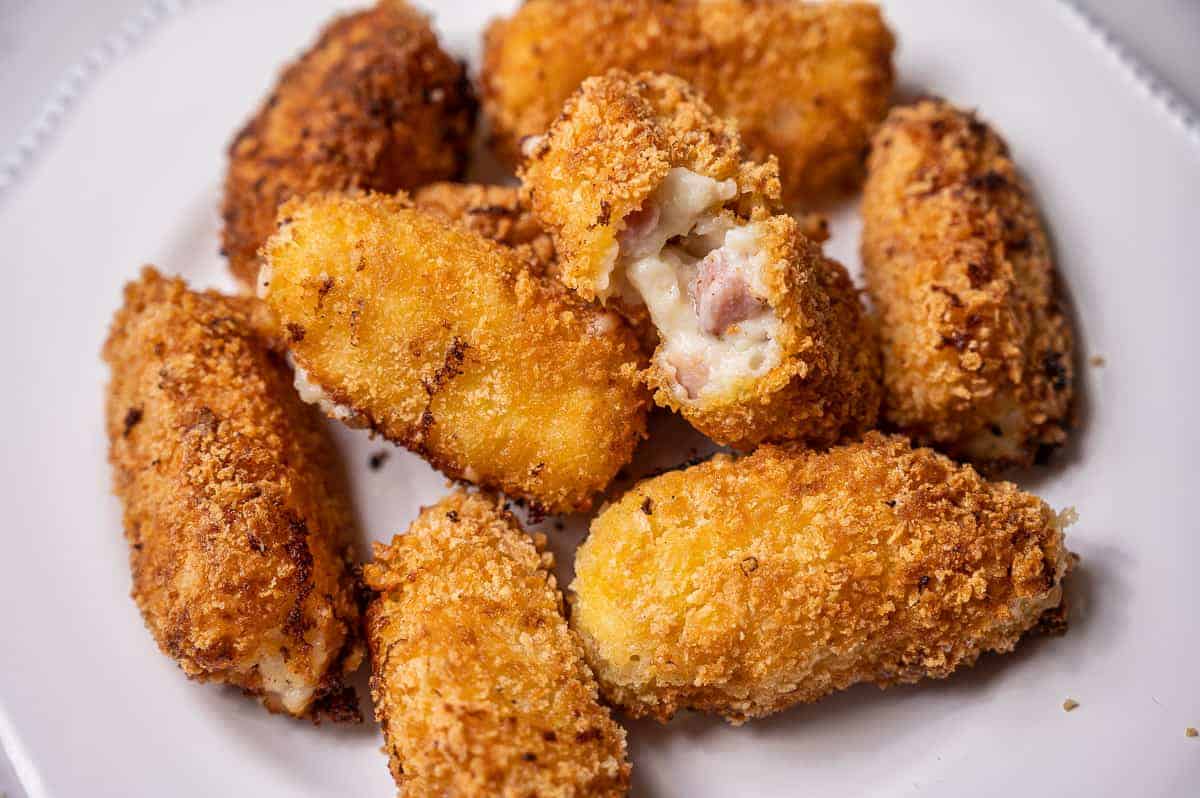 There's nothing quite as comforting as biting into a crispy croqueta and tasting the rich and creamy filling within.
Croquetas de jamón are the most classic version: croquettes filled with homemade béchamel and pieces of cured Serrano ham. The recipe is a bit of a project, but the result is totally worth it.
6. Huevos Rotos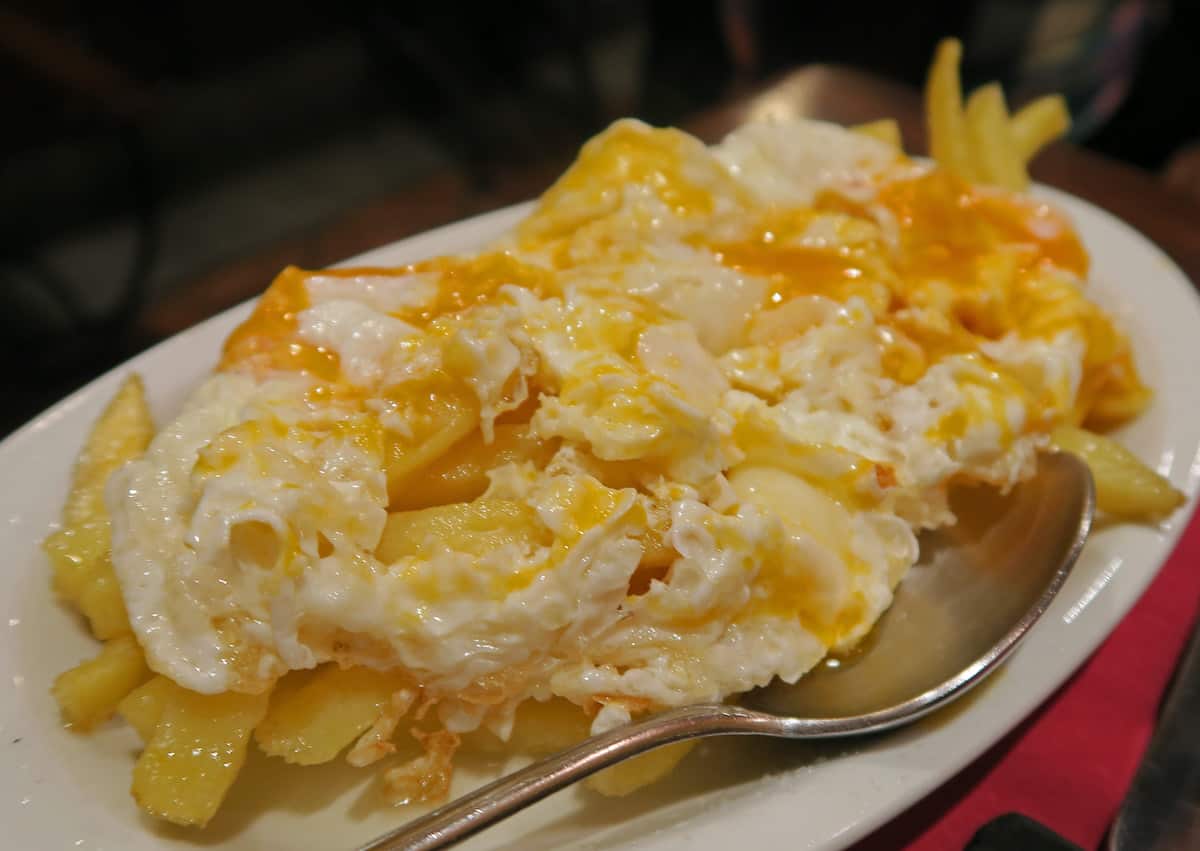 If you want a filling and indulgent tapa, you can't go wrong with huevos rotos. The basic elements are deep-fried potatoes and runny fried eggs, but it's common to add Iberian ham, chorizo, or vegetables.
You'll find this dish at many of the most classic tapas bars in Madrid, but it's also easy to make at home. Wait until you serve it to break the egg yolks open—they don't call it "broken eggs" for nothing.
7. Gilda
This easy pintxo (the equivalent of a tapa in Basque cuisine) doesn't require any cooking—just some skewering skills.
The classic version consists of an anchovy, a pickled pepper, and an olive impaled on a toothpick, but you can always try other combos. Gildas are the perfect accompaniment to an aperitif like Spanish vermouth.
8. Pisto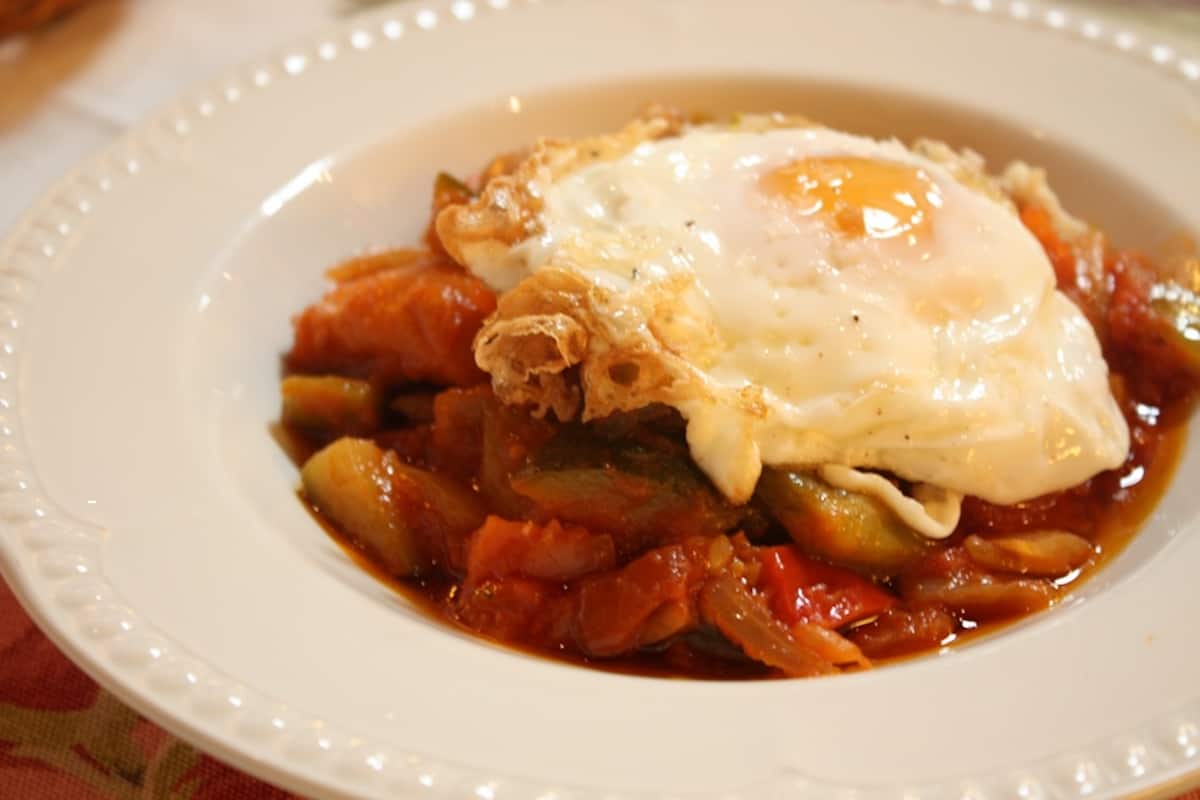 Spanish pisto is often compared to French ratatouille. It's a classic combination of various vegetables and tomatoes, cooked until all their flavors meld together.
In Spain, it's often served as a tapa with a fried egg or cheese on top, or even as a side dish with meat or fish. But it's also great all by itself!
Vegetarian & Vegan Tapas Recipes
9. Pimientos de Padrón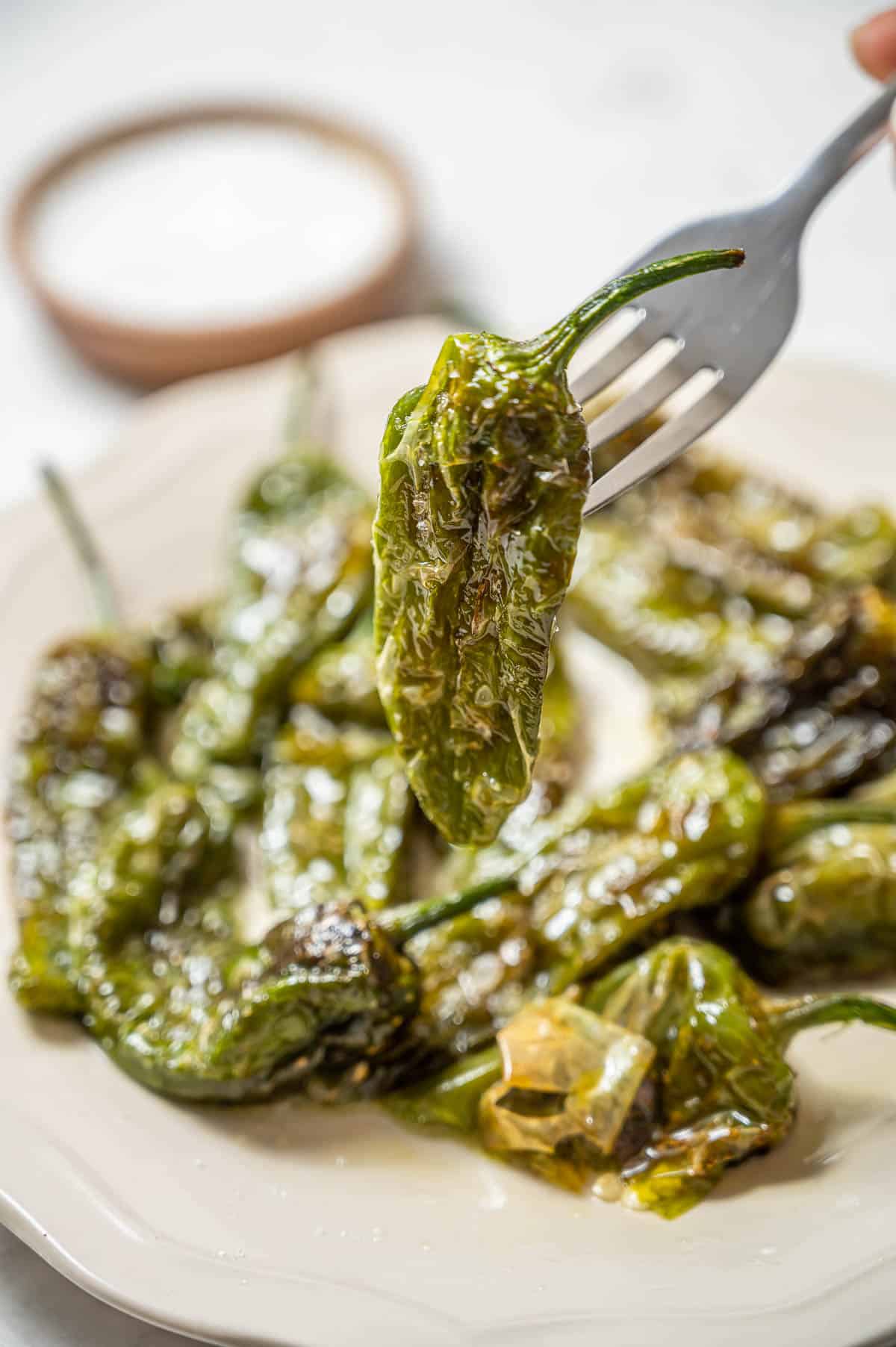 This might be my all-time favorite vegetarian (and vegan) tapa. Padrón peppers are easy to make, healthy, indulgent (salt and olive oil galore), and exciting all at the same time.
How can peppers be exciting, you ask? Well, supposedly about 1 in every 10 of them is spicy... so you can never be quite sure what the next bite will bring!
10. Espinacas con Garbanzos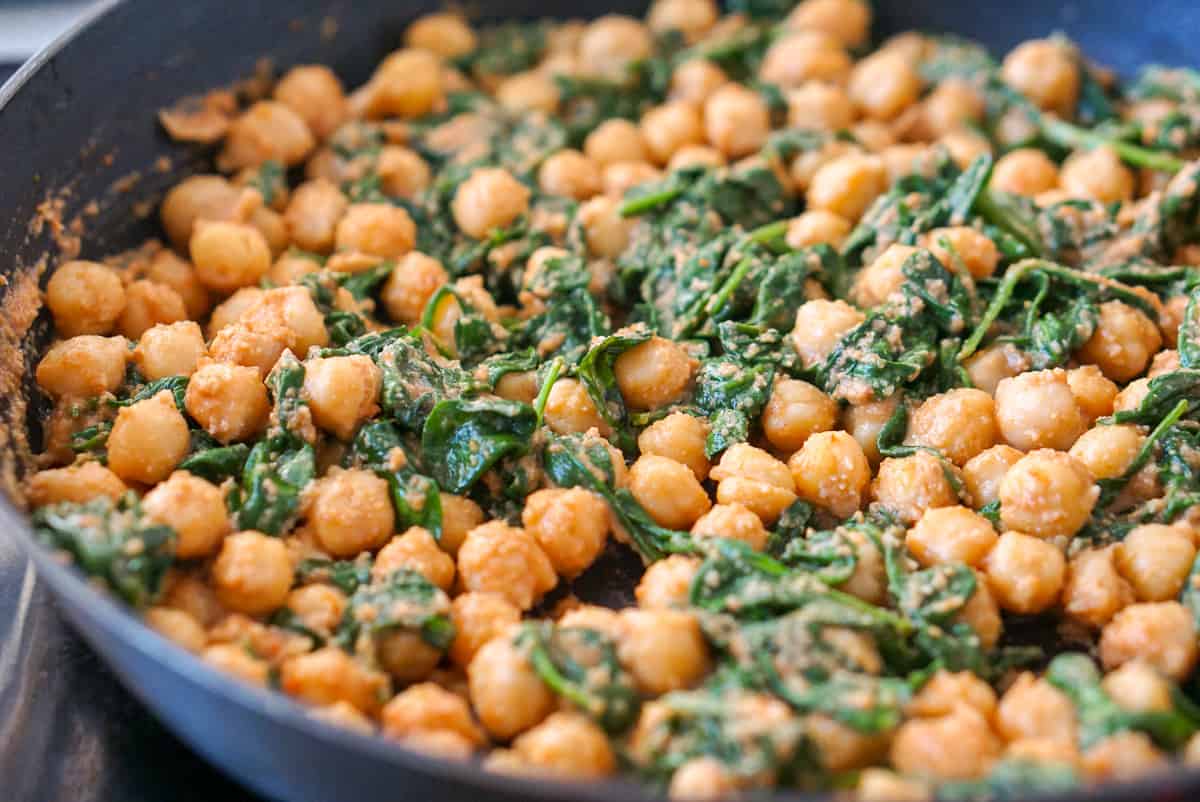 This is a super traditional tapa that also happens to be vegan. It's a simple combination of spinach, chickpeas, and spices (our recipe also adds tomatoes and almonds for extra flavor).
While it could certainly be served as a main course, it's also a great dish to share or serve in small portions.
11. Berenjenas con Miel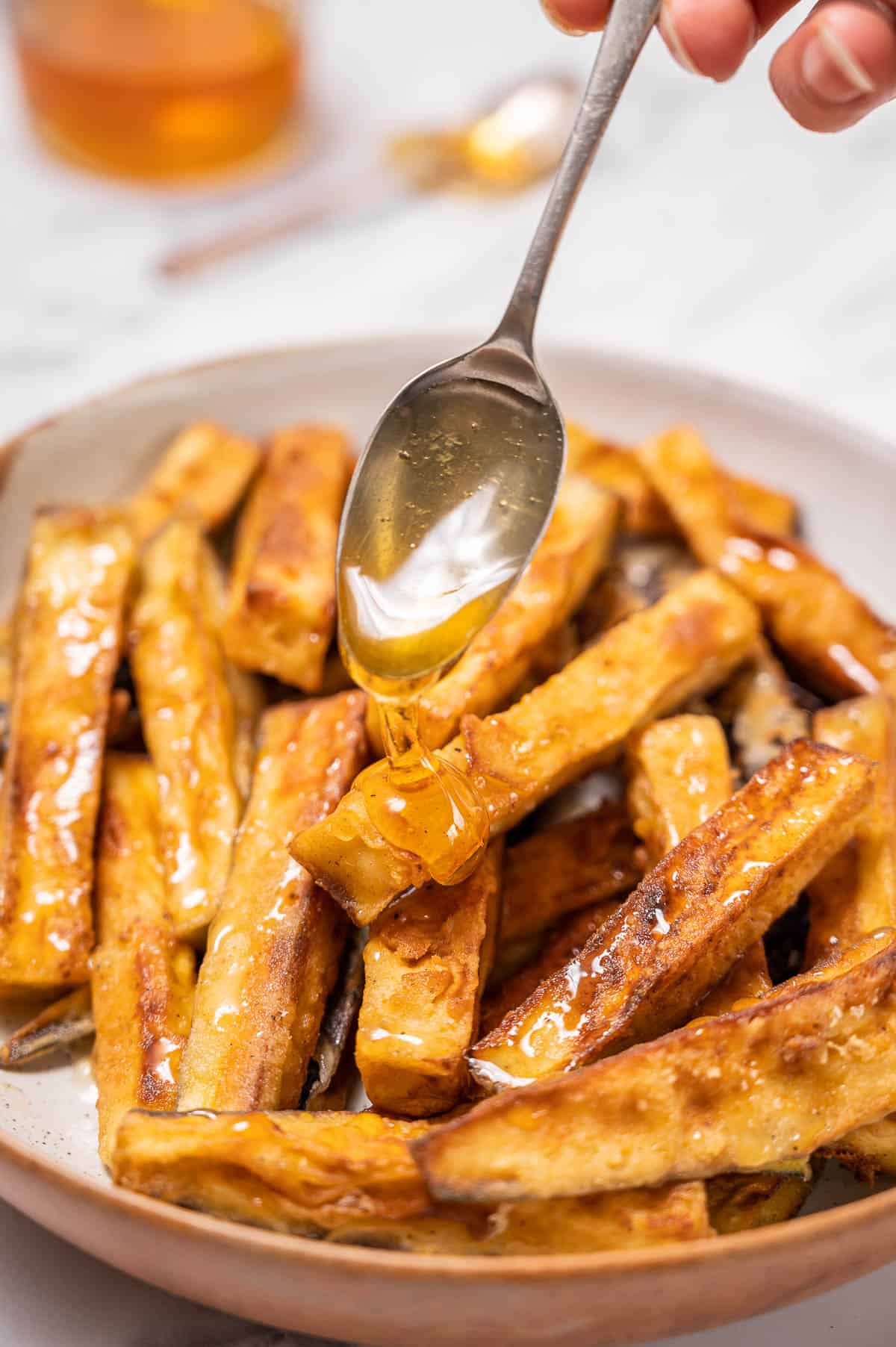 If you're doubting that deep-fried eggplant and honey go well together, prepare to be surprised! This vegetarian tapa is a mainstay of many Spanish menus, especially in Andalusia. You can also easily make it vegan by substituting molasses (miel de caña) for the honey.
12. Romesco Sauce & Roasted Veggies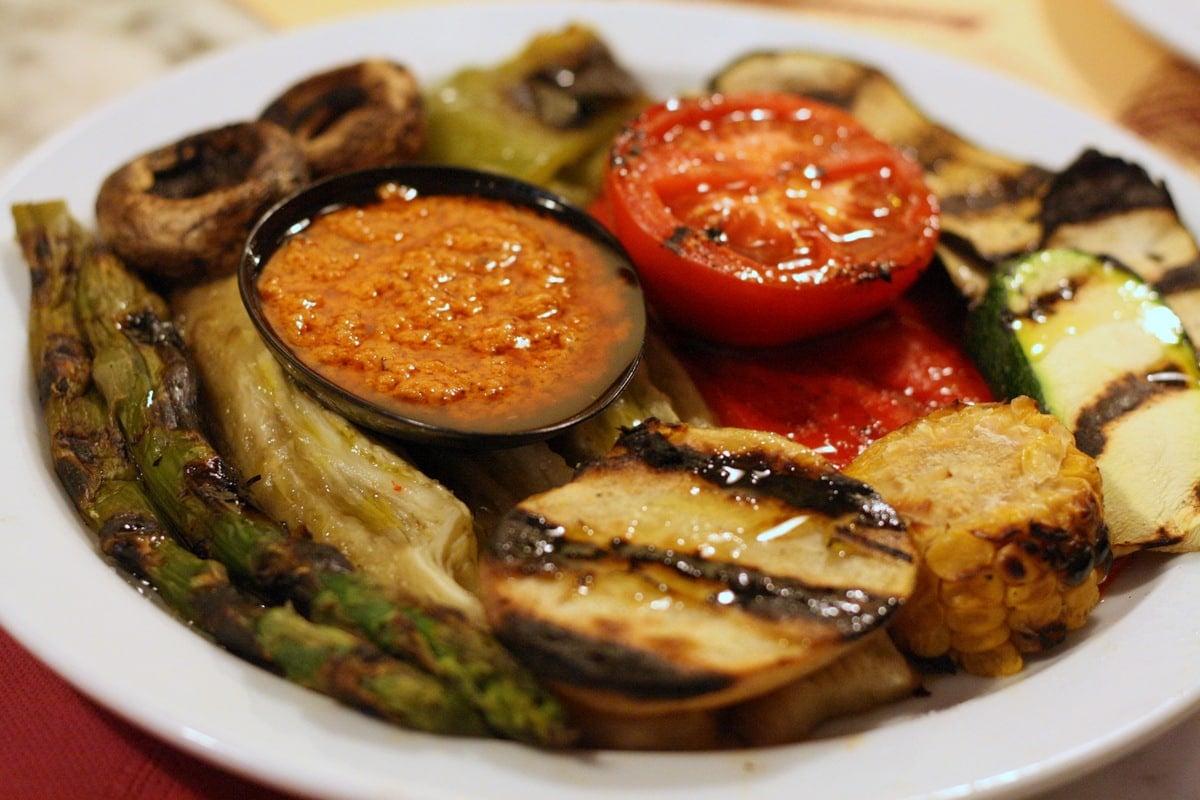 This is one of the best Catalan foods I've ever tried. There are so many amazing Spanish sauces, but romesco has a special place in my heart. It combines roasted tomatoes, peppers, garlic, and nuts to create a totally unique flavor—and color!
Serve it with simple roasted vegetables for an authentic, versatile, and super healthy tapa.
13. Black Olive Tapenade
Mallorca is famous for its unique cuisine, and this black olive spread is one of the best Mallorcan dishes. You can spread it on bread, serve it with cheese, or even add it to a sandwich. It's also a great addition to salads and a delicious topping for fresh vegetables.
14. Goat Cheese & Caramelized Onion Pintxo
If you've ever been to Spain, you've probably come across the combo of goat cheese and caramelized onion. It's a common (and delicious) vegetarian option at tapas bars—and you can easily recreate it at home with this quick and easy pintxo recipe.
15. Fried Goat Cheese with Honey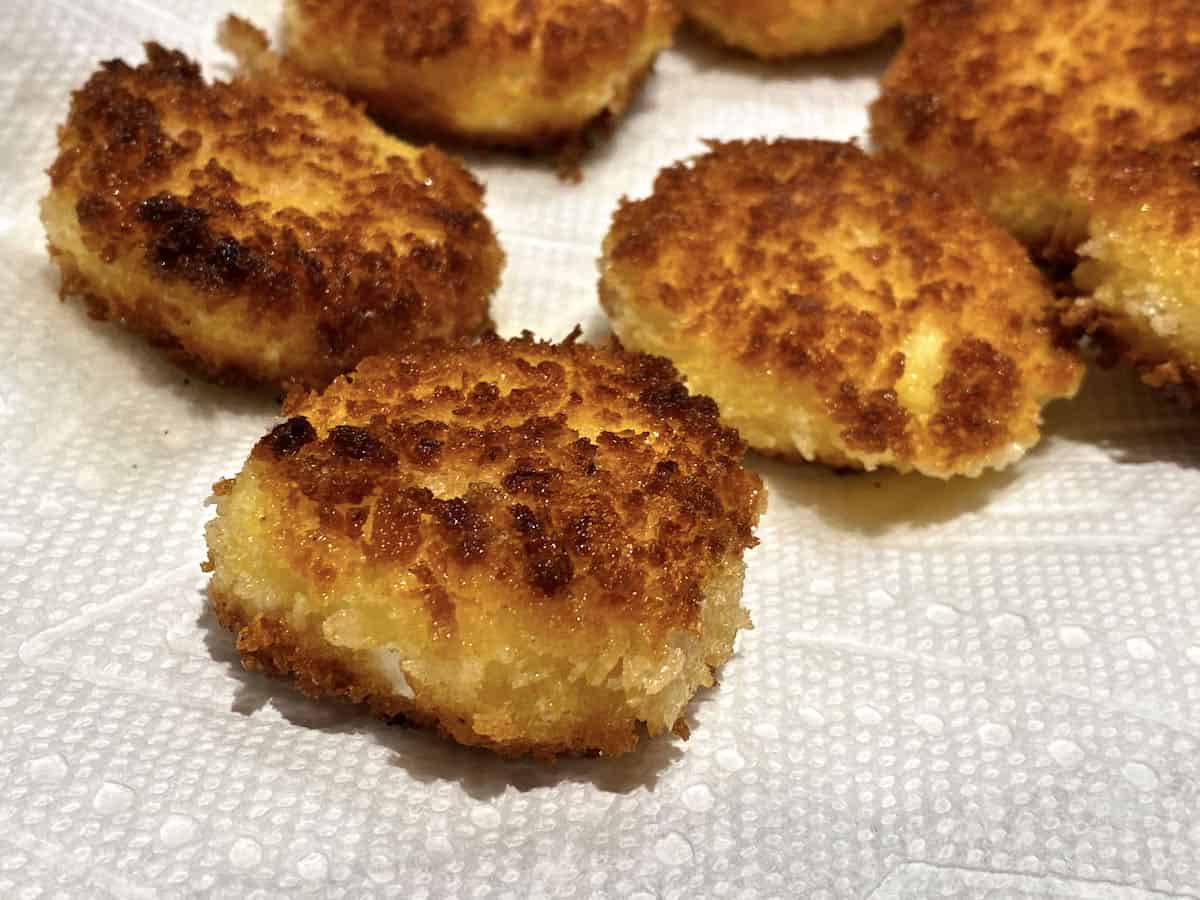 Fried cheese might be one of humanity's greatest creations... and fried goat cheese with honey is certainly one of Spain's. Our recipe calls for crushed almonds and crackers to create a salty, crunchy crust: the perfect contrast to the creamy cheese within and sweet honey on top.
16. Zanahorias Aliñadas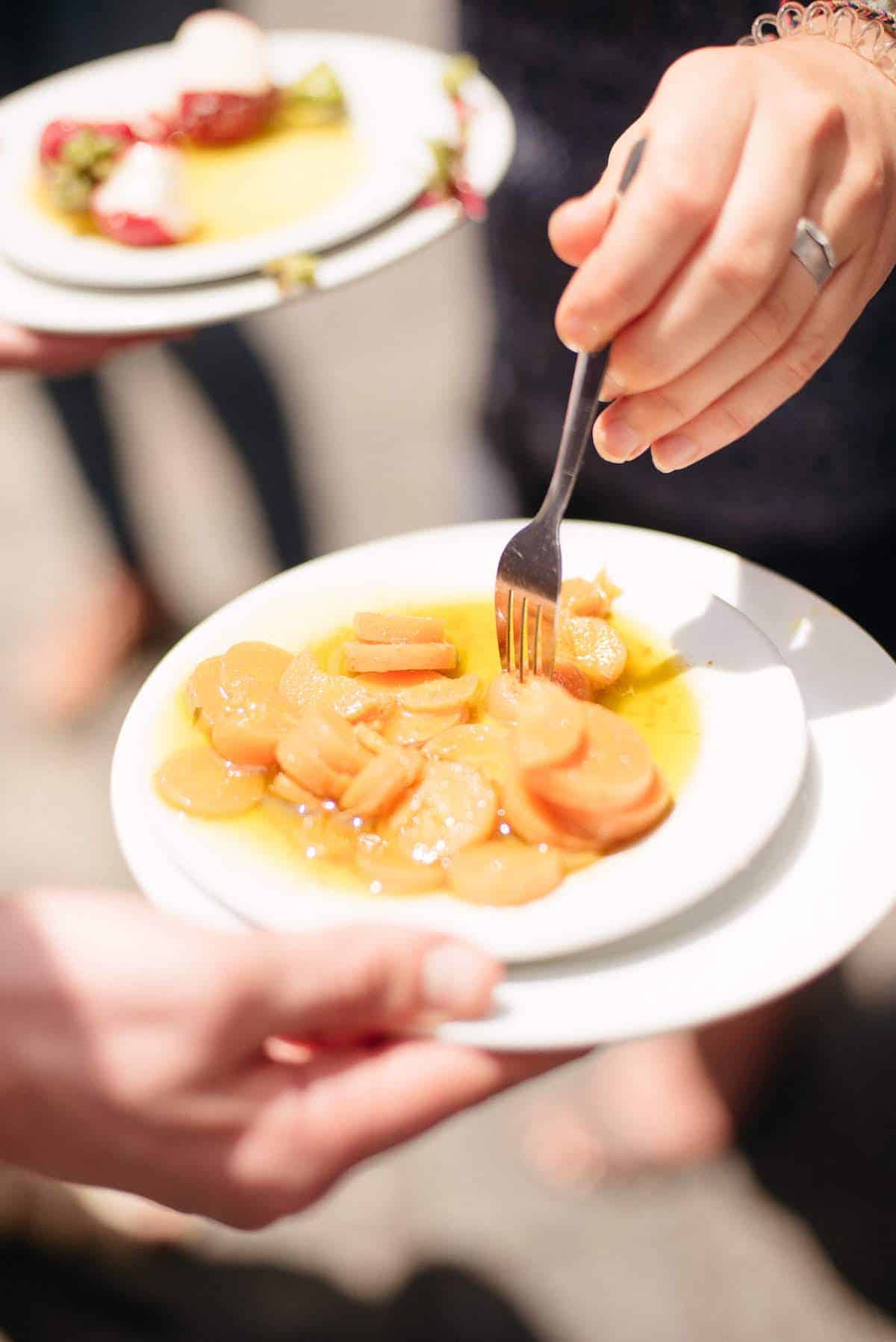 I never knew how delicious carrots could be until I tried zanahorias aliñadas. This mainstay of Andalusian cuisine consists of boiled carrot slices marinated in vinegar, olive oil, garlic, and spices.
The final product should be tender, but not mushy; make sure you don't cook them for too long!
17. Spanish-Style Hummus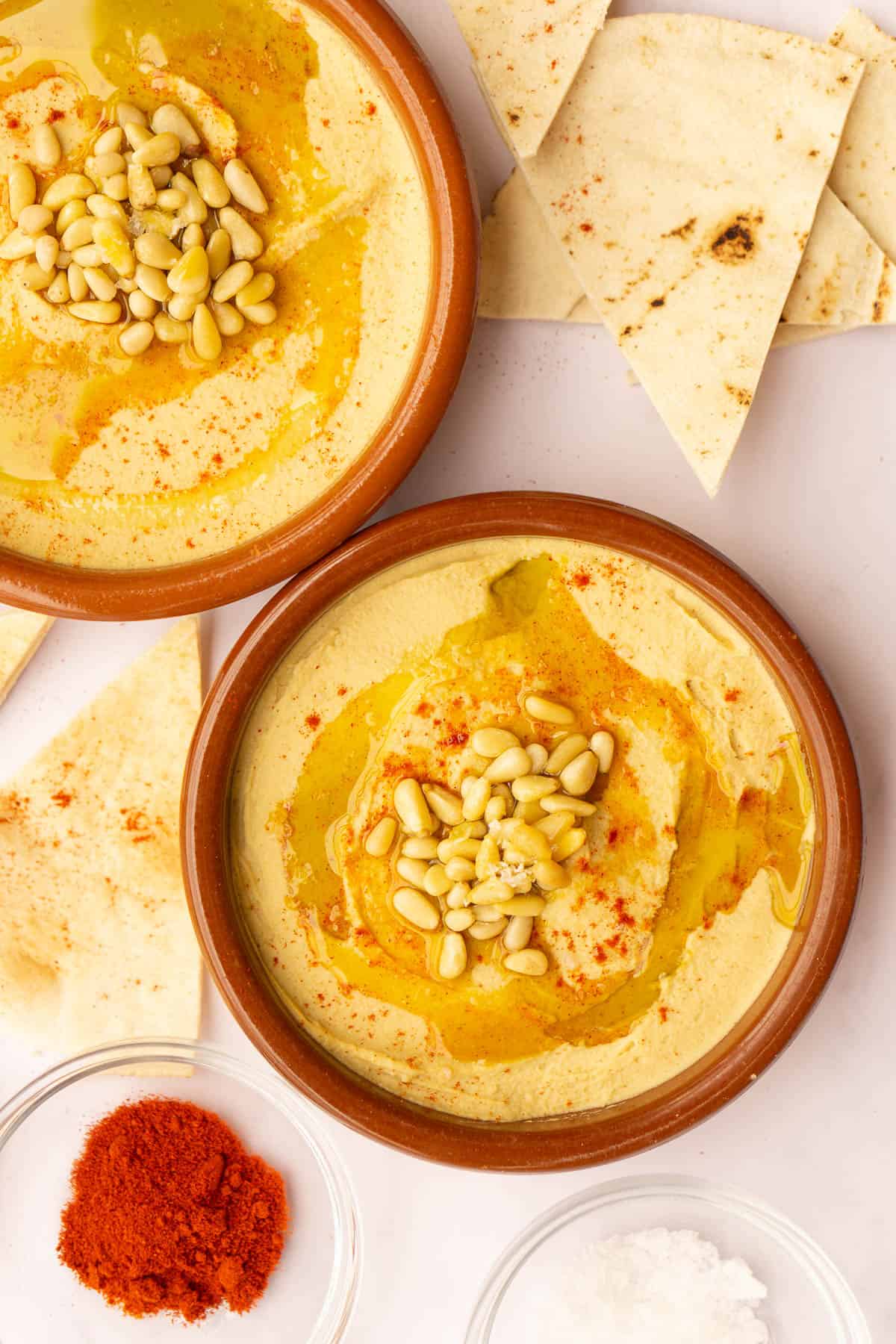 Hummus doesn't hail from Spain, but today it's not uncommon to find it on the menu at Spanish tapas bars. Our version adds an Iberian twist with smoked paprika, cumin, and toasted pine nuts.
This super simple Spanish hummus recipe is perfect for parties, and is one of my personal favorite vegan tapas.
Spanish Tapas Recipes with Potatoes
18. Patatas Bravas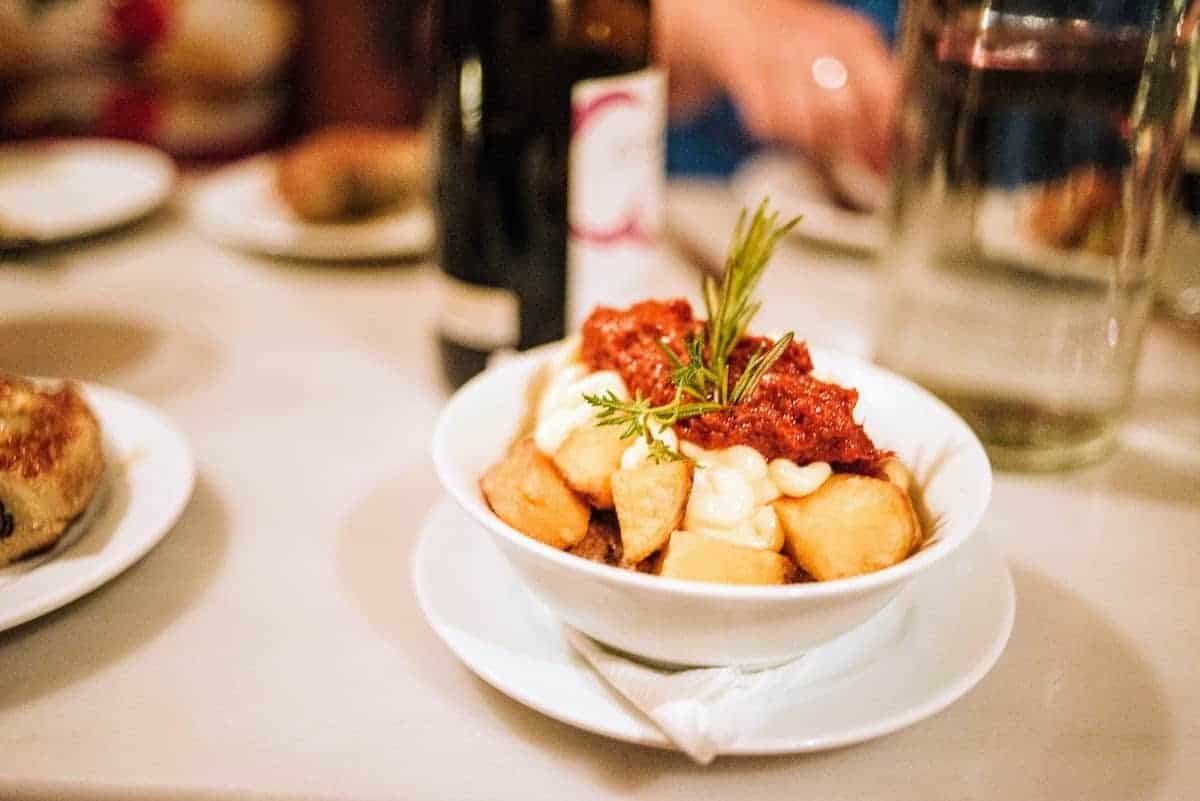 Fried potatoes may not seem revolutionary, but Spain's version is in a league of its own. Chunks of potato are fried in olive oil and topped with a slightly spicy sauce. Despite its appearance, there are no tomatoes involved; bravas sauce gets its bright red color from smoked Spanish paprika.
Tip: Although our recipe calls for chicken broth, you can easily make it vegetarian by substituting vegetable broth.
19. Potato Croquettes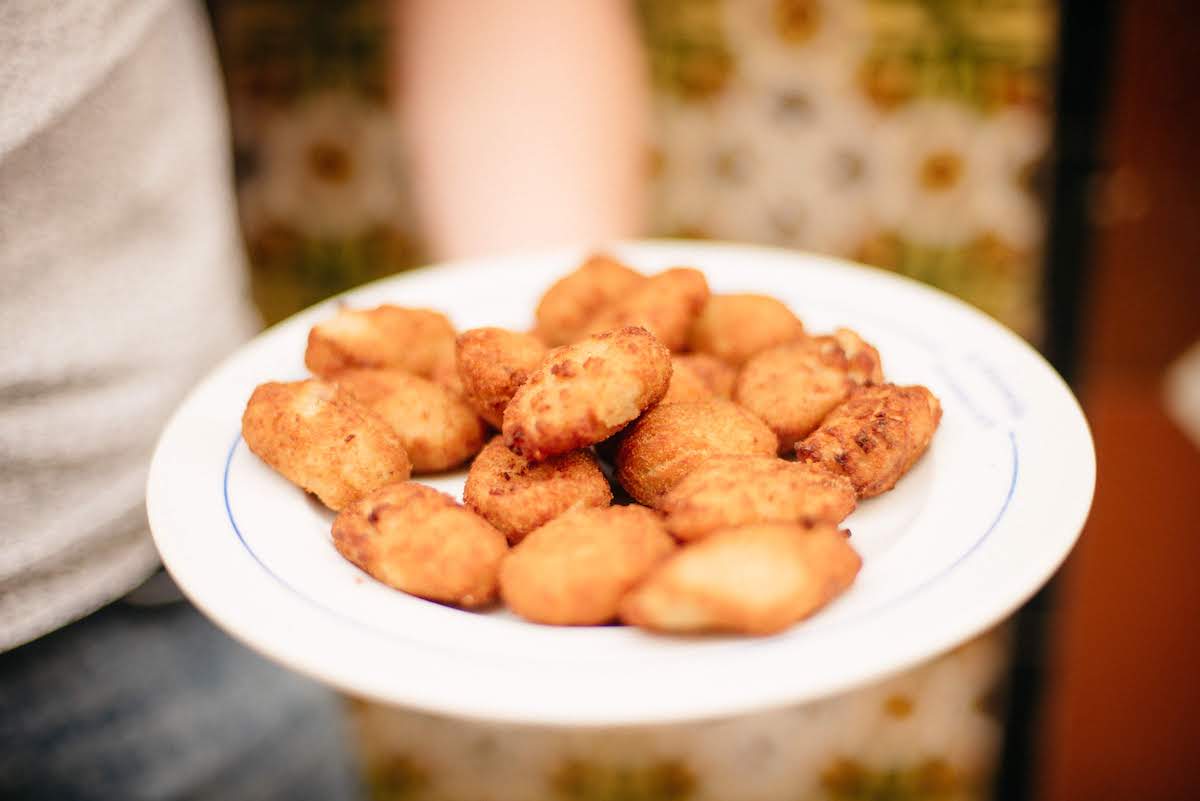 Ham might be the most popular croquetas flavor, but it's not the only one! Potato croquettes are a super quick and easy (and vegetarian) version that everyone at the table will love.
We suggest adding Manchego cheese to the filling, but you can easily personalize this tapas recipe with whatever sounds good to you.
20. Ensaladilla Rusa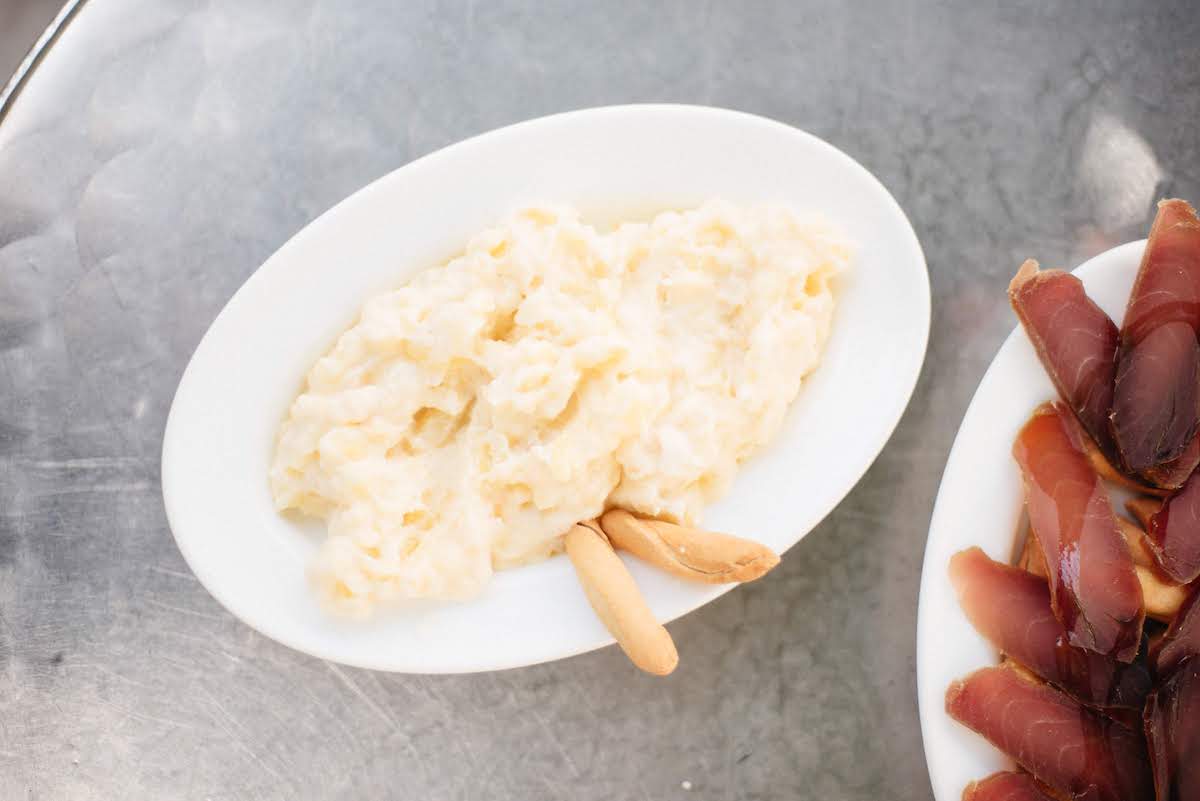 This dish might be called "Russian salad," but it's about as Spanish as it gets. If you're a fan of American potato salad, you absolutely have to try ensaladilla rusa.
I suggest adding extra vegetables or even canned tuna, and serving it with crunchy crackers or crusty bread. It's one of the all-time best Spanish tapas recipes for sure.
21. Patatas Alioli
Yet another classic Spanish tapas recipe starring potatoes, patatas alioli are also similar to potato salad—but with way more garlic (and without the veggies you'll find in ensaladilla rusa). They make for the perfect snack, appetizer, or side dish for a Spanish-style barbecue.
22. Patatas Aliñadas
Patatas aliñadas are sliced potatoes dressed in vinegar and olive oil, and topped with tuna and hard-boiled egg. Make sure you get the highest-quality ingredients possible, as the simplicity of this tapa really lets them shine. You don't have to use Spanish tuna, but I highly recommend it.
23. Patatas a lo Pobre
Potatoes clearly play a prominent role in many Spanish tapas recipes, but this is a particularly delicious way to enjoy them. Patatas a lo pobre feature a combination of potatoes, onions, green peppers, and garlic—simple, timeless, and inexpensive (as the name suggests)!
Spanish Tapas Recipes with Meat
24. Pinchos Morunos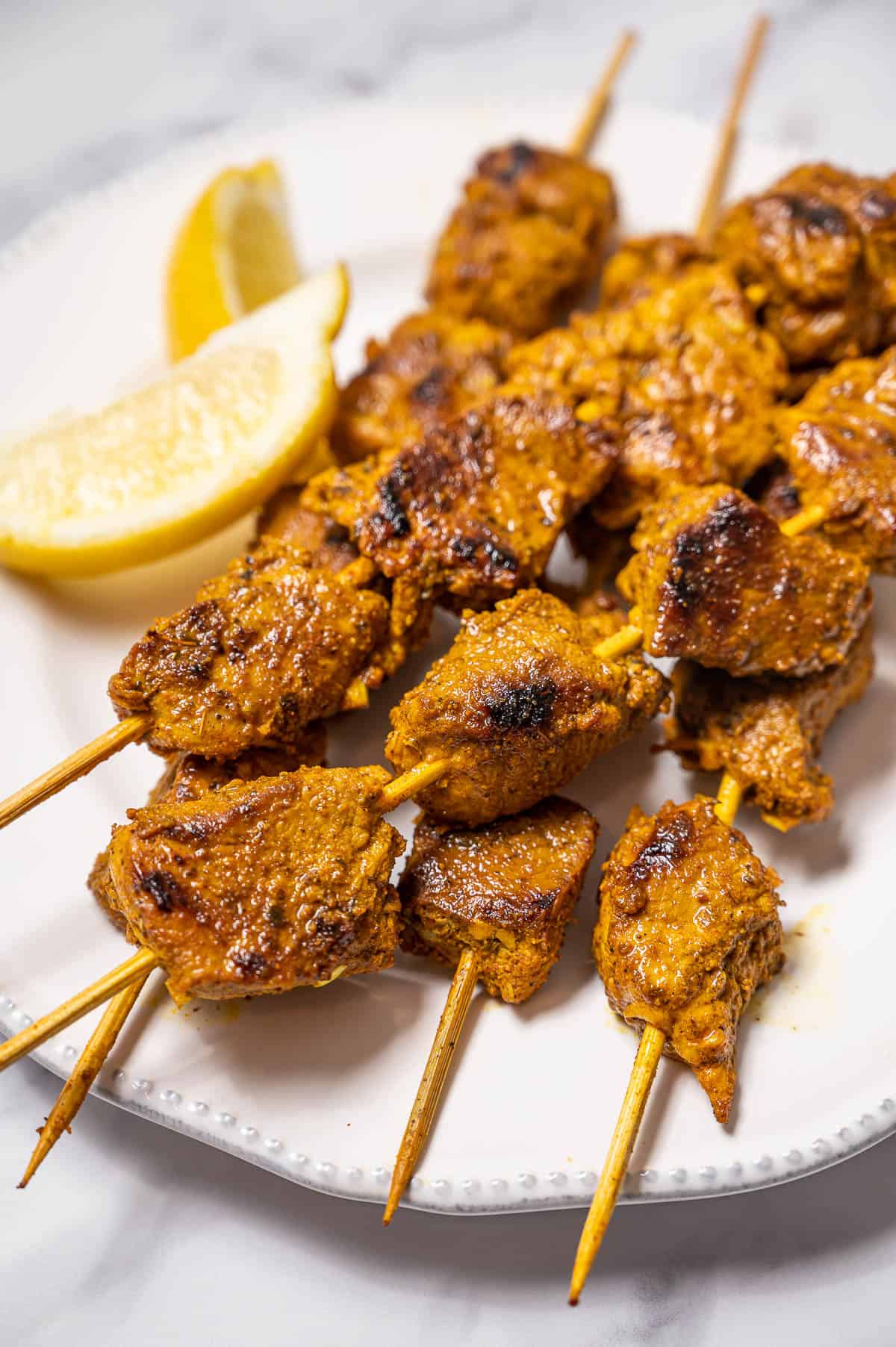 These marinated pork skewers rely on a blend of spices that reflects Spain's Moorish history. The name literally translates to "Moorish pork skewers," although the Moors themselves probably made their version with lamb.
You can experiment with different spice blends—just make sure you let the meat marinate for at least two hours.
25. Chorizo a la Sidra
There are infinite ways to enjoy Spanish chorizo, and this recipe combines it with another legendary local product: sidra (cider). Spanish cider is much less sweet than you might be used to, so if you can't get your hands on some, use the sourest cider you can find. In Spain, look for Basque or Asturian cider.
26. Chorizo al Vino Tinto
Chorizo is wonderful all by itself, but this simple tapas recipe takes it up a notch by adding red wine. Simmering the cured sausage in wine with garlic and bay leaves adds an extra dimension of flavor. It only takes half an hour from start to finish, making this the perfect last-minute recipe.
27. Champiñones al Ajillo con Chorizo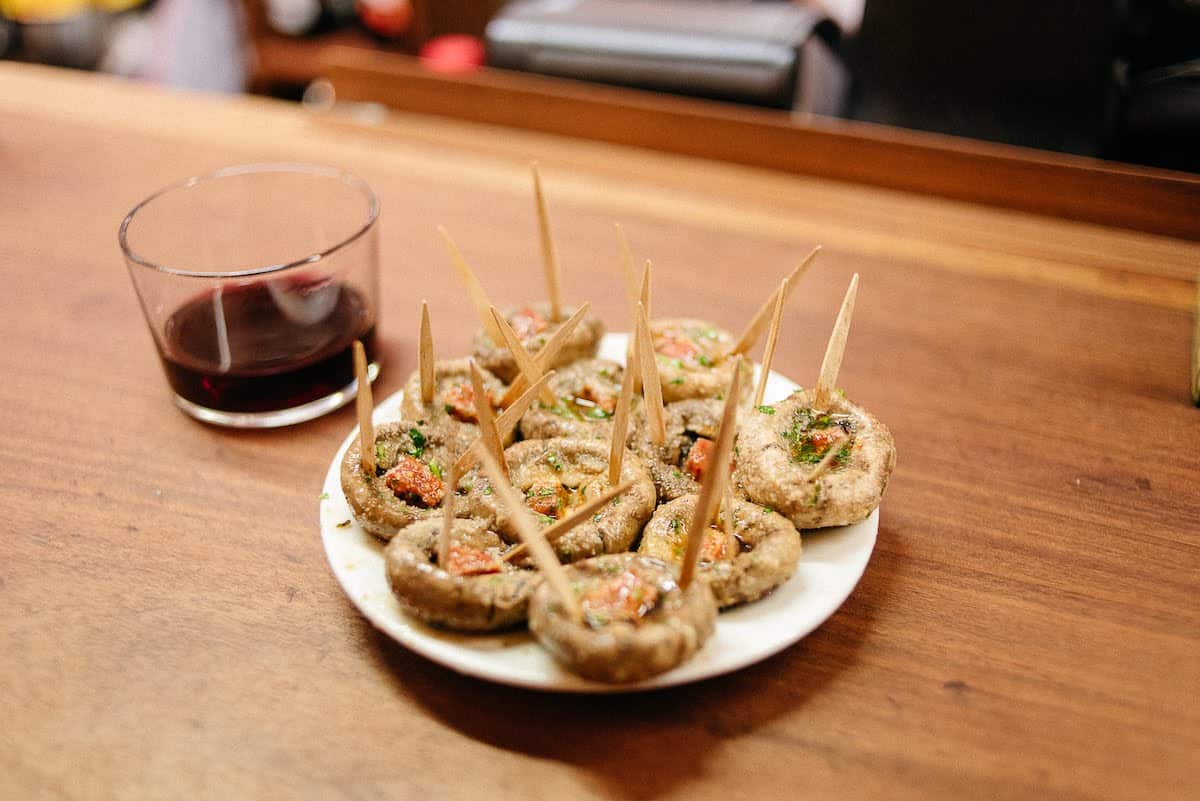 If you're looking for a great bite-sized tapa to serve at your next dinner party, look no further. These garlicky roasted mushrooms are stuffed with chorizo and breadcrumbs, combining some of Spain's best flavors in one delicious mouthful.
28. Albóndigas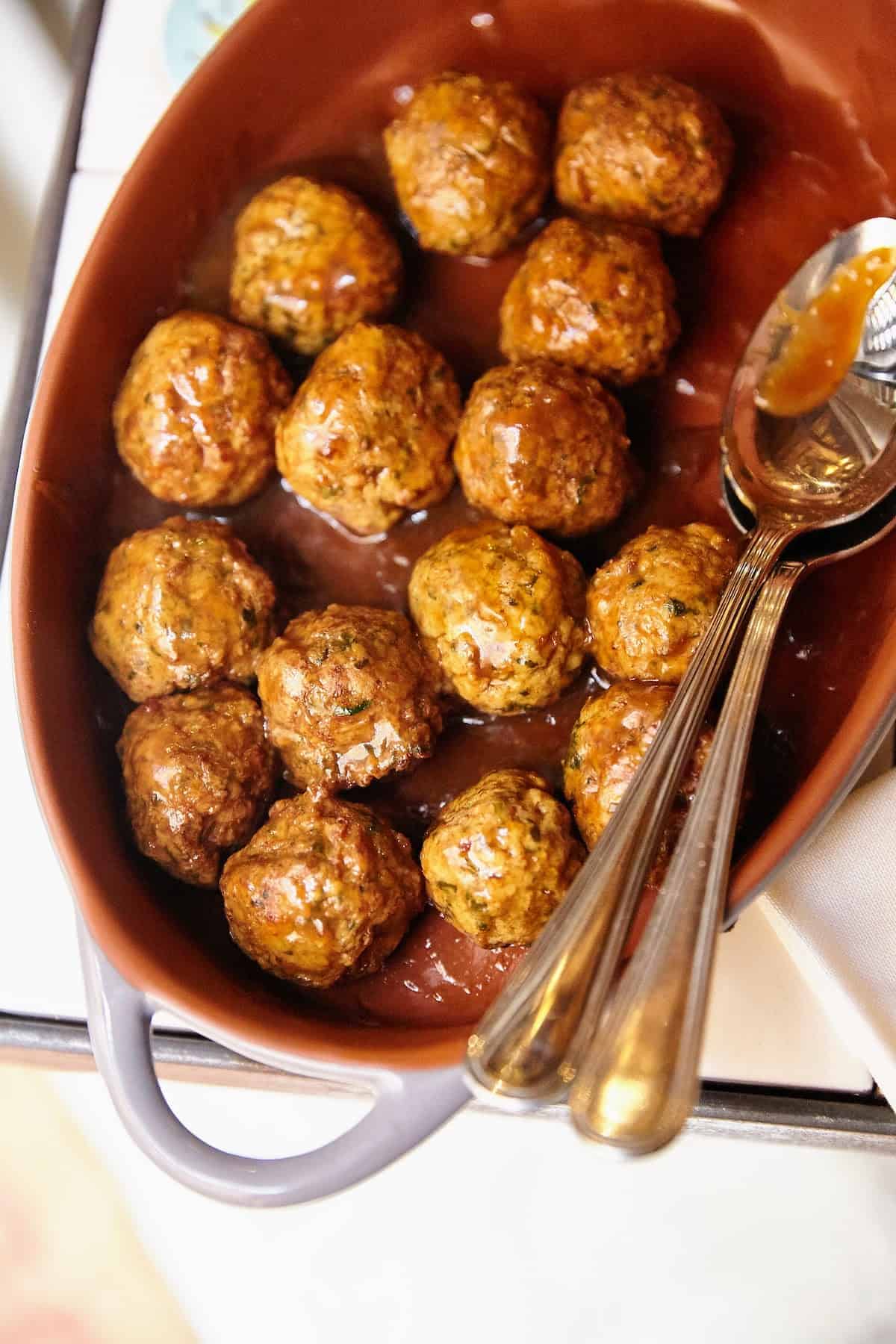 These aren't the sort of meatballs you serve over spaghetti; in Spain, albóndigas are usually enjoyed on their own. They're often made with ground pork, and our recipe adds chorizo for an extra kick. Make sure you have some white wine—or, even better, Spanish sherry—on hand for the sauce.
29. Flamenquín
If you don't think tapas can be filling, this recipe will change your mind. Flamenquín is a classic treat from the city of Córdoba in Andalusia. It consists of pork, cured ham, and cheese, rolled up together and then breaded and deep-fried. It's often sliced and served in tapas-sized portions.
30. Rabo de Toro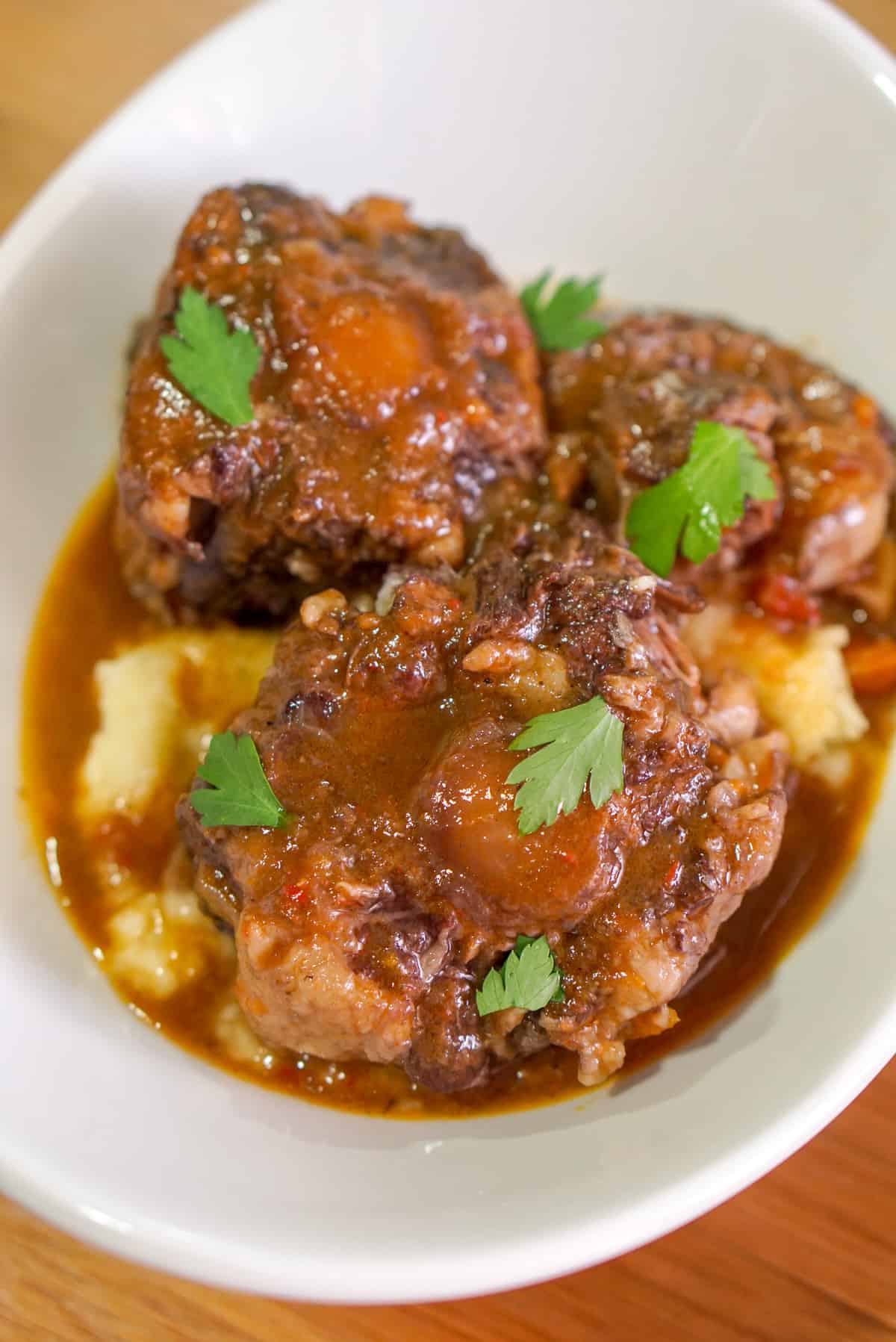 The name of this dish literally means "bull's tail," but these days most rabo de toro is actually made with oxtail or cow tail.
While stewed beef may not sound like a small plate, it's the perfect example of how Spanish tapas can take many forms. Make sure you accompany it with fried potatoes and bread to soak up all that sauce.
31. Carrillada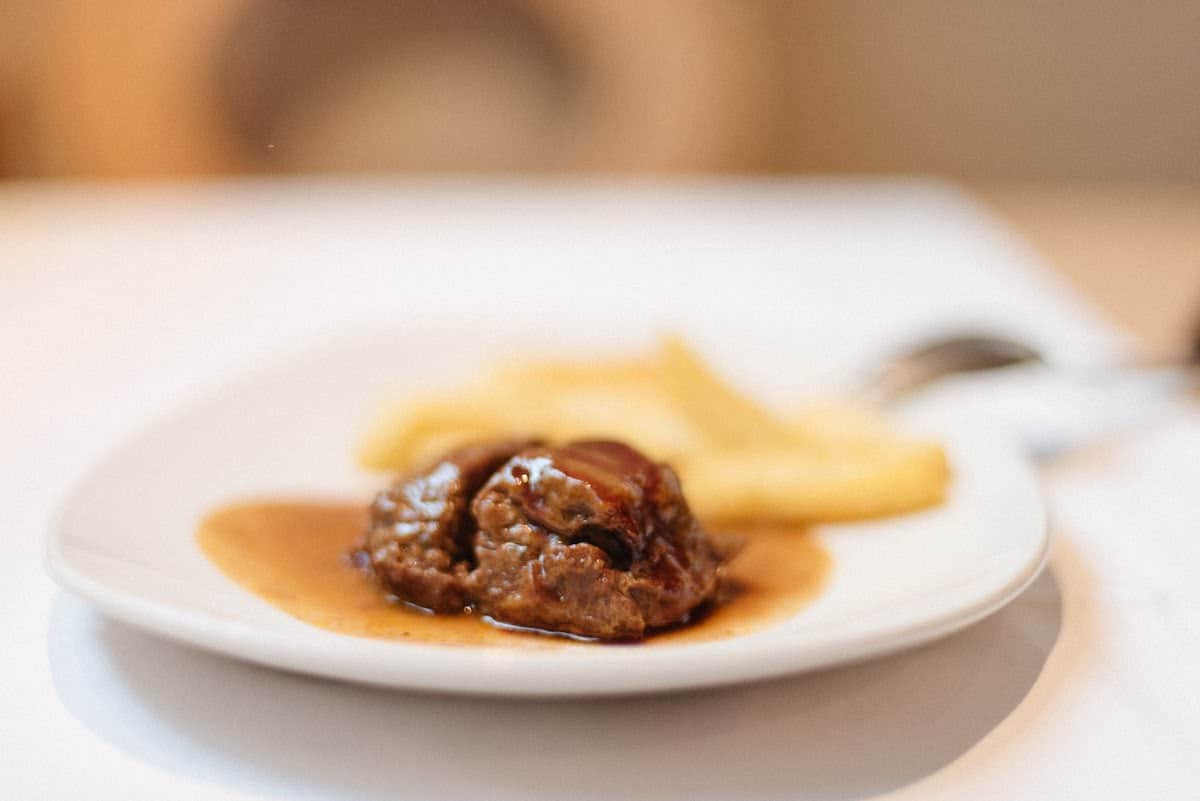 Carrillada is one of the most ubiquitous dishes in Spain, with tons of variations and creative takes on the basic concept: braised cheek (usually pork, beef, or lamb).
Once you take a bite, you'll wonder why on earth you've never tried it before. Our version uses Port wine and honey to balance out the rich flavor with a touch of sweetness.
32. Bacon-Wrapped Dates
This trendy tapa has already won over people across the world, thanks to its perfect combination of salty and sweet.
Our recipe calls for Marcona almonds and goat cheese, but you can stuff the dates with whatever you like. And for an extra Spanish touch, you can even wrap them in jamón serrano (although bacon is pretty hard to beat).
33. Roasted Asparagus Wrapped in Ham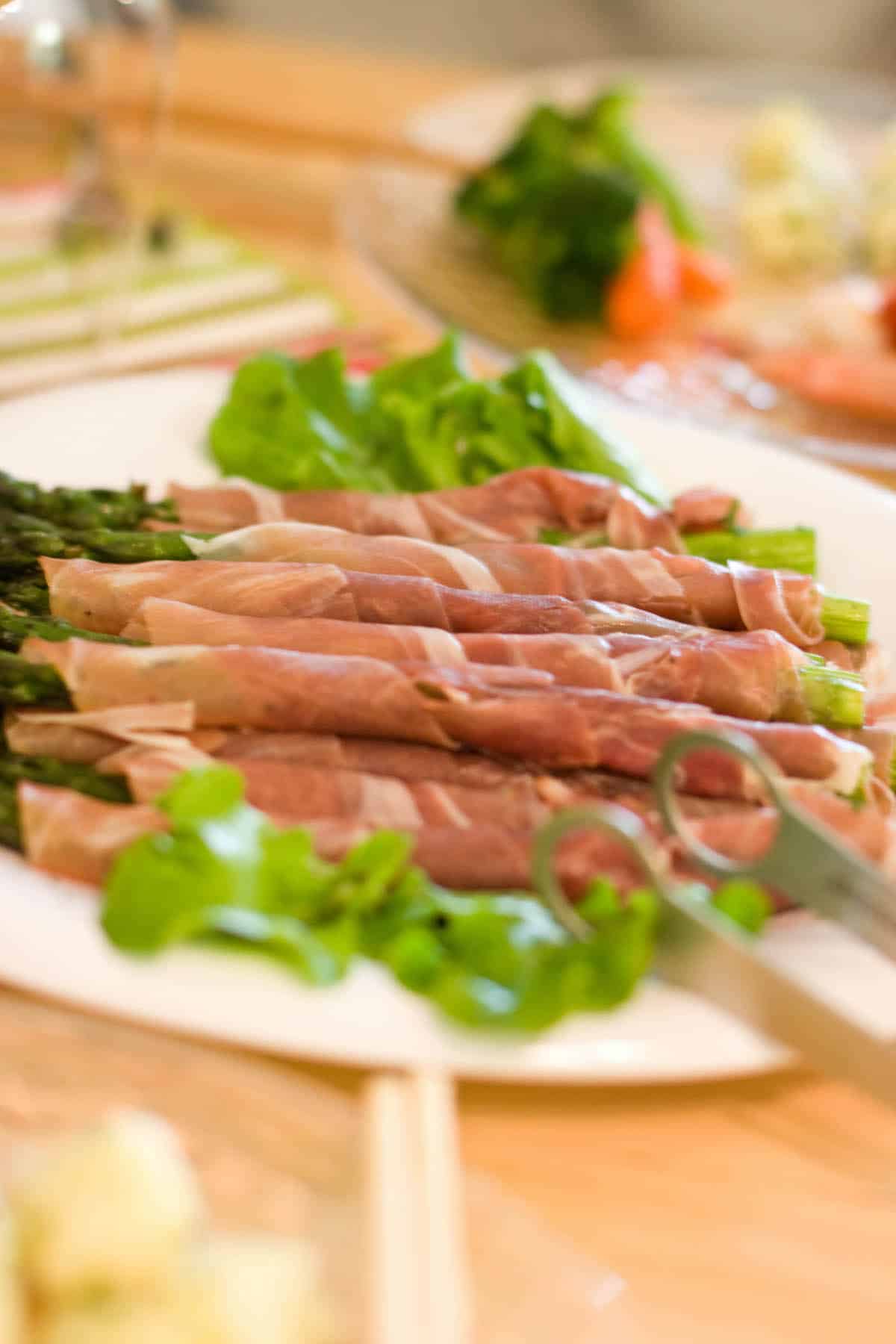 Roasted asparagus wrapped in ham is a fun and creative tapa that's perfect for parties—and a great way to get kids to eat their vegetables.
There's something about the fresh green asparagus paired with rich and salty ham that's totally irresistible. And if you want to make it meat-free, sun-dried tomatoes are a great alternative.
Spanish Tapas Recipes with Seafood
34. Gambas al Ajillo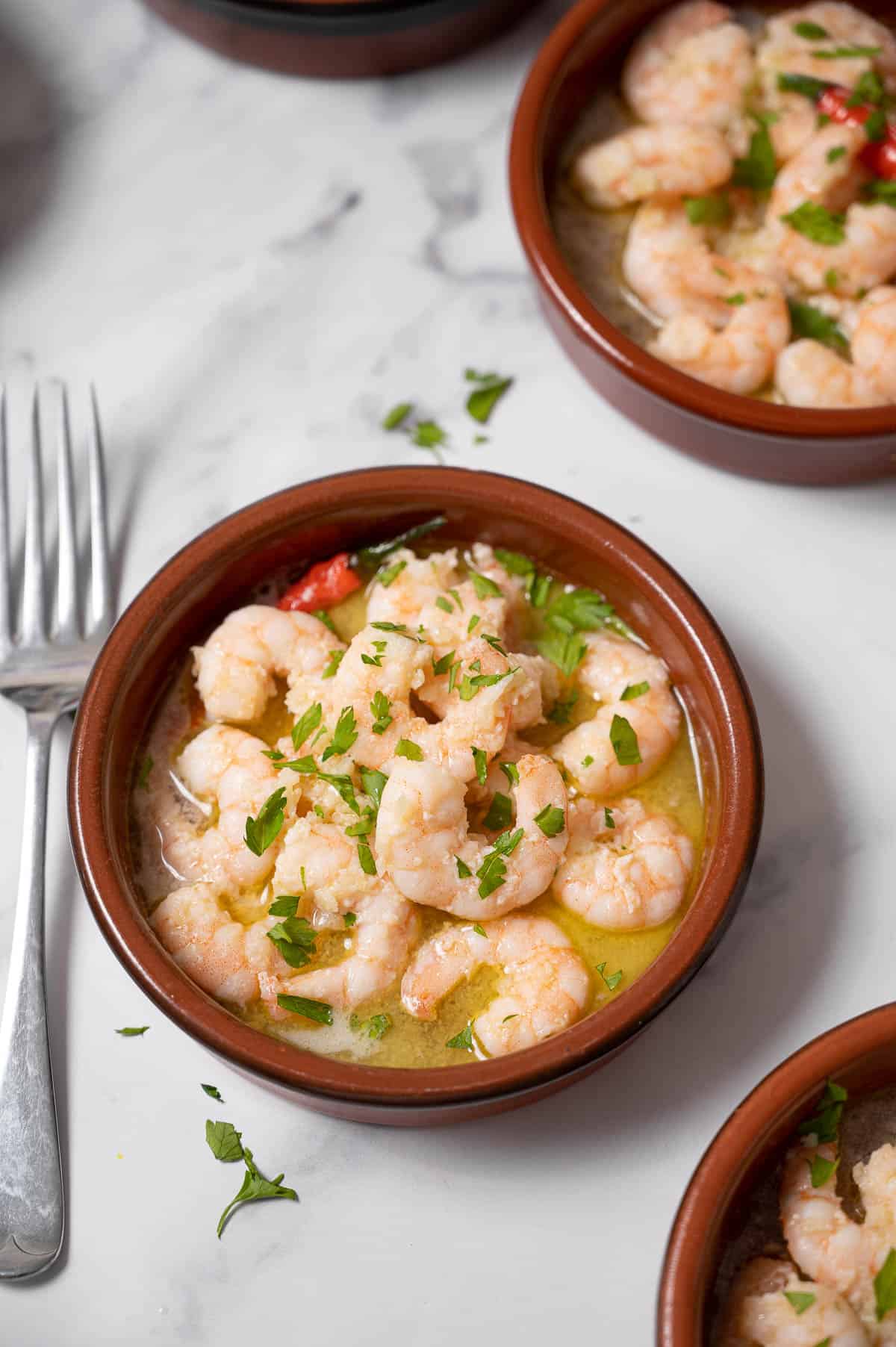 This is one of the most exciting tapas to order at a Spanish bar, as it often comes out of the kitchen piping hot and sizzling! Gambas al ajillo are peeled shrimp soaked in garlicky olive oil, sometimes with fresh herbs.
These Spanish garlic shrimp are a crowd-pleasing tapa to make for your next party. Clay dishes are optional, but highly recommended.
35. Boiled Shrimp
Boiled shrimp is the perfect example of a simple tapas recipe that lets the main ingredient shine; all you need is fresh shrimp, salt, and water! Once you try it, you'll never want to boil shrimp any other way.
In Spain, gambas cocidas are usually served alone, sometimes with a lemon wedge, but you can always add a dip or sauce if you want.
36. Shrimp Skewers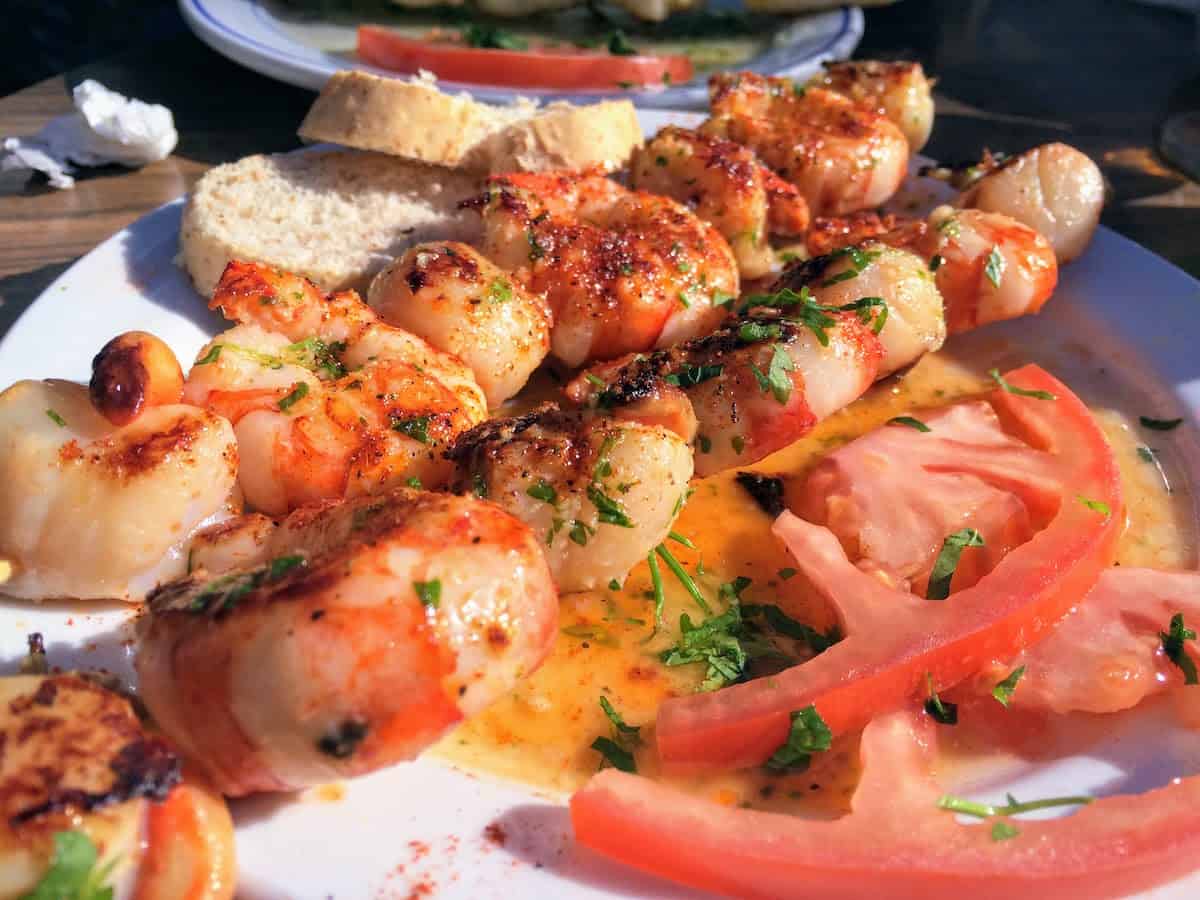 Shrimp skewers are among my favorite Spanish tapas recipes for summer, perfect for grilling in the backyard and enjoying with a cold drink. All you need is fresh shrimp, garlic, paprika, salt, and olive oil. For serving ideas, try pairing these with bread and alioli (Spanish garlic mayonnaise).
37. Boquerones Fritos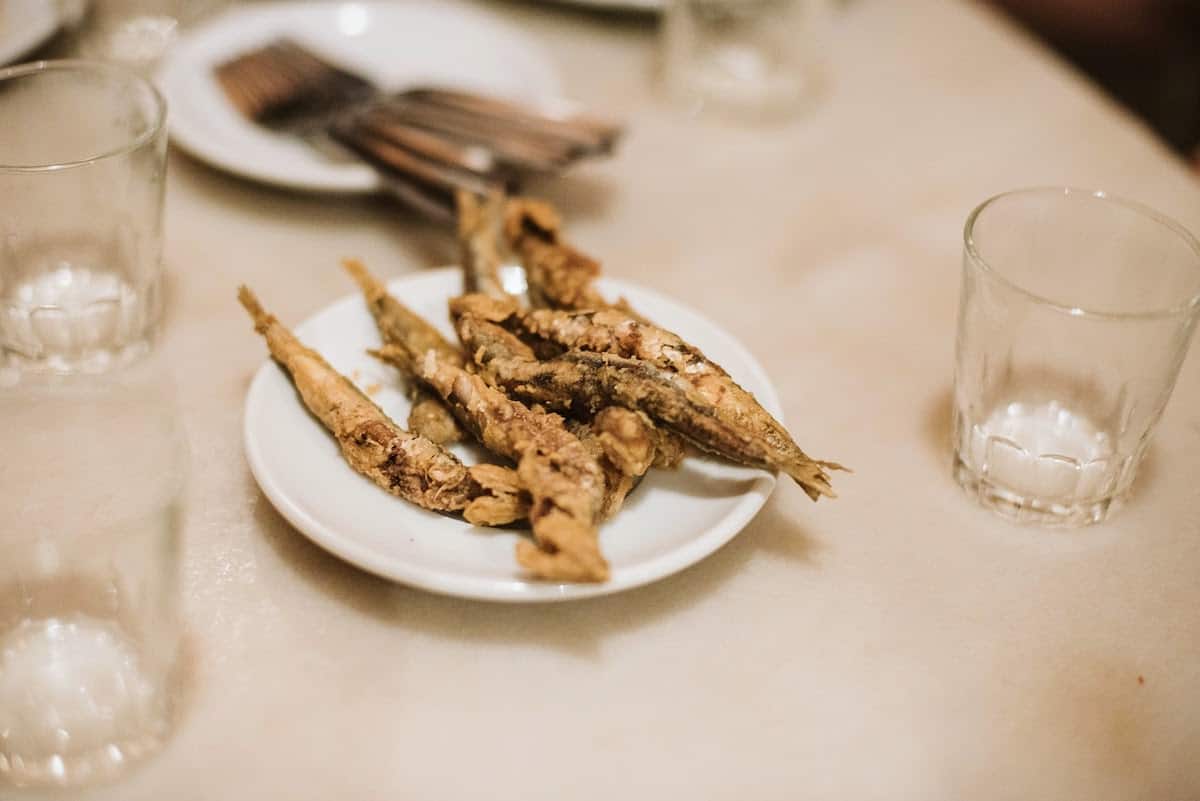 Anchovies can be a bit divisive, but even the pickiest eaters have been known to fall in love with boquerones fritos. A generous dose of olive oil, salt, and lemon makes them an easy transition for anchovy skeptics.
There's nothing quite as good as biting into piping-hot boquerones in a crowded Spanish tapas bar, but this recipe comes close.
38. Boquerones en Vinagre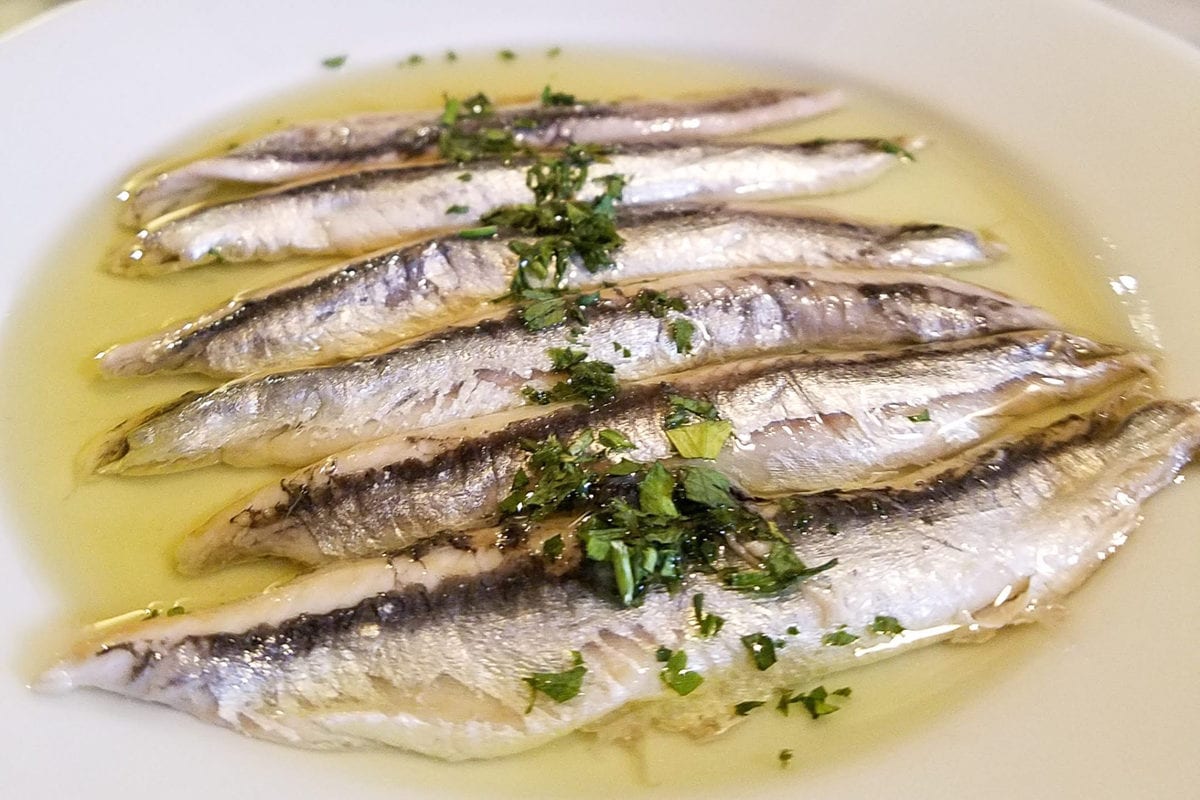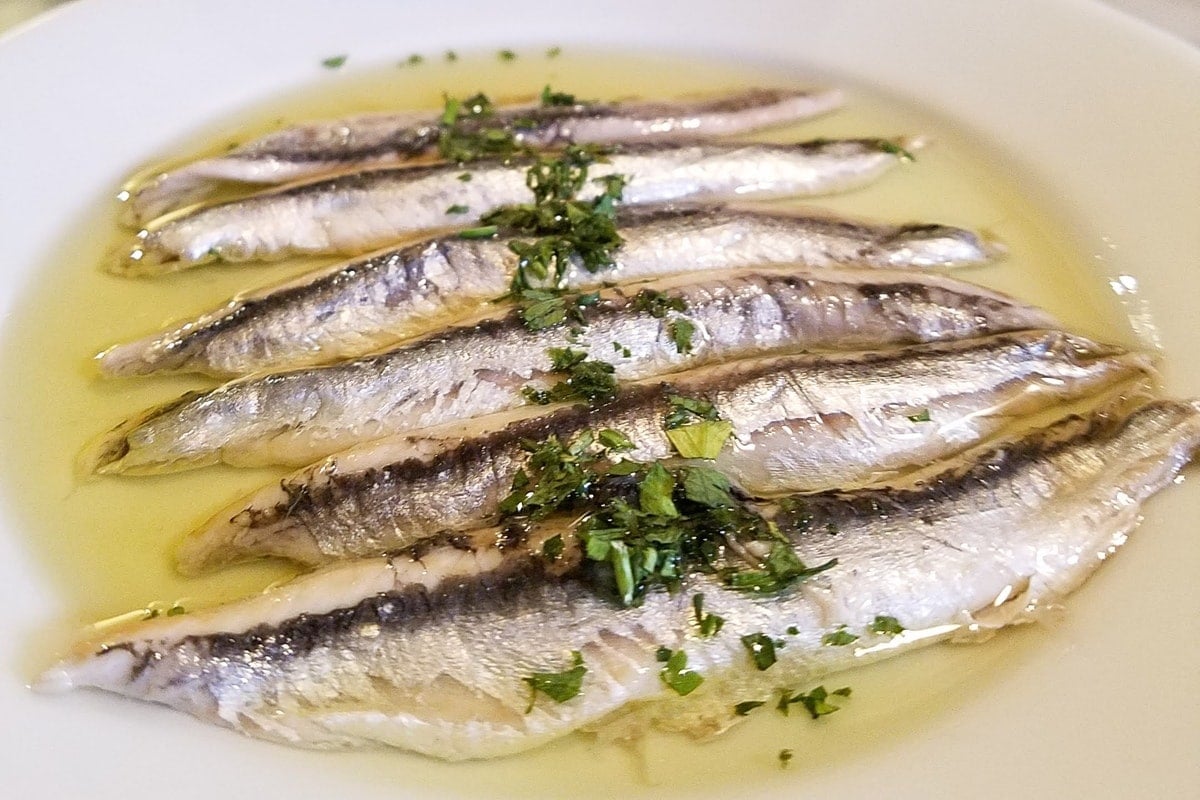 I also love fried and canned anchovies, but in my opinion, boquerones en vinagre is the best possible way to eat them. Instead of being preserved in salt, they're cured in vinegar, which adds a strong flavor that balances out the fishiness.
I suggest pairing them with bread, potato chips, and Spanish vermouth... ideally on a Sunday afternoon in the sun.
39. Almejas a la Marinera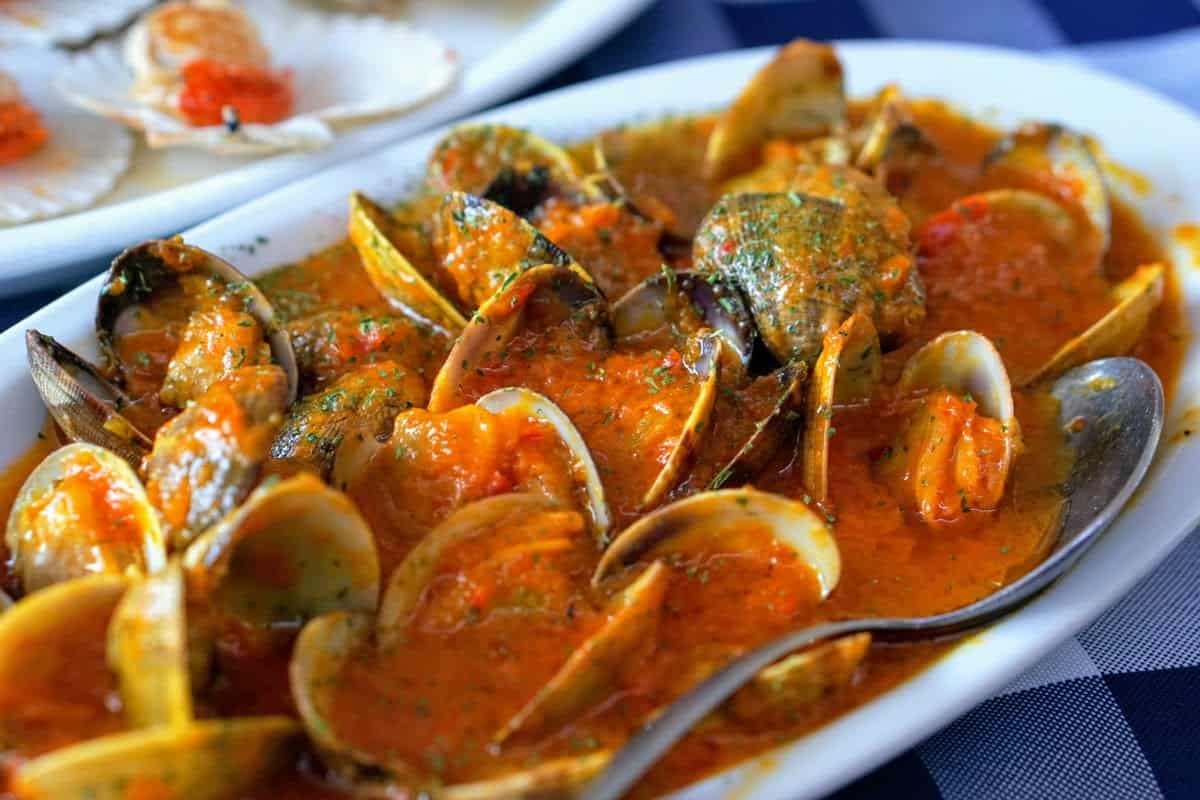 This is a classic recipe for Spanish-style clams, cooked in a sauce of garlic, white wine, paprika, and herbs.
Although the name might bring to mind tomato sauce, in Spanish marinera just means that it's related to the sea. It's a common holiday food in Spain, but that doesn't mean you have to wait until winter to try it!
40. Clams with Chorizo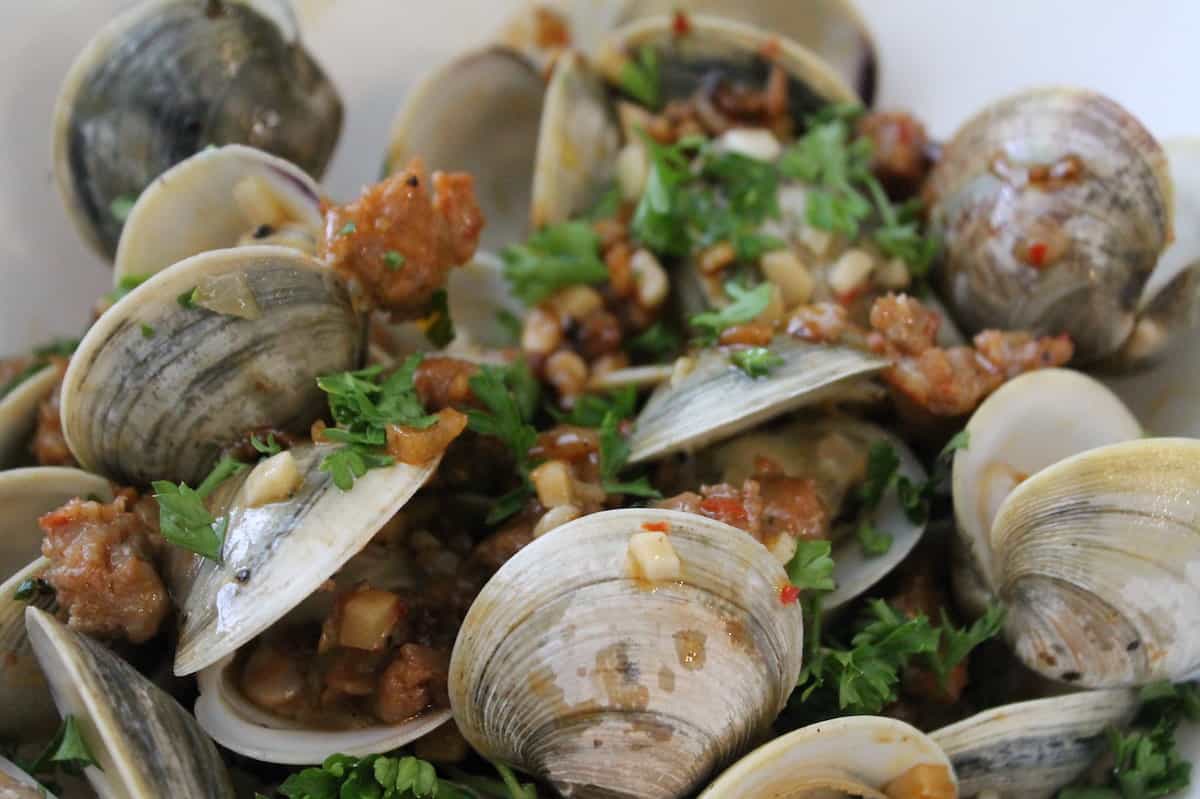 This recipe for clams with chorizo combines three core elements of Spanish cuisine: garlic, seafood, and cured meat.
Despite its impressive appearance—not to mention flavor—it comes together in just half an hour. Plus, you only need one pan (less time washing dishes means more time for eating).
41. Tortillitas de Camarones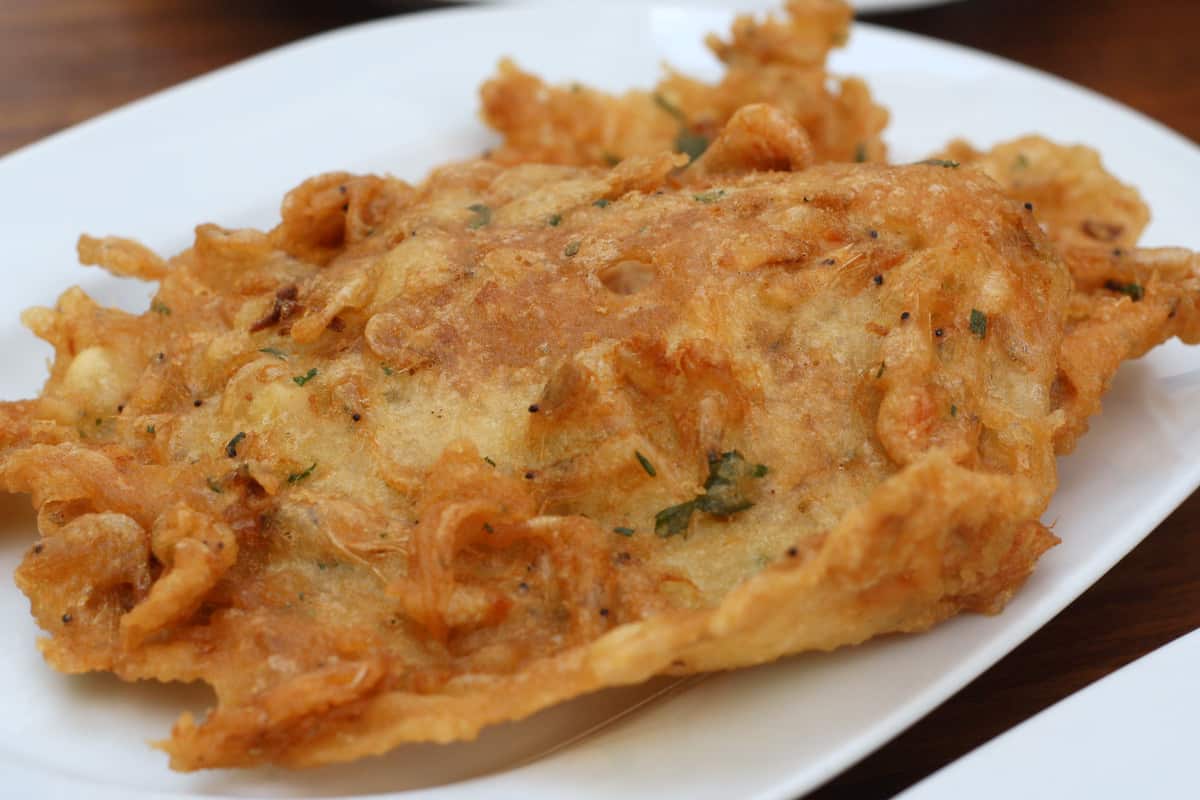 The first time I tried tortillitas de camarones, I wasn't expecting much. It just felt like an obligation while visiting the beach town of Cádiz. But I was pleasantly surprised!
These thin and crispy shrimp fritters are absolutely addictive. If you can't make it to southern Spain, this recipe is the next best thing.
42. Calamares Fritos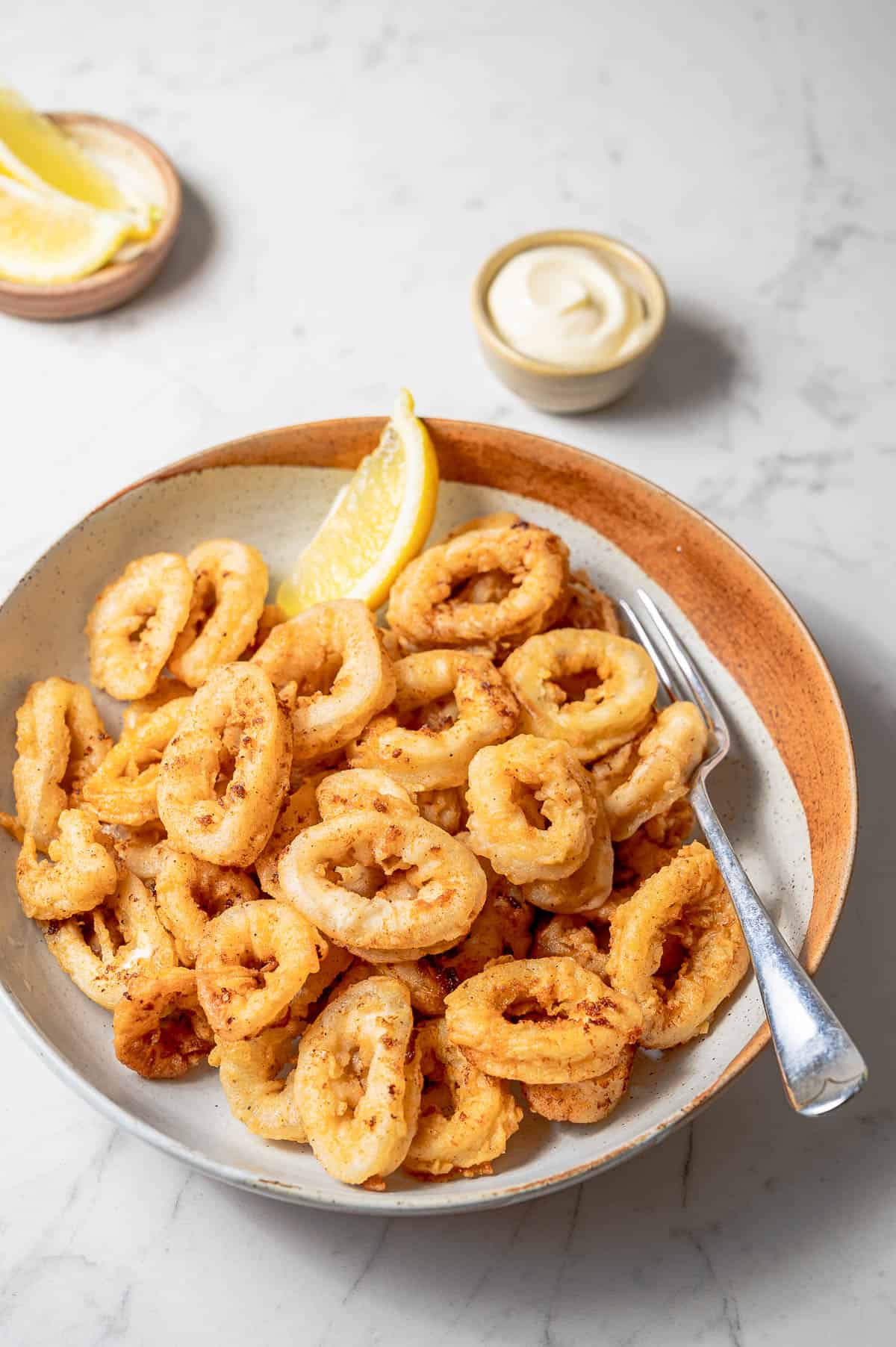 Calamares fritos is a classic tapa to enjoy by the beach, ideally made with freshly caught Spanish squid. But if you're making it at home, don't worry; frozen squid works just as well.
These fried squid rings are crunchy on the outside and tender on the inside, and best served with a generous squeeze of fresh lemon.
43. Tuna Empanada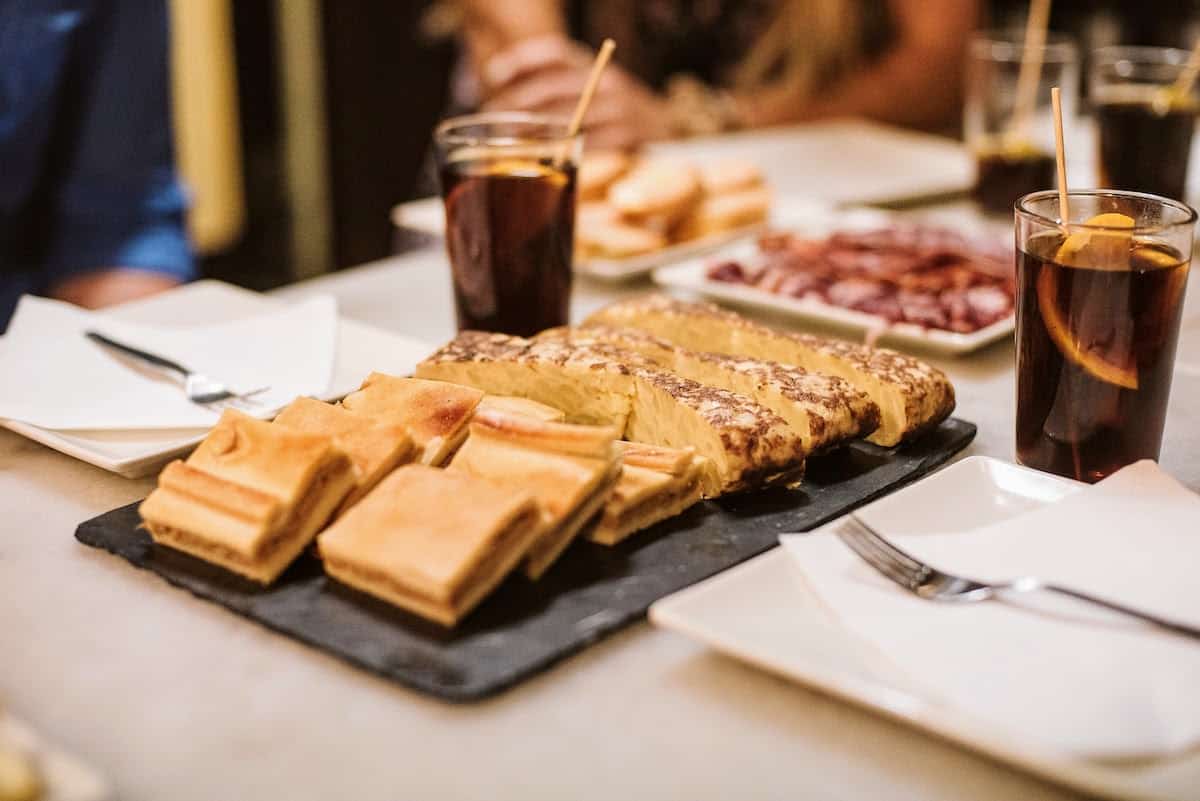 You might picture empanadas as half-moon shaped hand pies. And while you will find those in Spain, the real Spanish empanada looks more like a large, flat rectangular pie. This Galician treat is usually filled with tomato and tuna or other types of seafood, but the options are truly endless.
44. Tuna Stuffed Piquillo Peppers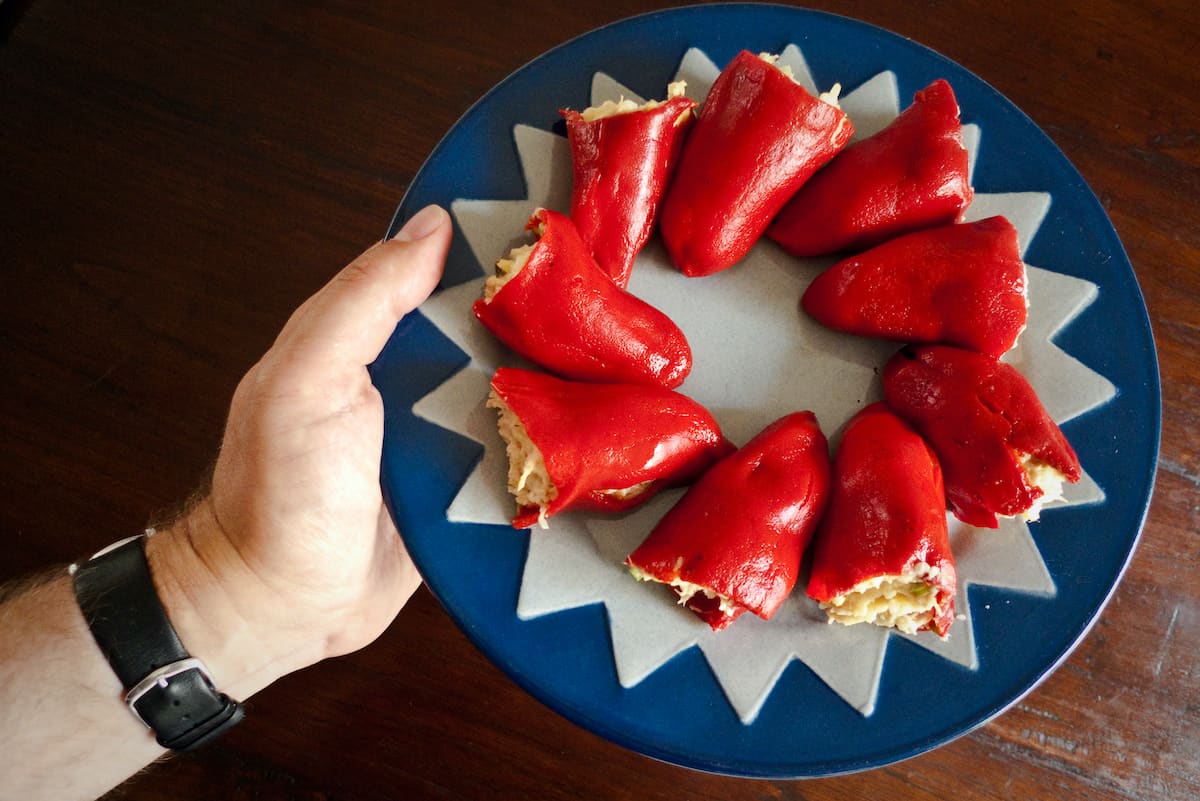 Piquillo peppers are one of Spain's greatest treasures. They might not look so special at first glance, but they're incredibly sweet and smoky—providing the perfect contrast to high-quality Spanish canned tuna.
This recipe for tuna stuffed piquillo peppers unites two of the most popular Spanish canned foods, or conservas, in an exceptionally easy-to-make pintxo.
Spanish Cold Soup Recipes
45. Gazpacho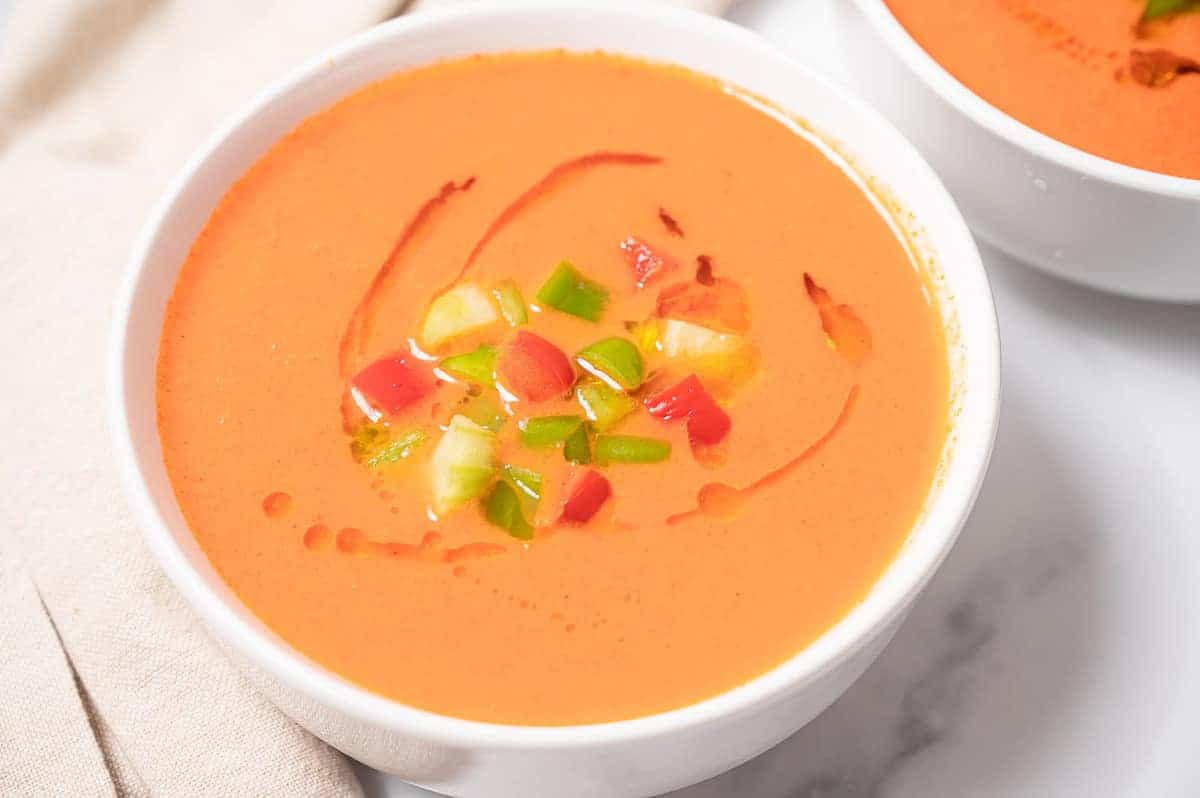 Gazpacho is one of the most well-known Spanish foods, and the perfect tapa for a hot summer day. It's super healthy and refreshing, requiring nothing more than some fresh vegetables, tomatoes, olive oil, vinegar, and salt. It doesn't get much easier (or more authentic) than this.
46. Watermelon Mint Gazpacho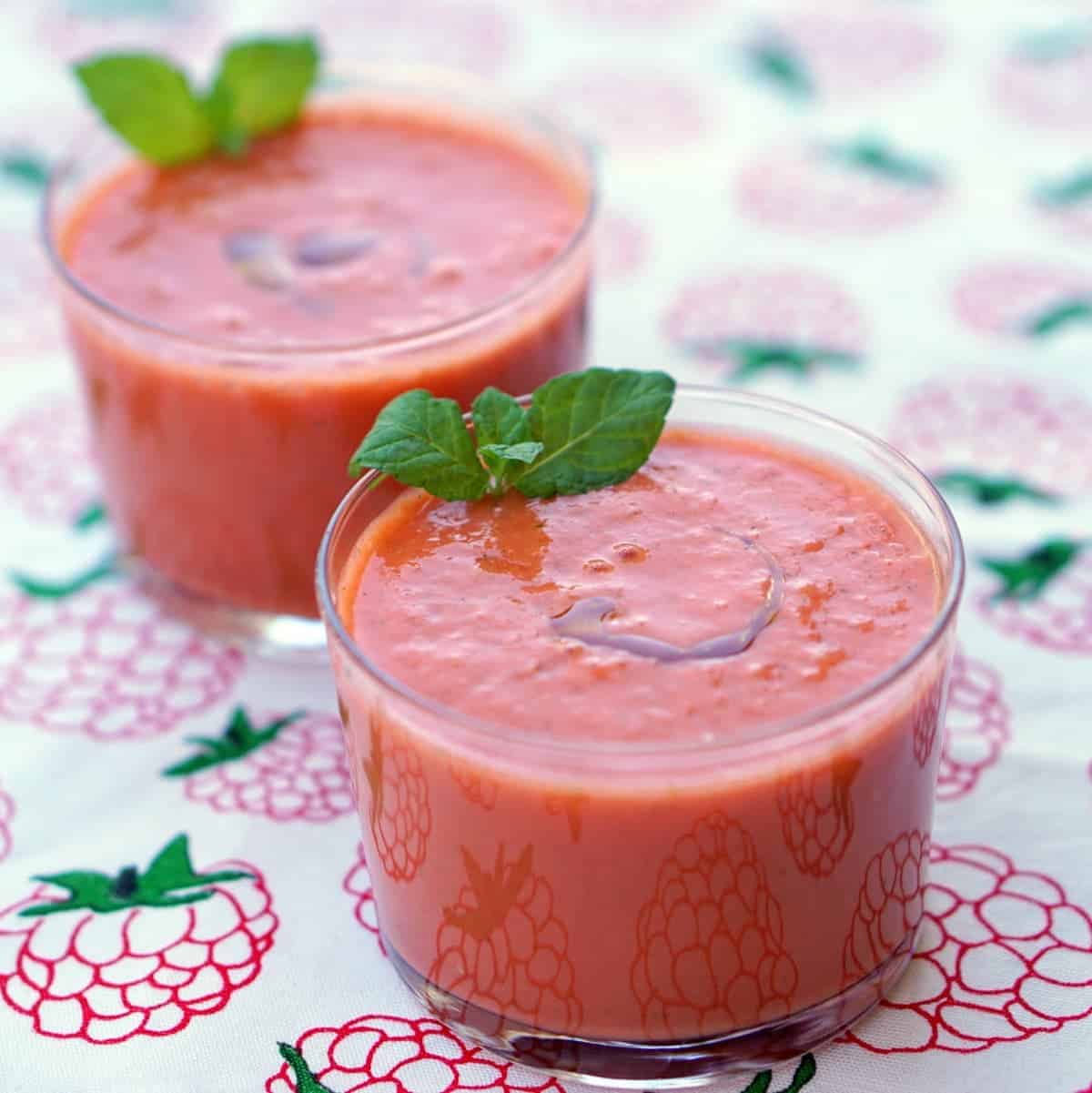 For a fun twist on Spanish gazpacho, try this refreshing recipe that adds a favorite summer fruit. Watermelon gazpacho is the perfect tapa for a garden party or picnic, garnished with mint and served in small glasses or bowls. And it only takes 10 minute to prepare!
47. Green Gazpacho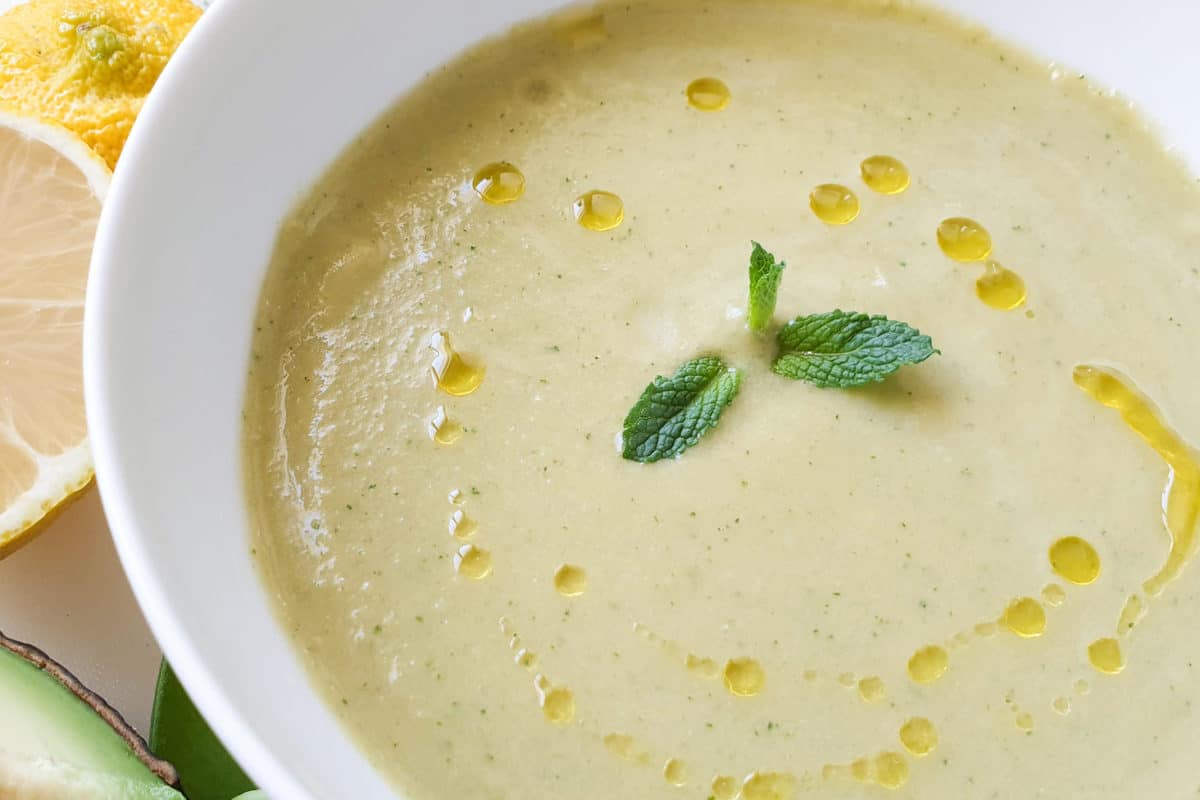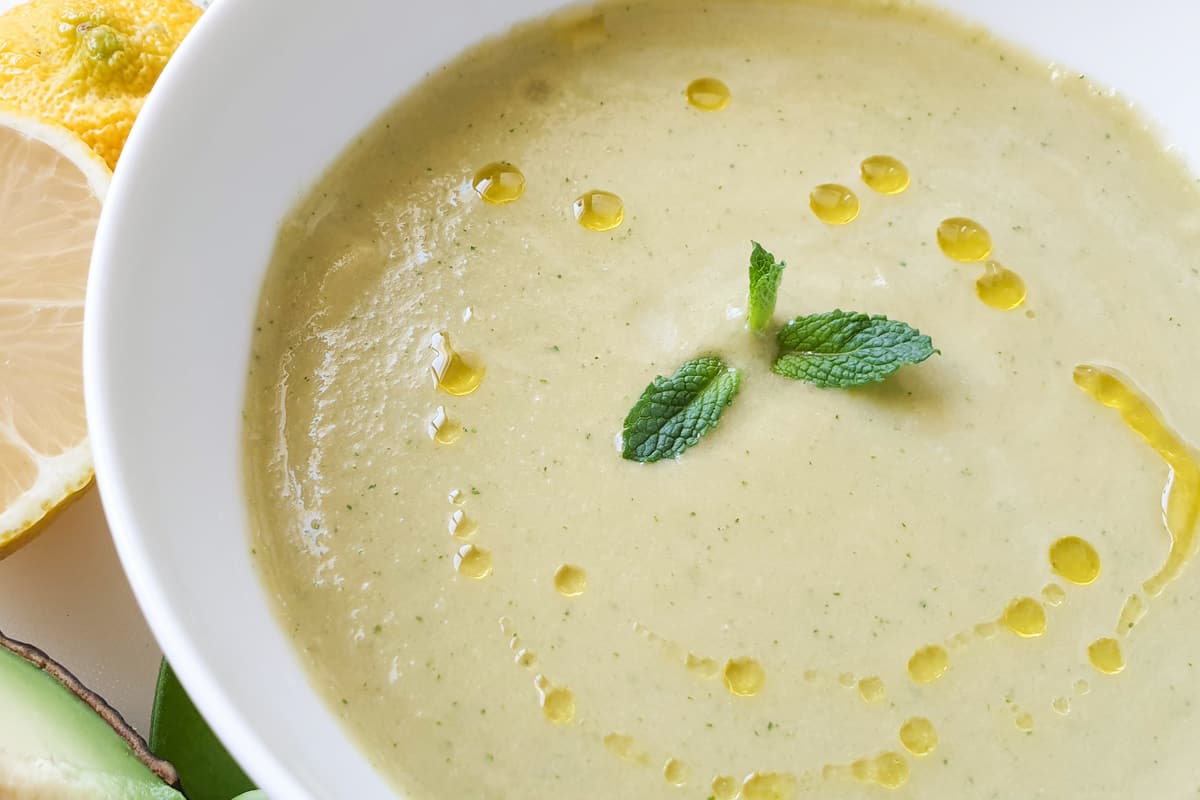 Green gazpacho is another modern take on the classic, featuring green tomatoes, cucumber, and avocado. It may not be the most traditional Spanish soup, but it's still a worthy contender for your tapas lineup. If you want to make the green color even brighter, add a handful of spinach.
48. Salmorejo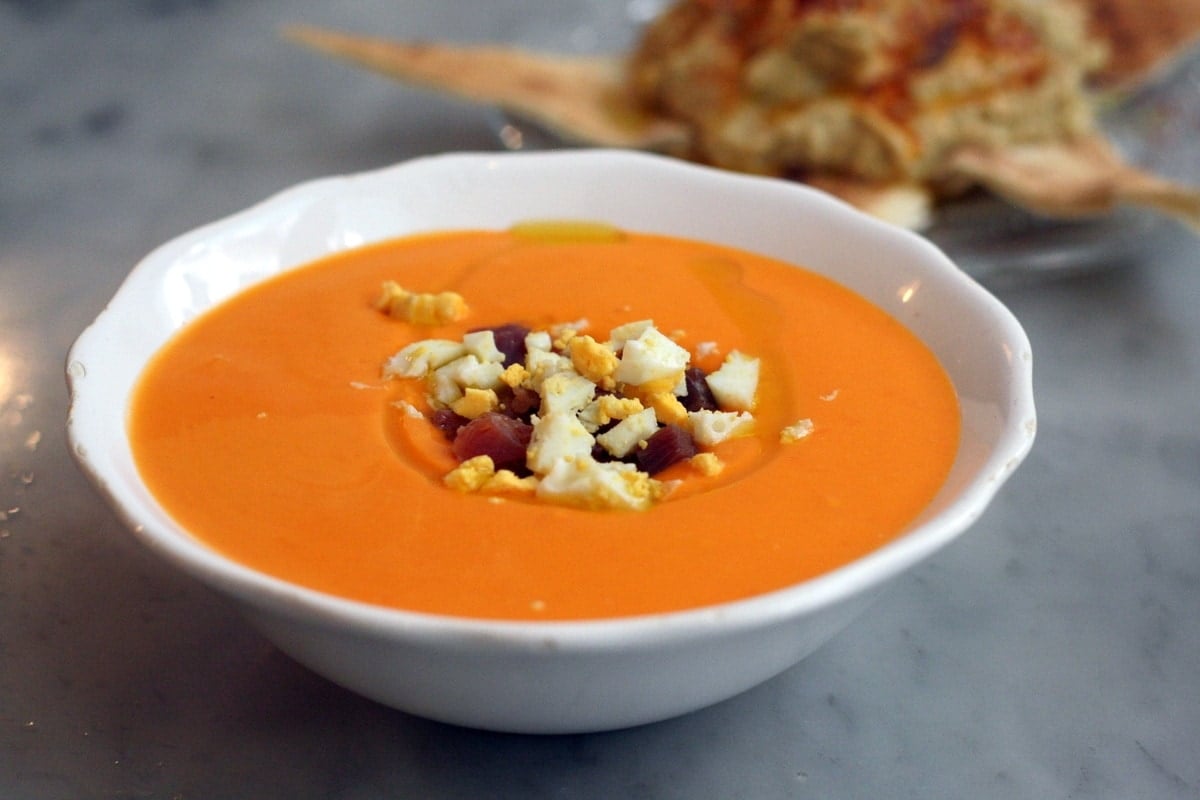 You've probably heard of gazpacho, but what about salmorejo? This cold soup gets its creamy texture from the addition of stale bread, which is blended right in with tomatoes, garlic, salt, vinegar, and olive oil. It's often topped with cured ham and hard-boiled egg.
49. Beet Salmorejo
This modern twist on salmorejo calls for beets and a bit of orange juice—a surprising duo that adds a special kick to this cold tomato soup. I suggest getting creative with toppings; think sardines, cheese, olives, or even fruit. The finished recipe is not only delicious, but also a gorgeous color!
50. Ajo Blanco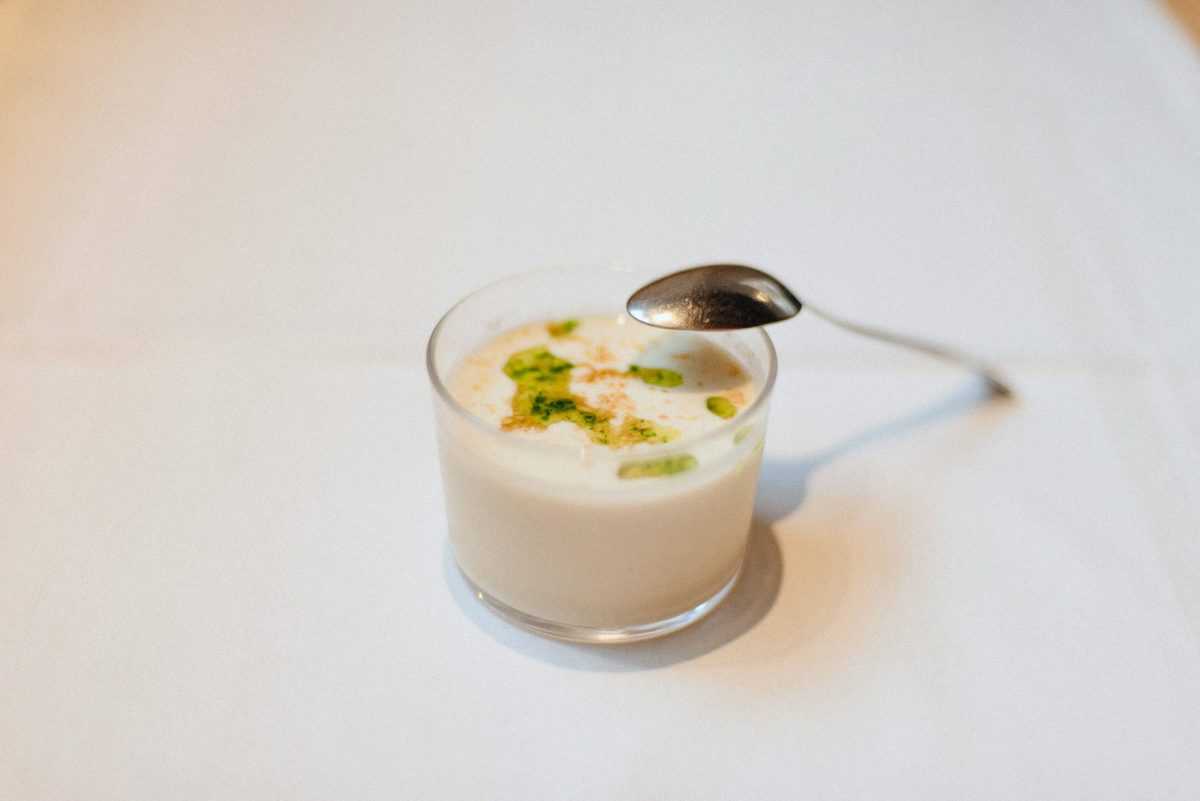 Ajo blanco is probably the most unique Spanish cold soup, consisting of garlic, blended almonds, stale bread, olive oil, and vinegar. Some say it's the precursor to more famous soups like gazpacho and salmorejo, which were only invented after Spain started importing tomatoes from the Americas.
What to Drink With Tapas
There are almost as many delicious Spanish drinks as there are tapas recipes! Depending on the dish (and your mood), you can pair Spanish tapas with pretty much any beverage.
But if you need some inspiration, I highly suggest a glass of Spanish wine. Pair a nice Rioja with rich tapas like rabo de toro or carrillada. A crisp albariño or verdejo goes perfectly with seafood tapas like almejas or gambas al ajillo.
In Spain, the most common thing to drink with tapas is probably beer. Locals often order a small glass, or caña, instead of a full bottle or pint. There's also the classic sangria—although in reality you're much more likely to find tinto de verano on Spanish bar menus.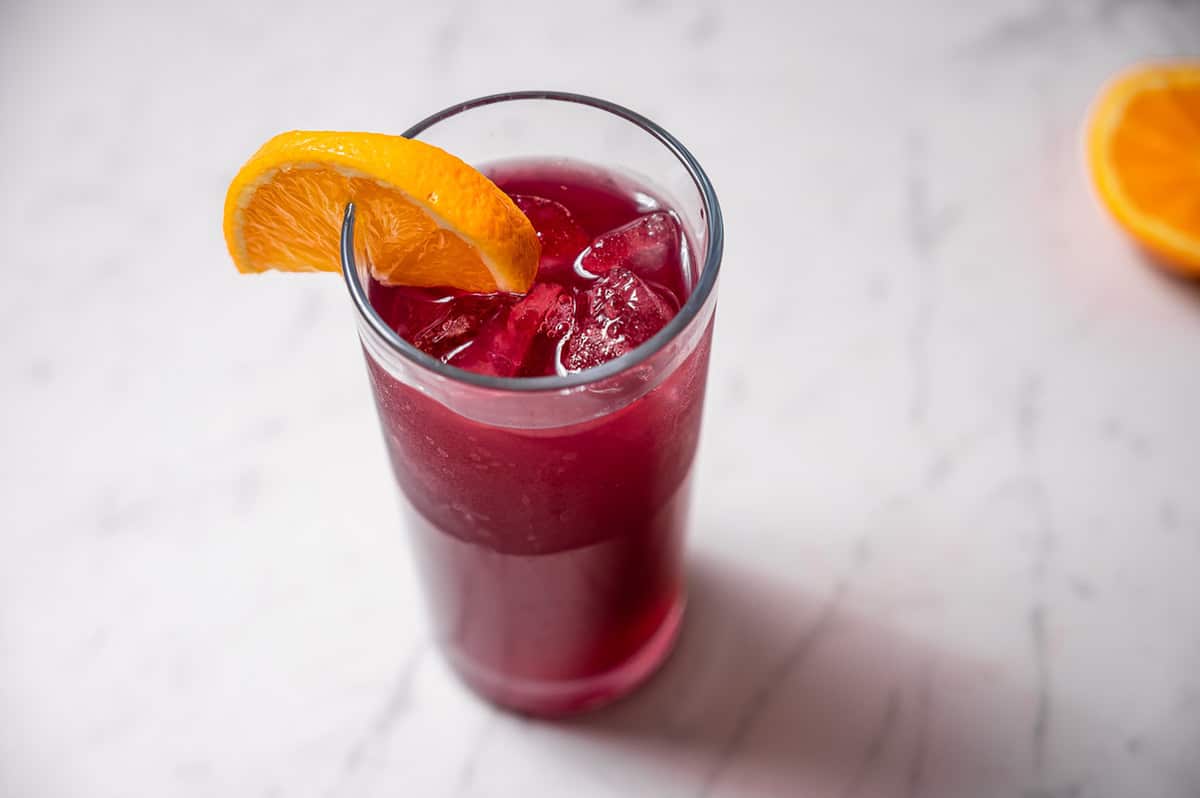 If you're feeling a bit more adventurous, branch out and try unique Spanish drinks like sherry and other fortified wines.
On Sunday afternoons, it's especially common to enjoy tapas with a glass of Spanish vermouth (my personal favorite drink in Spain). And of course, there are plenty of non-alcoholic options as well!
Spanish Tapas Recipes FAQs
Hungry for more? Sign up for my free weekly newsletter and receive a new Spanish recipe once a week! Join today and get my FREE Spanish ingredient essentials guide!