Today Elyssa shares her picks for the 11 best tapas bars in Santiago de Compostela. I've taste tested them all and they're worth a visit! 
They say Santiago de Compostela is full of magic and part of that magic manifests itself through the local gastronomy.
You cannot fully appreciate all this city has to offer until you spend time enjoying Santiago's thriving tapas scene. There are so many great places to enjoy authentic Galician food here (as well as some modern spots), and these are some of my picks for the very best tapas bars in Santiago de Compostela.
Despite being a small city, Santiago de Compostela boasts an impressive quantity of tapas bars. They run the gamut from homemade, historic, and casual to gourmet, modern, and sophisticated.
11 Best Tapas Bars in Santiago de Compostela
1. 
A Taberna Do Bispo
Located on a famous street crowded with restaurants and bars, A Taberna Do Bispo still stands out. Though there's a sit-down restaurant at the back, I like the bar at the front! It's the perfect space to try a couple of tapas before moving onto the next place. Order a local Galician wine and choose from the wide selection of pinchos—small tapas ordered a la carte. They taste as good as they look piled high behind the glass display at the bar!
Address: Rúa do Franco, 37 B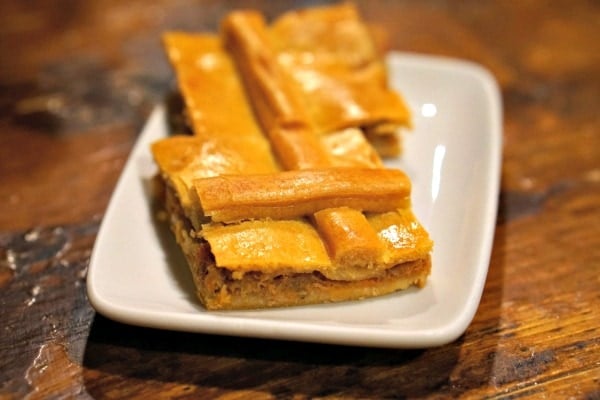 2. Casa Marcelo
Truly an outstanding and original experience, chic Casa Marcelo features Galician tapas with a Japanese touch. If you're hungry for an innovative, gourmet spin on Galician classics, this fusion restaurant is a must-visit.
Address: Rua Hortas, 1
3. Os Concheiros
Home to what is hailed by many as the best pulpo á feira in Santiago, this bodega specializes in classic Galician recipes. In addition to the signature octopus, try some other local favorites like zorza (seasoned and marinated pork), Padrón peppers, roasted ham, and pig's ear. The house wine is also a treat.
Address: Rúa de Berlin, 3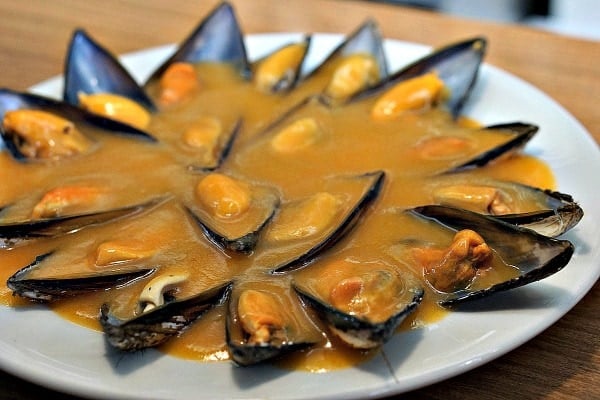 4. El Papatorio
This bar is bright, modern and charming. It's another standout option on the busy Rúa Franco. Divided into a tapas bar and a sit-down restaurant, El Papatorio offers a variety of imaginative pinchos and well-priced, quality portions to share (raciones). Order a plate of chipirones, small fried squid, to accompany your pinchos. If you're still hungry, head to the restaurant at the back for a juicy Galician steak!
Address: Rúa Franco, 20
5. La Cueva
La Cueva is the place to try mejillones tigres, giant mussels swimming in a spicy tomato-based sauce. But if spicy isn't your thing, fear not! The other mussels on the menu (steamed or a la vinaigrette) are just as tasty. Grab a table on the outdoor patio, and enjoy Santiago de Compostela's classic flavors while surrounded by historical architecture.
Address: Travesia Franco, 1

6. La Tita
Looking for the most iconic tortilla La Titain Santiago de Compostela? Look no further than . Everybody knows and loves this local institution for the generous serving of tortilla de patatas you're given with every drink you order. It's the perfect start to a night out of tapas.
Address: Rua Nova, 46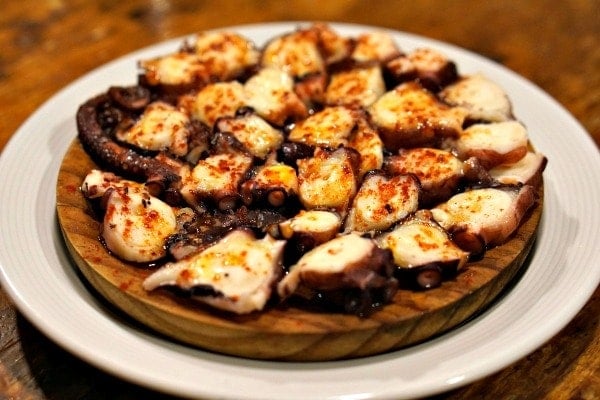 7. O Gato Negro
Tucked away on one of Santiago's narrow streets, O Gato Negro is worthy of its own pilgrimage. Drink cheap, delicious wine from barrels while feasting on an empanada, pulpo á feira, stewed scallops, and more fresh seafood. Despite its inconspicuous location (look for the black cat sign around number 19), O Gato Negro manages to lure throngs of locals and travelers. You might have to wait for a spot inside, but it's worth it!
Address: Rúa Raina, s/n
8. Antollos
Aptly named for the Galician word for "cravings," Antollos is known for its creative tapas and an exquisite selection of wines and beers. Choose from a hefty variety of pinchos that combine flavors of cured meats, local cheeses, and juicy Galician beef or crab.
Address: Rúa das Orfas, 25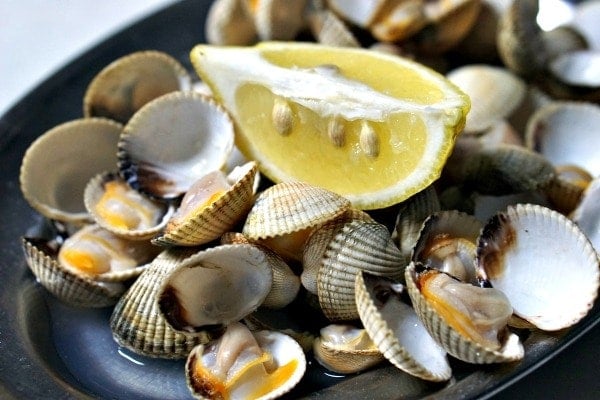 9. Abastos 2.0
With its location on the outer edge of the Mercado de Abastos, this busy tapas bar serves up the freshest ingredients. Trendy Abastos 2.0 features a revitalized edition of Galician dishes like percebes (gooseneck barnacles), empanada, berberechos (cockles), ceviche and scallops. Inventive and well-executed, it's undoubtedly one of the best tapas bars in Santiago de Compostela.
Address: Rúa das Ameas, 13 – 18
See more: Essential Galician Seafood Dishes
10. Damajuana
This family-run restaurant is a big hit with the locals. Just down the street from Plaza de Cervantes, this tavern combines excellent service with scrumptious Galician comfort food. They also offer vegan and vegetarian options beyond peppers from Padrón.
Address: Rúa da Acibechería, 5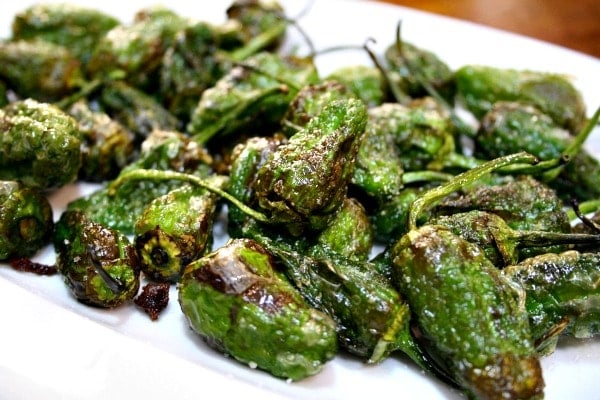 11. A Moa
Warm, earthy and chic, A Moa fits right in on Rúa San Pedro, the cobblestoned street that leads pilgrims into the Old Town. From the garden views to the presentation of the dishes, everything about the place oozes beauty and character. They use top-notch Galician ingredients to create something truly special beyond traditional cuisine. Treat yourself to the tapas buffet at the bar upstairs or call ahead to reserve a table at the restaurant downstairs. This place is dearly loved by locals, and it's one of the best tapas bars in Santiago de Compostela!
Address: Rúa de San Pedro 32
As rich and diverse as Galicia itself, the Santiago culinary landscape offers up tradition, innovation, and flavor. This list covers some of the very best tapas bars in Santiago de Compostela, though hardly scratches the surface of everything the Galician capital's culinary scene has to offer.
What do you think? Any excellent Santiago tapas bars to add to the list?
Read More: Discover Galicia with a Food Lover's Roadtrip
Pin me!