This blog post was originally posted on August 16, 2016 and was updated on November 30, 2017
Whether you like art, history, architecture, the beach, delicious food or all of the above, you're guaranteed to have a fabulous time in Malaga. There's a lot to love about the city, but there are some places that really stand out. Here's the best of the best of Malaga–the things to do that you simply can't miss when visiting the city.
The Best of the Best of Malaga
1. Best Historical Monument in Malaga - The Alcazaba
In a 3,000 year old city, it's no question that you'll find history around nearly every corner. All of Malaga's historic monuments are fantastic and worth a visit, but the best has to be the Alcazaba (Calle Alcazalbilla, 2), a fortress built during the reign of the Moors (the Muslim tribes who ruled Spain for 8 centuries, and whose culture of still part of daily life today).
This really is one of Malaga's architectural wonders, where for only €2.20 you can wander around beautiful patios laden with flowers and fountains, and be rewarded with great views over the city center to boot. With a prime location right in the city center, you simply can't miss it!
2. Best Place to Drink Wine in Malaga - Antigua Casa de Guardia
Malaga is home to one of the oldest wine regions in the world, so if you are looking for a nice spot for a glass of wine, you've come to the perfect place! Why not take things up a notch and have a drink at Malaga's oldest wine bar, which happens to be right in the city center?
Antigua Casa de Guardia (Alameda Principal, 18) is steeped in the history and culture of the city, having been famous among locals since is opened its doors in 1840. Malagueños and visitors alike love coming here to have a glass of sweet Malaga wine and a chat with a friend. Prop yourself up again the bar and watch as they pour your wine straight from the original oak barrels.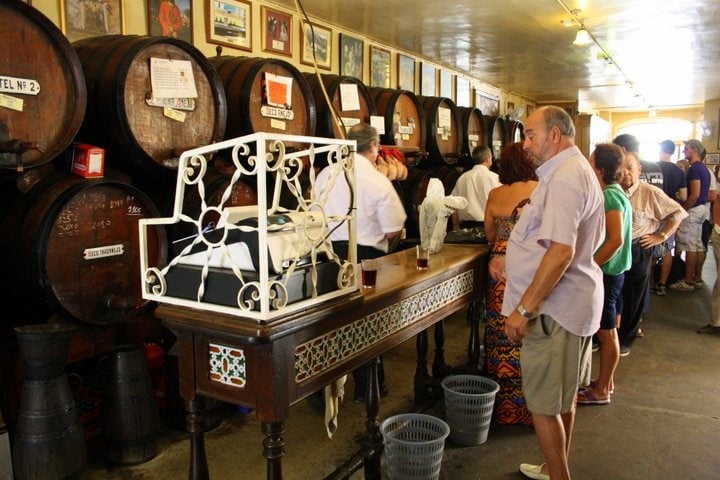 See Also: Top Wine Bars in Malaga
3. Best Restaurant in Malaga - Mesón Mariano
One of the best things to do in Malaga is have an authentic dining experience, but you need to check a few things first. Do locals go there? Is it a family run business? Do they have tapas on their menu? Mesón Mariano (Calle Granados, 2) ticks all of the above boxes and then some. Located down a little side street, it's pretty easy to miss, which is part of the reason why it's still a hidden gem in the city.
All the food at Mesón Mariano is prepared with market-fresh ingredients, purchased fresh each day by Mariano himself. As soon as you walk through the door and catch a whiff of the smells from the kitchen, you'll know you're in for a fabulous meal.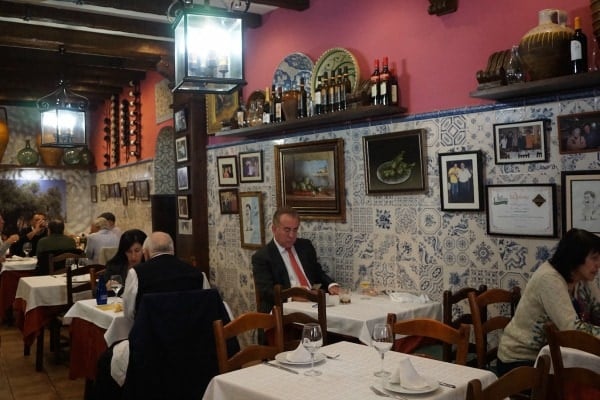 4. Best Local Food to Try in Malaga - Boquerones
No trip to Malaga is complete without trying the city's most iconic dish: boquerones. These little fish are the most popular food in the city—so much so that malagueños themselves are colloquially known as boquerones! These fish are part of the anchovy family, but they taste nothing like the dark, salty anchovies you may be used to. Boquerones are a mild-flavored white anchovy, and locals love to eat them fried and sprinkled with lemon or raw with vinegar.
Insider's tip: The best thing to drink with your boquerones is a glass of dry white wine.
5. Best Square To Visit in Malaga - Plaza de la Merced
There are a number of pretty squares in the city, but the best of the best has to be Plaza de la Merced. It's the perfect place for people watching, having a drink, or visiting a local market on weekends. Not only that, but Picasso's birth house is located at the square (today, it's a popular tourist attraction) and you'll also find a statue of the famous artist in the square.
Insider's Tip: Come here during spring when the Jacaranda trees are in bloom, turning this square into a truly magical place.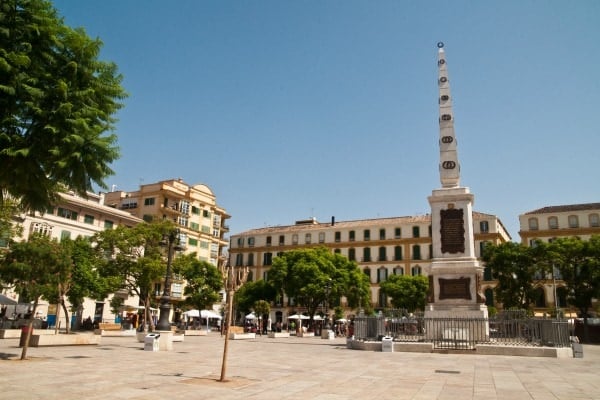 6. Best View in Malaga - AC Marriot Hotel
You absolutely should see Malaga from above, and a great way to do this is with a refreshing drink at a rooftop bar. One of the best spots to indulge in a drink with a view is the AC Marriot Hotel (Calle Cortina del Muelle, 1).  Take the elevator to the 15th floor and you'll find the rooftop bar with its sophisticated atmosphere and views to match. Enjoy the view of the seaside and the city center all in one, take some photos to make you friends and family back home jealous, then relax and enjoy a cocktail or two.
7. Best Ice Cream in Malaga - Heladeria Freskitto
Malaga is an ultimate summer holiday destination, and with an average summer temperature around 30 degrees celsius, ice cream is essential. For the best ice cream in Malaga, you can't miss Heladeria Freskitto (Calle Granada, 55). They've even won a price for the best helado in the city.
There are so many different flavors available, but for something special try the turrón flavor (made with delicious local almonds) or the Malaga flavor, which is prepared with local raisins. If you're after a cold drink, try a batido—a refreshing milkshake made with any type of ice cream you fancy.
8. Best Museum in Malaga - Picasso Museum
Locals are very proud of the fact that Pablo Picasso was born in Malaga. They've turned his birth house in a museum, started a Picasso foundation, and named multiple bars in the city after the artist. So it's only natural that, of course, Malaga also has a Picasso museum (Calle San Agustin, 8) full of his artwork as well! It's not a very big museum like some others in Malaga, but it's a very personal one and a must for any art-lover.
Insider's Tip: Don't miss out on the basement of the museum. It's included in your entrance ticket and home to some interesting Phoenician and Moorish ruins.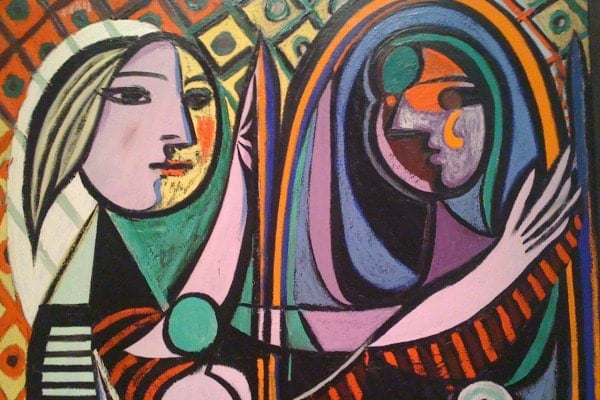 See Also: More unique museums in Malaga you won't want to miss
Pin me!