Looking for the best beaches in Malaga? Here are seven of our favorite spots for sun, sand, and sea in this Andalusian city and the surrounding area!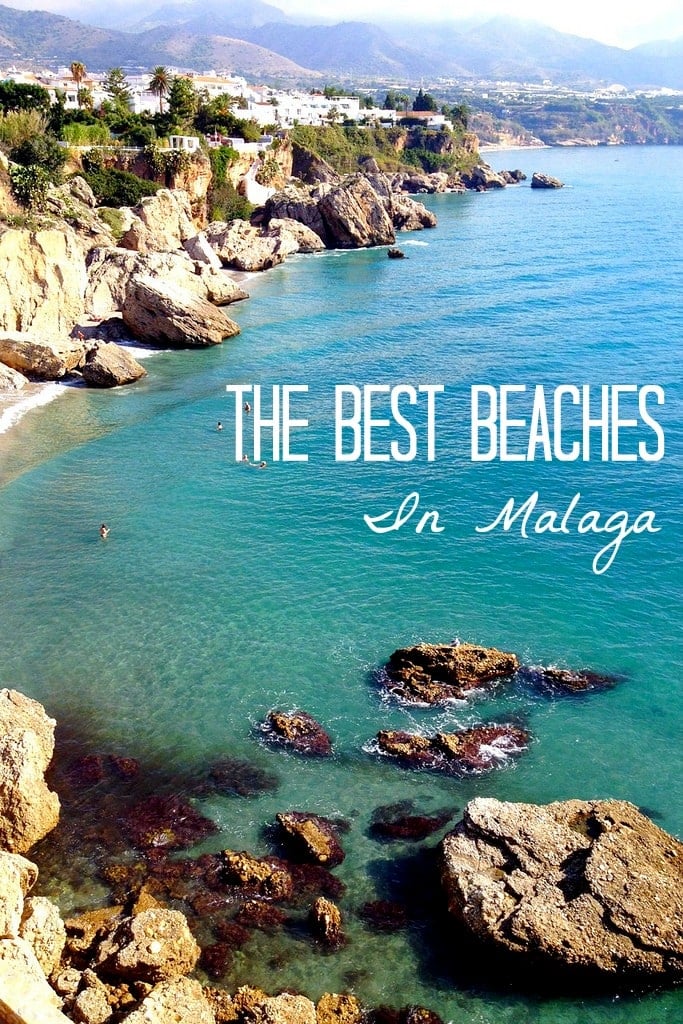 No trip to the capital of the Costa del Sol is complete without visiting at least one of its beautiful beaches. And with over 300 days of sun every year, a beach day can be part of your itinerary no matter the season.
Whether you want to swim, find the best seafood, or simply relax, there's an ideal beach for everyone—but how do you choose? This guide to the best beaches in Malaga (and nearby towns) will help you get started.
1. Playa de la Malagueta, Malaga
The buzzing, colorful Playa de la Malagueta is the closest beach to the city and the easiest to reach. Here you'll find a mix of both locals and tourists working on their suntans or playing beach volleyball.
You can lie in the sand, dive into the water, or relax on the grass in the shade of the palm trees. Be sure to take a photo by the iconic Malagueta sign and hit up one of the chiringuitos (beach bars) for a refreshing drink.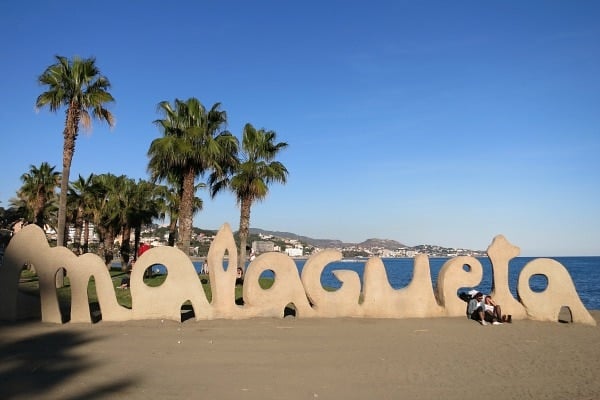 Read More: The Ultimate Guide to Eating in Malaga
2. Playa El Palo, Malaga
Feeling active? Rent a bike and follow the boulevard along Malaga's coastline. You'll end up in quaint fishermen's villages like El Palo, with its tiny, colorful houses lined up along the beach.
The beaches here are mainly filled with locals, both relaxing on the sand and enjoying fresh fish like the famous espetos. These sardine skewers are barbecued on the beach—on a grill made out of an old fishing boat!
See Also: Discover the Most Popular Tapas in Malaga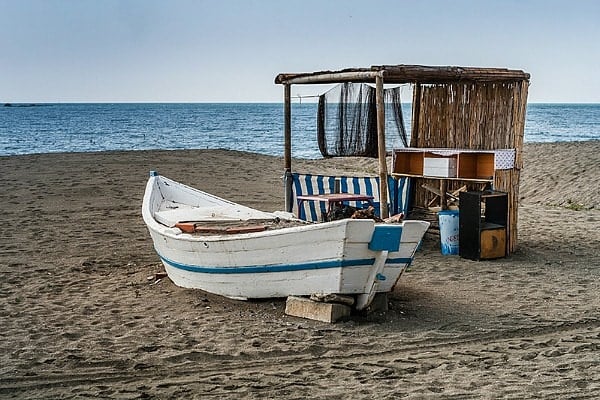 Insider's Tip: If cycling isn't your thing, you can take bus 11 from the city center to Playa El Palo.
3. Playa Peñón del Cuervo, Malaga
Keep going past the old fishing villages and you'll reach Playa Peñón del Cuervo. You won't find beach bars and restaurants here, but it's still popular with locals—especially on weekends.
Public barbecue spots next to the beach make this the perfect location for celebrations or get-togethers, and the big rock close to the shoreline adds a spectacular backdrop.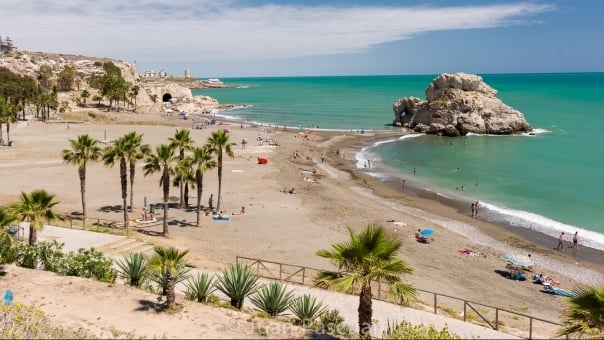 4. Playa de la Misericordia, Malaga
Heading east (in the opposite direction from Malagueta), there are even more beaches. This area used to be Malaga's main industrial neighborhood, as evidenced by the old chimneys that remain.
This neighborhood is still mostly unknown to tourists, but locals know it for the famous Ola del Melillero: a summertime wave that seems to appear out of nowhere, but is actually caused by the Malaga-Melilla ferry (Melillero) that arrives in Malaga every night. If your timing is right, you can even surf this wave!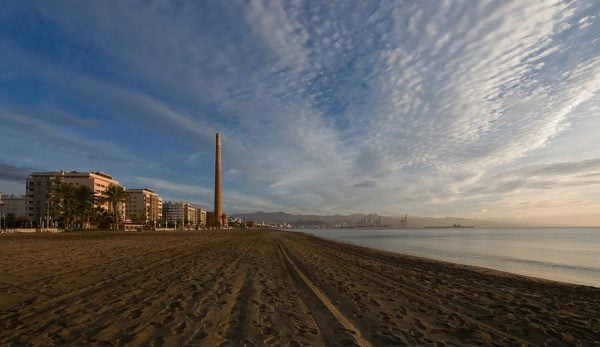 See Also: 8 Essential Travel Tips for Malaga
5. Playa El Salón, Nerja
If you love bright white beaches and crystal-clear water, you have to visit Nerja! About an hour by bus from Malaga's city center, this village is relatively easy to reach.
Playa El Salón is right near the center of Nerja. It's very popular among Spanish families thanks to its ample facilities and beautiful views. There are no restaurants right on the beach, but the charming city center has plenty of them.
Whitewashed houses and cobbled streets give the town of Nerja a typical southern Spanish feeling. Don't forget to go to the Balcón de Europa for spectacular views of the surrounding area!
See More: 7 of the Best Views in Malaga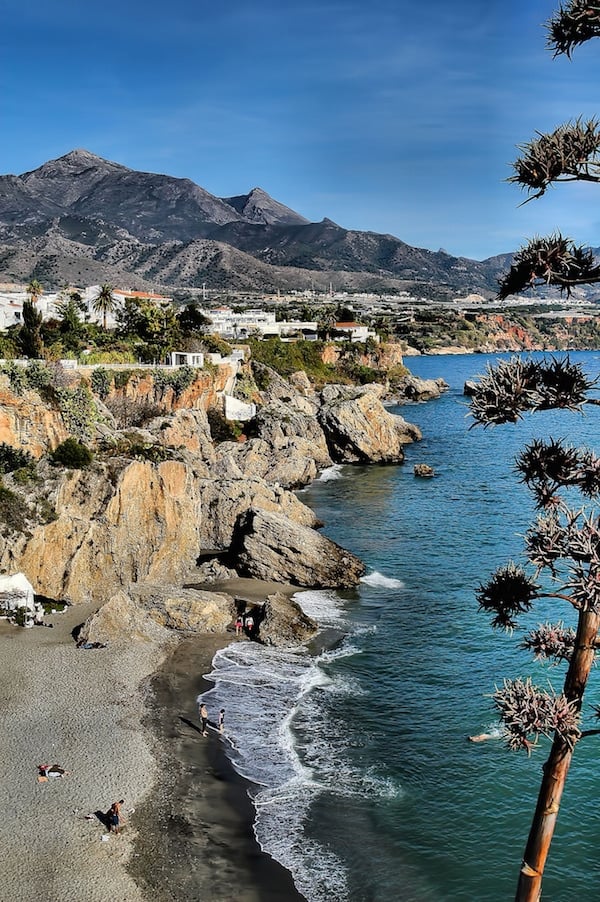 6. Playa de Carvajal, Fuengirola
Take a train from Malaga's city center to reach Fuengirola. Once a small fishing village, this town is now one of the most popular destinations on the Costa del Sol!
Some of the area's best beaches get pretty busy, but Playa de Carvajal is the most isolated spot. It has beautiful golden sand, and the shallow waters make it perfect for families with children.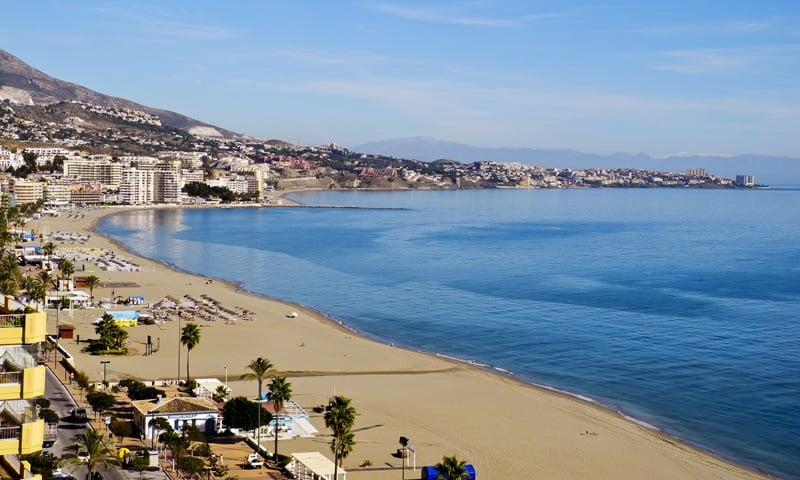 7. Playa del Cristo, Estepona
Estepona is another city near Malaga with many nice beaches, and Playa del Cristo is one of the best. Located in a little cove, this beautiful and clean beach is easy to reach by car.
The water is always a bit warmer here than it is at other beaches, and its location means you can enjoy sunlight until well into the evening. Not far from Playa del Cristo you'll find the port of Estepona, a nice area to explore with lots of restaurants, pretty boats, and even an old lighthouse.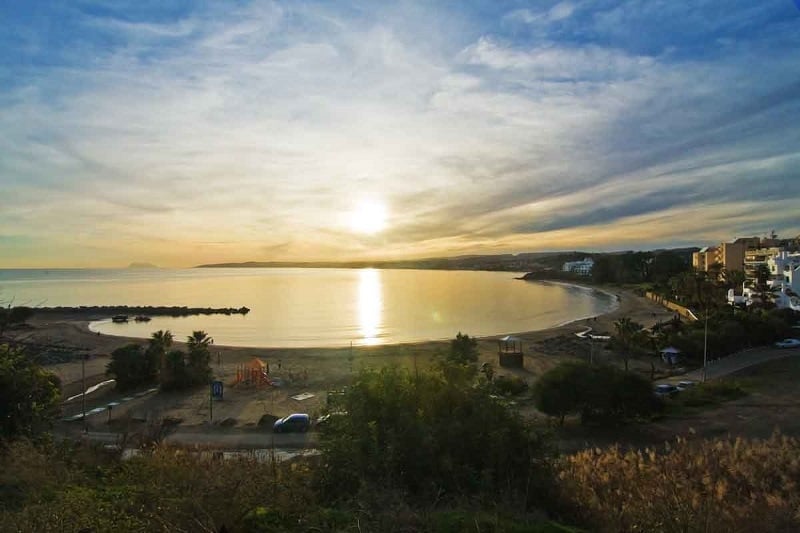 Keep Exploring: The most breathtaking white villages in Malaga
Best Beaches in Malaga FAQs
What are the best beaches in Malaga?
Malaga has several incredible beaches, including Playa de la Malagueta, Playa El Palo, and Playa Peñón del Cuervo. If you venture outside of the city, you can also enjoy the fantastic beaches of Nerja, Fuengirola, and Estepona nearby.
What's the main beach in Malaga?
The most famous and central beach in Malaga is Playa de la Malagueta. It's within walking distance of the city center, which makes it especially convenient—but also rather busy during the summer!
Are the beaches in Malaga nice?
Absolutely! Every beach is different, of course, but they're all sandy and almost always sunny. The water is usually calm, and many of the beaches in Malaga have restaurants and other facilities nearby.
Love Spanish food? Sign up for my free weekly newsletter and receive a new Spanish recipe once a week! Join today and get my FREE Spanish ingredient essentials guide!