Call a resident of Triana a sevillano, and chances are they'll immediately correct you. So strong is the sense of local identity in this colorful barrio, that those who live here refer to themselves as trianeros and will usually claim their place of residence as Triana rather than Seville.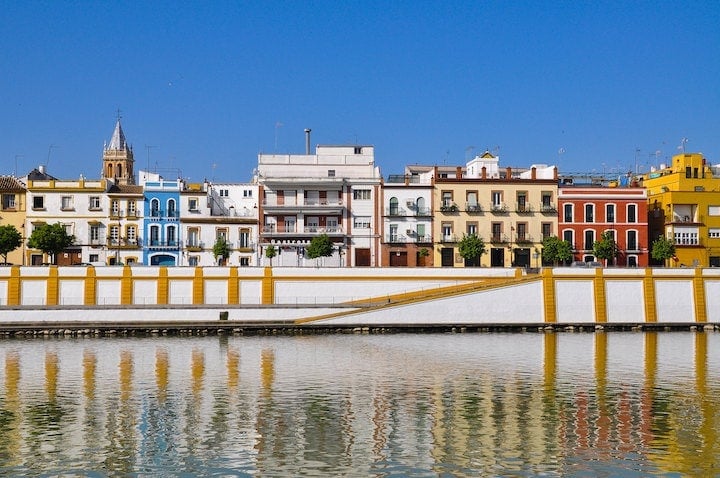 That doesn't mean they're hostile to visitors from outside their home district, though. Quite the opposite, in fact—southern Spain is famous for its warmth and hospitality, and the Triana neighborhood in Seville is no different. Locals are rightfully proud of where they live and are happy to show it off to anyone who wanders across the bridge onto their side of town.
And that's exactly what you'll want to do. While the only glimpse of Triana most tourists get is from across the river as they snap Instagram-worthy shots of the colorful waterfront buildings on Calle Betis, the small but lively neighborhood is a whole world just waiting to be explored. Teeming with a gypsy spirit, plenty of flamenco flair, and some of the best tapas in the city, Triana is well worth your time. Here's how to make the most of your visit to the emblematic barrio across the river.
The Ultimate Guide to the Triana Neighborhood in Seville
What to See in Triana
Cross the bridge
Your adventure through the Triana neighborhood in Seville will likely start by crossing the Isabel II bridge from the main part of town. Take advantage of the fabulous photo op (don't be afraid of looking touristy here—we've all done it!) and snap a few shots of the view as you make your way across.
As you leave the bridge, look to your right and check out the Capilla del Carmen, a small chapel characterized by its colorful tower. If the style looks familiar, it most likely is—the chapel was designed by Aníbal González, the brains behind Plaza de España.
Visit the Triana market
Just past the chapel is the Mercado de Triana (Calle San Jorge, 6). I'll get back to the market itself in a little bit, but for now, take a look at the outside of what is now one of Seville's most characteristic fresh food halls. The modern market was built right on top of the ruins of the former San Jorge Castle, the onetime headquarters of the Spanish Inquisition, where those believed to be heretics were tried, imprisoned, and burned at the stake. Be sure to check out the adjacent museum (Plaza del Altozano, s/n) if you're interested in learning more about this somber period of Spanish history.
Don't miss the churches
While modern Triana is a much more pleasant place to spend time, the area—like much of Spain—remains a Catholic stronghold. A handful of Seville's most stunning churches are found in the Triana neighborhood, including the Gothic-Mudéjar Iglesia de Santa Ana (Calle Vázquez de Leca, 1). And to get a glimpse of Seville's lavish Semana Santa (Holy Week) celebrations any day of the year, head to the Sailors' Chapel (Calle Pureza, 51) to see the Esperanza de Triana, an intricate depiction of the Virgin Mary second only to the Macarena in terms of popularity among sevillanos.
Where to Shop in Triana
For ceramics
If you only buy one thing while exploring the Triana neighborhood in Seville, make it something ceramic. The area is home to some of the city's last remaining authentic ceramics manufacturers, which proudly carry on this local tradition that dates back to the ancient Romans. Cerámica Santa Ana (Calle San Jorge, 31) and Cerámica Triana (Calle Callao, 14) are both lovely places to pick up a colorful, hand-painted dish or azulejo tile for a one-of-a-kind souvenir.
Tip: Triana is also home to an excellent ceramics museum
For food & drink
And, as I mentioned earlier, Triana's neighborhood market is also a must while you're in this neck of the woods. Stop inside for all the jamón, olives, and cheese you could possibly want—enjoy your selection there, or get it to go.
See Also: This curated route for the ultimate self-guided walking tour in Seville includes a stop at the Triana market—check it out!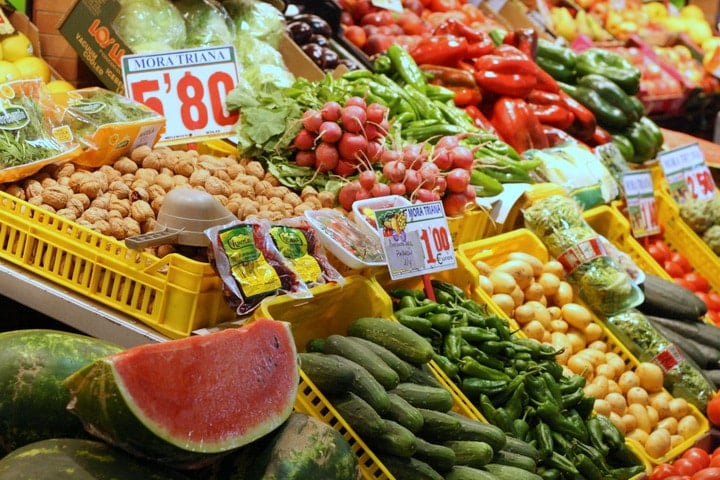 Where to Eat in Triana
Narrowing down where, exactly, to eat in Triana is more challenging than it may seem. The neighborhood is small in size, but features endless great spots to grab a bite, ranging from tiny tapas bars to elegant restaurants and everything in between.
Experience a Holy Week bar
Bar Santa Ana (Calle Pureza, 82), just across from the eponymous church, is one of the most unique bars in Triana. Here, it's Holy Week every day of the year, as evidenced by the Semana Santa paraphernalia covering nearly every available inch of wall space. The food here is classic sevillano fare—think spinach and chickpeas, bull's tail stew, and the best tortilla de patatas this side of the Guadalquivir.
Tip: We visit this gem on our Triana Tapas Tour in Seville - join us to discover its fascinating story!
Go on a tapas crawl
There's no shortage of other great tapas joints in Triana. Bodeguita El 24 (Calle Castilla, 18), La Antigua Abacería (Calle Pureza, 12), and Cervecería La Grande (Calle San Jacinto, 39) are all great low-key, no-frills spots to experience Triana's lively atmosphere and fabulous food. For something a little different, head to Vega 10 (Calle Rosario Vega, 10) for innovative Spanish-Venezuelan fusion, or Puratasca (Calle Numancia, 5), a dive-bar-meets-gastropub with a fabulous wine list.
Satisfy your sweet tooth
No matter what you decide to eat, don't even think about leaving Triana until you've enjoyed a sweet treat from Manu Jara (Calle Pureza, 5), a French-style bakery whose confections you'll be dreaming about long after you've swallowed the last bite.
See Also: Lauren's complete Seville gastro guide is full of great foodie options all over the city.
Where to Stay in Triana
Located just a hop, skip, and a jump across the bridge from iconic Seville sights such as the cathedral and Plaza de España, Triana makes an ideal home base for your stay in the Andalusian capital. Its welcoming atmosphere makes it a particularly great option for families visiting Seville.
Consider an aparthotel like Pierre & Vacances (Calle Pagés del Corro, 102) to experience all the comforts of home and then some. If a traditional hotel is more your speed, Zenit Sevilla (Calle Pagés del Corro, 90) is a beautiful option with a range of comfortable, stylish rooms, including several family-friendly options -- it also has a huge rooftop terrace and pool!
See Also: Want to keep your options open? Check out the complete guide to where to stay in Seville to get a better idea of which barrio is right for you.
Discover Triana Like a Local!
There's a lot to love about Triana, but if you want to take it one step further and experience this iconic neighborhood like a born-and-bred trianero, there are a few more things you'll need to know. Fall in love with this neighborhood's unique culture and history when you join Devour Seville's Tapas Like a Local: Triana Neighborhood Tapas Tour. You'll discover the true art of a Seville-style tapeo that shows off Triana's passionate spirit. You'll enjoy delicious food and meet plenty of new friends—from the small, intimate group of fellow foodies on tour with you, to your expert local guide, to the proud families who have been running Triana's best-loved tapas bars for generations.
Pin Me!