Today Lindsey shares top tips for Seville with kids. As one of Spain's most family-friendly cities, it's a must-stop on your next family trip to Spain!
Kids and adults alike will be utterly enchanted by Seville. The whole city looks like the setting for a fairy tale, and Spain's family-friendly culture will ensure that even the littlest ones enjoy their time here.
But visiting Seville with kids—or any place, really—requires a bit more planning ahead. You'll want to ensure that the kids are happy, safe, and entertained—after all, the goal here is to send them home with nothing but good memories of their time in Spain!
To get you started, here are some of the best things to do in Seville with kids, as well as some travel tips specifically for families.
Visiting Seville with Kids: Everything You Need to Know
1. Family-friendly accommodations
Having a comfortable home base is especially important when it comes to family travel. Rental apartments can be especially useful for those visiting Seville with kids. They offer all the comforts of home and allow you the opportunity to live like a local here in Spain—what could be better?
It's also important to keep location in mind when deciding where to stay. The popular Santa Cruz neighborhood may be where all the action is, but it can also be loud and crowded, with narrow cobblestone streets that are complicated for strollers. Instead, consider trendy Alameda—named after its famous boulevard with plenty of room for kids to play—or a relaxed residential area like Los Remedios.
See Also: Devour Seville's guide to where to stay in Seville with kids, as well as Lauren's comprehensive Seville accommodation guide!
2. When to go
Seville gets hot in the summer—think temperatures that regularly reach 40ºC (104ºF) and then some. This extreme heat can be difficult to get used to, especially for young kids.
Instead, consider visiting in the spring, fall or winter. Springtime plays host to some of Seville's most iconic events, such as Holy Week and the April Fair, but these could be interesting for your kids to experience depending on how old they are. Fall and winter are much quieter, with mild, tolerable temperatures even in the coldest months—and there's nothing that compares to the magic of Christmas in Seville!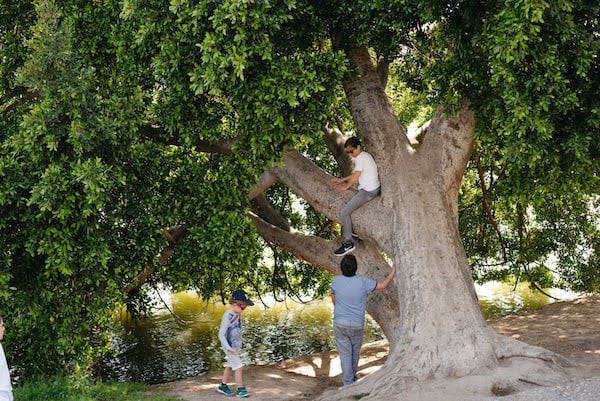 3. Kid-friendly things to do in Seville
Now that you've got your accommodation and travel dates planned out, it's time to explore! Here are some of the best activities when visiting Seville with kids of all ages.
Royal Alcázar
As one of the most iconic structures in Seville, the legendary Alcázar enthralls visitors of any age. Kids will have a blast exploring the grandiose rooms of the old palace as well as the magical gardens.
Plaza de España & María Luisa Park
If your kids are Star Wars fans, they may recognize colorful Plaza de España as the setting for the fictional planet of Naboo. Even if they haven't seen the films, they're sure to be awestruck by this gorgeous square set in María Luisa Park. For a relaxing family activity, rent a boat and row around the makeshift river.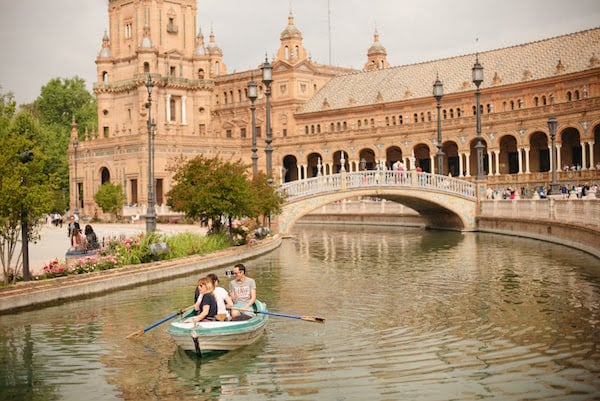 Cathedral
Seville is home to the largest Gothic cathedral in the world. It's home to the tomb of Christopher Columbus, the world's largest altarpiece, and dozens of small chapels. Kids will be blown away by its grandiose, glorious interior (and so will adults!)
The Giralda bell tower is one of the most iconic symbols of Seville, and the views from the top (accessible via a series of 35 ramps) is truly spectacular. However, it can be a tough climb for younger kids. Strollers aren't expressly forbidden, but they are discouraged by the cathedral itself (I've seen a few parents attempting to push strollers up the ramps of the tower when I've visited, which did not look enjoyable).
Metropol Parasol
Though controversial at the time of their construction, Seville's famous "mushrooms" are now as integral a part of the cityscape as the Giralda and the towers of Plaza de España. Access to the top here is via elevator, making it a much easier option for families. Once you get up there, enjoy a drink at the rooftop bar and spend some time marveling at the stunning Seville skyline as you walk along the top of the structure.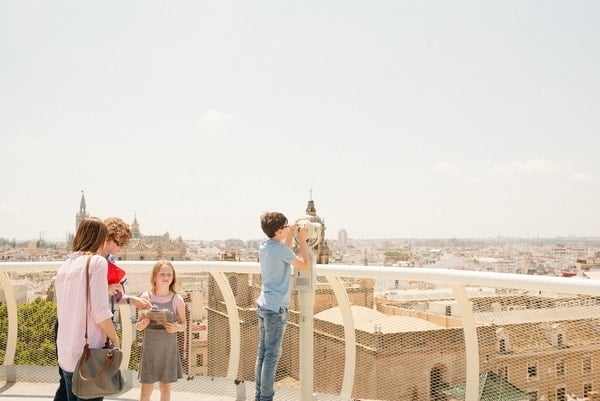 Isla Mágica & Agua Mágica
What's a family trip without a visit to a theme park? Seville's amusement wonderland, Isla Mágica (as well as its onsite waterpark, Agua Mágica) is an ideal choice when you've been exploring for a few days and want to spend some time relaxing and letting off some steam.
4. What to do in Seville with older kids and teenagers
If your kids aren't so little anymore, consider some of these activities in addition to those listed above. They'll be able to experience Seville in a whole new way!
Giralda
Kids who are old enough to make it up the 35 ramps of the imposing Giralda tower at the cathedral will certainly be glad they did so. The panoramic views from the top are unforgettable!
Flamenco
While the loud unfamiliarity of a flamenco performance may be scary for younger kids, those who are old enough to appreciate it won't be able to get enough of this passionate art form.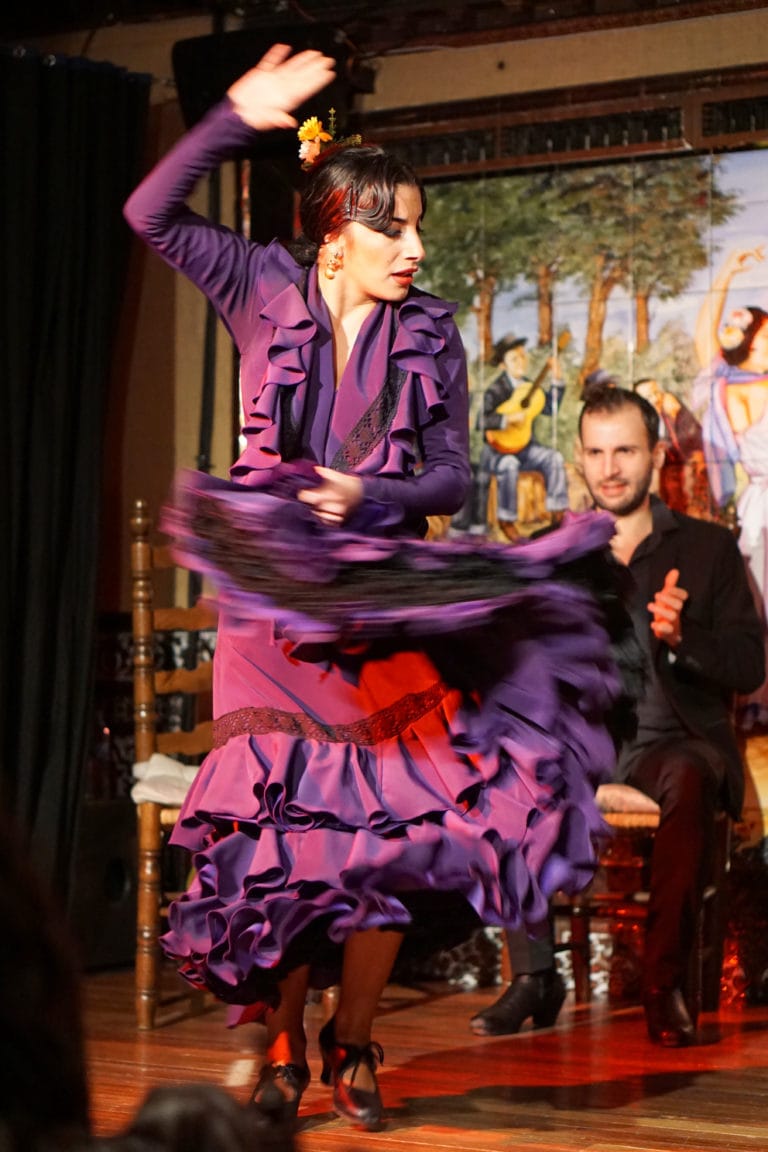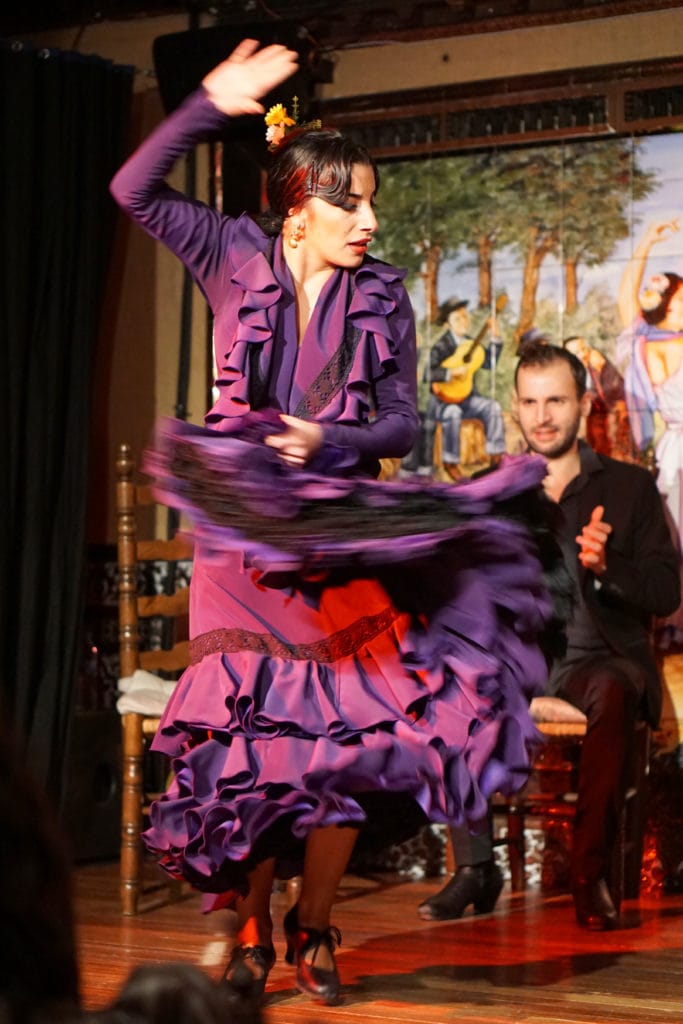 5. Spanish food & mealtimes
The good news: kids are welcome everywhere in Spain at just about any time of day. It's not unusual to see local families enjoying dinner out until well past 11 p.m. with little ones in tow.
However, as you may be aware, Spanish mealtimes can take some getting used to. Waiting until 2 p.m. for lunch, or 9 p.m. for dinner, might be tough for kids who are used to different routines.
Spain's typical two extra meals—second breakfast around 10 a.m. and the afternoon snack, or merienda, around 6 p.m.—do tend to help. Embrace these as a way of easing your family into the unusual schedule—that way, they'll have something to hold them over until lunch or dinner rolls around.
And don't be afraid to eat earlier than the locals do if necessary. Sometimes sticking to a more familiar routine is the best choice for your family. Luckily, there are plenty of excellent places to eat early in Seville with kitchens running from morning until close.
Read More: Seville with Kids Dining Guide & Seville Gastro Guide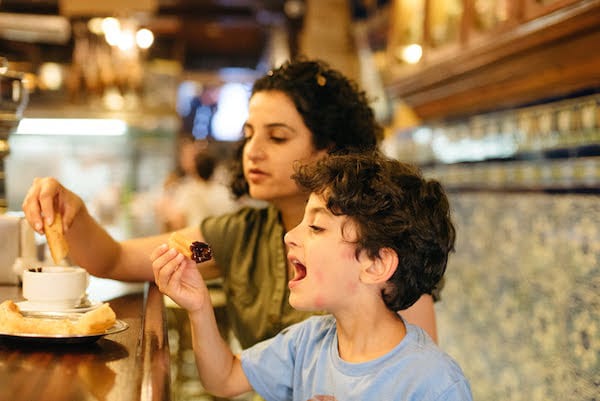 6. Family-friendly food tours
Learning how to navigate the local food scene in a new place can be challenging. If you have kids with you, it gets even more complicated.
That's where Devour Seville comes in. The Seville for Kids Walking Tour with Activities & Snacks is completely private for you and your family, ensuring a special experience that matches your kids' interests and needs. It's designed with young children in mind (four to twelve) and includes activities like treasure hunts, drawing and plenty of stories that will keep your kids engaged.
If your kids are older (or serious foodies!) join a kid-friendly small group experience, such as the Tastes, Tapas & Traditions of Seville Tour. Join a local guide and a small group of fellow foodies for a morning of gastronomic delights your whole family will be talking about long after you've taken the last bite!
What do you think? Were these tips for visiting beautiful Seville with kids helpful? Any to add? Please leave questions and comments below!
Pin me!