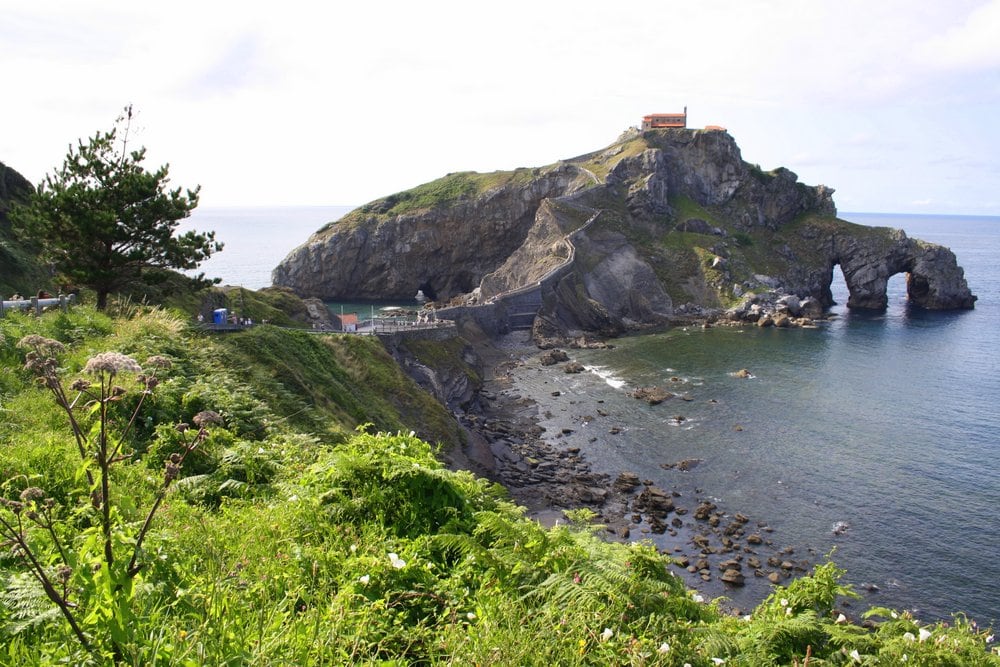 Spain never fails to surprise me.
From the stunning whitewashed town of Vejer de la Frontera to the incredible Old Town of Girona, it is a country filled with contrasts. Natural beauty surrounds tucked away villages, coastal paradises are border breathtaking mountains.
Basque Country is known for its riveting landscapes but I still wasn't prepared for the beauty of San Juan de Gaztelugatxe. I stumbled upon a picture of this incredible site while researching things to see in Basque Country. Taken by a professional photographer with skills far beyond my own, it looked magical-- I knew I had to go there.
Update: The Real Game of Thrones Dragonstone
It's now 2017 (a few years after I first published this post) and I've never seen Game of Thrones (I know). But when people started emailing me asking me if this was the real life Dragonstone, I had to see what they were talking about! It seems that beautiful San Juan de Gaztelugatxe is the real-life Dragonstone, complete with the famous staircase. This makes me nervous-- as suddenly it seems this hidden attraction has become quite popular with Game of Thrones fans-- hopefully, the infrastructure can withhold so much tourism! Read my original comments below!
How didn't I know about this place before?
That's the beauty of Spain. A monument that would be overridden with tourists and promoted left and right in other countries is left alone in Spain. And as a savvy tourist-- I can't complain.
Not your average church
A man-made stone footbridge connects the small San Juan de Gaztelugatxe chapel to the mainland, and the only way up is to walk. As you climb the 241 steps to the top, you enjoy an incredible view of the rough surrounding sea, the coast of the Bay of Biscay.
They estimate that San Juan de Gaztelugatxe was built sometime during the 9th or 10th century as a hermitage dedicated to Saint John the Baptist. Over its tumultuous history, it's been important to both Spaniards and Basques. It was used as a defensive outpost for the Lords of Biscay and was a meeting point for King Alfonso XI and Juan Nuñez de Lara (the Lord of Biscay) in 1334. It was also sacked in 1593 by infamous pirate Sir Francis Drake, who looted the hermitage and then allegedly killed the poor hermit--throwing him off of the cliff! In one of its many fires in 1978 the church was destroyed but was rebuilt and inaugurated in 1980 as we see it today.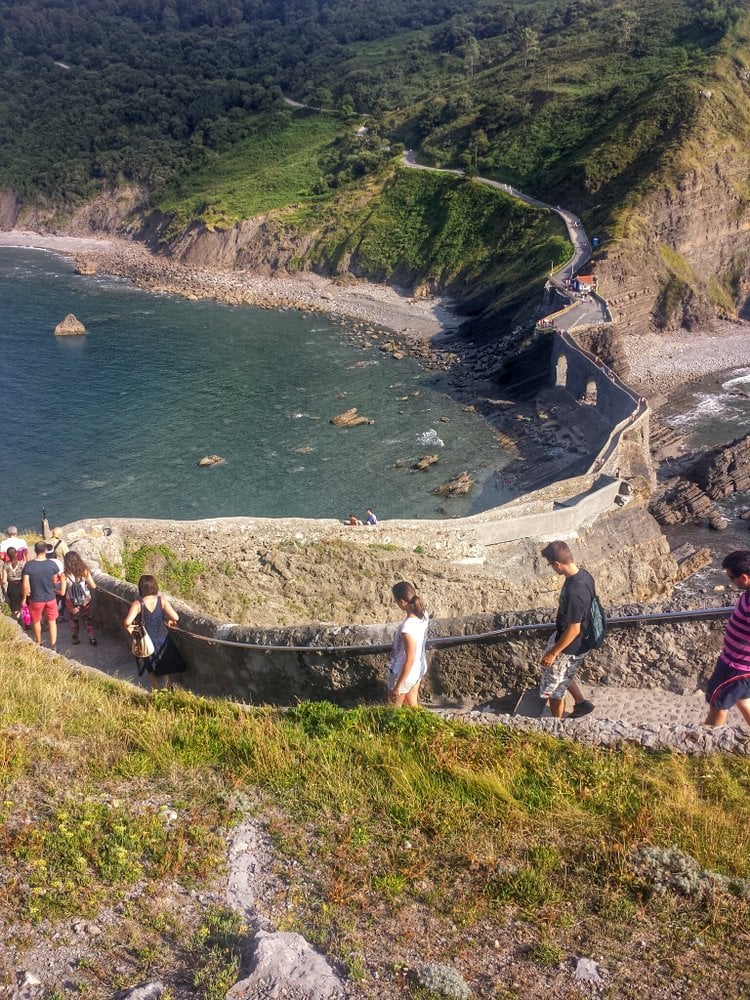 Make a wish
We visited on a warm August day, while driving to Bilbao by way of Lekeitio, Guernica, and Bermeo. We didn't realize that you have to park a kilometer (a little over half a mile) away from the first of the 241 steps. This surprise added a 25-minute trek downhill and another uphill before and after the climb! Definitely give yourself time to enjoy the walk, which is beautiful on its own.
As we climbed the steps I couldn't help but stop every minute or so for a photo. The views were incredible. When we finally made it to the top I was feeling overheated by the afternoon sun, so I took a rest as tourist after tourist rang the chapel bell (three times for good luck). I didn't feel like ringing it-- which I think means even better luck for us!
On the way down the blue water beckoned, and I decided to wander down onto the rocky (and slightly dangerous) coast where I waded into the sea. I wouldn't dare go far enough out to swim, but it was the most refreshing dip I've taken in years.
Visiting San Juan de Gaztelugatxe
San Juan de Gaztelugatxe is best reached by car, but there is also a bus from Bermeo (inquire at the tourist office for current hours)

You can visit the monument anytime (so long as the road is open) but the church itself has the following hours: Tuesday to Saturday from 11 a.m. to 6 p.m. and Sundays from 11 a.m. to 3 p.m.

Remember, this monument is breathtaking in more ways than one! Go at your own pace, bring a water bottle and dress in comfortable clothes and footwear.
I'm so happy to have stumbled on a random picture of this impressive corner of Spain-- had I not I probably would have driven right by!
Have you ever discovered a little-known treasure?