In a country where lunches are hours-long, white-table-cloth affairs, the sandwich has been relegated to the snack menu. Freed from the constraints of a main meal, Spanish sandwiches can come in all shapes and sizes, with a whole host of unique fillings you may not find anywhere else.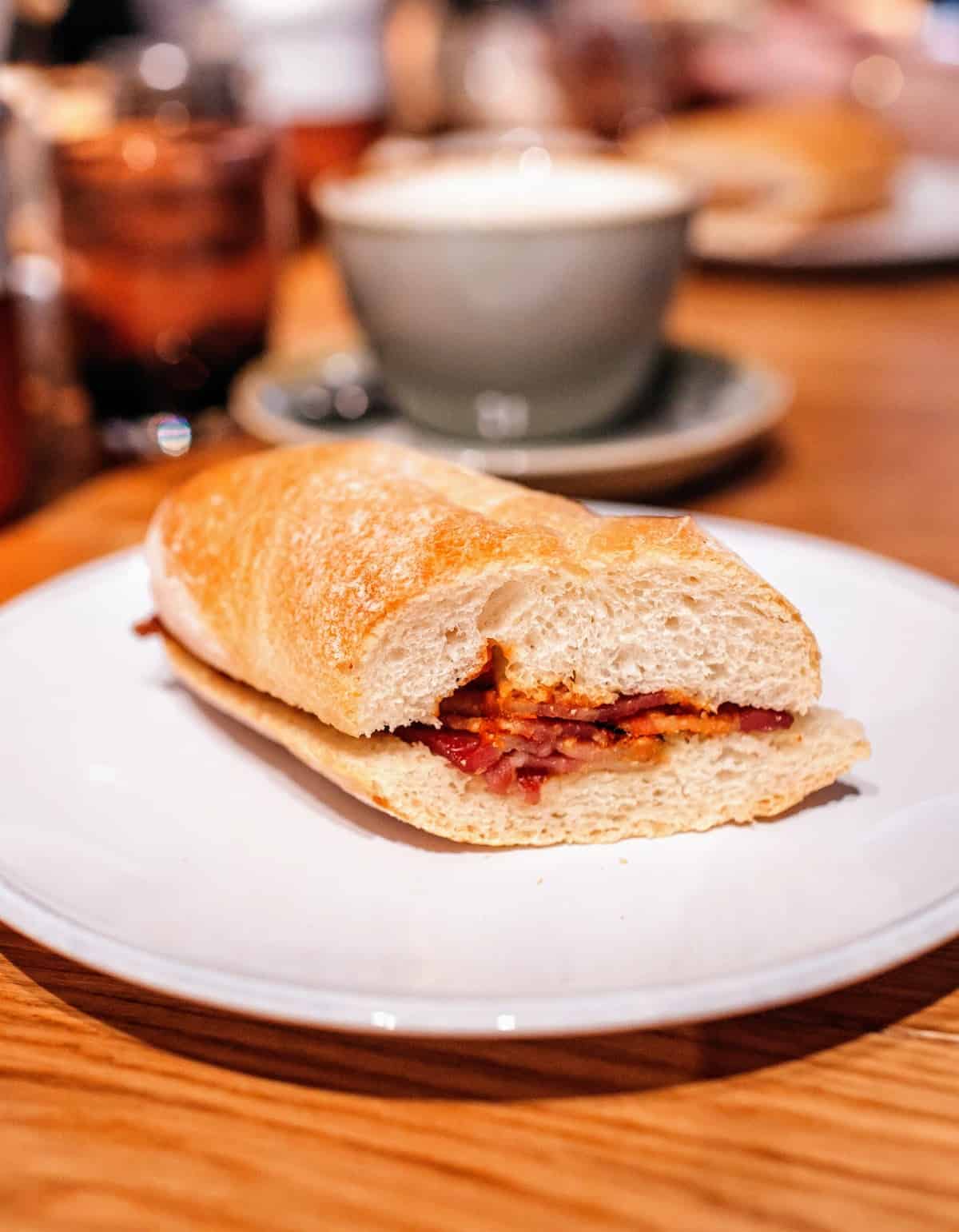 From simple ham and cheese to the leftovers of an entire pork stew, Spanish sandwiches are always an adventure. Here's a guide to a few that you must try on your next trip to Spain—and how to make them at home in the meantime!
How to Order a Sandwich in Spain
There are more than half a dozen different words for "sandwich" in Spanish depending on the size and style of bread that is used. Here are a few of the most common:
Montadito: A small two-bite sandwich on a tiny baguette.
Pulga or pulguita: Just slightly larger than a montadito and usually served as a tapa in bars.
Montado: Half of a bocadillo, usually larger than either a pulga or a montadito.
Bocadillo: A sandwich made using good quality artisanal bread, such as baguettes or rustic loaves. These are also sometimes referred to as bocatas.
Sandwich:

(pronounced "san-weech"): Any sandwich made using

pan de molde

. This refers to the packaged sliced bread that you buy at the grocery store rather than from a bakery.
No matter what size they are, the following Spanish sandwiches are all delicious—and most are quite simple to make, too.
Types of Spanish Sandwiches
1. Fried Calamari Sandwich (Bocadillo de Calamares)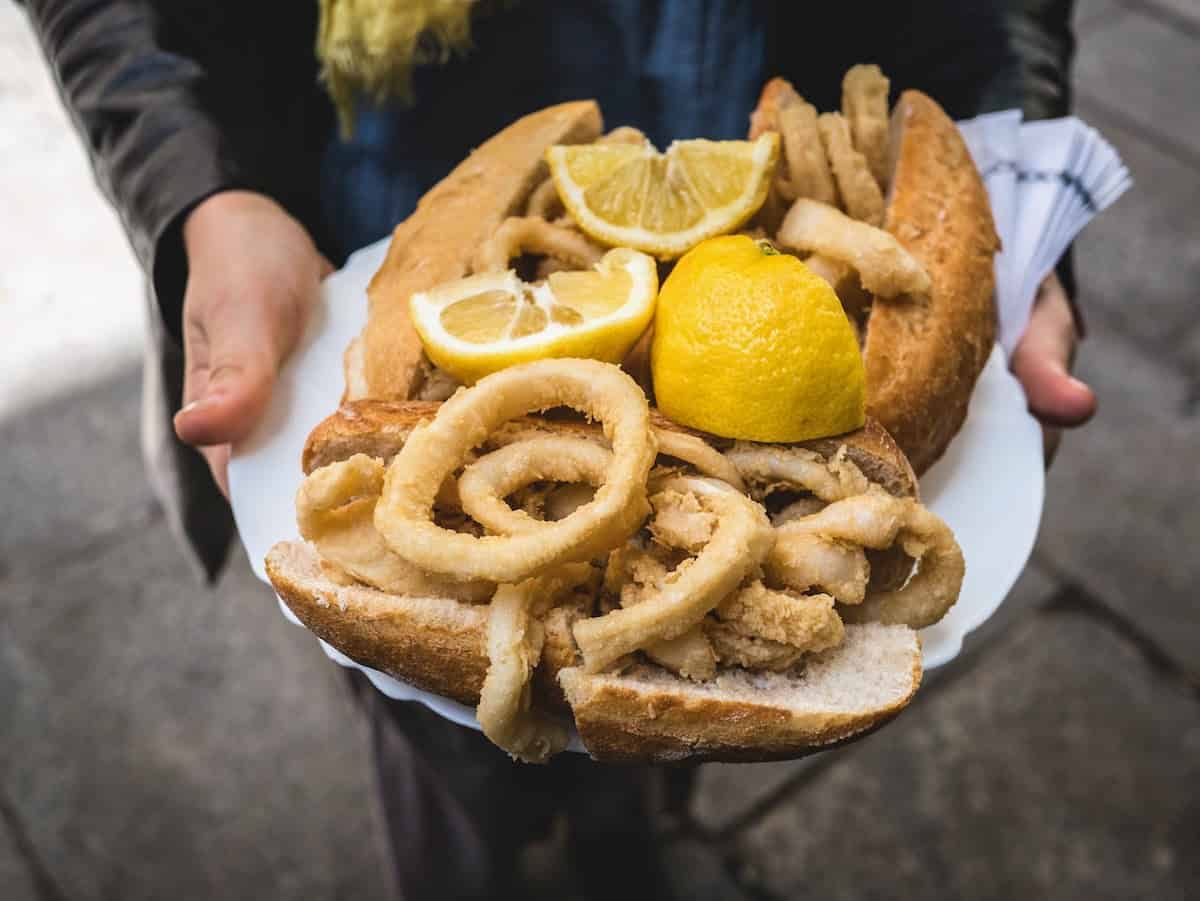 This is perhaps the most famous sandwich in Madrid. Bars dedicated to making fried calamari sandwiches, or bocadillos de calamares, line the streets surrounding the city's main square, Plaza Mayor. And while squid may seem like an unlikely sandwich filling, it is absolutely worth trying!
The sandwich itself is quite simple: just breaded and fried rings of calamari that are stuffed into a baguette. Some bars serve it with a side of garlicky mayonnaise or a paprika-spiced tomato sauce, but most madrileños will garnish it with a squeeze of lemon juice (if anything). The classic accompaniment is a caña, or small glass, of local Mahou beer.
Fried Calamari Sandwich Recipe (Bocadillo de Calamares)
This classic calamari sandwich is the culinary symbol of Madrid! Make your own bocadillo de calamares at home with just a handful of simple ingredients.
Check out this recipe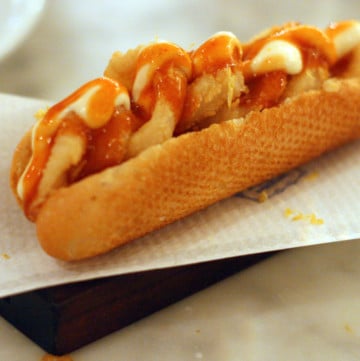 2. Potato Omelet Sandwich (Bocadillo de Tortilla)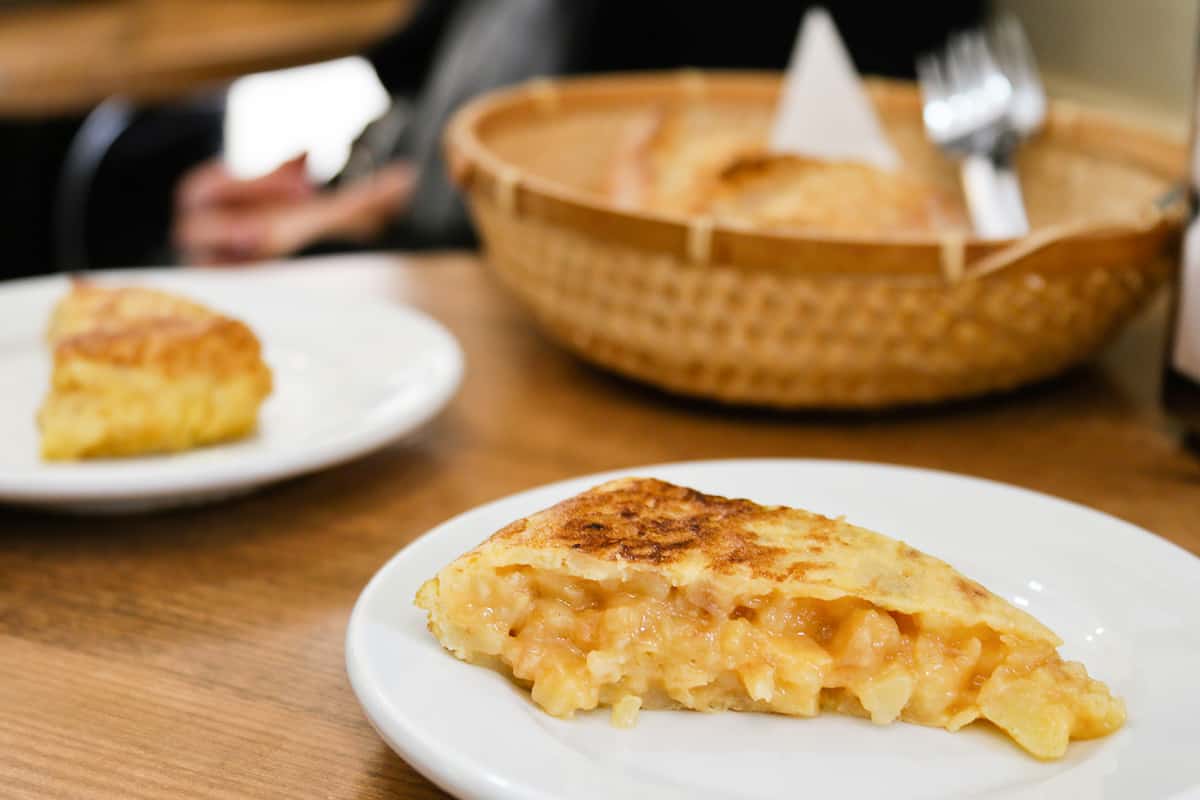 The humble tortilla de patatas is one of Spain's most versatile foods, and makes for one of the most ubiquitous Spanish sandwich fillings. Although it may not look very exciting, it's anything but short on flavor when done right.
The key to this sandwich is the potato omelet itself. Perhaps one of the country's most popular dishes, Spanish omelet is made from slowly fried potatoes and onions that have been mixed with beaten eggs. This mixture is then quickly seared to create a plate-sized puck that is golden brown on the outside and still juicy on the inside.
Take a large slice of tortilla de patatas and tuck it into a rustic baguette for a sandwich that is surprisingly fantastic! You won't even need any sauces or garnishes.
Spanish Tortilla Recipe (Tortilla de Patatas)
This easy and authentic Spanish omelette recipe combines egg, potato, onion, olive oil, and salt in what is the best Spanish tortilla you'll try.
Check out this recipe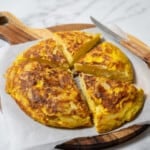 3. Serranito Bocadillo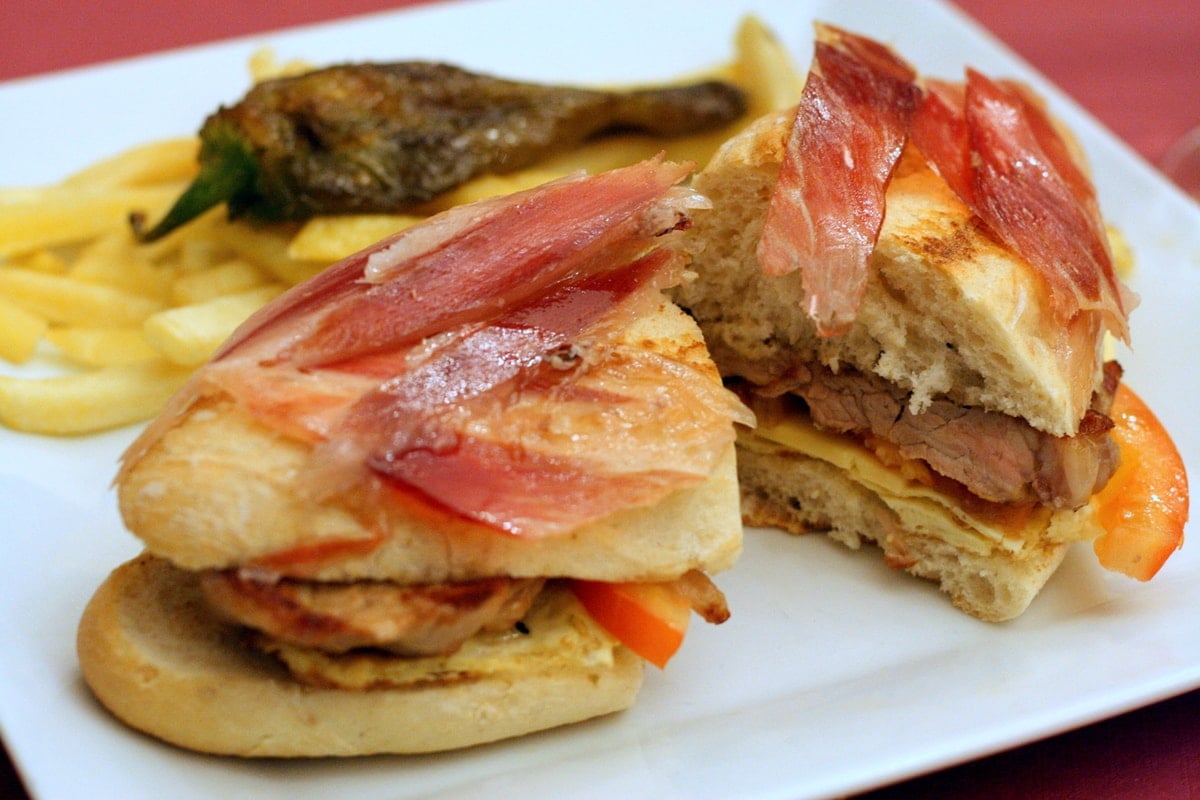 The serranito may just be the most stacked sandwich in all of Spain. It essentially consists of the five most beloved ingredients in the Spanish diet, all stuffed between bread to make one stellar sandwich.
This most epic of all Spanish sandwiches contains a filet of pork, slices of cured ham, a roasted green pepper, a bit of ripe red tomato and hint of alioli (garlic mayonnaise). However, you can only find this flavor-packed sandwich in southern Spain as it is a specialty of Andalusian capital Seville.
Serranito Bocadillo Recipe
With this easy recipe, you can enjoy this hearty sandwich whenever and wherever you want.
Check out this recipe
4. Montadito de Pringá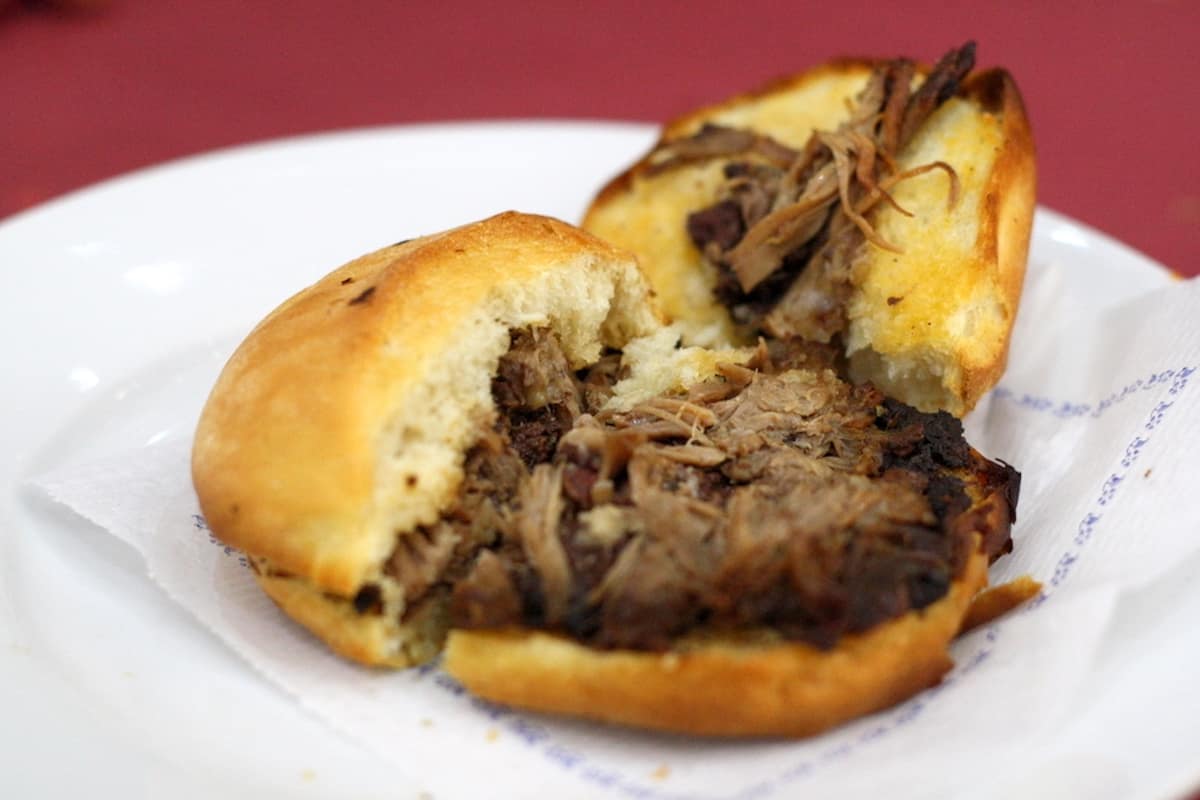 Another Andalusian specialty, the montadito de pringá has its roots in humble peasant kitchens when no bit of food could go to waste. Pringá is simply the leftover meat from the previous day's puchero, a typical Andalusian stew. Today, montaditos de pringá are still a popular fixture on tapas bar menus throughout Seville.
Like many of the best Spanish dishes, there's no official recipe for pringá. Instead, home cooks have traditionally used whatever they have on hand to make the meaty base of the stew. Pork is king—chorizo, morcilla, pork ribs, bacon, and pancetta are all common additions—but many recipes incorporate a bit of chicken or beef as well.
5. Cured Meats & Cheeses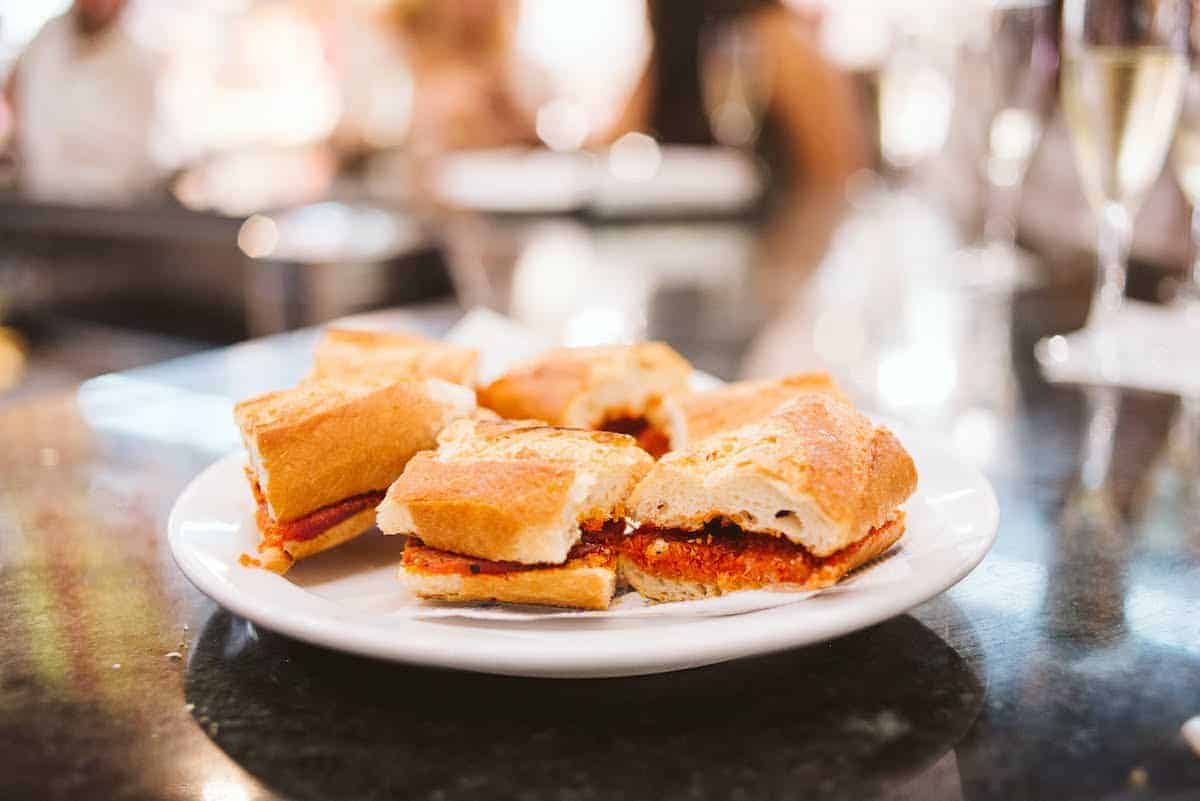 Some of the most common Spanish sandwiches are also the simplest to make. Simply take your favorite cured meat or Spanish cheese, wedge it in between halves of a good baguette, and voila! An easy and delicious bocadillo that generations of Spaniards turn to for a quick yet filling meal.
There's no end to the simple yet tasty fillings that can end up in Spanish bocadillos. Thinly sliced ham or chorizo, sharp and salty cured cheese, or even regional specialties like Catalan botifarra or Balearic sobrassada all make wonderful options for a hearty sandwich!
As easy as it sounds, the key here is quality. As with all Spanish dishes, a short ingredients list is no excuse to use bad ingredients. Go for the best quality meats and cheeses available to you, and use a good loaf of crusty, artisanal bread.
6. Sándwich Mixto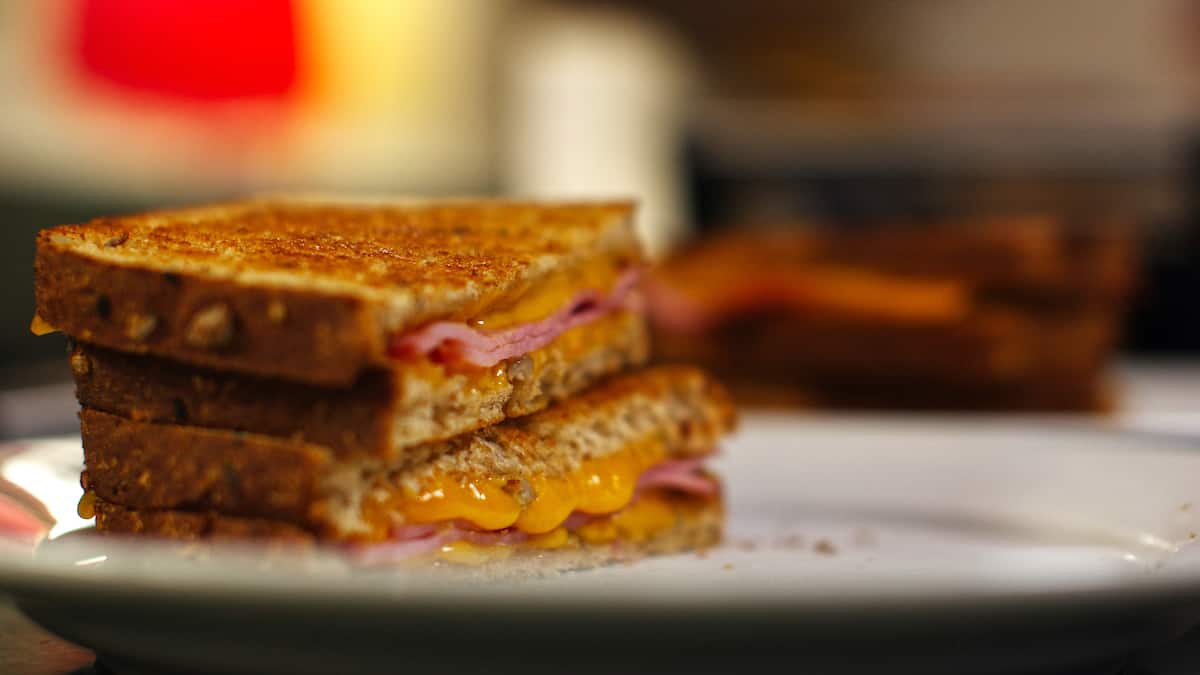 Grilled cheese lovers, rejoice! Spain has something for you, too.
The sándwich mixto (or bikini, as it's called in Catalonia) is one of Spain's most ubiquitous cafe-bar snacks. It looks a bit different than most other Spanish sandwiches due to the fact that it's made on white sliced bread, rather than long, baguette-style loaves.
As with most of the best Spanish dishes, this one couldn't be easier to make. Butter both sides of your bread, add plenty of thinly-sliced pieces of your favorite cheese and good quality ham (what we call jamón york here in Spain—not cured ham!) and grill! Spanish snack perfection in minutes.
7. Pitufo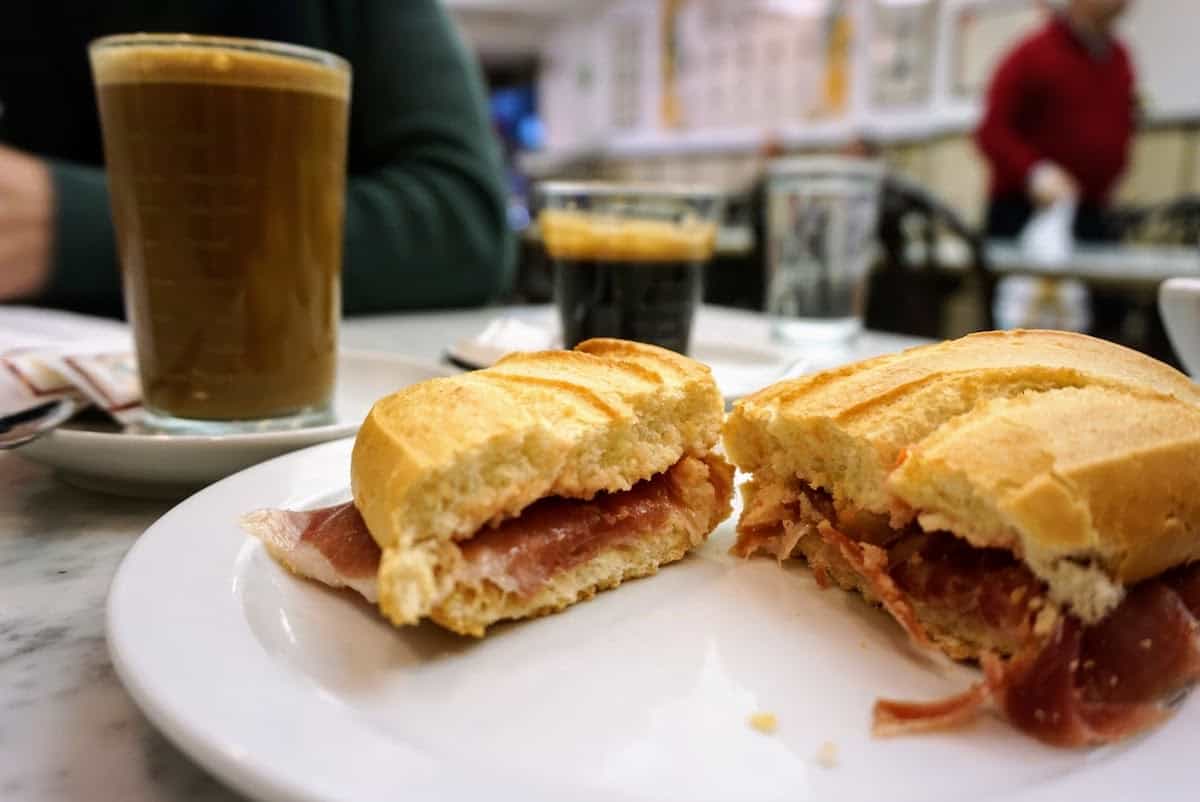 If you speak Spanish, you may have already noticed something peculiar about the name of this sandwich. Pitufo means "Smurf"!
But don't be alarmed if you hear malagueños asking for "Smurfs" for breakfast at a cafe. They're actually ordering this most typical of local sandwiches, which has nothing to do with the whimsical little cartoon characters.
A pitufo is Malaga's signature breakfast sandwich. The only hard-and-fast rule is that it must be made with a certain type of local bread that's then toasted. But from there, it's up to you.
Ham and cheese? Cured ham, fresh tomato, and olive oil? Butter and jam? The possibilities are endless!
Wondering how this unique Spanish sandwich got its name? It has to do with the bread itself, which is also called a pitufo and was created in Malaga. The bakery that developed this unique style of bread decided to market it towards kids due to its smaller size, and launched a campaign featuring the famous blue characters...the rest is history!
Honorable Mention: Tostas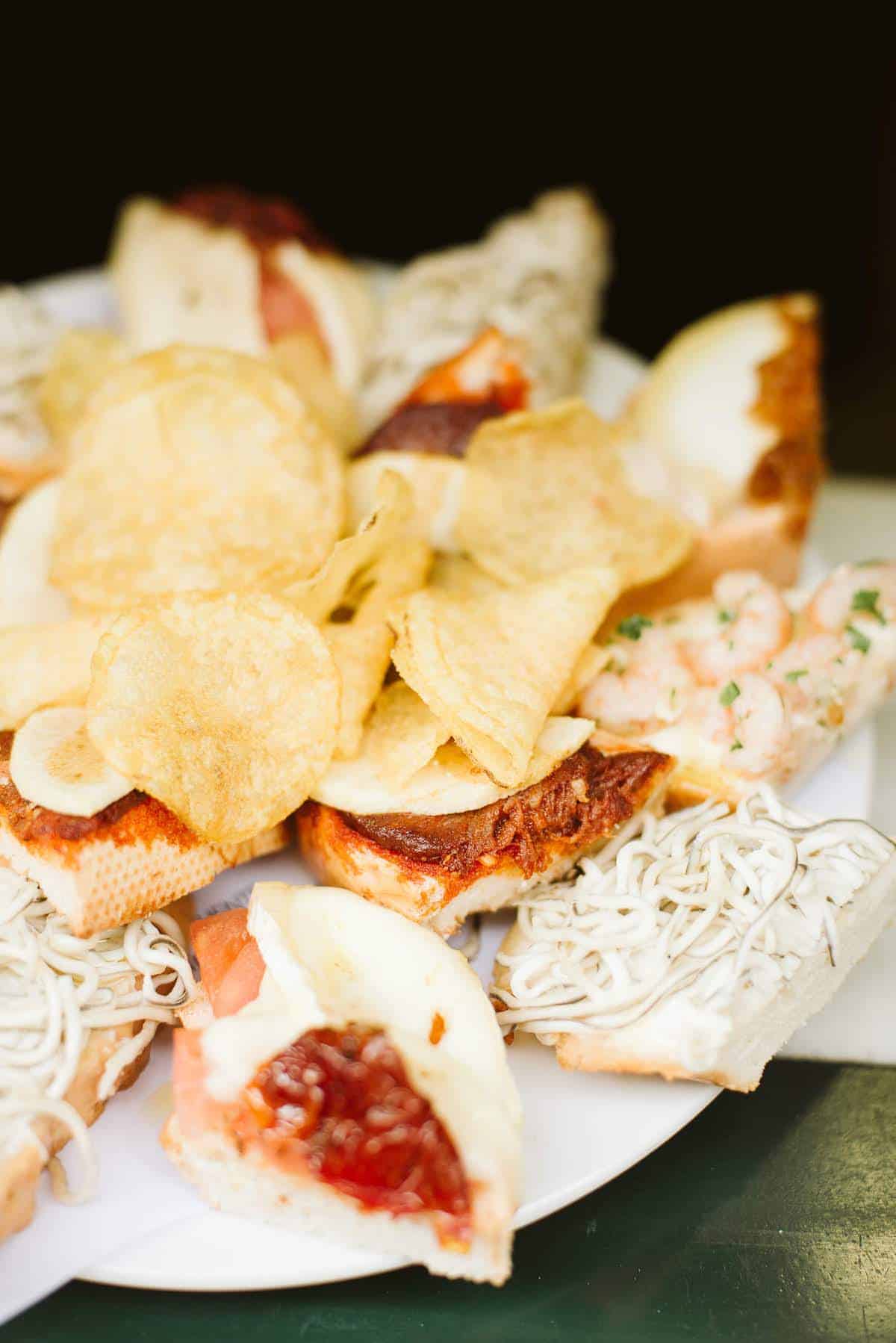 Last but certainly not least, tostas may not have as much bread as these other Spanish sandwiches—but that doesn't make them any shorter on flavor!
Tostas are small, tapas-sized open-faced sandwiches that can have just about any topping you can think of. Seafood, fresh veggies, almonds, cheese, and canned goods are all typical tosta toppings. They make a wonderful option for a quick and easy tapas spread—and there's bound to be a flavor combination that everyone will like!
Spanish Sandwiches FAQs
What is the most popular sandwich in Spain?
While you'll find many delicious regional takes on the humble sandwich, there are a few varieties that are mainstays throughout the entire country. A bocadillo de tortilla made with a wedge of Spanish potato omelet is always a winner. Likewise, any kind of cured meat or cheese stuffed between slices of baguette-style bread are perfect for a quick and easy snack!
What does bocadillo mean?
The Spanish word bocadillo refers to a type of sandwich prepared on long pieces of crusty artisanal bread (think about half the length of a normal baguette).
Update Notice: This post was originally published on September 27, 2015 and was updated with new text and photos on July 14, 2021.
Hungry for more? Sign up for my free weekly newsletter and receive a new Spanish recipe once a week! Join today and get my FREE Spanish ingredient essentials guide!