Everyone, it seems, is raging about the Mediterranean diet. Nutrition and medical professionals praise it as a way to prevent heart disease, diabetes, breast cancer, depression, Parkinson's and Alzheimer's—not to mention its fame as a way to lose weight.
But what about the people who were following the Mediterranean diet before it was cool (or even a thing!)? The Mediterranean diet in Spain is not a thing of scientific journals or weight loss websites. It's simply a part of normal life.
Here in Spain, olive oil is bountiful and tasty. Fresh fruits and vegetables are staples of snacks and dessert. Fish and seafood are plentiful for lunch, dinner, tapas and more.
Following the Mediterranean diet in Spain is not something people set out to do—it's they way generations of people were taught to eat. And while that may seem straightforward, the unwritten rules of eating in Spain are anything but simple.
Here are a few essential staples of the Mediterranean diet in Spain. It's safe to say that all of these have played a big part in helping Spain become the world's healthiest country!
1. Extra Virgin Olive Oil
Spain produces more olive oil than any other country in the world, and the cuisine shows it. Spaniards consume nearly 10 liters of olive oil per person per year! The average American, by comparison, consumes less than one liter per year.
In Spain, grocery stores have entire aisles dedicated to olive oil, recipes call for cups and cups of it, and kitchens are inoperable without it. But we're not just talking about any olive oil here—you want the good stuff.
Only virgin and extra virgin (especially the latter) olive oils provide any sort of health benefits or even taste. These oils are a great source of healthy fats, vitamins, and antioxidants, and provide a lovely touch of flavor to any dish. Regular olive oil, on the other hand, has no nutritional value or taste.
Contrary to popular belief, you can cook and even bake with extra virgin olive oil—Spanish professional chefs and home cooks do it all the time! It's arguably the most important ingredient of the Mediterranean diet in Spain.
2. Red Wine
A meal, particularly a lunch, without wine is a rare sight in Spain. But you won't find people staggering back to work. Spaniards tend to be slow drinkers, savoring one or two glasses of wine throughout a two-hour meal.
The Mediterranean diet's guidelines call for one to two glasses of red wine per day. Scientists might say it's because of the antioxidants, but Spaniards often say wine just goes better with the meal!
Luckily, there are plenty of excellent options when it comes to Spanish wine. Reds are the most ubiquitous wines in the country, as well as the most diverse. From classics like Rioja and Ribera to lesser-known gems like Toro and Ribeira Sacra, you're spoiled for choice.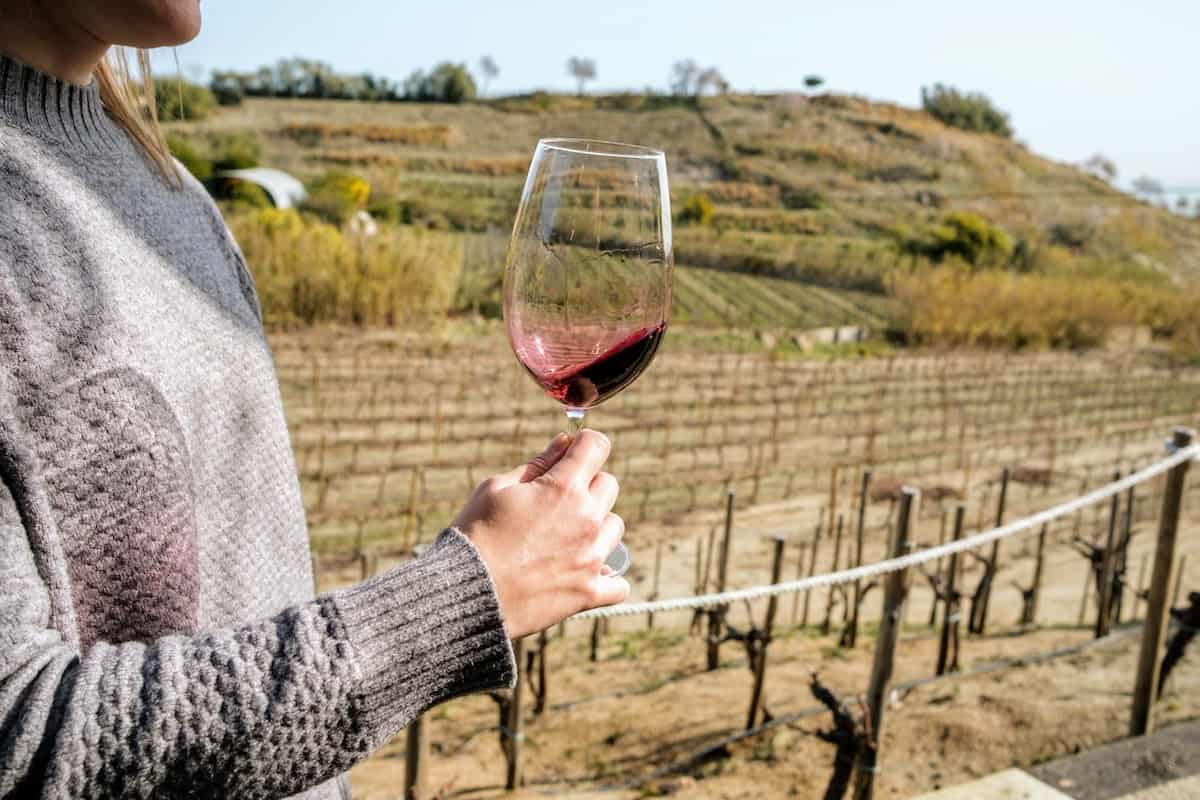 3. Whole-Grain Bread
You finish a spectacular dish and the plate is smeared in the scrumptious sauce. If you're in Spain, that means it's time to rebañar, or mop up all of that amazing sauce with a piece of bread.
Rebañando is a stellar way to get more whole grains. Much of the bread in Spain is unrefined and freshly baked, and it's an ever-present sight at meals for this purpose alone.
Healthy whole grains are the base of the Mediterranean diet in Spain. In addition to the art form that is rebañando, many Spaniards will enjoy a piece of toasted bread with extra virgin olive oil and fresh tomato for breakfast.
4. Simple Daily Exercise
The Spanish verb pasear means "to take a walk." In this case, said walk (or paseo) usually has no particular destination and is simply a way to enjoy the outdoors and move around a bit.
Young people go for a paseo and window shop, mothers take their strollers for a paseo around the neighborhood, and grandparents shuffle their way around the block for their evening paseo. 
Exercise, even if it is just walking from place to place throughout the day, goes hand in hand with the Mediterranean diet in Spain. Spanish cities are designed for walking and as such people tend to get around mainly on foot.
As an extension of this, taking the stairs is quite common in Spain—often out of necessity. While elevators are becoming more common for accessibility reasons, many metro stations and old apartment buildings are still stairs-only.
What people in some parts of the world would consider exercise is a fundamental part of daily life in Spain. Many old buildings do not have elevators. Most metro stations have multiple flights of stairs. Even some streets are so steep they have stairs!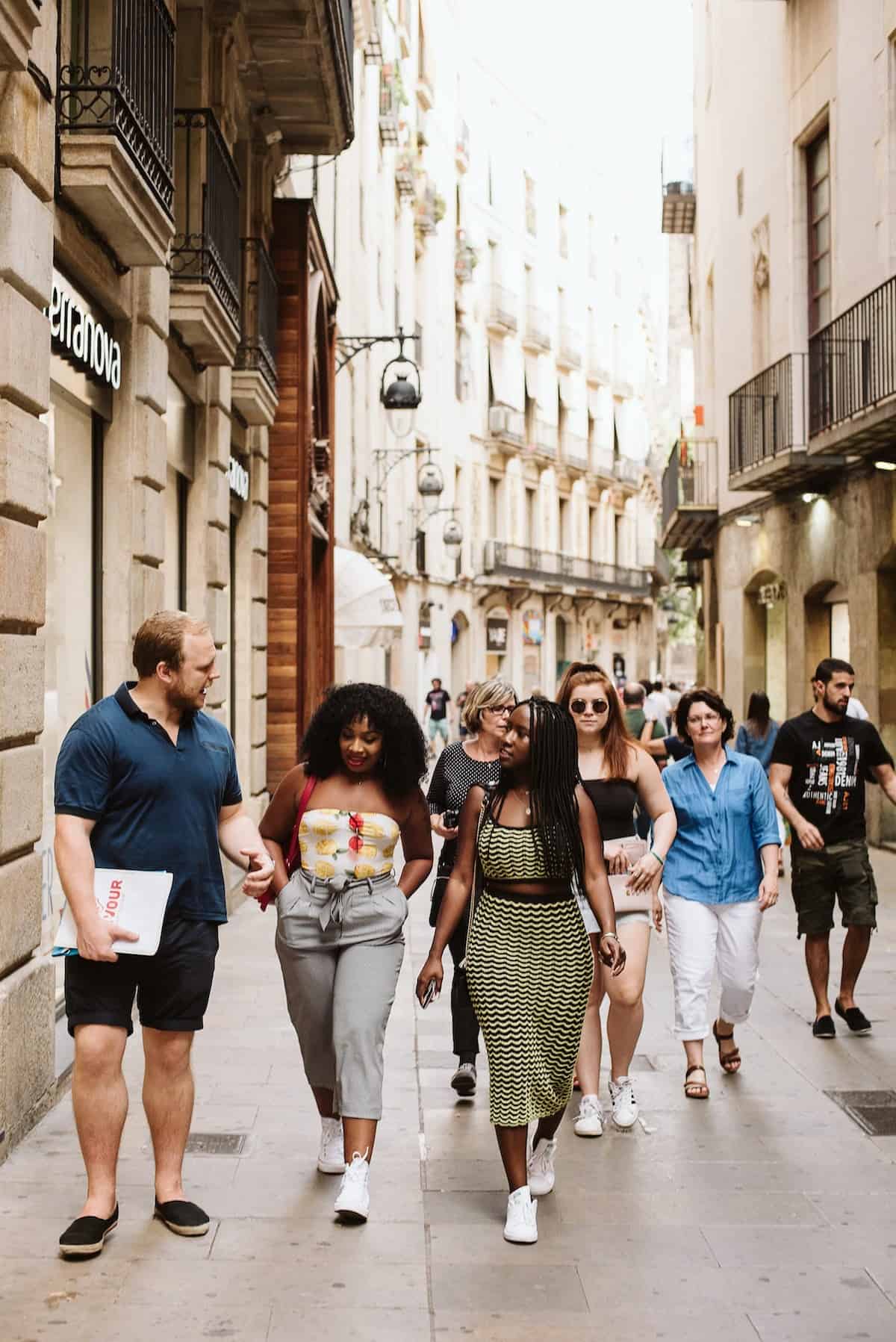 5. High-Quality Seafood
The seafood selection is a thing of beauty in Spain. And thank goodness for all the variety, as fish is one of the main sources of protein in the Mediterranean diet.
This way of eating shuns red meat, suggesting it only be eaten once or twice per month. Instead it recommends a daily serving of fish, which is high in omega-3 fats
Considering that Spain has nearly 5,000 kilometers of coastline, the local love of seafood might not surprise you—but some of the offerings themselves might.
First things first: Some of the best seafood in Spain comes in a can. Yes, you read that right! Canned seafood in Spain comes in the form of small filets of beautiful natural fish conserved in olive oil at the peak of freshness.
Tuna is one of the most commonly used canned fish in Spain, and it's everywhere: on salads, in empanadas, mixed into pasta, and so much more. An easy (and delicious) way to keep your heart healthy!
Yet another Spanish seafood staple is anchovies. Even if hating anchovies has been hard-wired into you, don't knock Spanish boquerones until you try them. Tender, vinegary, and perfect with a cold caña of beer, these little fish will quickly become one of your favorite foods.
Anchovies also happened to be rockstars in the Mediterranean diet in Spain. They are packed with omega-3 and omega-6 fatty acids and protein.
6. Fresh Fruit
One of the most common desserts in Spain is something many people may have never considered to be a sweet treat: fresh fruit.
Be it slices of orange, a round medallion of fresh pineapple, a thick wedge of melon, or anything in between, many households and restaurants in Spain will offer seasonal fruit to finish off the meal.
The Mediterranean diet guidelines suggest eating at least five servings of fruit per day. Thanks to its dessert status, that's a simple goal to meet in Spain! Fruit is also common to have fruit with breakfast, as a morning snack, and as an afternoon snack.
7. Fresh Vegetables
In Spanish cuisine, veggies are titans of flavor that dominate dishes at every time of the day. From toast with olive oil and tomato at breakfast to a colorful ensalada mixta at lunch to a plate of bright green padrón peppers as part of a tapas-style dinner, vegetables are ever-present in the Spanish diet.
With their high levels of vitamins and antioxidants, vegetables are a prime ingredient in the Mediterranean diet in Spain. The beautiful climate throughout much of the country allows for many veggies to be grown locally, making it easy to get your six to seven recommended servings a day!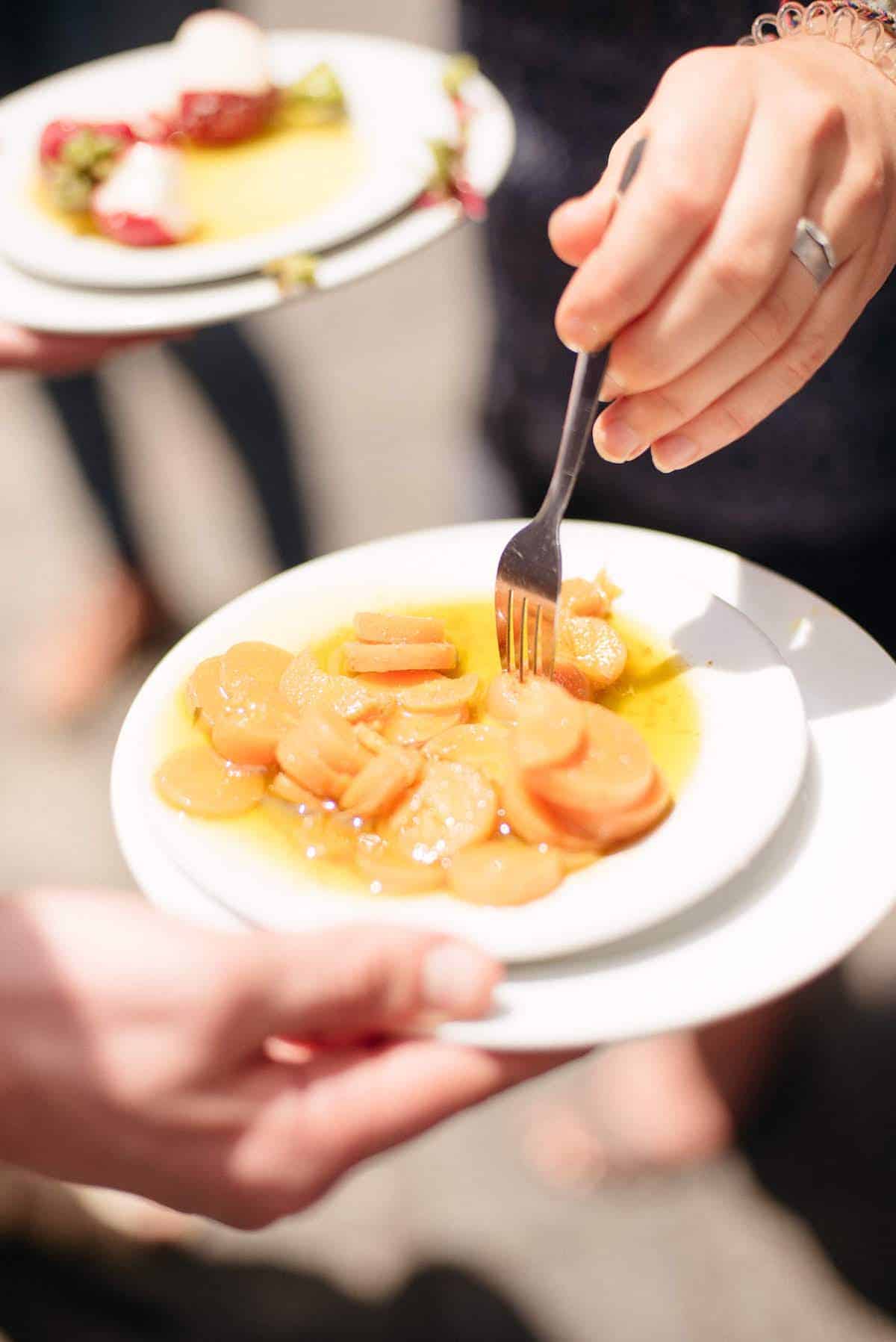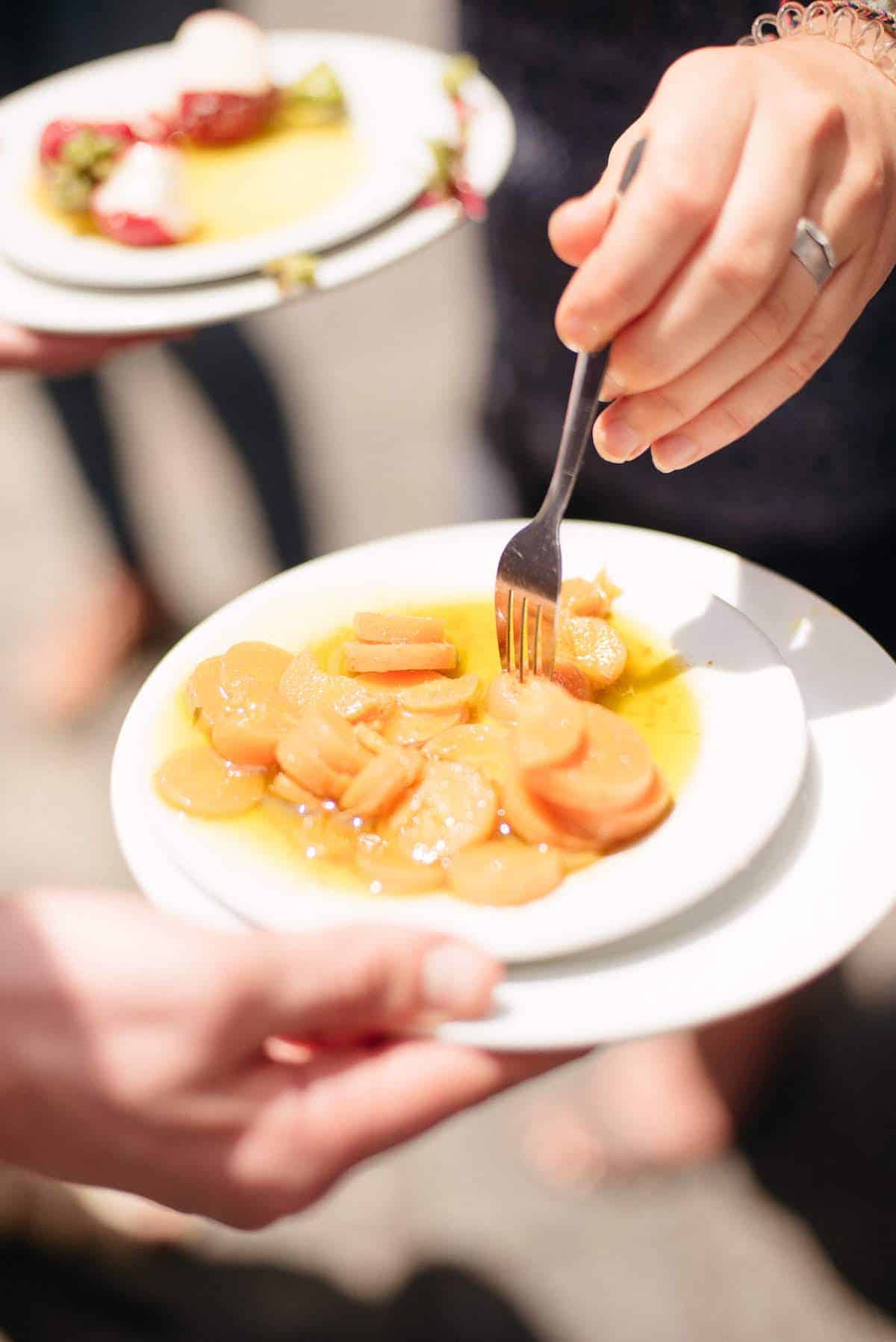 8. Paella & Other Rice Dishes
Whole grains? Check. Fresh vegetables? Check. Seafood and/or poultry? Check. Olive oil? Big check.
Spanish rice dishes may just be the perfect food per Mediterranean diet guidelines, which recommend eating at least one serving of each of those ingredients every day.
In Spain, paella and other Spanish rice dishes are hugely popular lunch foods. Whether it's a big paella for a family lunch on Sunday or a plate of seasoned rice with chicken and vegetables for a mid-week work lunch, this nutrient-packed dish is a regular fixture on Spanish menus.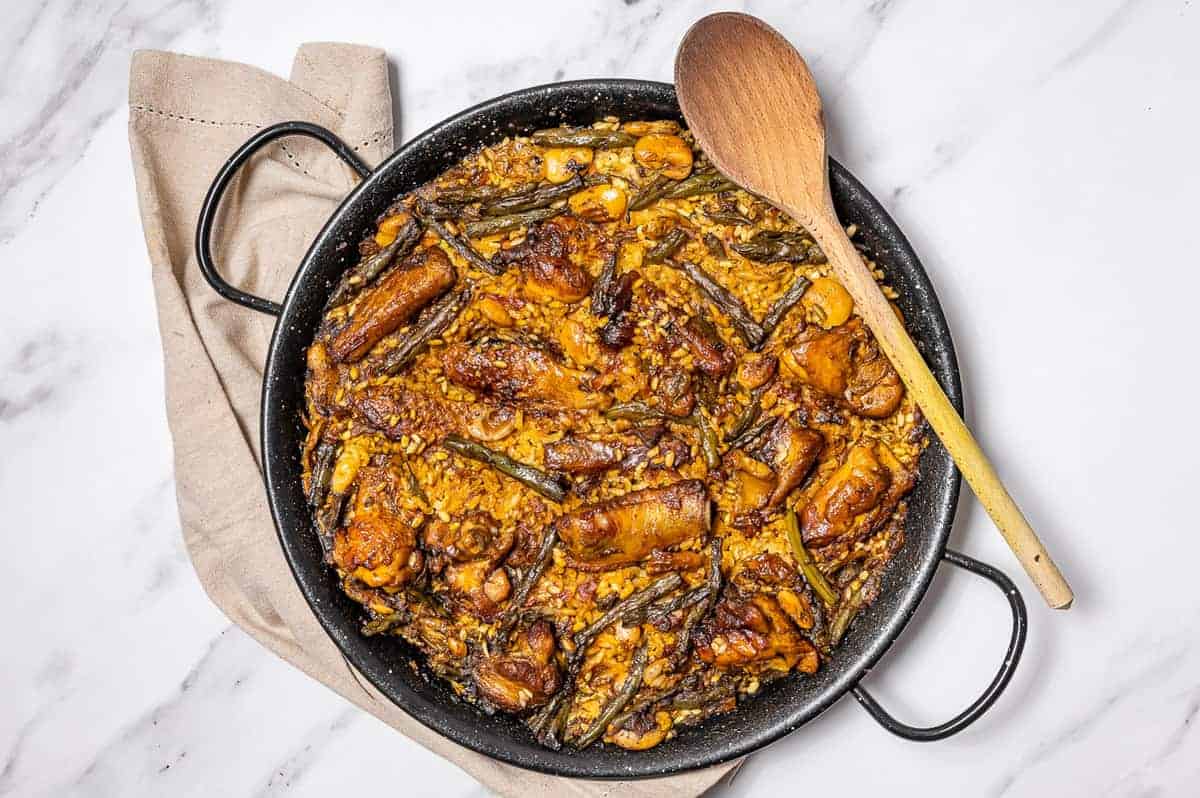 Top Mediterranean Diet-Friendly Spanish Recipes
Salads & Vegetables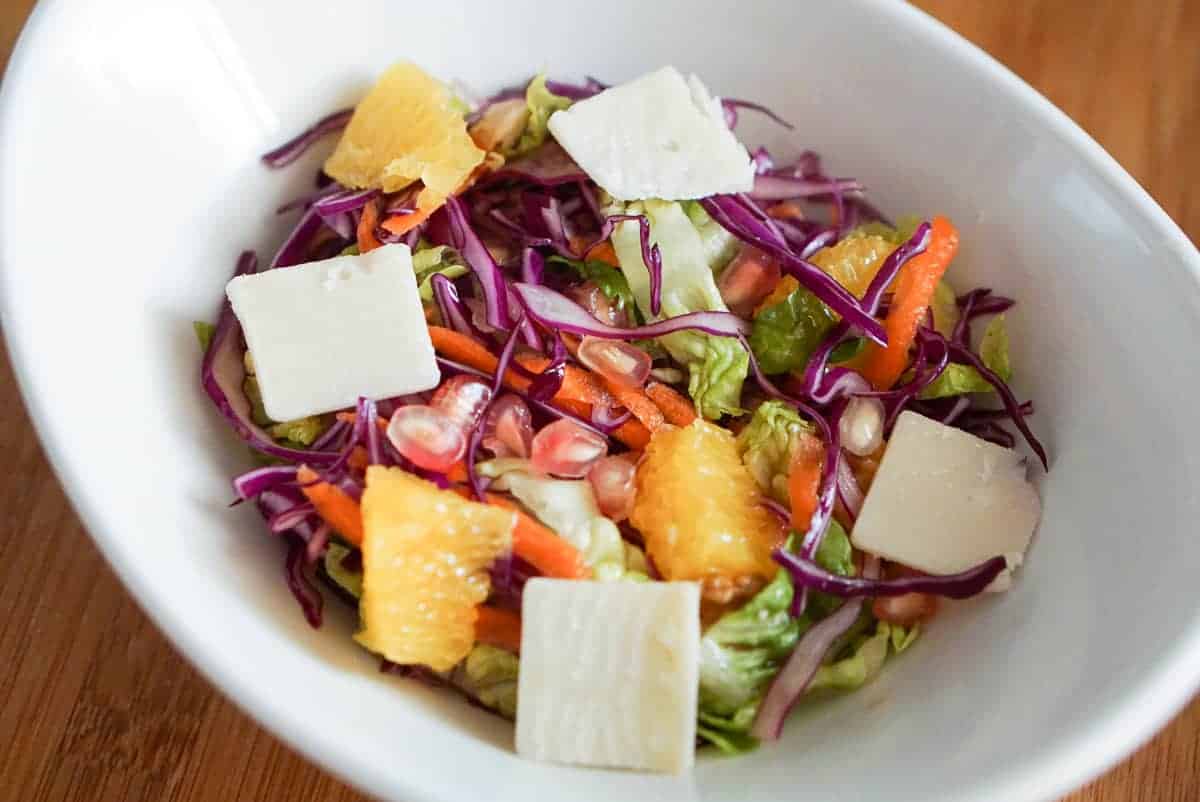 Cold Soups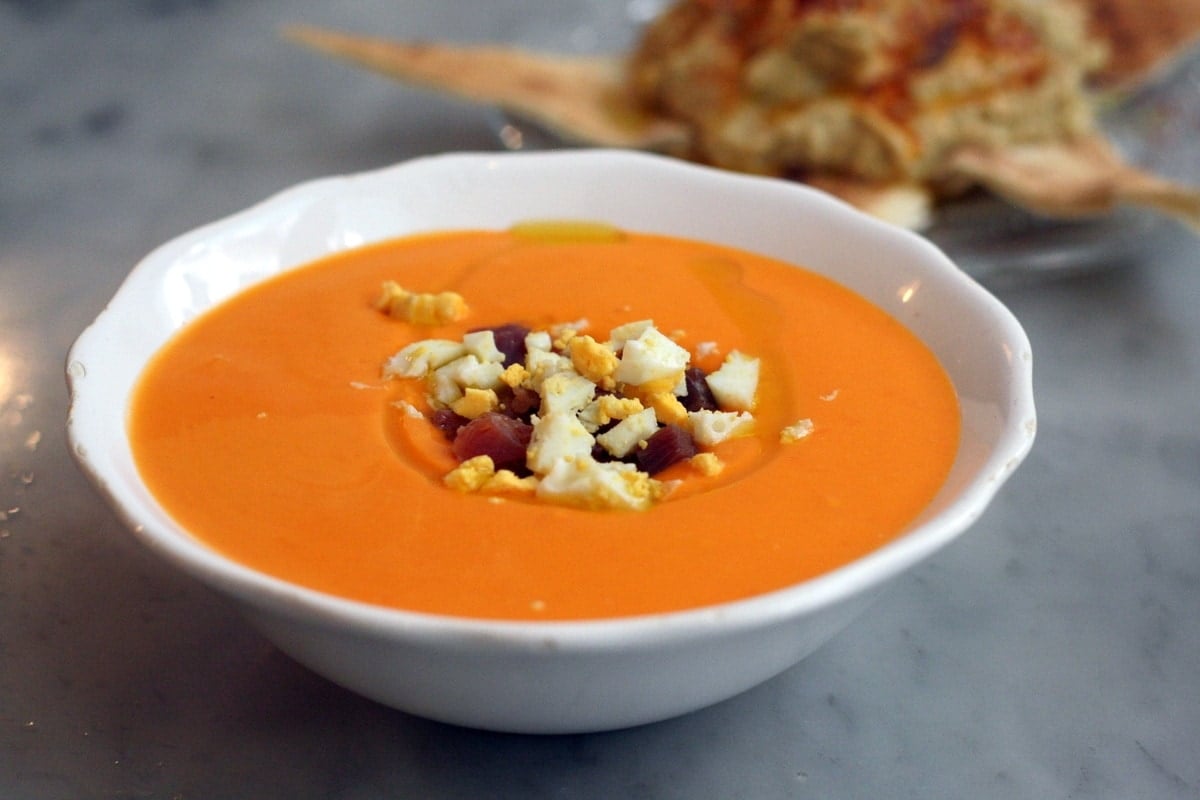 Fish & Seafood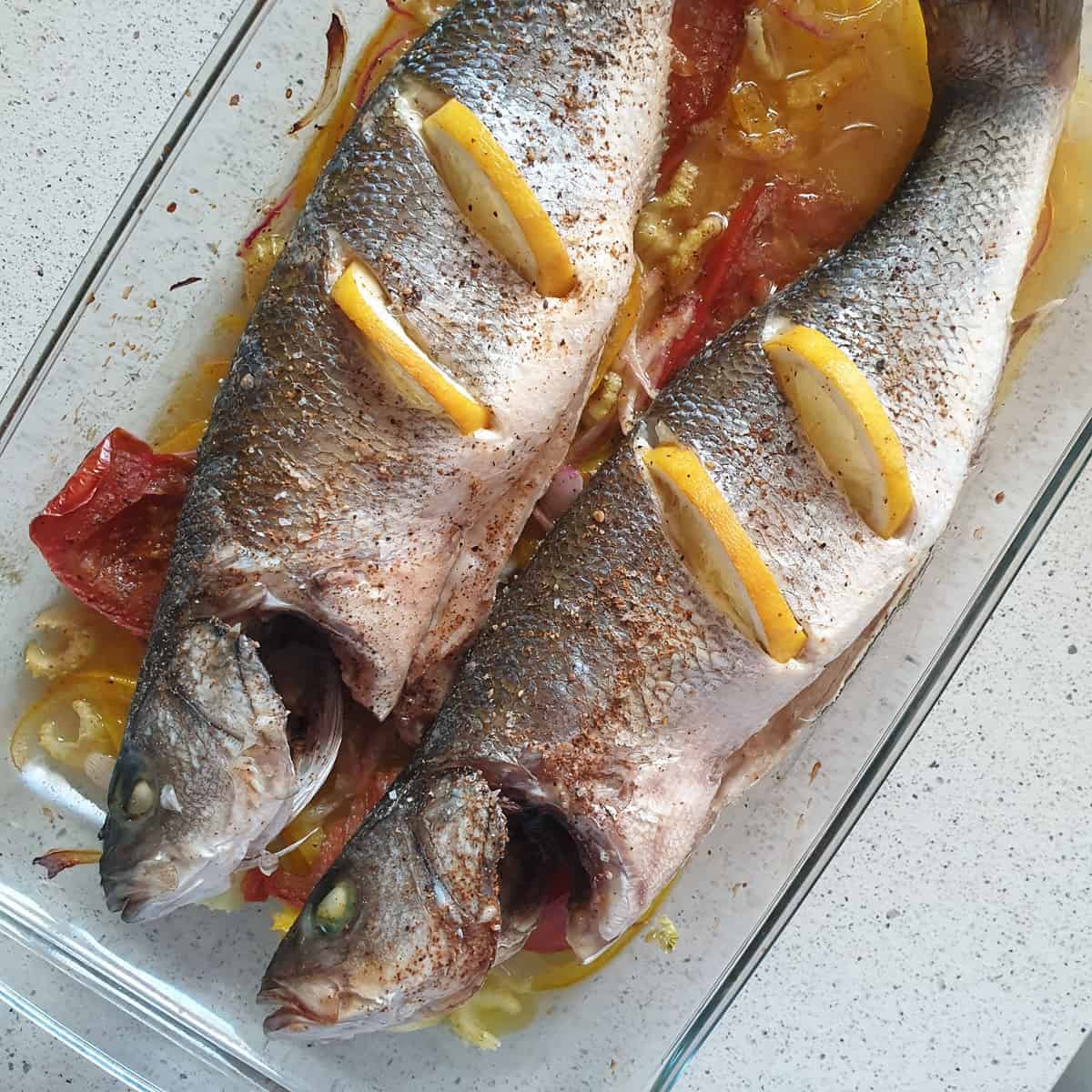 Rice Dishes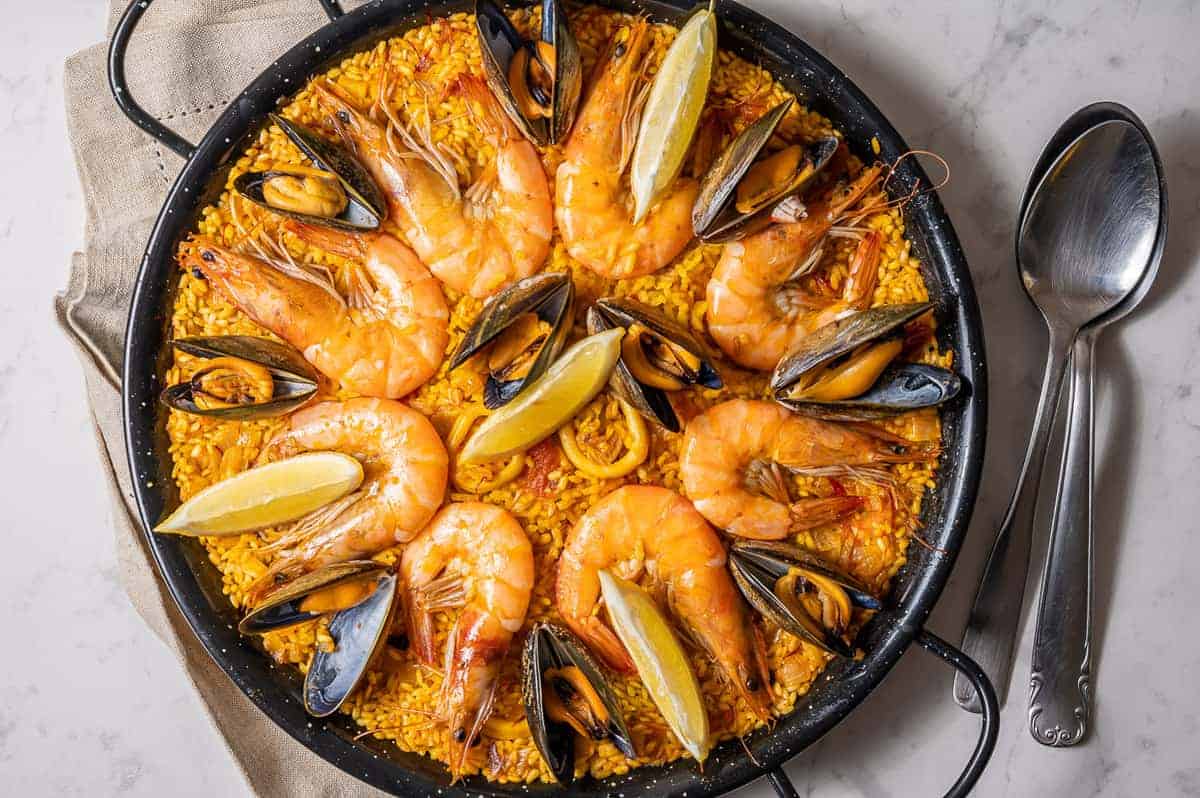 Chicken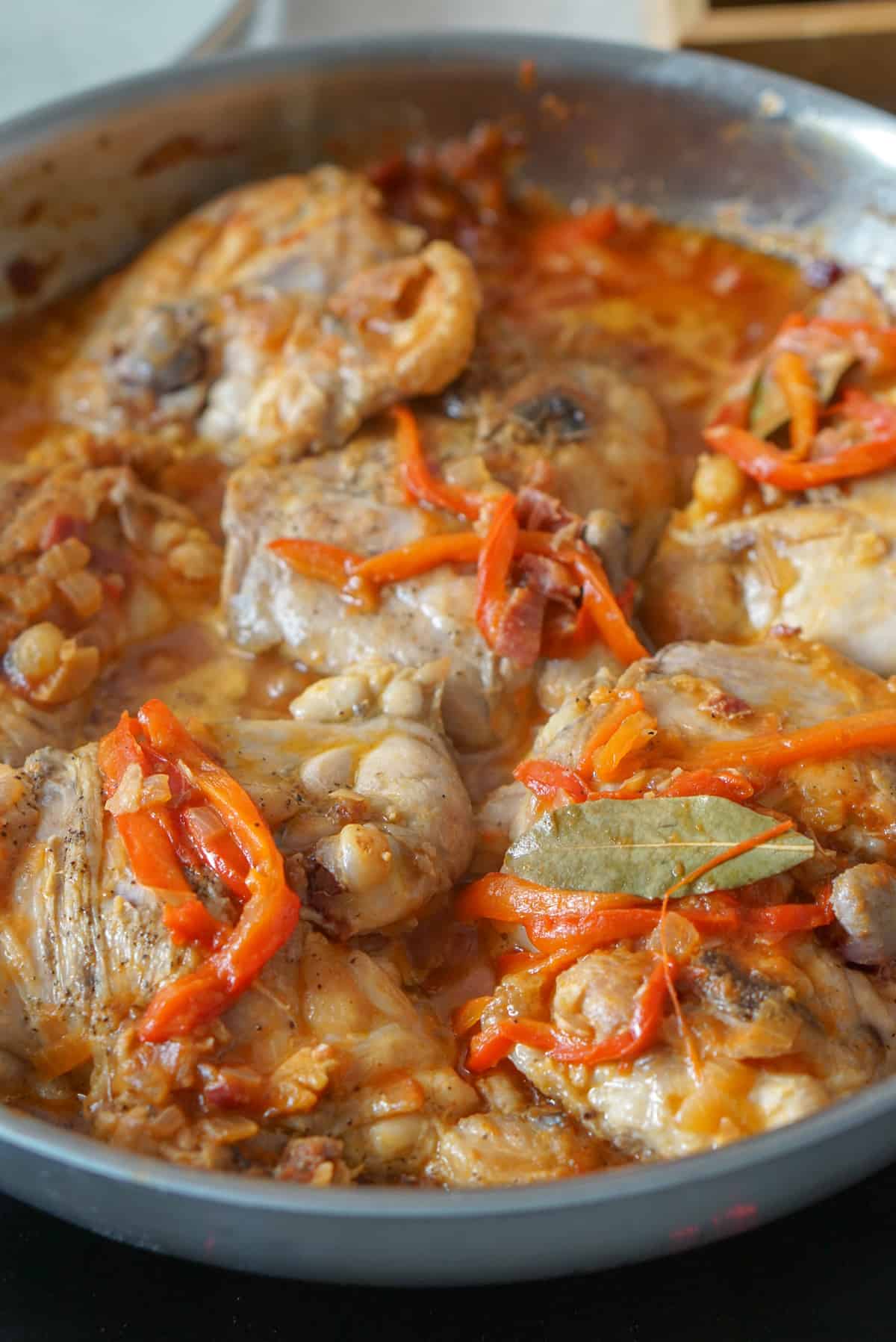 Sauces & Dips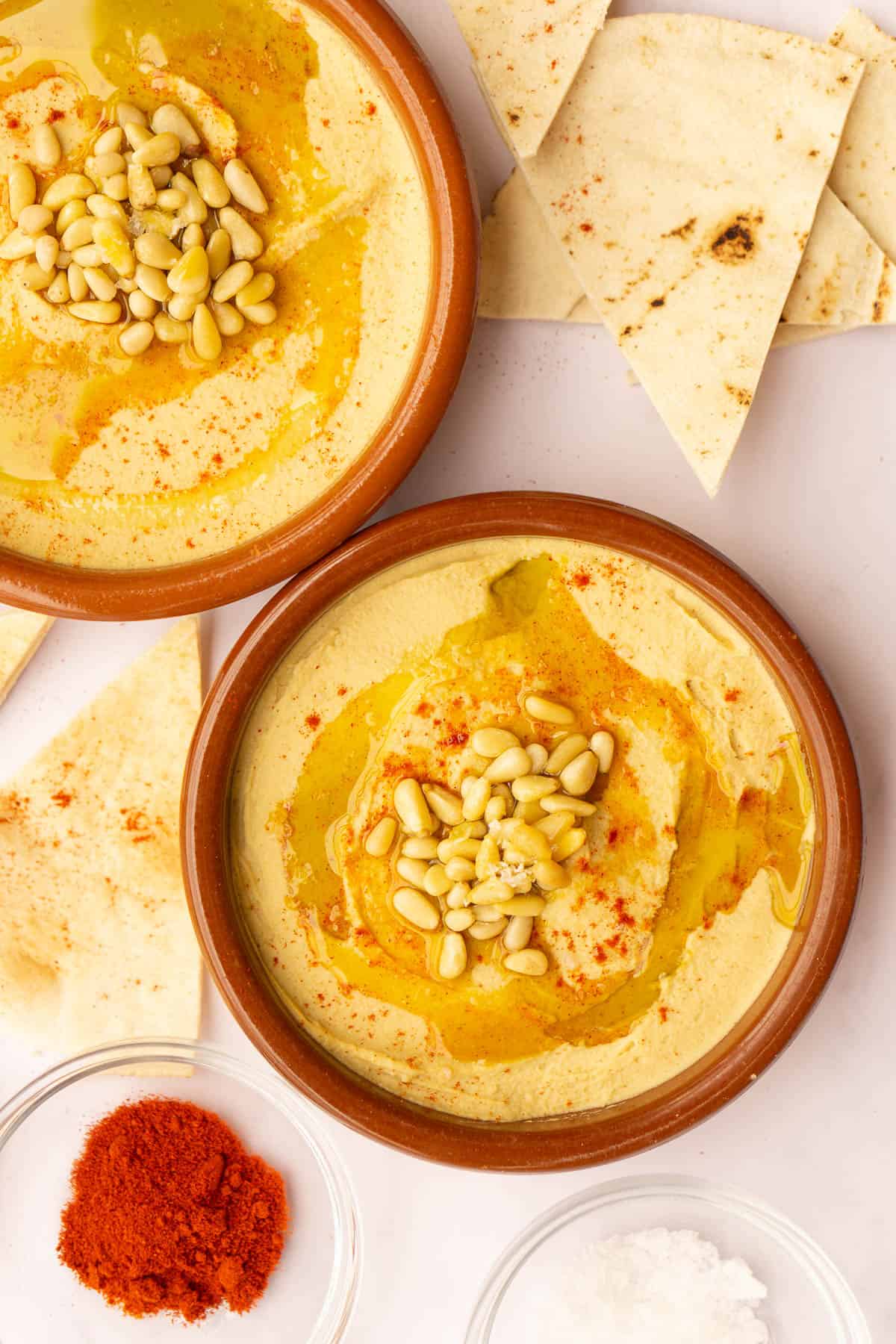 Desserts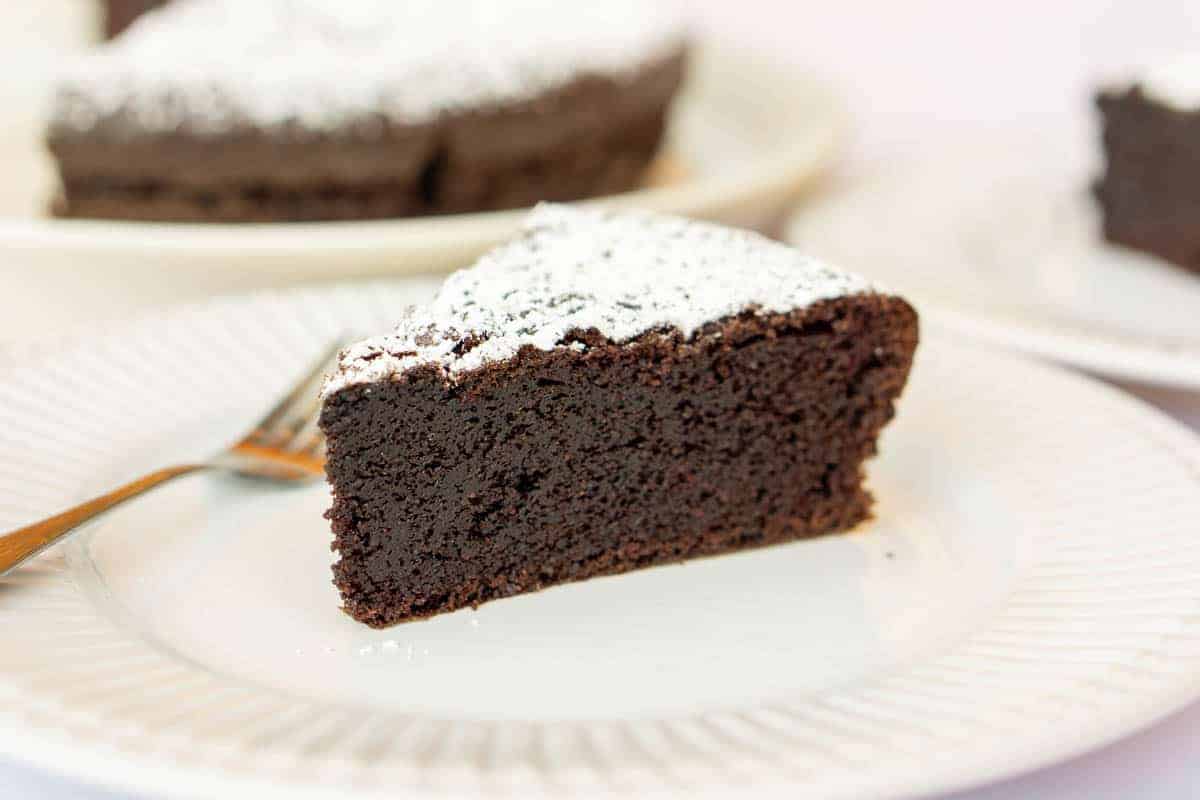 Mediterranean Diet in Spain FAQs
Which countries follow the Mediterranean diet?
In addition to Spain, the Mediterranean diet is a common way of eating throughout much of southern Europe, including in Italy, Greece, parts of France, and Portugal (despite not actually bordering the Mediterranean Sea). It's also typical of some Middle Eastern and North African countries like Morocco, Egypt, Lebanon, Israel, and more.
What do they eat for breakfast in Spain?
A typical breakfast in Spain is a piece of toasted whole-grain bread topped with extra virgin olive oil, fresh crushed tomato, and occasionally cured ham—very Mediterranean diet-friendly! Other common breakfast items are a muffin baked with olive oil, a small sandwich, or a piece of fruit.
Are anchovies part of the Mediterranean diet?
Indeed they are! Fish and seafood are major staples of this way of eating, and nutrient-packed anchovies are a great way to enjoy them.
What bread do they eat in Spain?
Most traditional Spanish bread comes in long loaves similar to French baguettes. It is often unrefined and made with whole grains, making it a great addition to the Mediterranean diet.
Update Notice: This post was originally published on October 4, 2015 and was updated with new text and photos on June 29, 2021.
Hungry for more? Sign up for my free weekly newsletter and receive a new Spanish recipe once a week! Join today and get my FREE Spanish ingredient essentials guide!