A chill is in the air, leaves on the trees have turned bright orange and red, and my neighborhood market is bursting with squash and citrus. Fall has come to Spain! And with the brisk autumn air comes a bounty of hearty vegetables, fresh seafood and saintly desserts.
In this richly agricultural country, eating seasonally is a pillar of the cuisine. Since the majority of the foods eaten in Spain are also grown here, you'll usually only find foods that are in-season on grocery store shelves and restaurant menus.
For the month of November, that means not only typical Fall fruits and vegetables, but also the tastiest of seafood along with a few traditional holiday desserts. These are the 9 items I load up on in Spain in November.
All Saints' Day Treats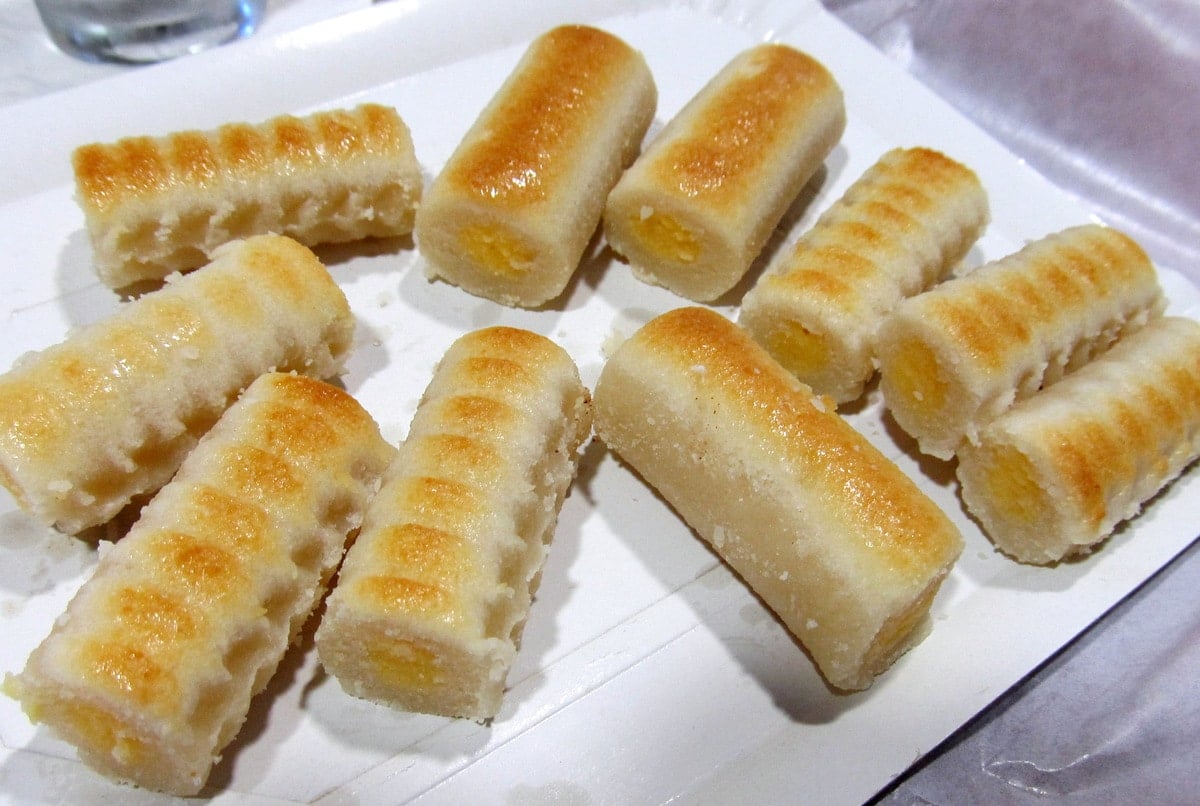 In honor of the November 1st All Saints' Day holiday, pastry shops load their shelves with marzipan and stuffed donuts. Depending on which region of Spain you are in, you'll find different types of All Saints' Day treats.
In Madrid, huesos de santos (Saint Bones) are the sweet of choice. Almond paste tubes are filled with everything from the traditional sweet egg yolk custard to coconut to chocolate pudding. In Catalonia, people load up on panellets, bite-sized goodies made from almonds, potato, sugar and pine nuts.
In Cordoba, be sure to taste the gachas de leche, a pudding-like milky treat flavored with cinnamon and anisette. And throughout much of the country you can find buñuelos de viento, a fried treat similar to doughnut holes that are often flavored with anisette as well.
Mushrooms
One of the absolute best things about November in Spain is mushroom tasting menus. Restaurants across the country showcase the huge variety of wild mushrooms in Spain on special mushroom-centered menus. Many of these wild mushrooms can only be found during October and November, so enjoy as many of them as possible this month!
The abundance of options on display is astounding, from cultivated, fan-like oyster mushrooms to the wild, black trompetas de los muertos (literally, Trumpets of the Dead but also known as black chanterelle) mushrooms. In the southern province of Andalusia alone, there are at least 50 different types of wild mushrooms to forage for!
Try one of the most common Spanish mushroom recipes for yourself: Garlic Mushroom Tapas!
Red Prawns (Gambas Rosadas)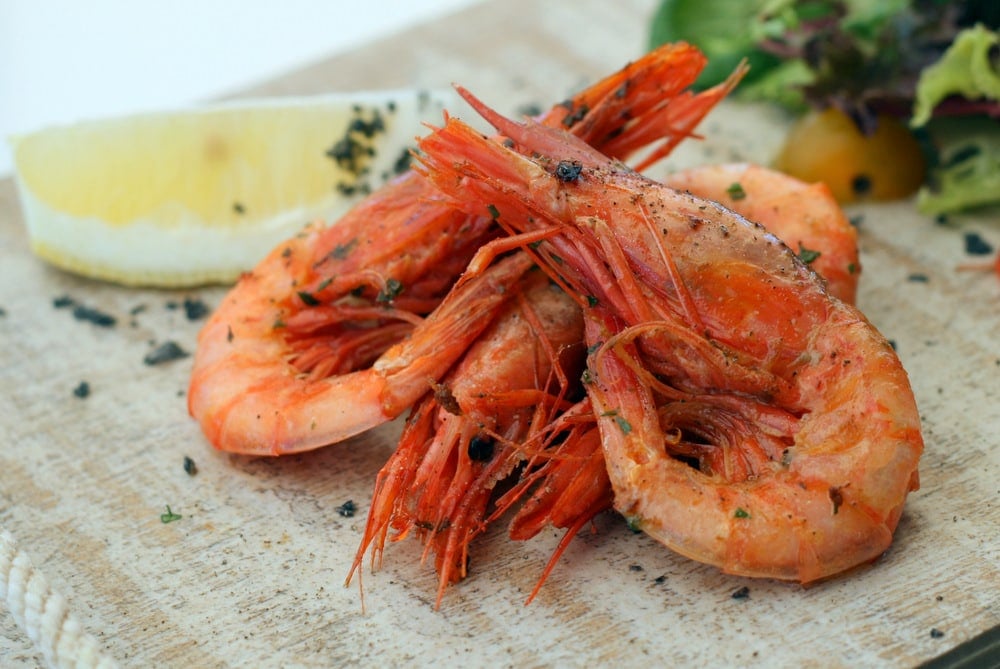 These beautiful, bright red shrimp are as eye-catching as they are delicious. While they can be found year-round in some parts of the world, Spain's season for these scrumptious shrimp runs from October through December.
One of the best ways to devour these mid-sized shrimp is simply seared and sprinkled with salt, like in this recipe. They are also popularly served in rice dishes like paella.
Pomegranate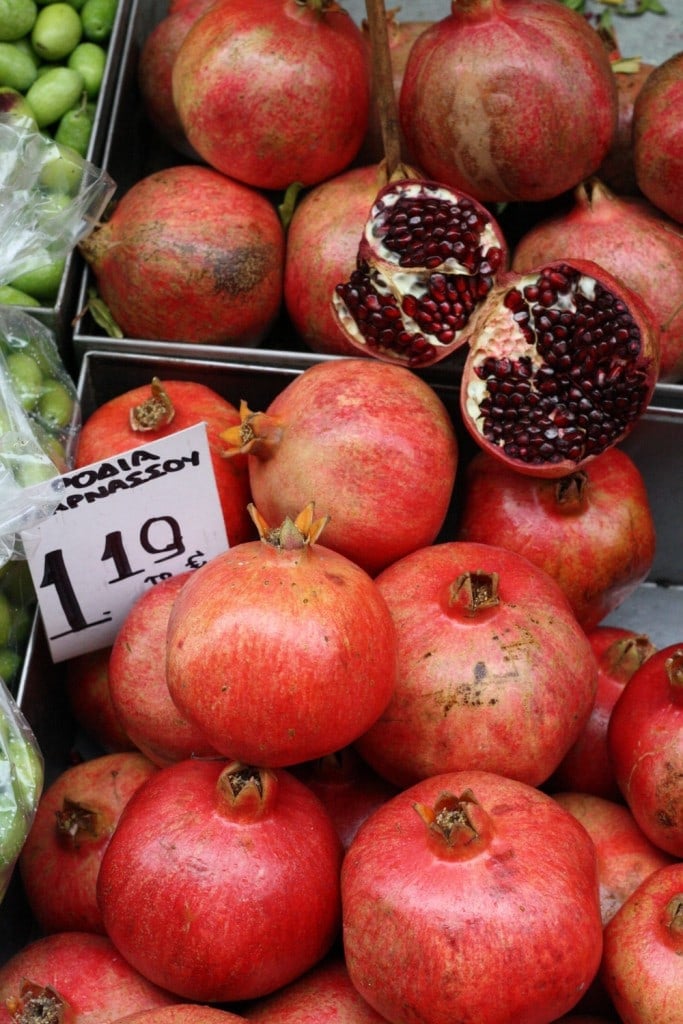 Salads, juices and afternoon snacks are getting a bit sweeter this month. November marks the heyday of pomegranate season in Spain. This juicy pink fruit has a long and important history in Spain. After all, one of Spain's main cities, Granada, shares its name!
Pomegranates were first brought to Spain by the Arabs when they conquered the Iberian Peninsula in the 8th century. As a symbol of love, their shapes is woven into many Moorish mosaics that can still be seen in the southern Spanish province of Andalusia.
Unlike so many common Spanish foods that were originally from the Americas (paprika, potatoes, peppers, for example), it was the Spanish who introduced pomegranates to the American continent. The fruit's thick, hard skin made it a durable trans-Atlantic export.
Chirimoya
This weirdly wonderful fruit (custard fruit or custard apple in English) is like a pineapple-mango-strawberry milkshake poured into a thin, soft green lizard skin. Jellybean-sized black seeds speckle the milky white flesh of the fruit. If it sounds odd, that's because it is. I still can't quite get used to the idea of milkshakes growing on trees.
The chirimoya is originally from the Peruvian Andes, where native growers call this seemingly tropical fruit semillas frias or "cold seeds" because it likes the cold heights of the mountains. Chirimoyas were brought to Europe by Spanish explorers.
Spain is now the world's top chirimoya producer. growing about 50,000 chirimoyas per year. Most are grown near the southern Mediterranean coast in Malaga and Granada where the mountains offer cool relief from the strong Mediterranean sun.
Kiwi
While kiwis are a relatively new addition to Spanish cuisine (they didn't make it to Spain until the 1960s!), they have quickly become a fruit bowl staple. Kiwi vines now streak across the trellises of Spain's northern provinces from Galicia to the Basque Country.
Kiwis have amazing timing when it comes to their ripening schedule. Just as the seasons start to change, causing mass head colds across the country, vitamin C-packed kiwis come in-season. Kiwis have more than 1.5 times as much vitamin C as an orange. Thus I eat them like popcorn every November in hopes that they will ward off those winter colds.
Oranges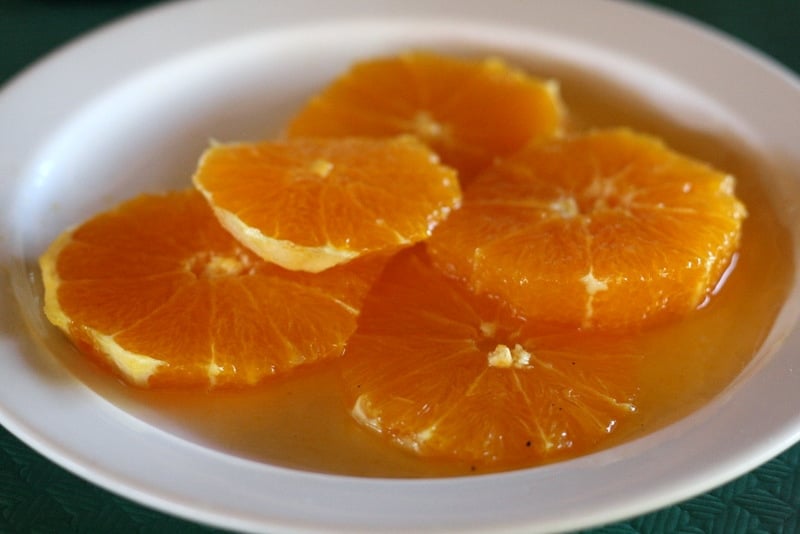 For a more versatile, all-natural anti-cold remedy I turn to oranges, a fruit I would happily nominate at Spain's national fruit. Oranges have been growing in Spain since the 10th century and the country now grows more than any other country in Europe (more than 3 tons per year!).
Oranges are so popular in Spain that they even have their own Denomination of Origin Control zone (much like wine or olive oil)! Only Valencian oranges, which are produced according to strict quality standards in the region of Valencia (Spain's largest orange-producing region), can carry this prestigious DOC label.
In Spain oranges are sold not only by their variety (Naval, Valencian, etc.) but also by their use (table oranges to be peeled and eaten or oranges for juicing). Nearly every bar and cafe in the country has a juicer and serves fresh squeezed orange juice. A big glass of this zumo de naranja natural is one of my absolute favorite ways to start the morning!
Some of our favorite Spanish Orange recipes:
Chestnuts
Chestnuts really do roast on open fires in Spain. Starting in late October and really kicking into gear in November street side roasting stands start popping up in plazas and on busy street corners. The smell of toasting nuts is positively irresistible.
When toasted these soft nuts are smokey and slightly sweet. In the northern Spanish provinces like Galicia and Asturias, chestnuts are a staple of the November 1st All Saints' Day celebrations.
Artichokes
Grilled with garlic, roasted with bacon, stuffed with cheese... no matter how Spanish artichokes are prepared, they are amazing! As the world's No.2 artichoke producing country, Spain has a huge variety of artichoke recipes.
November is prime artichoke time. Crates of fresh artichokes from Murcia, Valencia, Navarra and Tarragona flood grocery stores, fruit stands and even food trucks across the country. Look for them on restaurant menus as well until the Spring thaw in March!
What are your favorite November foods?