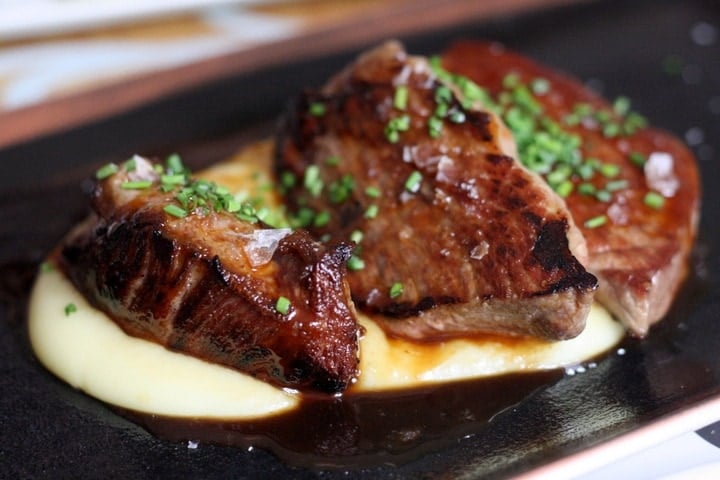 Although it may be the dead of winter, Spain's gardens, ranches and oceans are bursting with fresh ingredients. Southern Spain is finishing up the olive harvest. Northern Spain is celebrating the traditional pig slaughter. And across the country stomachs are searching out fresh produce to recover from weeks of binging on Christmas candies.
Here are the foods you won't want to miss in Spain this January.
See Also: 11 Healthy Spanish Recipes to Jump Start the New Year
Roscón de Reyes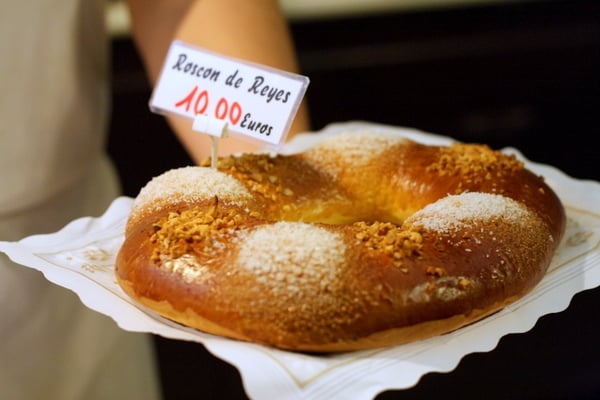 Just when you think the holidays are over, they aren't. In Spain the festivities don't stop until January 6 when the country celebrates Three Kings Day. This is the day that most Spaniards get their Christmas presents, following the story of the Three Wise Men bringing gifts to the newborn baby Jesus.
Like with most Spanish holidays, there is a pastry dedicated to Three Kings Day. The Roscón de Reyes, or "Kings' Cake", is a bready confection with a hint of anise. It is topped with sugar and candied fruits. Some roscónes nowadays also come filled with whipped cream, custard or even chocolate!
Here is a list of tips for trying the roscon de reyes in Madrid!
Olives and Olive Oil
The enormous olive harvest is nearing its end this month as farmers haul in thousands of tons of olives. The vast majority of these olives (roughly 70 percent) are destined to be pressed into olive oil.
As the top olive producer in the world, Spain produces 22 percent of the world's table olives and 45 percent of the world's olive oil.
Much of that freshly pressed oil will start hitting store shelves later this month. Unlike wine, olive oil is best the day it is pressed, making January one of the best months of the year to buy (and to eat!) olive oil!
To find out all you ever wanted to know about Spanish olive oil here: All About Spanish Olive Oil.
To get some ideas on how to cook with olive oil, try our Olive Oil Cake with Lemon and Almonds or Spanish Potato Salad recipes.
Escarole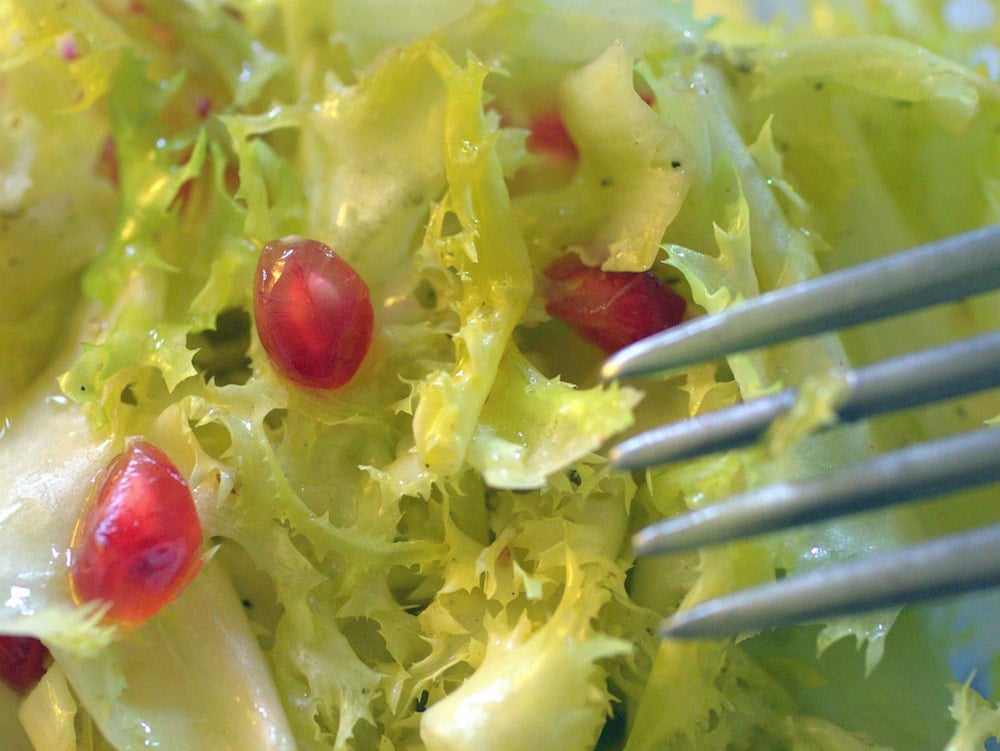 After the marathon of Spanish holiday feasts, the only thing I want to eat in January is salad. Conveniently, salad fixings are at their prime in Spain's gardens this month. Escarole, a spiny, bitter type of lettuce, is in season in Spain from November through February.
You'll usually see this spicy leaf mixed with other types of greens like spinach (which is also in season this month), arugula (found year-round in Spain and throughout the Mediterranean) and lamb's lettuce or canónigo (a delicate, slightly sweet little leaf that's popular in Spain).
Try adding a bit of escarole along with a few of the above mentioned greens to this Tuna Belly, Blood Orange and Avocado Salad.
Iberian Pork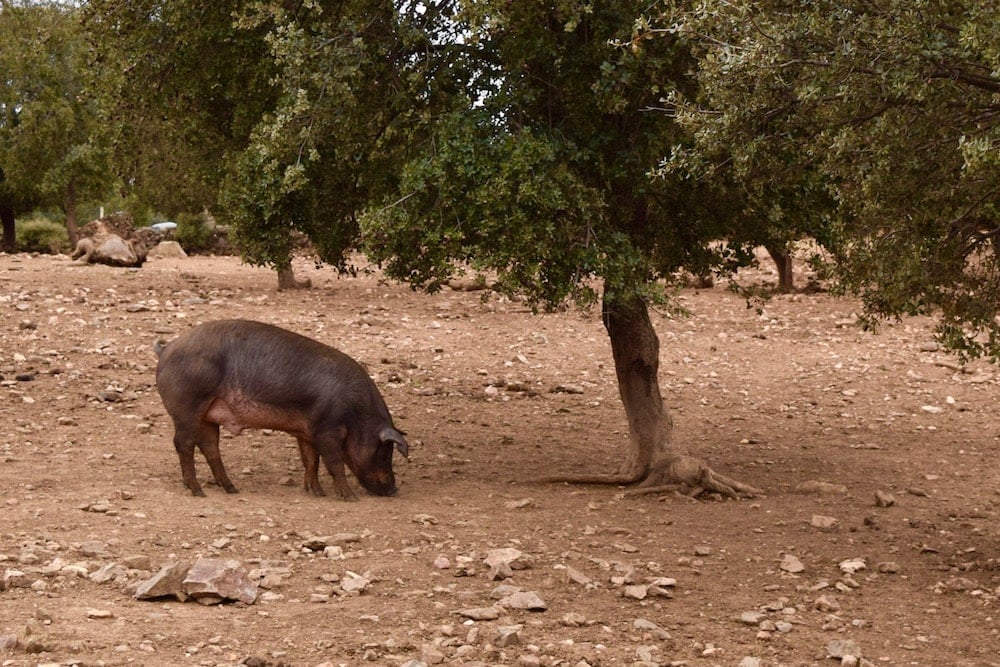 January is prime time for matanzas, traditional pig slaughters. Families throughout northern Spain take advantage of the frigid temperatures to celebrate the three-day sausage making extravaganza.
During the matanza families slaughter one or two pigs and work for days chopping, mixing and encasing the chorizo, salchichón, lomo embuchado, jamón and other types of cured meats that they will eat throughout the year.
This is also the time when commercial ranchers slaughter their prized Iberian pigs. Per the regulatory council that certifies meat as cerdo iberico de bellota, the most prized type of pork in Spain, the pigs must be slaughtered between December 15 and March 31.
The majority of these Iberian pigs are sacrificed in January, when the temperatures are coolest and when the pigs usually reach their perfect weight after months of gorging on acorns. That means that butcher's shops are stocked to the brim with the freshest cuts of the best pork in the country during the month of January!
Scallops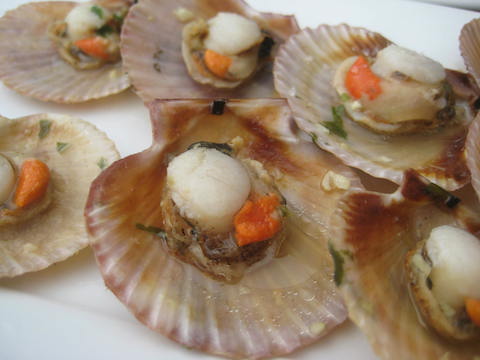 Now that the holiday seafood rush (and corresponding price hikes!) is over and prices are scooting back down to reasonably normal territory, it's time to head for the good stuff. For me, that means scallops.
There are two main types of scallops in Spain, large vieiras and smaller variegated scallops called zamburiñas. Both are sourced almost entirely from the rias of Galicia, where 20-foot long cords clumped with scallop shells dangle from wooden platforms speckling the chilly waters.
Octopus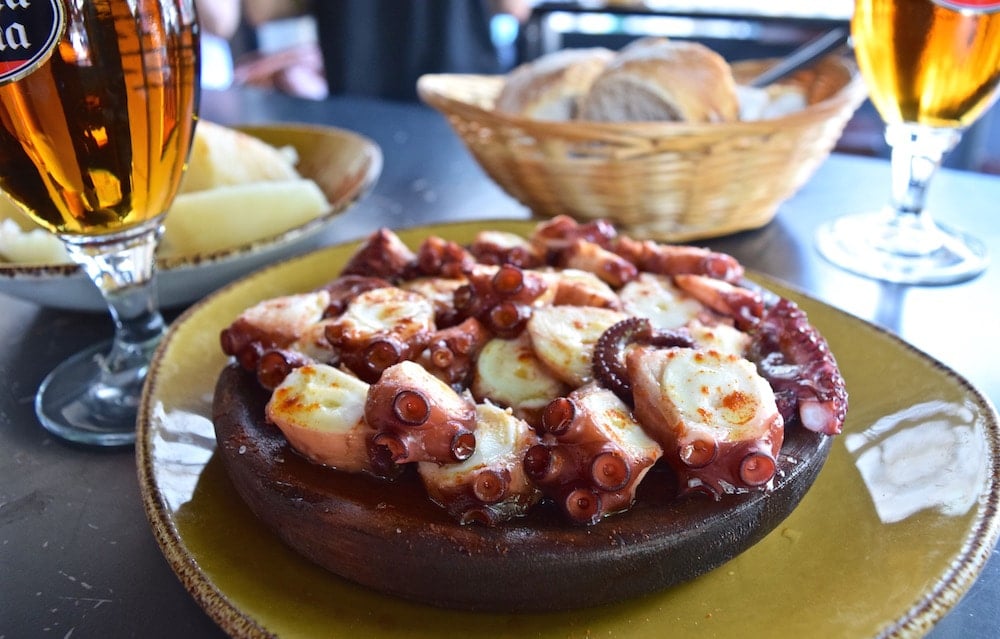 When the giant copper cauldrons start bubbling with purple tentacles, don't ask questions. Arm yourself with a toothpick and fight for a spot at the picnic table. Octopus, or pulpo, is in season in January and that means Galicia is full of feiras celebrating one of their most famous catches.
While you can find octopus served throughout Spain, none of it can compare to what you'll find in Galicia this month. Fresh pulpo is boiled, scissor-sliced into medallions and drenched with olive oil, paprika and salt. This no-frills food, which is often served in makeshift tents on blustery winter fairgrounds, along with a shot of the region's famous moonshine called orujo is just the ticket to shake off the winter chills.
See everything you must eat in Galicia here and learn about Galician food festivals here!
Broad Bean
This month, besides the typically dried broad beans, you can find fresh green habas on the shelves of Spain's green grocers. Similar to large peas when they are fresh, habas are often served cooked with ham, raw in salads or blended into warm purées.
This protein-rich bean is high in anti-oxidants, fiber and vitamins B1 and B2, making them a stellar post-Christmas diet food!
Blackspot Seabream
Blackspot sea bream, or besugo in Spanish, is one of the only seasonal wild fish that is in season here in January. It is fished off of the Atlantic coast and usually weighs about around 10 pounds. The spiny mid-size fish is often roasted whole and served with roasted potatoes.
Try it baked with lemon and white wine, like this recipe using a similar fish, Gilt Head Bream.
So that's what you eat in Spain in January, now what about where you live?