Is Spain Ready For These 4-Wheeled Delicious Mobiles?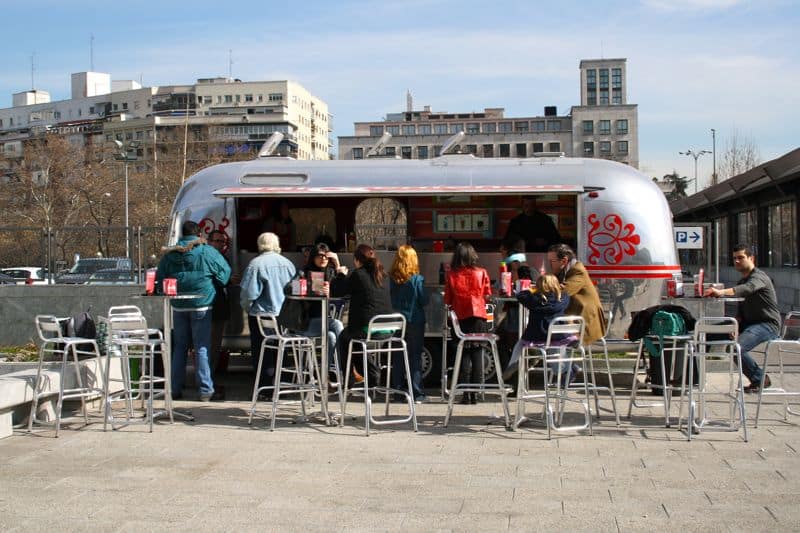 Portable, creative, and delicious-- this is what Americans have come to associate with food trucks. It's obvious when walking around cities like Boston, Washington DC, or Portland that food trucks have taken the US by storm, providing a fast, fun, and reasonably priced alternative to other fast-casual restaurant choices.
Innovative chefs and restaurateurs have been quick to replace the stigma of cheap, unhealthy, fast food with some of the most creative and often healthy choices in town. Don't get the wrong idea, some still serve juicy burgers and hotdogs-- but they've come a long way with trucks such as Da Burger Boss out of Los Angeles serving gourmet burgers such as The Patrolman: Creamed Blue Cheese, Bacon, Allspice Cran-Apple Reduction, On A Grilled Donut. That's a burger you don't find anywhere else! Cities like Miami even host events like The Weekly Tuesday Miami Food Truck Event where over 30 trucks offer their treats to the public, each one more creatively named and mouth watering than the next.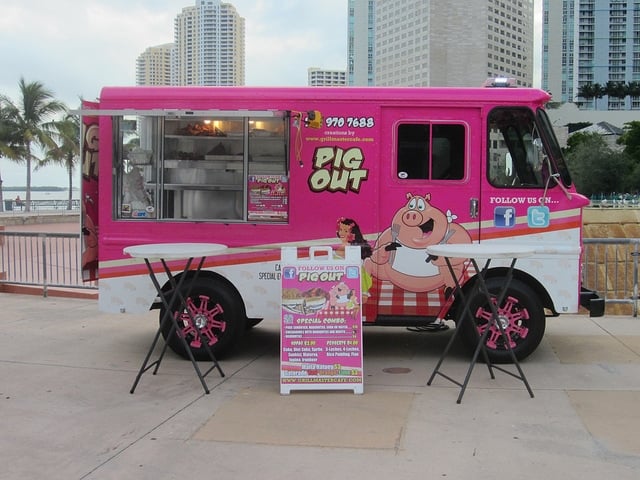 In some cities people are actually getting tired of food trucks—some Portland, Oregon natives claim that their city has been overrun, and others point out the high rate of failure in many first year operations. Yet despite saturation in some cities, experts claim that food trucks aren't going anywhere anytime soon-- they're listed as one of the top food trends for 2012. Where have I been throughout this amazingly delicious and exciting food phenomenon? In the land of the ham of course!
We all know how much I adore Spanish food, but watching an episode of The Great Food Truck Race had me wishing to be back in the US eating my way through the colorful trucks of my native land. You see, Spain hasn't yet adopted the food truck trend. Some blame the existing tapas culture-- if people are already paying very little for small plates and they get to enjoy them in a bar or restaurant, what's the appeal of eating on the street? Others say its simply a matter of time, complicated by the bureaucracy involved in getting all of the licenses and permissions to own and operate a food truck.
And what about the rest of Europe? Are food trucks popular in other European countries?
Apparently, the UK has adopted the food truck trend rather quickly and trucks have popped up around big cities like London. Some food trucks have even been so successful that they've gone on to open brick and mortar restaurants. One difference, however, is that many aren't nearly as mobile as American food trucks, often staying in a fixed location instead of driving around and stopping in different places.
Other European cities have also embraced the trend (and some would probably claim that food trucks have been a part of their food culture for years now). I still dream about the delicious french fries and gravy that I ate from a truck in Brussels and the hot spiced wine I tried in Prague.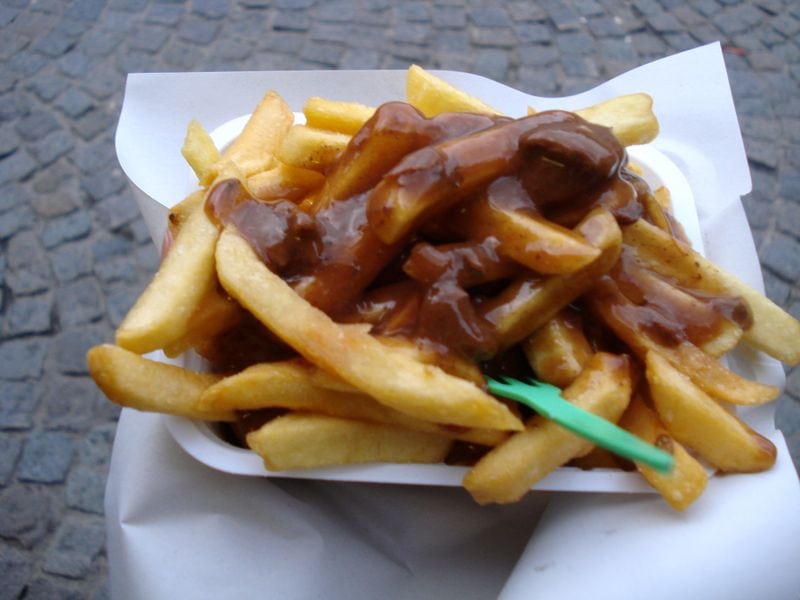 But Spain? Will a culture that already offers such creative and inexpensive tapas adapt this casual American fad? When I lived in Seville there were a few food trucks that mostly operated late at night and served cheap fast food like hamburgers and hotdogs. Today's trendy food truck with its innovative options seemed a lifetime away from opening shop in Seville.
Are there any food trucks in Madrid?
Here in Madrid, despite not seeing any food trucks around, I decided to google away. Surely in this city of 3.3 million people someone had a food truck selling delicious goodies?
And it was true. Madrid does have a food truck or two if you know where to look (although you won't see them driving around town anytime soon). Here's what I've tried:
Sal&Chichen Takes on the German Sausage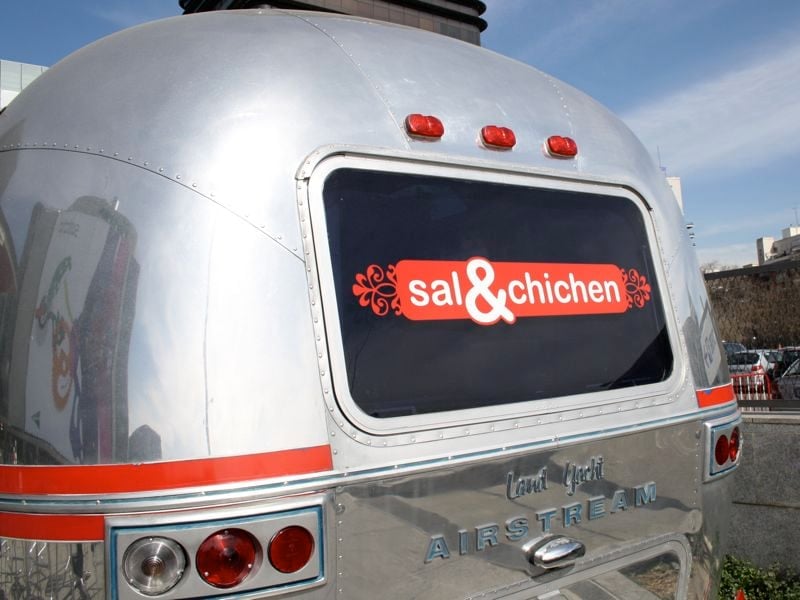 This is Madrid's supposed first and only food truck. Currently it's parked right across from the Nuevos Ministerios metro stop and shopping mall. It doesn't usually change locations except for special events, although the owner is hoping to open more locations in the coming year and even start franchising the brand. Sal&Chichen was founded by Verónica Morales Horster, a Spanish entrepreneur who left her job in television to reinvent herself in the hospitality industry. Morales, whose mother is German, spent time living in Mexico and Switzerland where she realized the appeal of food trucks and good quality street food.
Weighting her options for opening a German eatery here in Madrid, Morales bought a 1970's Airstreamer from the US and hired three Michelin star German chefs to create a product for her. After 11 attempts, the chefs finally created the Sal&Chichen signature sausage and hamburger. Both are additive and conservative free—but they are prepared in Germany and shipped to Spain frozen.
So on a bright Saturday afternoon Ale and I decided to check them out.
I wanted to love them-- really. But the food was mediocre, leaving an enormous gap in the market that hopefully others will rush to fill! The truck is very cute, retro style, and the location is great-- conveniently located right outside of the mall and across from the Nuevos Ministerios metro. There are about 6 small tables and a bunch of benches too. The menu is small, which made me expect what was on it to be outstanding. We tried the ham hock sandwich and a sausage. The meat was all pre-cooked, so the grill cook just warmed it up and dressed the bun with tomato, lettuce, and some fried onions. The bread was ok, but both sandwiches were pretty dry without adding anything else. We both ended up smothering our choices in curry ketchup-- yummy, but definitely more on the unhealthy fast food side of the food truck choices. Overall I'd give the food a 5.5/10, and at 6,00€ per meal (served with fries and a drink) I would have preferred a good kebab for the same price. Another downside is that Sal&Chichen is only open until 10:30 pm, which is actually still Spanish dinnertime and not even close to providing people with a nighttime snack. Seeing that Morales wants to start a franchise, I hope she focuses on perfecting the existing menu and perhaps expanding the choices (or at least the toppings selection).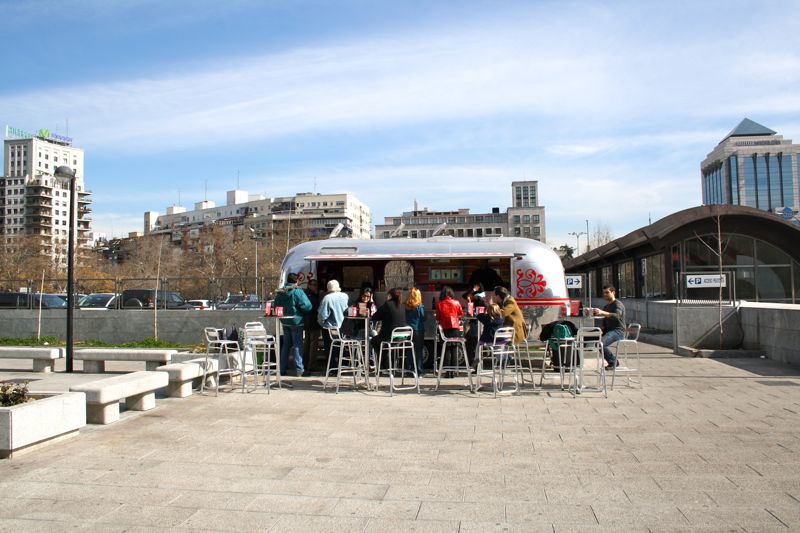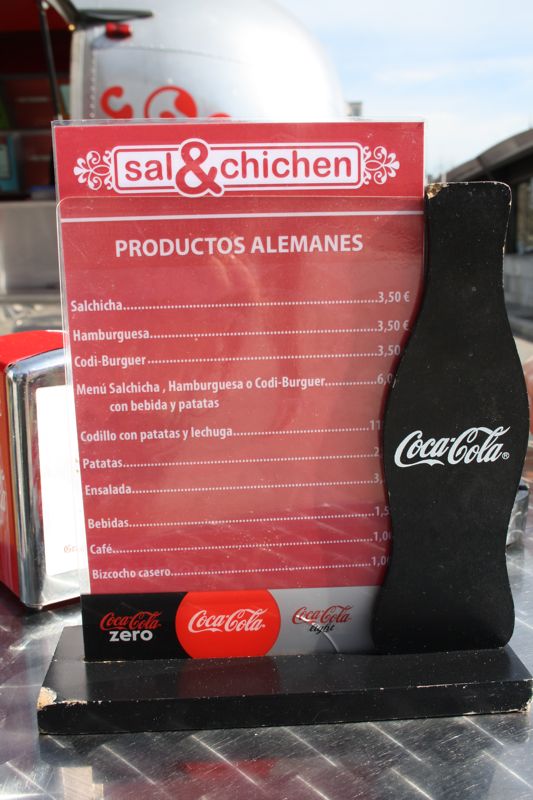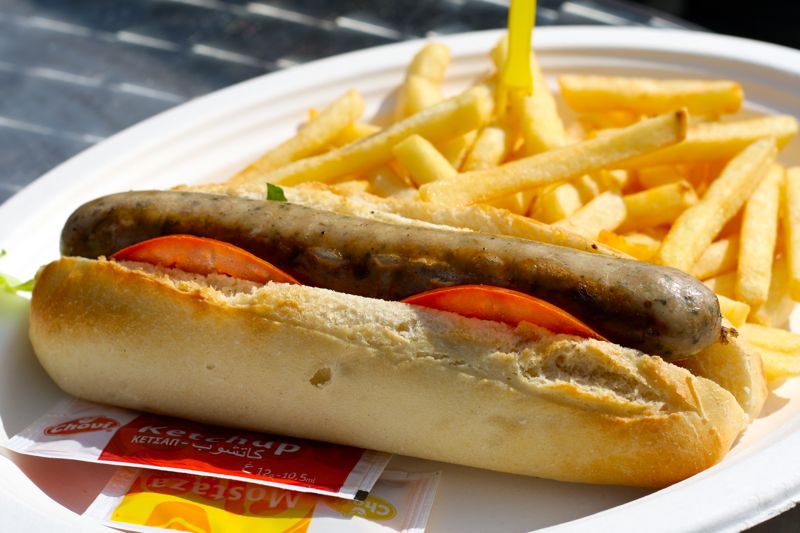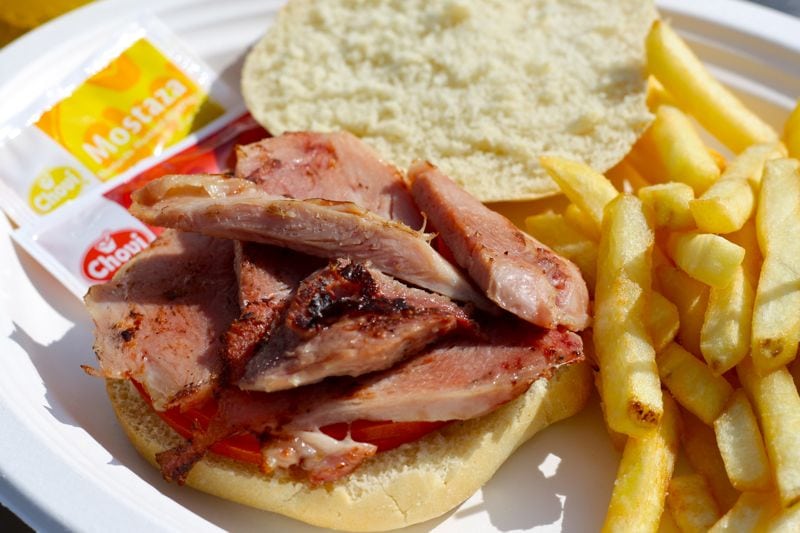 Overall, I'd definitely recommend this place for someone in the area who would like a cheap eat outside in the fresh air, although I would remind you that for the same price there are various other fast-casual options available.
But is this sausage-mobile really the only food truck in Madrid? I'd have to say no. Considering it doesn't usually move, I can't really see any difference between Sal&Chichen and my neighborhood food truck that sells freshly fried churros and porras (jumbo sized churros). This churro truck, located in Plaza del Mariano de Cavia, is open every afternoon and is a popular spot for a snack.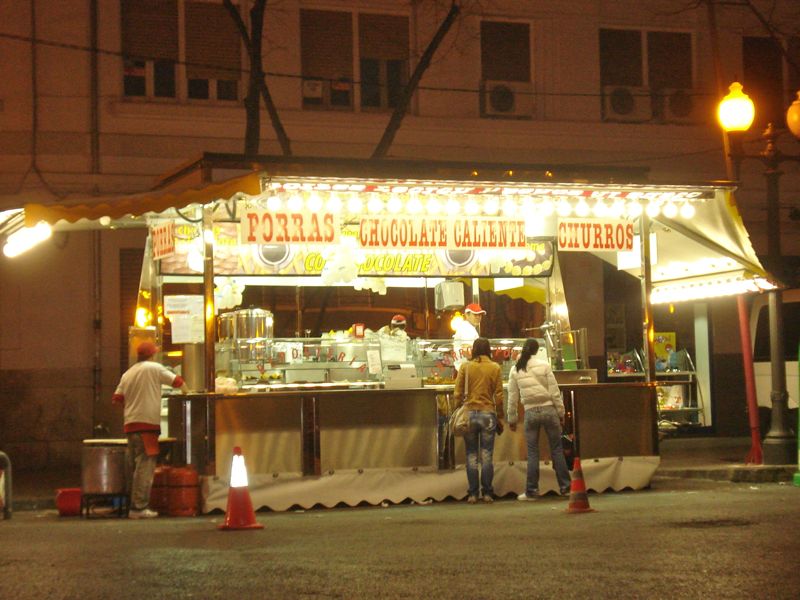 I personally hope that food trucks do catch on here in Spain. I think that there is definitely a market for them-- especially late at night when people are bar hopping and most food establishments are closing up. It would be so refreshing to see innovative fast food choices that aren't necessarily unhealthy! They'd also be ideal in many of Madrid's parks for an easy picnic in the sun. And it's really not fair that famed Spanish chef José Andrés launched his Spanish themed food truck (Pepe) just yesterday in Washington, DC while we here can only drool about it from afar! Come on Chef Andrés, what about your fellow Spaniards (and their American friends)?!
Has anyone else out there tried Sal&Chichen? Do you know of any other food trucks in Madrid or in other Spanish cities? Do you think food trucks will ever catch on in Spain like in the US? Please discuss!
Pin me!