This blog post was originally posted on November 24, 2015 and was updated on October 13, 2017.
Both malagueños and visitors alike have difficulty knowing where to eat in Malaga's historic center, but don't worry, there are still hidden gems to be found. Unfortunately, this needs saying because as rent goes up in the historic area, and more and more tourists come in, former favorites no longer have the same feel. On the same note, there are lots of new spots popping up that are worth a visit. This list of where to eat in the historic center of Malaga will help you spot the real gems.
Where to Eat in the Historic Center of Malaga
1. Cafeteria Framil
You'll love this bar for two reasons. The first being that you can get a classic Malaga breakfast: the pitufo (a sandwich on a toasted roll), orange juice and tea or coffee. This is what 90 percent of people from Málaga will order at breakfast time. Many of them will ask for it with ham and cheese, although tomato, olive oil and a slice of serrano ham is a winning combo as well.
The second reason is that it is off the beaten path, without straying very far from said beaten path. It's literally steps from the Plaza de la Constitución, but very decidedly non-touristy. Check and check.
Address: Calle Cisneros, 1
2. La Recova
Here is a place to come if you love kitsch—La Recova is nestled into a shop selling local crafts, filled to the brim with antique things you might find in your grandmother's house (if your grandmother were from Andalusia, of course). All you have to do is ask for the breakfast and you will see why the place is packed each morning around 11 a.m.
You will be served a huge slice of toast along with little pots of jams and spreads including zurrapa (which is pork loin fried and then served in bits mixed with the fat). While the zurappa might sound unappetizing, it is in fact, the most delicious thing you will try on toast. If you're still unsure and would rather eat something more familiar, the apple jam is also worth a try.
Address: Pasaje Nuestra Señora de los Dolores de San Juan, 5
3. Casa Lola
Casa Lola is a great place to have an aperitif in the historic center of Malaga. They have vermouth on tap and the decorations on the walls are all vintage advertisements from Spain. You'll find it hard not to look around as you sip on your vermouth, which, coincidentally is the aperitif of choice in Spain at the moment. Ask for a little dish of olives and you'll fit right in.
Address: Calle Granada, 46
4. El Pimpi
It really is difficult to talk about eating in the historic center of Malaga without mentioning El Pimpi. Come here to have an aperitif rather than a meal, however. While it has become more touristic over the years, El Pimpi is still the best-known place to drink sweet wine in Malaga, and also a great place to eat in the historic center of the city.
Insider's tip: Stand at the bar in the front. It might be narrow and crowded, but the experience will be much more authentic than sitting at the terrace in the back.
Address: Calle Granada, 62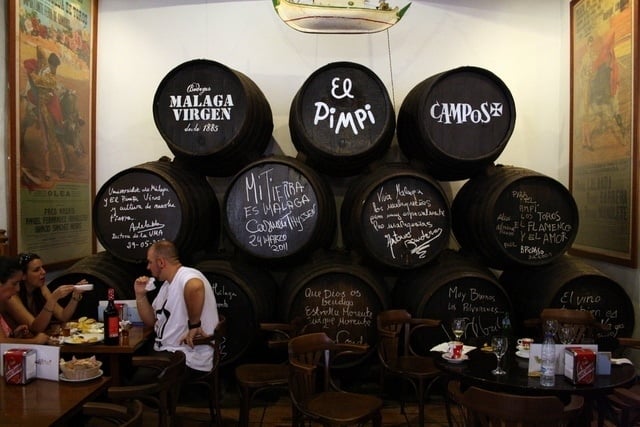 5. Taberna Uvedoble
Taberna Uvedoble is a modern restaurant with their own take on traditional tapas. Although it's small, the atmosphere is pleasant and it makes for a great place to eat in the historic center of Malaga.
Try the porra (a thick cold tomato soup) as well as the black noodles with baby squid. An added bonus is that you can choose to order a tapa or a full portion of the dish depending on how hungry you are, or if you'd like to try more than one item on the menu.
Address: Calle Cister, 15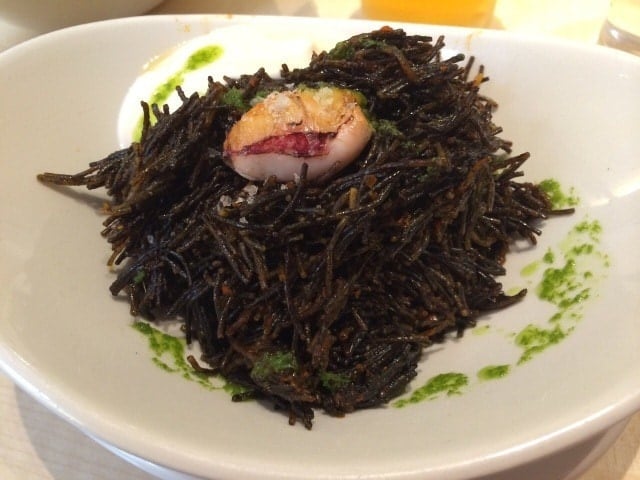 6. Restaurante Lechuga
With an original menu of the day including influences from Middle Eastern cooking as well as modern Spanish choices, Lechuga is the place to be if you're in the mood for something fresh and different. In addition to a menu of the day (Spain's best meal deal), there's also a large selection of salads and wraps. This is a perfect place if you are looking to take a break from tapas and it should definitely be on your list of places to eat in Malaga.
Address: Plaza de la Merced, 1
7. Casa Aranda
Casa Aranda is the best-known churros and chocolate shop in Malaga, as well as the perfect place to sit outside and watch people passing by. In winter they have heaters out on the terrace so you won't get cold, and you can always flag down the waiter if you decide you need more churros or extra chocolate. This is a classic place to eat in the historic center of Malaga, and not to be missed while you are visiting, especially in winter!
Address: Calle Herrería del Rey, 3
See Also: The complete guide to where to find the best churros in Malaga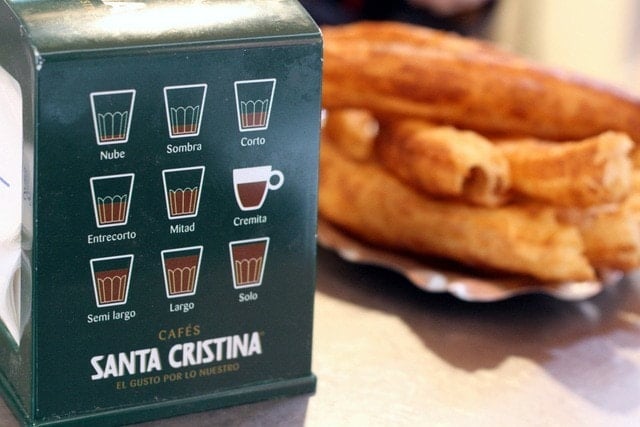 8. La Tetería
Located down a beautiful cobblestone street next to the Picasso Museum, La Tetería is a great shop to get a cup of tea and something sweet. The shop itself is quite cozy with little wooden tables and locals go there often with friends. Don't miss out on trying one of the sweets, like the lemon cake!
Address: Calle San Agustín, 9
9. Las Merchanas
Las Merchanas is a tapas bar is filled with Holy Week paraphernalia and keepsakes. It is a fantastic place to go, if only to marvel at the way every inch of the walls is covered with some kind of photo or memory, although the tapas are delicious, too!
Go with the flamenquín (pork, cured ham, and cheese rolled up and then fried) or the homemade croquettes. The interesting combination of wonderful tapas and Holy week decoration make this a really great place to eat in the historic center of Malaga.
Address: Calle Mosquera, 5
10. Wendy Gamba
If you like seafood, Wendy Gamba is a great little tapas bar to check out in the evening. The shrimp is delicious as is the mini oxtail burger. The bacalao fritters, served piping hot, are worth a try as well.
The decoration is distinctly Andalusian, although this is a newer place to eat in in the historic center of Malaga. Accompany your meal with a little glass of sherry or a glass of Victoria (the draft beer you'll find most in Malaga).
Address: Calle Fresca, 10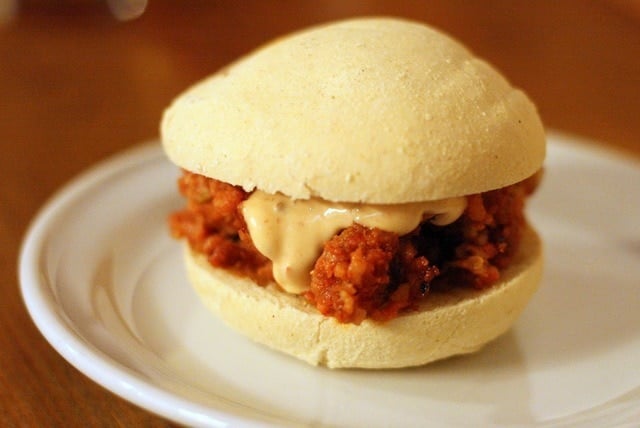 Hopefully this little guide of where to eat in the historic center of Malaga has been helpful. No one wants to stumble into a tourist trap, and if you stick to this list, you're sure to leave Malaga full and happy.
Know what to order: These must-try traditional tapas in Malaga are all great options!
Pin me!