Today Sonya shares some of the best Spanish festivals– I've only been to a couple, what about you?
Everyone knows that Spain is synonymous with fun and fiestas, and it is true that this part of the Iberian Peninsula is home to some crazy Spanish festivals. From throwing tomatoes at one another to burning the enormous figures people spent a year creating, the best Spanish festivals are quite out of the ordinary.
A traveler friendly country, it is easy to book accommodation at each of these can't-miss festivals. Whether you'll be partying with other festival goers in a budget hostel room after running from some bulls, or crashing in more luxurious accommodations after a day-long wine fight, you won't regret attending any of these crazy Spanish festivals!
10 Best Spanish Festivals for a Crazy Weekend
La Tomatina
La Tomatina tops the list as one of the craziest Spanish festivals. Once a year at the end of August, thousands gather in the town of Buñol in Valencia to throw tomatoes at one another in the name of tradition and fun!
Las Fallas
Visit Valencia city in the middle of March to experience its biggest fiesta, Las Fallas. For four days, the city transforms into a carnival of huge paper-mâché figurines, performances, fireworks, and bonfires. This famous Spanish festival finishes with a display of huge bonfires that burn all through the night.
Carnival
Parades and performances fill the air with the buzz of celebration in Spain, where huge open-air parties take over the streets. Tenerife, Cadiz, and Sitges host the most famous carnivals in Spain, so make your way to one of these towns, make sure to get dressed up, and prepare to dance through the streets all night long.
La Fería de Abril
One of the most popular fiestas in Seville, the Fería  (the April Fair) begins on a Monday night with the lighting of thousands of light bulbs strung through the fairgrounds and around the main gateway. This kicks off the weeklong celebration that includes dancing, singing and delicious food and wine. Many attendants wear traditional Andalusian Sevillanas dresses (like a Flamenco dress), making the fiesta even more authentic. This is one Spanish festival you truly can't miss, so take a weekend trip and experience it for yourself.
San Fermín
Memorialized for eternity in Ernest Hemingway's The Sun Also Rises and Death in the Afternoon, San Fermín is perhaps the most famous Spanish festival known throughout the world. You won't regret a visit to Pamplona for the running of the bulls, one of the craziest and most unforgettable of Spanish festivals.
Día de los Reyes Magos
Unlike in the United States, Spaniards exchange Christmas gifts on January 6th in celebration of the arrival of the three wise men to Bethlehem, bearing gifts for the baby Jesus. On the night of the 5th, almost every Spanish town organizes cabalgatas, parades in which the three kings walk through the streets and throw candies to the children. The next morning, children receive their presents that the wise men brought them the night before. Christmas festivities in Spain are not to be ignored, and the Día de los Reyes Magos is one of the most famous festivals in Spain.
See also: Cabalgata de los Reyes Magos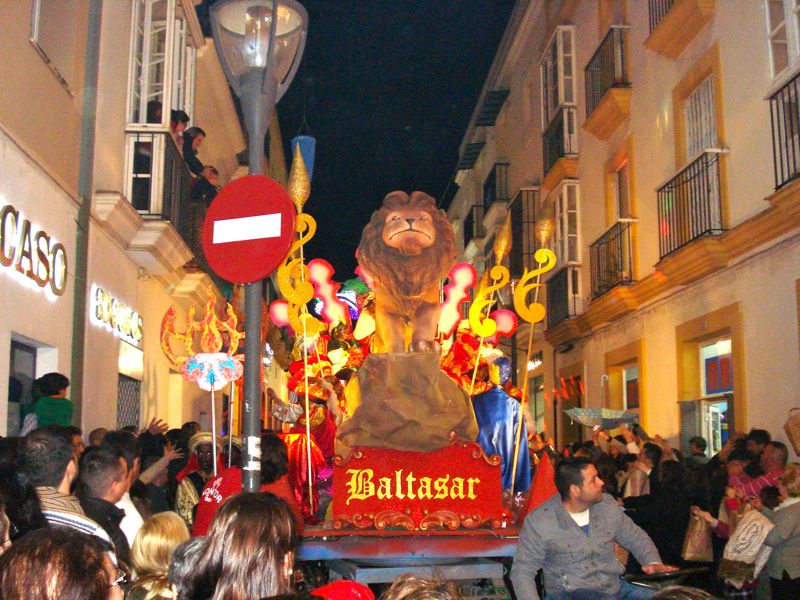 Festa Mejor de Grácia
This 8-day festival is held yearly in August throughout the streets of Grácia, near Barcelona. Over one million people visit the party to participate in the free outdoor concerts and various family activities. With the festival come beautiful decorations, with every street covered with colorful decorations and lined with little shops to buy your festival souvenirs.
Els Enfarinats
On April Fool's Day in Iba, Spain, thousands of people gather for the pure joy of throwing eggs and flour at one another. Like the Tomatina festival, Els Enfarinats will leave you covered in food and bent over laughing – what could be more fun than tossing eggs and powder all over your fellow celebrators?
La Raima
Along the same lines as Els Enfarinats, citizens and visitors in Pobla del Duc get together every year after the grape harvest has finished to reward their hard work… by throwing grapes at one another. So if you like to get your hands a little dirty, head to this famous Spanish festival and finish out your day with some famous Spanish wine from last year's harvest!
Wine Battle of Haro
The last of on our list of crazy Spanish festivals takes place in the town of Haro in La Rioja region of Spain. Rioja wine is some of the most famous in all of Spain, and every year in June the town erupts with wine drinking competitions and the Batalla de Vino (the wine battle). At 9:00 in the morning, everyone gathers for the procession and mass that start out the day, but the minute that mass ends, get ready for an explosion of wine fighting fury!
These are what we'd consider the best Spanish festivals, but there are many more. If you know of another crazy Spanish festival, leave us a comment!
Professional eater, writer, cook, food tour operator. Fascinated by food and its history. Loves: a gooey slice of tortilla, fish markets, homemade cocktails, train travel. Hates: Overhyped restaurants, wine snobs, long menus, mediocrity. Check out my food tours at www.devourtours.com.
Latest posts by Lauren Aloise (see all)