A hotel with a pool is the crown jewel of summer vacation! Especially when you're vacationing in southern Spain, where temperatures creep towards 40°C (104°F) in late summer.
We love Malaga's beaches more than anyone, but sometimes you want to relax by the water without dragging your towels, umbrellas, and family down to the coast. Luckily, there are quite a few incredible hotels with pools in Malaga that make relaxation fun and easy!
Here are six of our favorites that are perfect for swimming, tanning and more, all without leaving your home base.
Photo Credit: Miguel Discart Photos Vrac 2
Our Favorite Hotels With Pools in Malaga
1. AC Marriott Hotel
The AC Marriott is one of Malaga's most elegant and fancy hotels. At 15 stories, it is the tallest hotel in the city and towers over nearby main attractions such as the port, cathedral, Picasso museum and more. Part of their fabulous rooftop terrace includes an outdoor pool, so you can enjoy all these views while lounging or swimming. Throw in an incredible rooftop bar, and it's one of the best hotels with pools in Malaga for kids and parents alike!
Address: Calle Cortina del Muelle, 1
See more: Top 10 Things to See in Malaga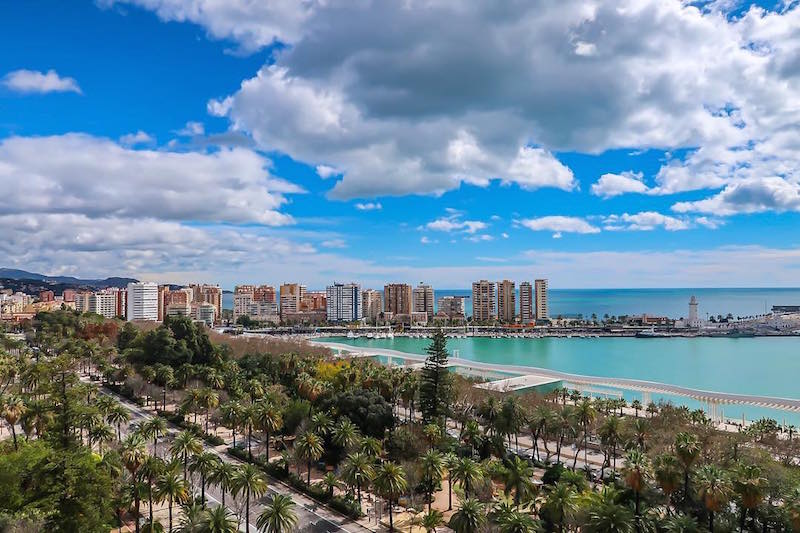 2. Molina Lario Hotel
If you're looking for one of the most unique hotels with pools in Malaga, head to Molina Lario Hotel in the historic center. Three separate buildings (two from the nineteenth century, and one that is completely new) make up this four-star hotel. The unique architecture extends to the rooftop terrace, divided into several different areas and levels. In addition to a luxurious pool and stunning city views, you'll also find a restaurant and cocktail bar.
Address: Calle Molina Lario, 20
3. Room Mate Valeria
As one of the newest hotels with pools in Malaga, Room Mate Valeria is all about expressive, modern design that still holds true to Andalusian roots. The rooftop terrace features stunning views of the port as well as Malaga's iconic Ferris wheel. Good music, good vibes and a fun, eclectic atmosphere make this the perfect place to relax after a long day of sightseeing!
Address: Plaza Poeta Alfonso Canales, 5
4. Gran Hotel Miramar
You'll have to venture a little ways out of the city center to arrive at the Gran Hotel Miramar. However, once you see its stunning stately façade, you'll know that staying here was the right decision. Aside from its perfect location right by the beach, it's one of our favorite hotels with pools in Malaga for obvious reasons. Its elegant, luxurious rooms will make you never want to leave! As for the pools themselves, they feature both a full spa area with a thermal circuit, hammam, sensations pool and more, as well as a separate pool just for kids.
Address: Paseo Reding, 22-24
5. Parador de Malaga Gibralfaro
Malaga's historic Gibralfaro Castle is one of the city's must-see sights. Why not stay directly within the castle itself? It's possible at Parador de Malaga Gibralfaro, one of our favorite hotels with pools in Malaga. The views from up here are also incredible, but completely unique to those from hotels in the city center. As a bonus for couples, the hotel is also home to a beautiful romantic restaurant, making it the perfect home base for a romantic getaway.
Address: Castillo de Gibralfaro, s/n
6. Sallés Hotel Malaga Centro
This huge hotel, located just a stone's throw from the city center, offers two sophisticated room styles. At Sallés Hotel Malaga Centro, you can choose whether you want a traditional or modern room. As one of our favorite hotels with pools in Malaga, it also offers a fun rooftop terrace with unique views and a full bar in addition to the pool. There's no better place to grab a drink and enjoy the views!
Address: Calle Mármoles, 6
Now that you know where the best hotels with pools in Malaga are, start planning the rest of your trip!
Malaga Travel Guide