Semana Santa (Holy Week or Easter Week) in Spain is a big deal. From the famous processions in Seville and Malaga to the days off that both kids and adults enjoy, it's a time of year that everyone has marked on the calendar! My favorite part of Semana Santa in Spain? The delicious Semana Santa recipes of course! Read on to discover some of my favorite Spanish Semana Santa recipes, from sweet to savory.
Simply delicious!
My Favorite Spanish Semana Santa Recipes
1. Chickpea and spinach stew
I'll start with one of my favorite Semana Santa recipes (and one of my go-to easy tapas recipes all around), espinacas con garbanzos (chickpeas and spinach). This delicious Spanish tapa can be found in Seville year round, but in the rest of Spain, it makes a special appearance at Easter time. Some even add salt cod to the recipe, to make it a more hearty and filling main dish.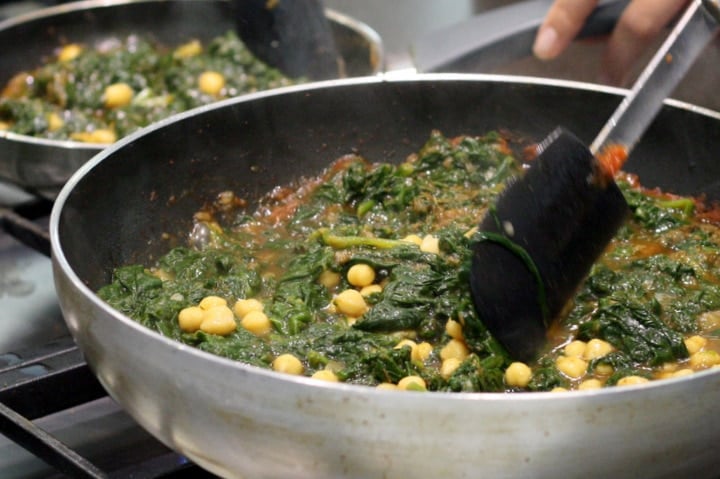 Recipe: Spanish Chickpeas and Spinach Stew
2. Torrijas
Probably the most famous Semana Santa recipe, torrijas are a sweet treat prepared throughout Spain for Holy Week. Every region has their version-- from the torrijas de leche (milk soaked torrijas) that are spiced with cinnamon and popular in Madrid, to the anis soaked version in nearby Chinchon and the honey-soaked ones that I love from Andalusia. There are hundreds of torrijas recipes out there, but all are sweet and delicious.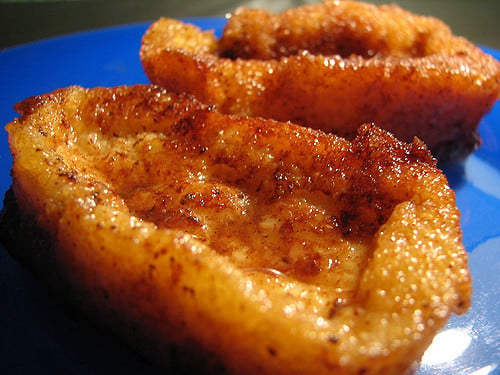 Recipe: Spanish torrijas for Semana Santa
3. Bacalao croquettes
Salt cod (bacalao) is a very popular Semana Santa food throughout Spain. In the Catholic tradition, eating meat is prohibited on holy days and salt cod has historically been a way to prepare a delicious meat-free meal. There are hundreds of Semana Santa recipes featuring salt cod, but one of the most popular snacks you'll find are crispy salt cod croquettes. They make the perfect tapa, and will keep your energy up if watching the hours-long processions!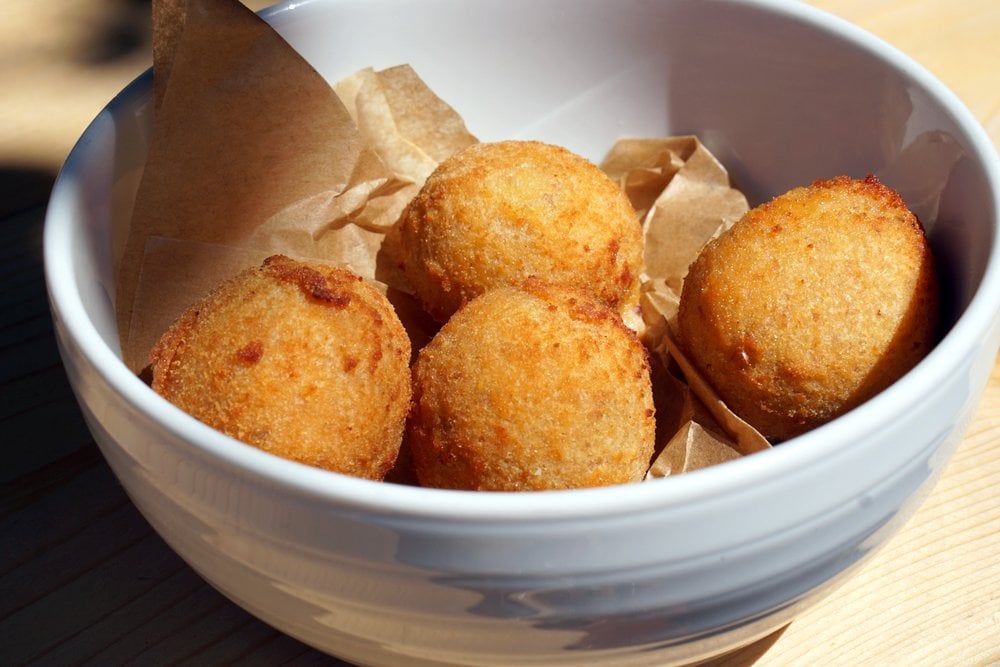 Recipe: Spanish salt cod croquettes
4. Pestiños
In Andalusia, pestiños are another Semana Santa recipe you'll find in bakeries at this time of year. Traditional pestiños are pieces of fried dough, soaked in spiced honey and aniseed. These little cookies are addictive, and have been for many years! There are references to pestiños going all the way back to the 1500's and these delicious bites are strikingly similar to the Moroccan chebakia.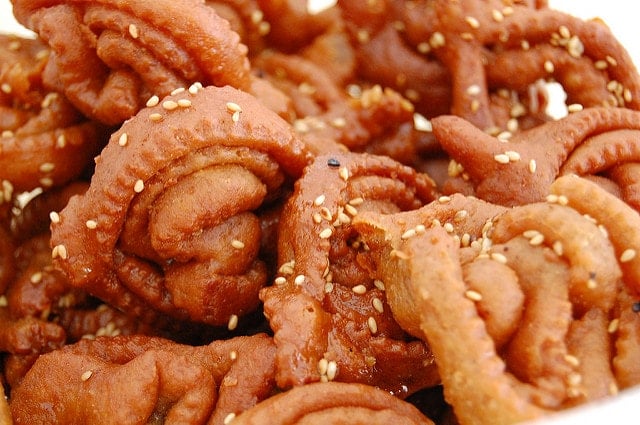 Recipe: Traditional Spanish pestiños
5. Buñelos de Viento
Homemade donuts are delicious no matter where you are in the world, and Spain is no exception! Buñelos de Viento are a delightful Semana Santa recipe that everyone adores. These bite-size donut holes are fried in olive oil and rolled in sugar, try to eat just one!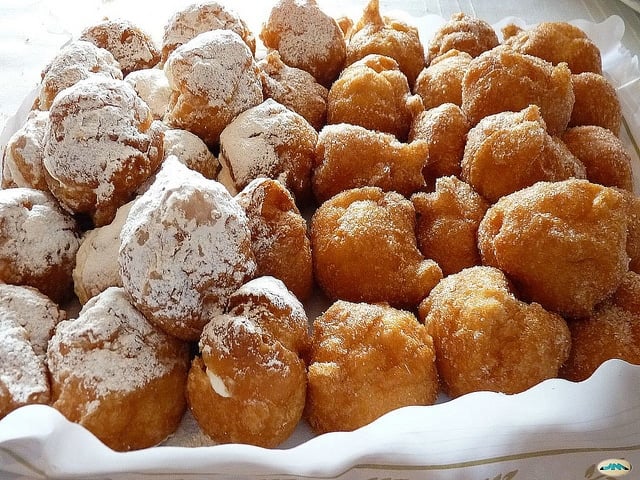 Recipe: Homemade Spanish donuts
6. Bacalao and potato stew
Another classic salt cod recipe is a simple dish of cod and potato stew. It might not sound impressive, but it's one of those meals that fills your stomach and your soul! Dig into a hearty bowl of this yummy Spanish stew with a loaf of crusty sourdough bread and I guarantee you'll understand what I mean.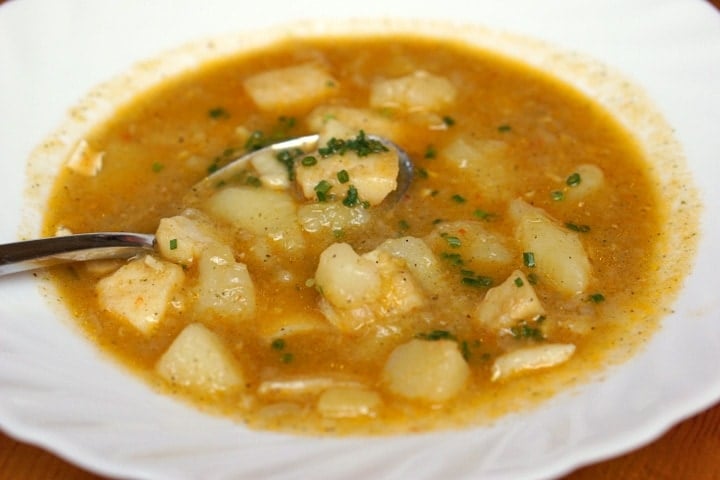 Recipe: Easy cod and potato stew
7. Tortas de la Abuela
My mother-in-law doesn't bake often, but when it comes to Semana Santa sweets she has us covered! She not only makes delicious torrijas and pestiños, but also usually adds these simple and delicious tortas de la Abuela (fried dough with honey) to the mix. She also makes her famous arroz con leche (as if we needed more sweets on the table!).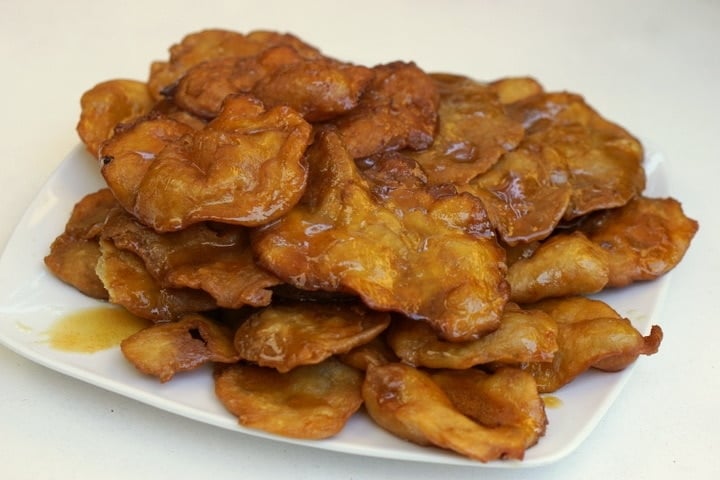 Recipe: Spanish fried dough with honey
Any classic Spanish Semana Santa recipes I've missed? Let me know in the comments!