Everyone needs some time on vacation to kick back and relax by the pool!
Granada is no exception. After taking the time to explore all the nooks and crannies of this beautiful city, you'll undoubtedly be tired. It's important to have a comfortable hotel to call home base during your travels. And if your hotel has a pool? Even better! Here are some of our favorite hotels with pools in Granada so you can relax and recharge in style.
Photo Credit: Alan Light, Text Overlay: Devour Granada Food Tours
7 Top Hotels with Pools in Granada
1. Macià Real de la Alhambra
This comfortable, modern hotel is perfect for business and leisure travelers alike. Macià Real de la Alhambra features a relaxing spa and wellness area, making it the perfect place for a little "me time." When you're ready to get back out and explore, its convenient location—at the crossroads of the Alhambra, the Sierra Nevada mountains and the city center—is unbeatable.
Address: Mirador del Genil, 2
2. Hotel Carmen
Hotel Carmen's main charm is its prime location in the heart of Granada. This four-star hotel is an easy addition to any list of the best hotels with pools in Granada due to its amazing views! The rooftop pool offers spectacular views of the Sierra Nevada as well as the city itself.
Address: Acera del Darro, 62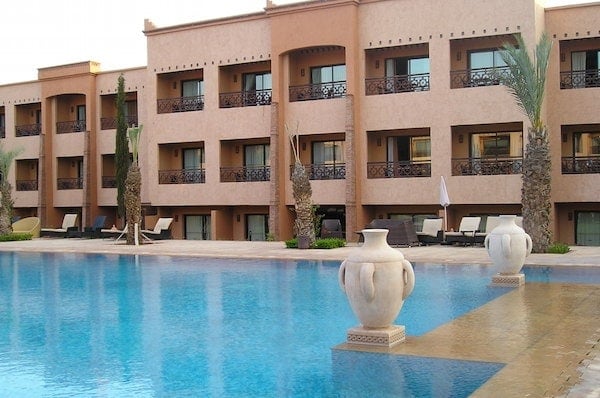 3. La Bobadilla
More than just one of the best hotels with pools in Granada, La Bobadilla is also the most luxurious! Located in a charming village on the outskirts of town, it's the perfect place to escape the hustle and bustle of the city and just relax. It even has some famous fans: its past clientele include the likes of Brad Pitt and Michelle Obama!
Address: Carretera Salinas-Villanueva de Tapia, Km. 65 (Loja)
4. Balneario de Lanjarón
Want to use your travels to give yourself a fresh start? If so, Balneario de Lanjarón is the place for you! This charming health resort is located in one of the main Moorish villages of the Alpujarras. The medicinal waters of the Sierra Nevada are almost magical! The beautiful mountain village is one hour from Granada and 30 minutes from the coast, so continuing your travels is a piece of cake once you've finished your stay.
Address: Avenida de Madrid, 2 (Lanjarón)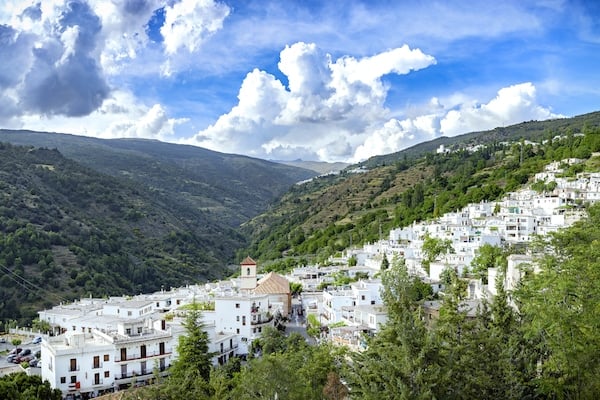 5. Hotel Granada Palace
This modern hotel with spacious rooms and terraces is located just 10 minutes from the city center. Hotel Granada Palace is a beautifully decorated, Moorish-inspired space and one of the most unique hotels with pools in Granada. It also features a delicious breakfast buffet.
Address: Calle Diego de Siloe, s/n
6. Eurostars Washington Irving
Inspired by the famous American writer and his Tales of the Alhambra, this gorgeous five-star hotel is located directly in front of Granada's most famous attraction. Recently reopened after a several-year closure, its literary decorations and beautiful rooms make it better than ever.
Address: Paseo del Generalife, 10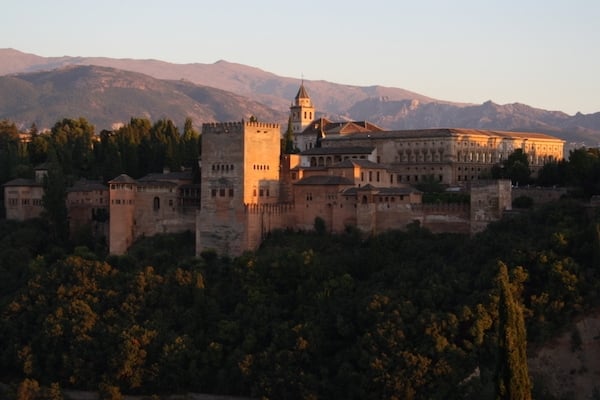 7. Abades Nevada Palace
Abades Nevada Palace is perfect whether you're visiting Granada for business or pleasure. Although the hotel is full of stunning detail, the enormous pool is the main attraction for sure. As a bonus, it's located close to the suburb of El Zaidin, renowned for its tapas!
Address: Calle de la Sultana, 3
Once you've recharged and relaxed, head back out on the town! There is a lot to see, do and eat in incredible Granada!