Granada's unique blend of traditional tapas bars and top-notch international cuisine have seen it become a real haven for food-lovers in recent years. As a result, there are plenty of things to do in Granada for foodies.
But with such a wide variety of delicious options available in the city, deciding where to start can be a daunting task. The young, college-town vibe in Granada has given rise to a new and exciting food culture, but "new" doesn't necessarily mean "modern." Instead, contemporary ideas stand alongside long-standing national culinary traditions in a fascinating gastronomic combination. Ready to experience this unique foodie culture for yourself? You won't want to miss any of these things to do in Granada for foodies.
The Best Things to Do in Granada for Foodies
1. Try some typical Spanish produce
No visitor to Granada should miss the chance to sample some of Andalusia's finest delicacies. When it comes to Andalusia, there are few better places to start than with a slice of sublime cured ham. Contreras Selectos (Paseo del Salón, 8) is a small, high-end boutique food store specializing in Spanish deli products and their pièce de resistance is jamón iberico de bellota—cured ham from free-range pigs fed solely on acorns—the pinnacle of Iberian charcuterie.
It's not just ham here, though, and as far as a wide range of quality products and a welcoming atmosphere are concerned, there are few better spots in the city than Al Sur de Granada (Calle Elvira, 150). This small shop-cum-bar has one of the finest delicatessens in town. The rustic beer-barrel seating area makes for a cozy, welcoming environment. Kick back and accompany your glass of wine with a selection of gourmet products including cheese, olives, meats and fish.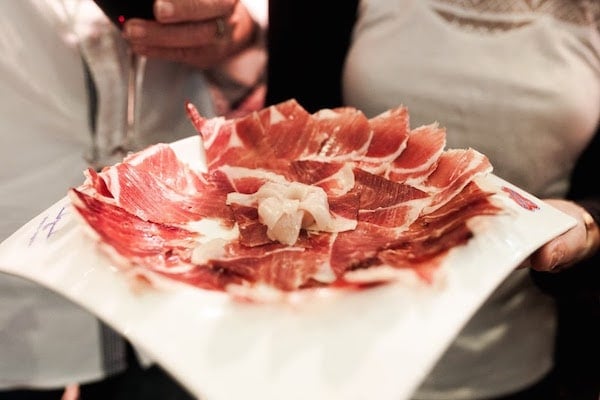 See Also: Where to buy jamón ibérico in Granada
2. Learn about the perfect cup of coffee at La Finca Coffee
Coffee lovers, prepare to be dazzled by this innovative and stylish establishment right in the heart of Granada, where coffee is considered an art form. Whether you just want to pop in for a quick cup of joe or have always fancied yourself a barista-in-the-making, this place has it all. At La Finca Coffee, the best coffee in town is complemented by a range of events from coffee tasting to training days on the "art of the latte." It really is a caffeine lover's paradise and the friendly staff and modern decor add to a fantastic experience.
Address: Calle Colegio Catalino, 3
3. Visit a local market
What is most striking about Granada's famed food market, Mercado San Agustín, is the sheer size of it. This market covers three blocks of the city center and is teeming with fresh fish, meat and fruit and veg, but in spite of its size, the market still maintains its local neighborhood feel. What's more, you'll find a colorful and exciting selection of spices, a legacy of the city's Moorish past. If you're looking for things to do in Granada for foodies, this place should be near the top of your list.
Address: Plaza de San Agustín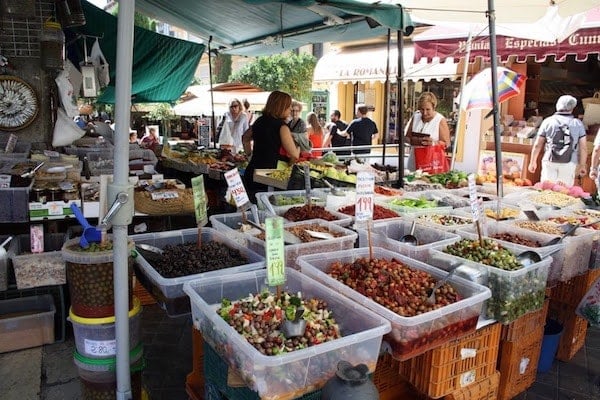 4. Get to know your wines
Everyone knows that good food goes hand in hand with fine wine. With that in mind, you must take the chance to sample some of the finest examples available on the continent. The fermented grape has been a Spanish staple for as long as the country has been around. However, on the international wine scene, the Spanish are often considered poor relations of our French neighbors.
In recent years, though, that image is changing—and with good reason. Spain has seen itself ascend to the zenith of modern winemaking and Granada is as good a place as any to see why. There are plenty of great wine bars in Granada, each with a staggering selection of local wines and a well-informed proprietor who can help to pick out the best tipple for you, whatever your tastes. This is a wonderful evening activity if you're looking for things to do in Granada for foodies.
Address: Calle Molinos, 3
5. Go for tapas
It would be a sin for any food-lover to come to Granada and not experience the Spanish culinary experience that is tapas. More than just some light bites accompanying a round of drinks, tapas are a central part of the nation's social culture. Going for tapas is an essential part of any list of things to do in Granada for foodies, and the possibilities for quality establishments are endless. It really is a widespread custom among granadinos and tourists alike, who are looking for a light dinner and an enjoyable night out on the town. 
See Also: Top 10 Tapas Bars in Granada
6. Take a cooking class
You've experienced the best flavors Granada has to offer—now learn to make them yourself. Granada offers many different cooking classes aimed at helping visitors learn to cook the Spanish cuisine they've grown to love. It's a great way to recreate the memories of your trip at home in your own kitchen!
Not sure where to start? Try Escuela Montalbán or Javier Vílchez Cooking School. English-language classes are available and aspiring cooks of all skill levels are welcome.
7. Take a delicious day trip
Granada's fabulous food scene stretches beyond the limits of the eponymous provincial capital. The surrounding towns and villages are full of their own culinary gems, each more delicious and surprising than the last. Whether your plan involves tucking into a hearty plato alpujarreño or learning everything you can about Montefrío's famous cheese, nothing beats getting up close and personal with some of the most typical food in Granada in the humble villages each dish calls home.
Ready to go? Book one of these great day trips from Granada now!
Pin me!