This blog post was originally posted on August 16, 2016 and was updated on November 30th, 2016.
The more you travel, the more you'll realize that it's not just about eating good food, but also experiencing the culture that goes with it. But what does that mean in Malaga?
It's one thing to avoid tourist traps; it's another thing to do as the locals do. But the truth is that if you follow some useful tips of local advice, your travels will be all the better for it—after all, no one wants to be eating at the wrong time and be the only person in the restaurant, or miss an important piece of malagueño culture! To help you have the best experience ever, here are some insider tips for how to eat like a local in Malaga.
How to Eat Like a Local in Malaga
1. Start the day with a local breakfast
The best way to eat like a local in Malaga is to start with a malagueño breakfast, of course! Next to the beautiful San Juan Church, you'll find a little alley that's home to a cute antique and craft shop that also happens to be a local bar, called La Recova (Pasaje Nuestra Señora de los Dolores de San Juan, 5). As if eating among beautiful antiques is not special enough, they have delicious food to top it off!
The only thing on the menu in the morning is the "Farmers Breakfast," which is toast delivered with a plate of five different homemade spreads—both sweet and savory—and of course, a strong, freshly brewed coffee. When it comes to great breakfasts in Malaga, this is definitely up there with the best of them.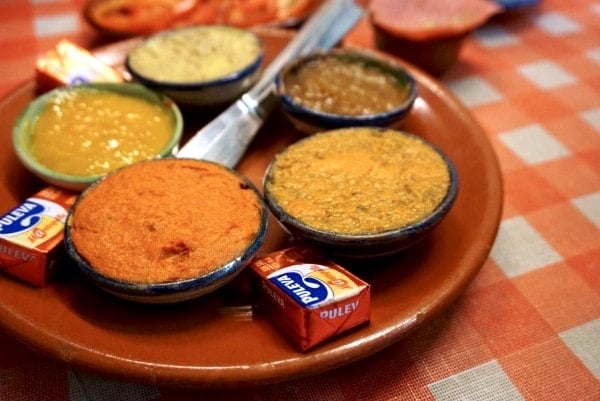 See Also: More top picks for breakfast in Malaga
2. Dig into some churros
Another way to start your day like a malagueño is to go for churros. These typical fried dough sticks are best dipped in some sugar or chocolate and make a great breakfast, or even a late afternoon snack! Head down to the small alley where you'll find Casa Aranda (Herreria del Rey, 3), a malagueño institution and one of the best spots in the city to enjoy churros. You'll see this alley filled with locals every morning, enjoying their perfect sweet start to the day.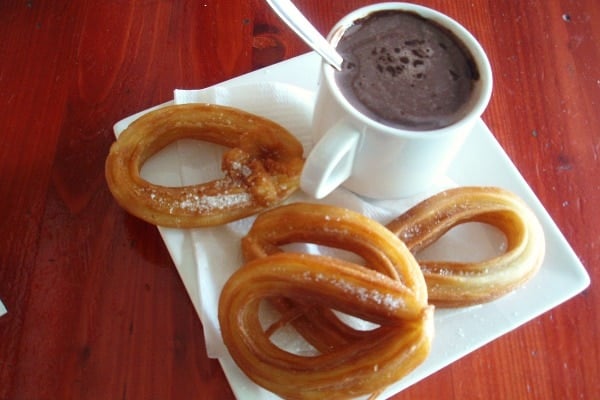 See Also: Top picks for churros in Malaga
3. Pay a visit to Mercado de Atarazanas
With more than 350 days of sun every year, Malaga is one of Europe's sunniest and warmest destinations. That being said, a picnic by the beach sounds like the recipe for a perfect day—but where do you get your picnic supplies?
The best place to find fresh, delicious food is one of Malaga's local food markets, the most iconic of them being Mercado de Atarazanas (Calle Atarazanas, 10). This building is filled with amazing stalls selling fish, meat, fruit, vegetables, and more, and because most of the products in this market are grown in Malaga, the prices are all very reasonable. All you have to do is wander around the market, pick out your favorite foods, and head to the beach.
See Also: Essentials for a Kitchen in Malaga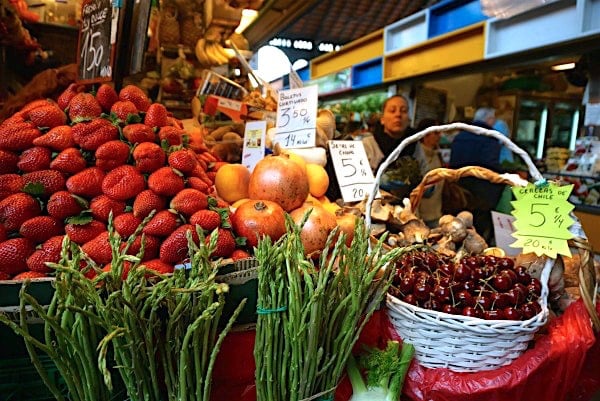 4. Head down to the beach for espetos
Once you're at the beach, you'll immediately smell the grilled fish. All the beach bars along the boulevard have little boat barbecues out on the sand where they grill skewers of fish and seafood. The best and freshest seafood is found a little bit out of the city, so head down to El Cabra on Pedregalejo to try a true local favorite: espetos. Digging into these salty, freshly grilled sardines is an absolute must, and a great way to indulge in an iconic malagueño favorite.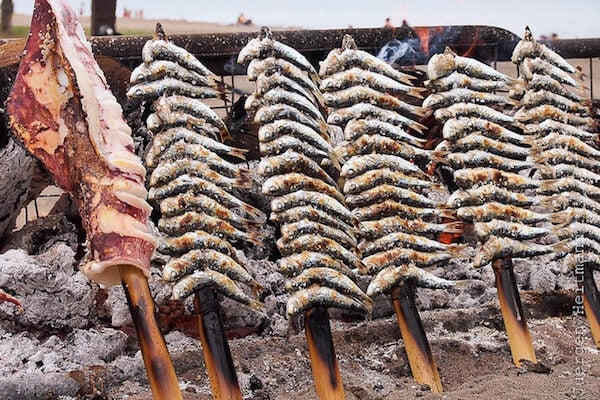 5. Don't go looking for paella
Paella is very well known as a typical Spanish food so it's no wonder a lot of people come to Malaga—or any given city in Spain—seeking it out. But the truth is, paella is not a typical dish from Malaga, and often the paella served in restaurants has come straight from a packet—practically a food crime! But no worries—there are plenty of typical Malaga dishes that are even better than a touristy frozen paella. Look out for:
Ensalada Malagueña: A typical Malaga salad made out of boiled potatoes, olives, salt cod, and oranges.
Boquerones: These are little white anchovies, either served raw in vinegar or fried and drizzled with lemon juice.
Porra Antequerana: A lovely cold tomato based soup, thicker and richer than its more famous cousin, gazpacho.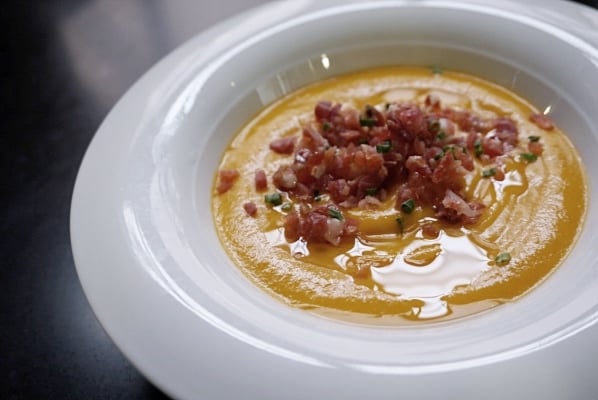 6. Switch it up and eat your main meal at lunchtime
Malaga is filled with bars and restaurants that look appealing at any time of day. But if you truly want to know how to eat like a local in Malaga, you have to keep in mind that lunch is the most important meal of the day. Traditionally people would have gone home for a big, long lunch with family, then take a little nap called a siesta after eating. While times are changing and locals don't always take as long of a long lunch break as they used to, it's still the most important meal of the day—and some people do still find the time to have a little siesta after!
7. Join the locals for merienda
Around 5 or 6 p.m., locals flock to the streets again to gather in bars and cafes and enjoy a merienda, which is basically Spain's answer to afternoon tea. People will take a break and relax with a coffee in hand, and of course, something sweet to go with it.
One of the best spots for a merienda in Malaga is Julia Bakery (Calle Carreteria, 44). This cute little bakery sells the most delicious pastries, making it the ideal place to sit down and relax before the evening begins.
8. Eat tapas standing up
The best way to eat dinner in Malaga is to keep it casual and go for tapas. But remember: in many traditional bars, tapas can only be eaten standing up at the bar or the high barrel tables! Eating like this means you can enjoy a tapa or two and then move to the next place, sampling bites at different places throughout the evening.
Check out Meson Mariano (Calle Granados, 2) for delicious home-cooked traditional tapas, or head to Wendy Gamba (Calle Fresca, 10) for some modern takes on tapas, including their locally famous bull burger which is not to be missed.
If you choose to sit down, you'll usually be obliged to order raciones, larger plates for sharing, which means that you'll find yourself in one place for the evening enjoying a longer, drawn out meal.
9. Eat late
Malaga gets plenty of sunlight, and locals love to spend warm evenings out and enjoying life. And after such a big lunch—the most important meal of the day, remember!—and a sweet and satisfying merienda, it means that dinner also usually happens quite late.
Most restaurants don't open before 8:30 p.m., which means having dinner at 10 p.m. or later is totally normal. You'll even see lots of children out until late at night, especially on weekends! But don't worry—dinner is also typically the lightest meal of the day, and sometimes even just a tapa or two will suffice, especially if you've been eating like a local all day long.
10. Finish off an action-packed day with a drink to wind down
Still got a little bit of energy after dinner or what to relax with a drink to finish off the night? Locals love going to relax with a gin tonic at one of Malaga's great roof terrace bars, or if you feel like something a little bit different, why not check out Malaga's craft beer scene?
Craft beer places are becoming more and more popular in Malaga, and one of the best places to enjoy it is La Madriguera Craft Beer (Calle Carreteria, 73). The design is modern, the atmosphere is hip, but the beers are local—just like the clientele. It's the perfect place to end a great foodie day in Malaga.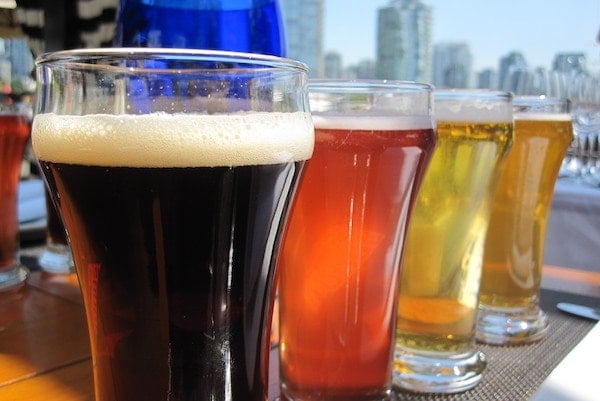 See Also: Top tapas bars in Malaga you should check out
Pin me!
Photo Credit: Ken Hawkins