Spain's nightlife scene is legendary all over the world, and that of Granada is no different. Following a late dinner and possibly some drinks, locals don't even hit the clubs until the wee hours of the next morning, and it's not uncommon to stay out until the sunrise marks the official start of a new day. Think you can keep up? Here's your insider's guide to nightlife in Granada so you can party like a local.
Guide to Nightlife in Granada
1. La Higuera
Start your evening with some drinks in a beautiful terrace garden at La Higuera! Tucked away into the backstreets of the Albaycín, it's a little hard to find, but well worth the effort. There's nothing better than enjoying drinks out on the peaceful terrace on a lovely summer evening as you listen to the sounds of local musicians putting on an impromptu show. After a fun and relaxing start to your evening here, you'll be ready to hit the clubs.
Address: Calle Horno del Hoyo, 14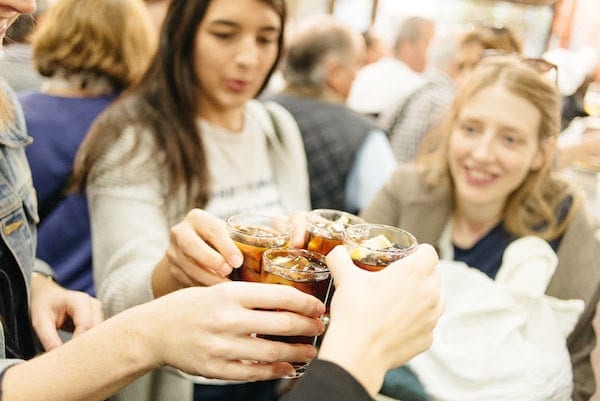 2. Pub Kocran
A classic for nightlife in Granada formerly known as El Son, Pub Kocran is a popular spot just off of storied Calle Elvira. This place owes its popularity both to its welcoming atmosphere for all ages as well as its fun variety of music. With a bar upstairs and the nightclub itself on the lower floor, don't be surprised if you show up before 2 or 3 a.m. to find it empty. It will undoubtedly fill up later in the night with local revelers ready to dance the night away.
Address: Calle Joaquín Costa, 13
3. Discoteca Aliatar
Located in a beautiful old movie theater, Discoteca Aliatar's vintage elegance makes it a unique place to experience nightlife in Granada. The classy setting combined with an eclectic, modern vibe have helped it earned its places as one of the most popular clubs in the city. The dance area on the top floor glowing with fluorescent lights is the perfect place to dance until dawn, and if you're in town in December, it's also one of the hottest places to spend New Year's Eve in Granada.
Address: Calle Recogidas, 2
4. Pata Palo
Loud, energetic and teeming with locals, Pata Palo is one of the most authentic places to spend a night out in Granada. With a focus on alternative and rock music, it's the perfect place to experience nightlife in Granada if you're looking to get away from the pop and reggaeton hits popular at other clubs. Join the locals and order a round of shots as you take it all in, then get out on the dance floor yourself!
Address: Naranjos, 2
5. Quilombo
Tucked away into the winding streets of Realejo, you'll be able to hear the beats thumping out of Quilombo from blocks away. The unique Moorish decor gives its interior quite a lovely touch, but the music is nothing but modern. They host DJs from all over Europe spinning the hottest techno beats well into the morning hours. Their amazing drink selection cements its place as one of the must-experience places for nightlife in Granada.
Address: Calle Dr. Guirao Gea, 1
6. El Camborio
For incredible nightlife in Granada in one of the most beautiful, typical Andalusian settings, head to El Camborio. This enormously popular nightclub in Sacromonte is a favorite among students, but anyone is welcome to enjoy the fun and vibrant atmosphere here. Enjoy stunning views of the Alhambra from its outdoor terrace area as you dance the night away to the hottest Spanish and international pop tracks.
Address: Camino del Sacromonte, 47
7. Plantabaja
No matter what your tastes are, you'll fit right in with the diverse crowd at Plantabaja. This unique venue features two distinct areas: a relaxed, lounge-like vibe on the top floor, with hip hop and funk blaring in the basement (the planta baja!). From DJ sets to excellent cover bands and more, the music here is as varied as the cosmopolitan crowd that comes to enjoy it.
Address: Calle Horno de Abad, 11
See Also: Refuel after your late night at one of these spots with the best breakfast in Granada.
Pin me!