This blog post was originally posted on November 27, 2015 and was updated on December 13, 2017.
Malaga at Christmas really goes all out, from the light displays on Calle Larios to the delicious treats at the pastry shops and everything in between. In fact, it has been named the best city to spend Christmas in Spain (according to Antena 3 TV)—and not for nothing. Of course, this is a city that shines for any kind of party, such as the Feria in August, Holy Week in the spring, or the bonfires at San Juan to welcome summer. But why is the Costa del Sol capital the best place to spend the winter holidays? These 50 things to do in Malaga at Christmas will give you an idea.
50 Things to Do in Malaga at Christmas
1. See the famous lights on Calle Larios
2. Have churros at Casa Aranda (Herrería del Rey, 3)
3. Take a tour of the Alcazaba by night.
4. Take advantage of the nice weather and go for a stroll on the beach
5. Eat roasted chestnuts from the vendors on the Alameda Principal
6. See the massive nativity scene at the town hall
7. Go shopping at the Christmas market on Avenida de Cervantes.
8. Warm up with a glass of sweet wine at Antigua Casa de Guardia (Alameda Principal, 18).
9. Pop into a museum and get a dose of culture.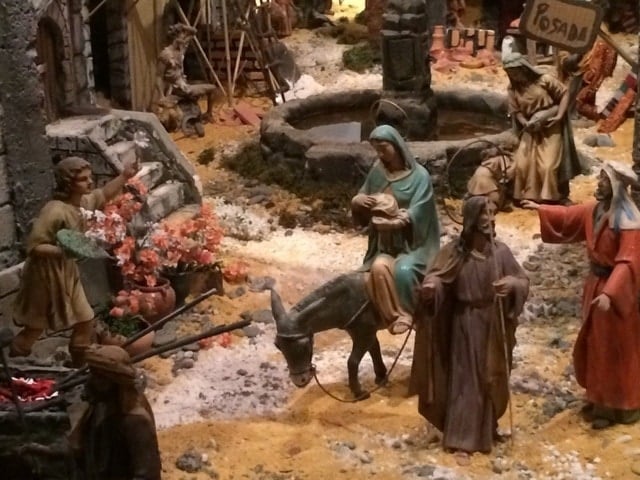 10. Go ice skating at the rink by the Corte Inglés
11. Ask the Three Kings for your holiday wishes.
12. See the Three Kings Day Parade and collect as much candy as possible (regardless of how old you are!)
13. Take a ride on the ferris wheel and see the lights from above
14. Take a stroll down Muelle Uno, Malaga's colorful port area, and enjoy the holiday market near the Pompidou Center
15. Enjoy the Fiesta de los Verdiales
16. Learn to cook some typical holiday foods at a cooking class
17. Shop for some unique gifts at the vintage stores in Malaga
18. Visit the English Cemetery to learn about the history of this unique place
19. Take a break from holiday shopping and enjoy a coffee at a café in Malaga
20. Eat a "rosco de vino de Málaga"—a crumbly cookie dusted with powdered sugar
21. Try to find the best borrachuelos (cookies folded over themselves and covered in honey or sugar) in town
22. Make sure to have some delicious jamón de bellota (acorn fed ham). Lots of people buy their own ham leg for the holidays.
23. Enjoy the hustle and bustle on Calle Nueva and Calle Larios
24. Take a drive up to the mountains for a plate of migas or a plato de los montes
25. Visit the butterflies in Benalmádena
26. Have something to eat or drink at a terrace (sitting outside in the sun without a jacket!)
27. Pop into El Corte Inglés for a dose of extreme holiday cheer
28. Collect figurines for your own nativity scene from the holiday markets
29. Go to the orchestra at the Cervantes Theater
30. Sample some craft beer and catch up with old and new friends
31. Eat 12 grapes for good luck in the new year in Plaza de la Constitución as soon as the clock strikes 12
32. Dance until dawn in the city center on New Year's Eve and then grab a slice of pizza afterwards while heading home to sleep it off!
33. Enjoy the view from the Castillo Gibralfaro—undoubtedly a classic
34. Get lost in the charming whitewashed streets of Mijas
35. Visit the holiday market in the neighborhood of La Paz and stay until the stalls close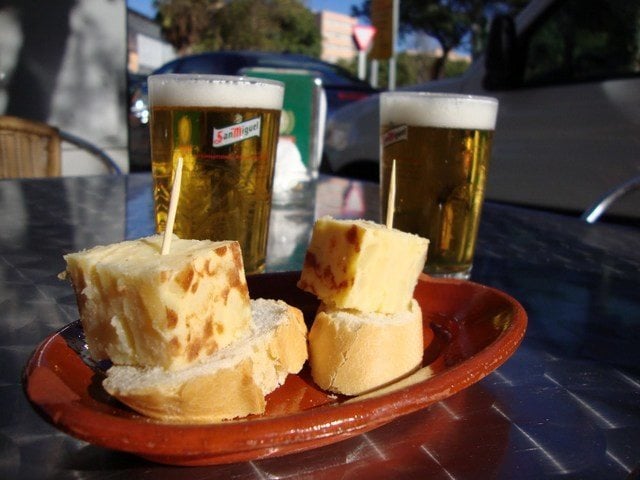 36. Spend an evening at El Pimpi (Calle Granada, 62) drinking too much sweet wine and feeling especially malagueño
37. Eat a papa asada in the center of town—these baked potatoes are unlike any other and smell too good to pass up!
38. Visit the casas corralones in the neighborhoods of La Trinidad and El Perchel when they're all decorated for the holidays. Malaga at Christmas is undeniably beautiful!
39. Try an oloroso sherry to go with crumbly polvorones
40. Go to the movies at Cines Albéniz and spend a cozy afternoon indoors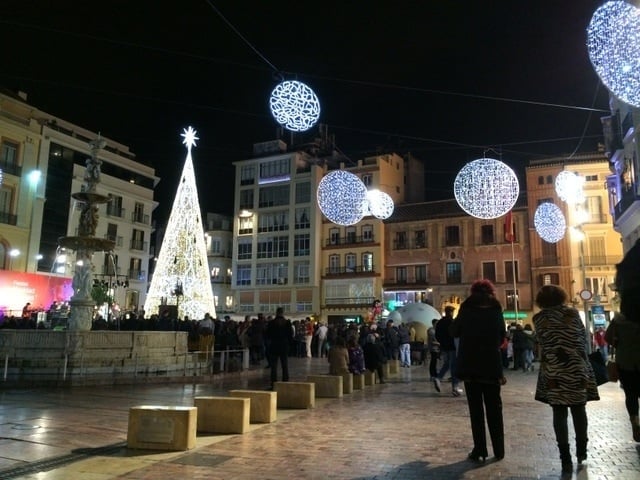 41. See a performance at the Cervantes Theater
42. Go for tapas—the holidays are the perfect time to meet up with friends, and eat!
43. Play a joke on someone when "Day of the Innocents" (Spain's answer to April Fools' Day) rolls around on December 28
44. See the camels (and the three kings) at Bioparc Fuengirola
45. Eat Roscón de reyes on January 6
46. Leave your shoes out and see if the Three Kings bring what you wished for—as long as you've been good!
47. Buy a ticket for El Gordo and El Niño (because you never know...you might win the Spanish lottery!)
48. Take a walk in the countryside around Malaga and basically just enjoy being out in nature in the mild temperatures.
49. Practice ordering coffee like a malagueño at Café Central (Plaza de la Constitución, 11).
50. Go to the different churches and decide which nativity scene you like the best.
Still not convinced? Here's why you should visit Malaga in winter
Pin me!