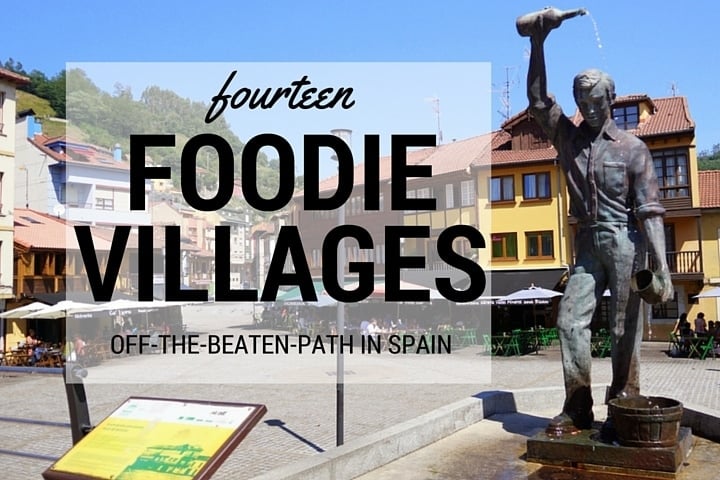 Grocery shopping in Spain is a day-long affair. First there's the fruit and vegetable shop, then the butcher, the fish monger, the dried beans and spices stand, the cheese store, the wine shop and finally the baker's. Every item on my shopping list has its own specialty store and corresponding expert shopkeeper to sell me exactly what I want. (Amazing, right?!)
But this specialization is not only true in Spanish shops, it is also true in the towns and villages across Spain where these products are made. You have the blue cheese village and the Iberian cured ham village. There is the fortified Sherry wine village and the runny tortilla village, just to name a few...
Visiting these small villages in Spain is like stepping into an artisanal world where tradition dictates often century-old recipes. No matter where else you find that foodie delight, it never tastes as amazing as in the pueblo where it was made.
1. Guijuelo: Iberian Ham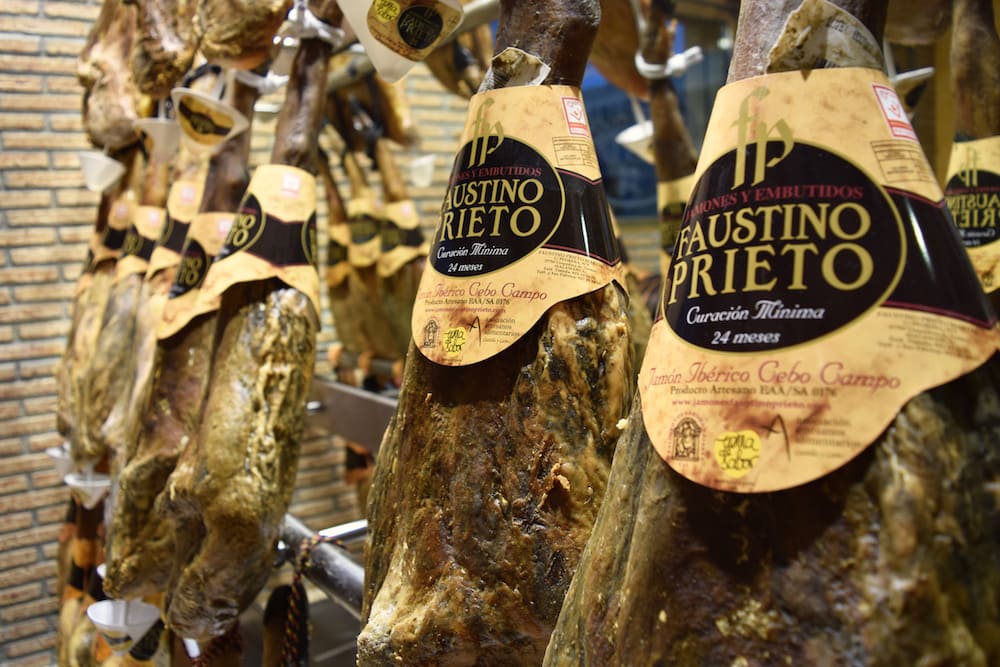 The moment we pulled into Guijuelo it was impossible not to notice the ham legs hanging in every shop window. This village of less than 6,000 residents produces more than half of all the Iberian cured ham in Spain.
Groves of trees laden with acorns stretch as far as the eye can see around the town, which lies just south of Salamanca in the region of Castilla y León. The black shapes that will later become some of the best hams in Spain rummage from tree to tree, scarfing down each fallen acorn.
Learn the different between the good and the great with Spanish ham 101!
2. Baeza: Olive Oil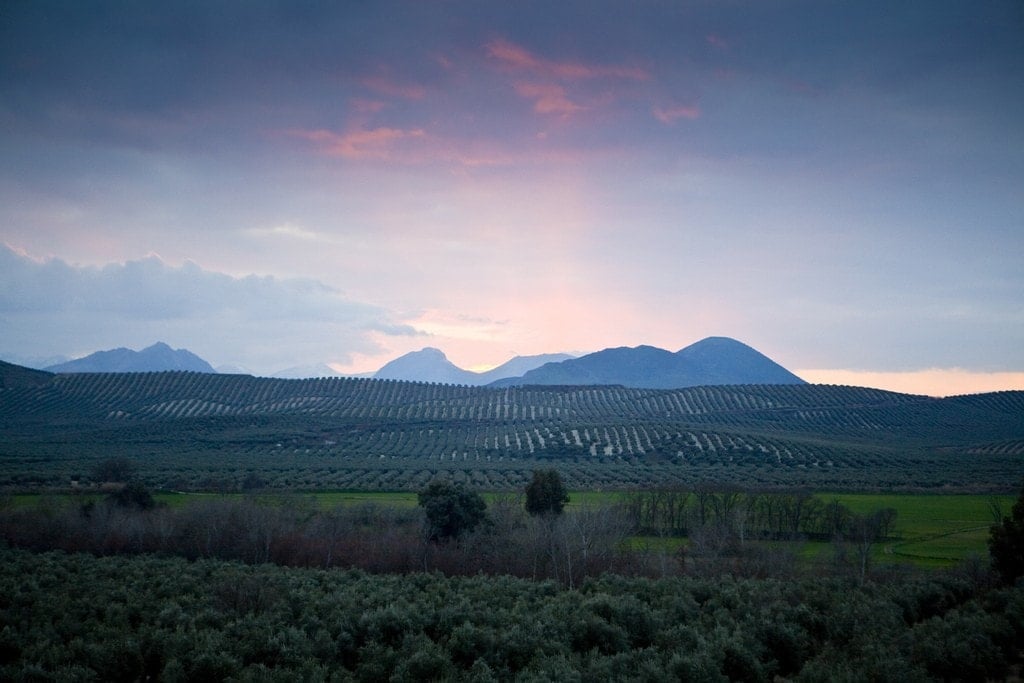 This UNESCO World Heritage Site, while packed with Roman and Bronze Age architecture, is far more famous for its liquid gold than its historical jewels. Baeza, a town of about 16,000 in the southern region of Andalusia, sits in the heart of the largest olive oil producing region in the world. More olive oil flows through here every year than in all of Italy combined!
Read more about Spanish olive oil here.
3. Logroño: Red Wine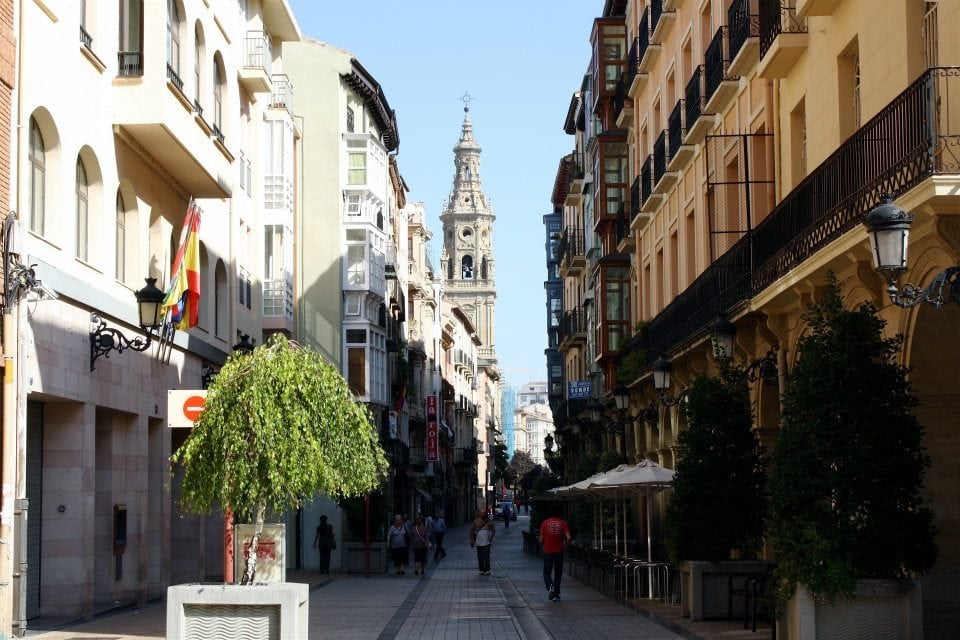 There are few better places to taste the prowess of Spanish red wine than in Logroño. As the capital of Spain's most famous wine region, La Rioja, this town of 150,000 is meeting (and tasting!) point of some of Spain's top wines. Tapas bars with eye-popping wine lists pack the city, especially along Logroño's famous Calle Laurel.
4. Jerez de la Frontera: Sherry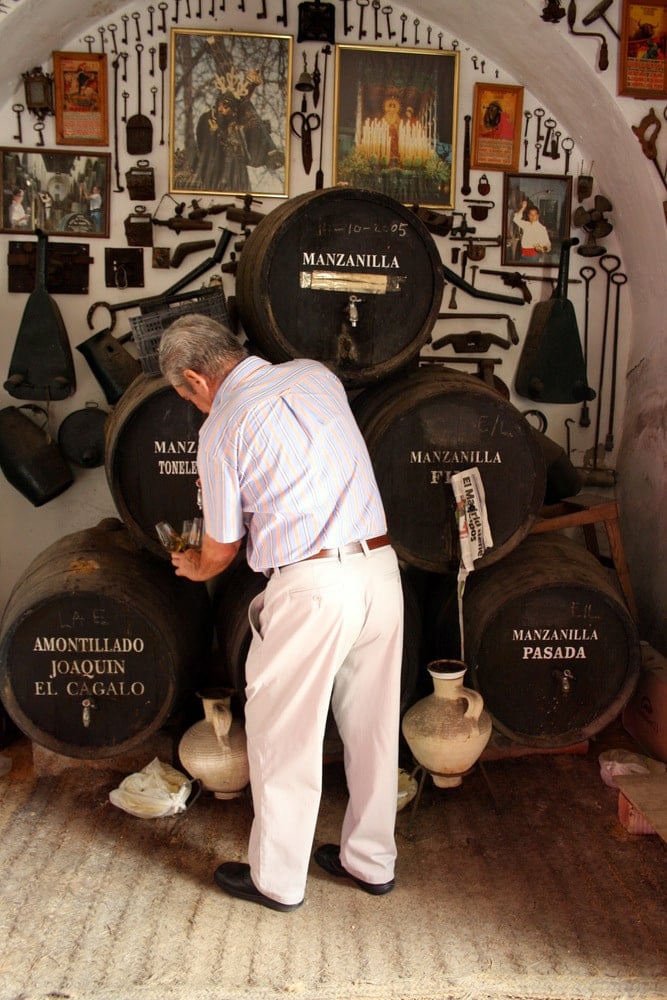 Century-old barrels stacked five rows high line the walls of Jerez de la Frontera's many wineries. This is Sherry country, the only region in the world that can officially make this long-aged fortified wine. With seven different Sherry styles, ranging from dry fino to syrupy Pedro Xímenez, there is more than enough sipping to be done for a long weekend in Jerez!
5. Betanzos: Tortilla de Patatas
The small Galician village of Betanzos is the place that changed the face of Spanish tortilla. This most classic of Spanish dishes is an omelet of sorts made from potato, egg and sometimes onion. While most tortillas can be easily cut into slices (much like a pie), the Betanzos style tortilla is a ooey-gooey concoction that oozes everywhere when sliced.
This runny tortilla is so popular that it even has a festival dedicated to it. Every October the bars and restaurants of Betanzos compete for the title of best tortilla, serving their tapas of tortilla for 1€ during the week-long tortilla extravaganza.
Try this gooey tortilla recipe-- the best one ever!
6. Santoña: Anchovies
Don't hate on anchovies until you've tried anchovies from Santoña. This village of 11,000 people on Spain's northern coast is the Mecca of anchovies. Tons of the tiny fish come through Santoña's port each year where they are cleaned and cured in salt for at least 6 months. The anchovies are then filleted packaged in olive oil to be sold in Spain and around the world.
7. Corme: Goose Barnacles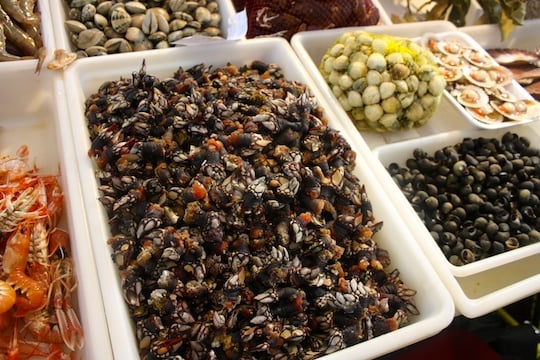 Goose barnacles, or percebes as they are known in Spanish, are one of the most dangerous foods in the world to harvest. These two-inch-long barnacles cling to the craggy rocks of the treacherous Galician coastline.
Every July Corme, a tiny town on Galicia's northwestern coast, is converted into the worldwide hub of goose barnacles for the annual Fiesta del Percebe de Roncudo. A mass celebrates the barnacle collectors that died on the job that year. A parade weaves through the town's main street and, of course, buckets and buckets of percebes are devoured at the outdoor tents!
Visiting Galicia? Here are 12 More Galician seafoods that you must try!
8. Barbate: Tuna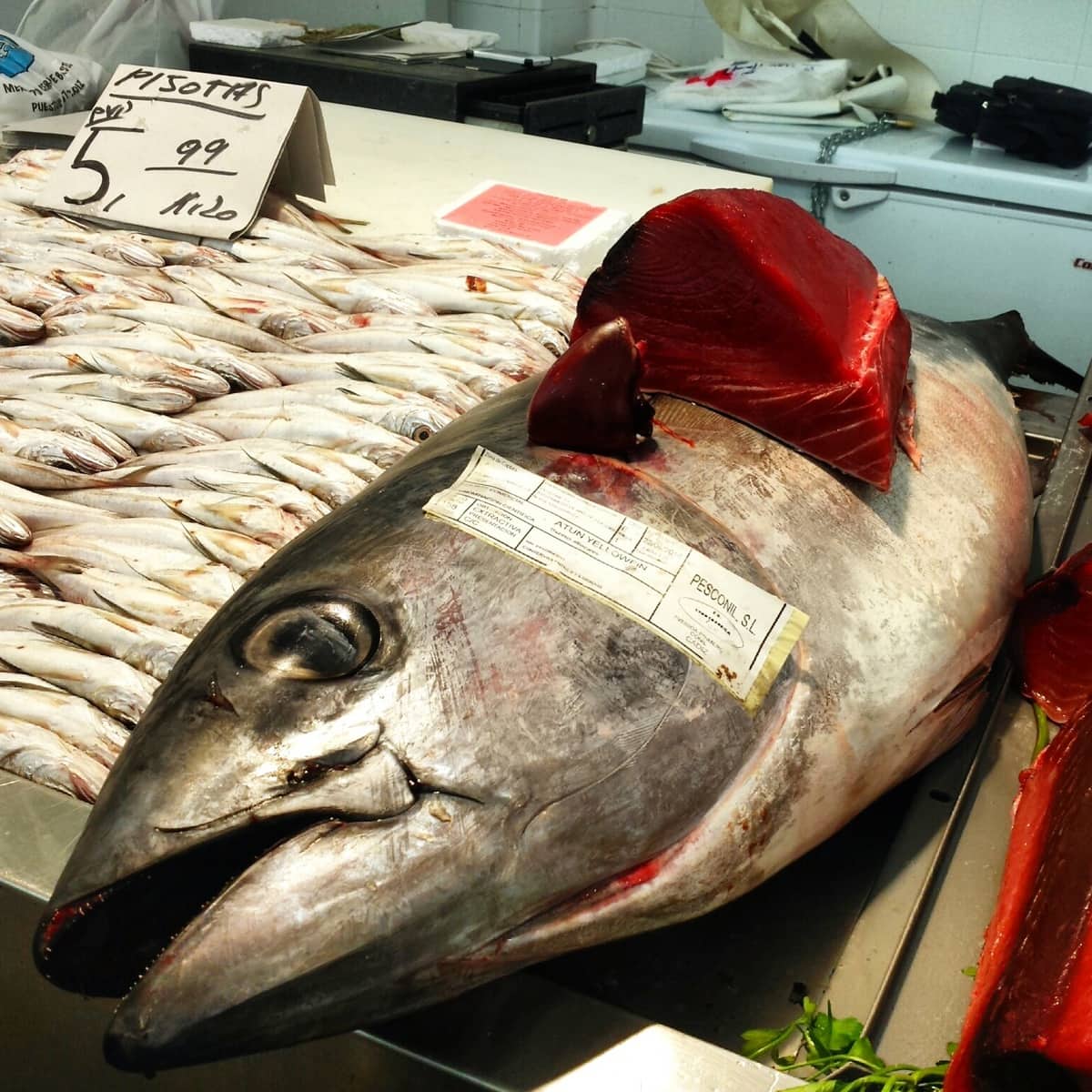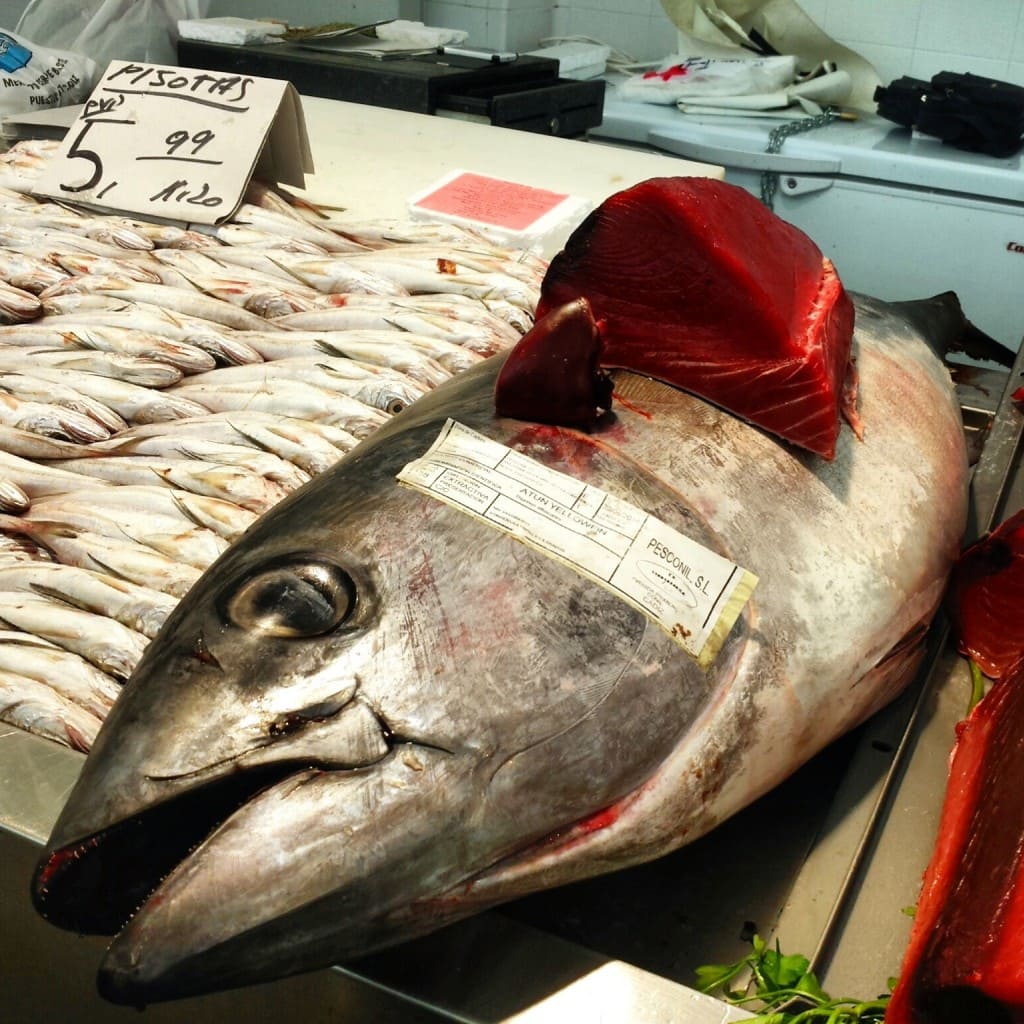 The fishing village of Barbate along the southern coast near Cadiz has been fishing tuna using the same methods for 3,000 years. This traditional tuna fishing method, known as almadraba, is famous throughout Spain for catching the country's most scrumptious tuna.
Almadraba season is in May and June and trust me, you don't want to miss it. Fishing boats attached to giant round nets float in an ever-widening circle in the narrow Gibraltar straight between Africa and Europe. As the circle widens, the nets become taught, drawing the tuna closer and closer to the surface. When silvery fins start flashing across the surface expert fisherman spear these giant fish, hauling them aboard. Be sure to try the mojama, the wind-dried, salty tuna filets that Barbate does best.
9. Valls: Calçots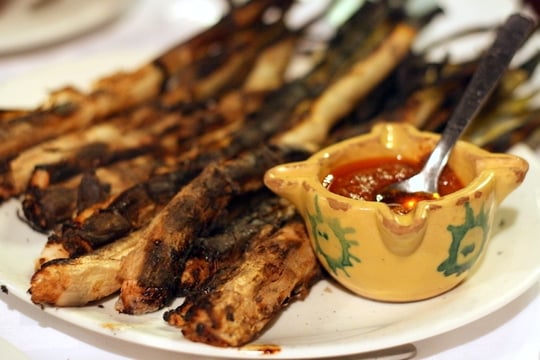 When the streets of the Catalan city of Valls fill with fire each January, you want to be there. Bundles upon bundles of Catalan scallion-like onions called calçots are charred on these street side flames, then dipped in a smokey, nutty sauce called romesco. The result is a mouthful of vegetable so marvelous, you'll never want to miss another Calçotada, the Grand Fiesta of Calçots.
Check out this article for calçots 101-- everything you need to know about calçots (and where to eat them!).
10. Jiménez de Jamuz: Steak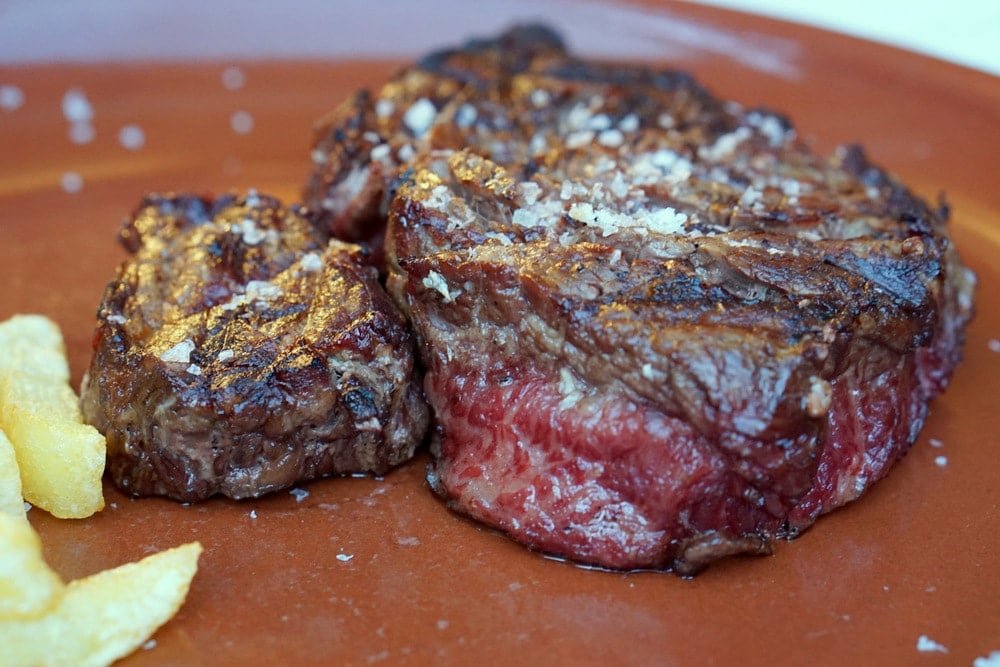 This tiny, dusty town in Castilla y León is nothing short of world famous (among meat-lovers at least!). Time, The Guardian, Traveler Magazine and others have put Jiménez de Jamuz on the map, claiming it is home to the world's best steak.
This bold title goes to the aged ox steaks from El Capricho restaurant and ranch. Oxen standing nearly as tall as men roam the sparse fields around Jiménez de Jamuz, making the perfect backdrop to the thick, 90-day cave-aged steaks on the tables.
Tip: Combine your stop in Jiménez de Jamuz with a couple of foodie days with Esme Tours, a completely off-the-beaten-path gastronomic retreat in León!
11. Jaraíz de la Vera: Paprika
Two varieties of peppers that will soon be ground into Spanish paprika hanging to dry
It's not just spaghetti westerns that have made their way from the Americas to the southern Spanish region of Extremadura. In Jaraíz de la Vera, it's all about the long, red peppers that Columbus brought to the region from his discoveries in the New World.
Today those pepper are responsible for making Spain's classic red paprika. A whopping 3.5 million kilos of the spice flows through this unassuming town each year!
Find out more about the spices of Spain here!
12. Plasencia: Cherries
Millions of tiny white flowers blanket the lush green slopes of the Jerte Valley every April and May. The cherry blossom bloom here is a sight so beautiful, few places in the world can rival it. Mere months later, the thousands of cherry trees that fill this valley are laden with 35,000 tons of cherries.
Every year the magnificent cherry blossoms are celebrated with a two-week long cherry festival filled with more products featuring cherries than you could ever imagine!
Taste it: Inspired by the Jerte Valley cherries, here's our apricot and cherry crisp recipe!
13. Arenas de Cabrales: Blue Cheese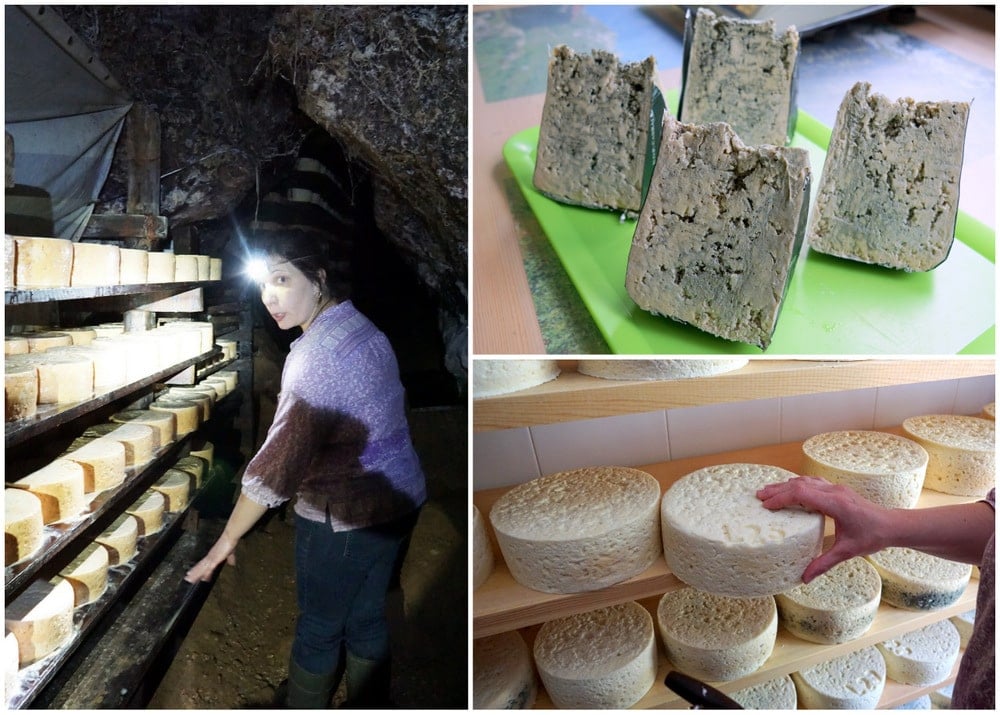 Squeezed between the Bay of Biscay to the north and the Picos de Europa National Park to the south is a town making cheese so sharp it makes gorgonzola seem mild. Arenas de Cabrales in the northern region of Asturias hosts the region's annual Cabrales festival.
People gather from around the mountainous countryside during this week-long fair to celebrate the ultra-spicy blue cheese made in the caves surrounding the town. Intense cheese and endless pours of Asturian hard cider? Sign me up!
Read more about foodie to-dos in Asturias here!
14. O Carballiño: Octopus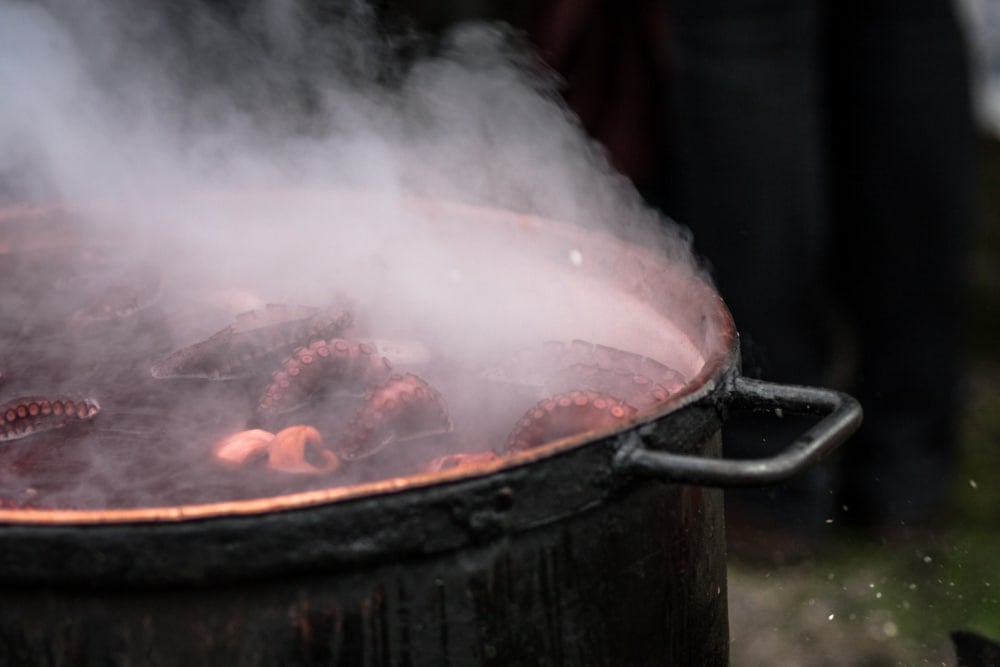 Giant copper pots of bubbling purple water simmer as far as the eye can see during O Carballiño's octopus festival the second week of August. This tiny Galician village located just north of the Portuguese border is home to the largest and most impressive tribute to edible octopus in Spain!
Octopus is only one of the must try foods in Galicia-- and there's a year full of Galician food festivals too!
Have you visited any of these foodie villages in Spain? Any towns that we missed? Let us know in the comments!