Today David shares his experience in finding the best food tours in Lisbon. A must-read for any food lover headed to Portugal!
Lisbon is known for many things. It boasts stunning baroque architecture, incredible nightlife, and some of the best food in Europe! And it's not for nothing that Lisbon is a foodie's dream. With culinary delights like pastel de nata, ginjinha, and enough salted cod recipes to last a lifetime, this city has so much to offer.
So no trip to Lisbon would be complete without taking a local food tour! But where should you start?
In a city this big (and with this many hills), you don't have time to go trekking in search of food. Plus, the best food in town tends to be far off the beaten track, away from some of the glitzier tourist traps. Luckily, I've done the research for you, and discovered the best food tours in Lisbon!
Whether you want to take one of the small group food tours or get away from the crowds on a self-led culinary walk, these six food tours are the perfect way to make your time in Lisbon extra tasty.
Full disclosure: I work with Devour Tours, mentioned in one of the routes below. It's because of this that I've tried so many food tours in Lisbon and truly feel that you cannot go wrong with anything on this list!
6 Best Food Tours in Lisbon – A Route for Every Foodie
1. The Must-Try Traditional Foods of Lisbon Tour
Looking to try some authentic, traditional food in the heart of Lisbon's old town?
If so, this classic food tour is for you. Try the traditional foods that locals love, and learn the history of the city through its most iconic tastes. On this tour, you'll visit three classic and historic neighborhoods, and try food and drink rooted in Lisbon's Christian, Jewish, and Muslim cultures.
How to take this Lisbon food tour
The Tastes & Traditions of Lisbon Food Tour by Devour Tours visits seven family-run establishments across three traditional neighborhoods. When we designed this tour, our mission was to only visit small, family-run eateries where quality meant more than quantity. We want to hear the stories of the people behind the restaurants, and what their food means to them.
Over three and a half hours, you'll learn about the traditional foods that locals love, and learn about Lisbon's culture at the same time! Taste classic pastries at Lisbon's oldest bakery, gorgeous cured Iberian ham at a family-owned deli, as well as the canned sardines that helped to put Portuguese food on the map. And that's not even mentioning the amazing salted cod cooked by a local granny, and Anthony Bourdain's favorite Portuguese street food!
Trust me, this tour is the best way to discover the Lisbon that locals love. Book this tour here.
More information: Tastes & Traditions of Lisbon Food Tour
2. The One-and-Only Pastel de Nata Tour
Are pastéis de nata not the best pastry in the world? I can eat 100 of these amazing custard tarts and still want more. It's incredible that something so simple can be so delicious, but that's the key to Portuguese food; perfection lies in simplicity!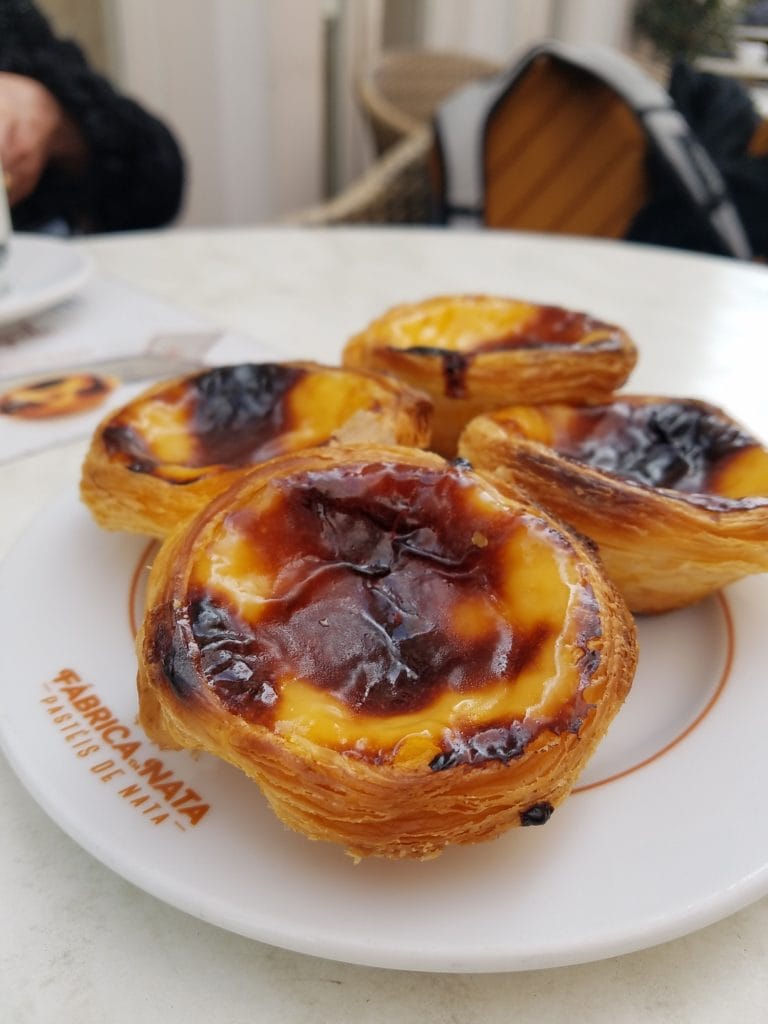 Locals love arguing about which pastelaria makes the best tarts in town, but why choose just one?! On this self-guided food tour, you'll try the best of the best, and learn why pastéis de nata are the pride of Portugal.
And while you're at it, don't miss my authentic recipe for homemade pastel de nata!
How to take this Lisbon pastel de nata tour
Calories can be a tricky thing, so you might want to break these stops down over a few days, or at least a few meals! Bookmark the locations on Google Maps, and check them off one by one. Luckily, they're all within walking distance of each other, but you can also try public transport or take a cab if Lisbon's hills are giving you grief.
In true local fashion, you can eat these pastries pretty much all day, too! Locals grab them for breakfast, as an afternoon snack, and even as a sweet midnight treat!
The essential stops for a Lisbon pastry tour
3. A Self-Guided Intro to Portuguese Wine
Want to try some wines you've never heard of, made with grapes whose names you can't pronounce? Portugal has you covered. This is one of the most exciting wine regions in Europe, and there's so much to taste and discover.
No trip to Lisbon would be complete without a tasting of some of the classic wines that locals have loved for centuries. Some of the names on this tour might be familiar, like port, but hopefully, there'll be a few surprises to delight you along the way! And how do you even pronounce ginjinha?!
How to take this self-guided Lisbon wine tour
While you can visit these stops in your own order, I've put together a recommended itinerary. This wine tour route will help you try these classic wines in the order that locals would try them, too!
The essential Lisbon wine tour stops
A Ginjinha: This old-school hole in the wall bar is the perfect place to start your wine tour. Here, you'll try ginjinha—the sour cherry liqueur famous throughout Lisbon. This bar has been open since 1840, and touts itself as being one of the original spots in the city that served this deliciously sweet and boozy concoction! It's open from 9am through to 10pm at night; and you'll see locals coming in for a shot of ginjinha at all hours of the day. As an aperitif, it's a great way to kick off your tour. Largo São Domingos, 8.
Ginjinha Sem Rival: The next stop on your self-guided tour is just a 3-minute walk up the road! This ginjinha bar is standing room only, and currently owned by the grandson of the original owner. As their name ("Without Rival") suggests, they reckon that their ginjinha is even better than the classic from A Ginjinha down the road! But on this tour, you'll want to skip the ginjinha and order their other famous drink: Eduardino. Said to have been invented by a clown who worked in the nearby theater district, this is another special Lisbon liqueur made with bitter herbs, fruit, and anise. Rua das Portas de Santo Antão, 7.
Falis Wine Bar: At this trendy wine bar just off Lisbon's main drag, it's time to try some of Portugal's best white wines! While most people associate Portugal with big reds, there are some amazing whites on offer, too. Try something made from the Arinto grape, popular in the wineries just north of Lisbon. Crisp and minerally, it's a great pairing alongside Lisbon's ubiquitous salted cod. Rua Assunção, 15.
Antiga Wine Bar: Next up, you'll visit this wine cave near the Alfama district to try some reds. A Portuguese wine tour wouldn't be complete without trying a wine from the Douro Valley! These inky wines are luscious and rich, and some of the most sought after wines in the country. Aside from Douro, don't miss some of the more modern reds from the hotter local region of Alentejo! Rua Santo António da Sé, 10.
Portologia: Just down the road, you'll finish your self-guided wine tour with a trip to this bar specializing in Port wines. These wines have captivated the world with their complexity and finesse, and their sweet, nutty, spicy flavors are the perfect way to round off your wine tasting! Get a port wine flight to sample a few different varieties, from the refreshing white ports through the fruity rubies and nutty, spiced tawny ports as well. Rua de S. Julião, 34-36.
4. A Canned Seafood Tour of Lisbon
Spend just a day in Lisbon and you'll learn one inescapable truth: these people loved canned fish.
Portugal is world-famous for the quality of its seafood, whether fresh or straight from a tin! You can sample horse mackerel, tuna, sardines, octopus, eel and so many more delicious things in a variety of pickles, marinades, brines and sauces. This has been part of Portugal's cuisine since the 1850s, but went out of favor until the last few decades.
But these cans have an amazing renaissance, and locals and tourists alike collect them by the bagful—all looking for the delicious flavors that develop inside the tin. So when you're in Lisbon, don't miss out on these unique local delicacies!
This self-guided Lisbon food tour will let you try a whole range of canned treats, and you can either buy them to eat in the moment or take home to savor later!
The essential stops on a canned seafood tour of Lisbon
Sol e Pesca: This classic deli only serves magical delicacies from cans. You can try more types of seafood than you can probably name, with plenty of different preparations! It's also on Pink Street, one of the most Instagrammable locations in Lisbon. Rua Nova do Cavalho, 44.
Conserveira de Lisboa: Open in the charming Baixa neighborhood since 1930, this old-world store sells some of the prettiest canned fish in the city. The Portuguese canning industry is known for their colorful, artistic decorations, and this store is as much an art gallery as a foodie installation! Rua dos Bacalhoeiros, 34.
Can the Can: This trendy, waterside restaurant features Fado music and a menu boasting a variety of canned delicacies. For more adventurous eaters, try their Enguias de Murtosa, local eels pickled in escabeche! Praça do Comércio, 82.
A Sardinha Tem Lata: Located in the traditional and charming Alfama neighborhood, this funky sardines store is the perfect place to satisfy your canned seafood cravings! Make sure to try the sardines from José Gourmet, a modern take on the classics. Rua São Miguel, 52.
See also: All about canned fish in Lisbon
5. The Essential Time Out Market Tour
Since 2014, the Time Out Market has been a key feature of Lisbon's food scene. There's been a market here since the year 1100, originally named the Mercado da Ribeira Velha. But in this new revamped spot, the market aims to showcase the best of the best of Lisbon's cuisine.
Here you can find delicious versions of Portuguese classics, as well as modern and international tastes too. There are 26 restaurants, 8 bars, and a dozen stores to help make your foodie dreams come to life! On this self-guided tour of the market, you'll get to try bites that give you an insight into local food culture.
To take this Lisbon market food tour, head to the Time Out Market in the Cais do Sodré district, at Avenida 24 de Julho, 49,
The must-visit spots in the Lisbon Time Out Market Tour
Cheese and ham board from Manteigaria Silva: This family-run deli has its permanent store in Lisbon's city center, but this market outpost is a great place to sample some traditional meats and cheeses. Try some of Portugal's best Iberian ham (here called presunto ibérico) as well as local goat and sheep cheeses. Stall #26
Cod à Brás from Miguel Castro e Silva: This Porto-born chef prepares tasty versions of Portuguese classics, and his bacalhau à Brás is no exception! Think salted cod, mixed with hand-cut french fries, fried eggs, and fresh spring onions. Stall #10.
Octopus and black tapioca from O Surf & Turf: As the name suggests, this stall specializes in the mix of land and sea. Portugal has miles of coastline, and incredible farm and grazing land, and this dish will let you try the best of both! Stall #3.
Croquettes from Croqueteria: These small, deep-fried bar snacks are a Portuguese institution, and nowhere does them better than Croqueteria! Try the classic meat stew version topped with homemade mustard, or some more innovate fillings with cuttlefish or local sausages. Stall #13a.
Roast Pork Sandwich from Balcão da Esquina: Another stall specializing in classic Lisbon street foods, this sandwich from Balcão da Esquina is a must-eat item on any market tour. Aside from marinated pork, this sandwich also packs purple onions, tomato, and a mustard emulsion. Stall #2.
Strawberry Ice Cream from Santini: Open since 1941, this ice cream parlor is a local hangout. Their flavors are always changing, but classic strawberry is beloved by Lisboetas. Stall #19.
6. The Best Bifana in Lisbon Food Tour
Never heard of the bifana? Don't let any locals know! This is Lisbon's favorite sandwich, and locals passionately debate where to get the best one in town.
And like plenty of Portuguese classics, this sandwich is pretty simple! Take a papo seco (a traditional small Portuguese bread roll) and fill it with marinated pork steak, drizzle on some extra marinating juices, and that's it! Made with a variety of local spices from bay leaves to paprika, the marinade is super warm and tangy. There's also white wine, garlic, and lemon juice for zing and zang!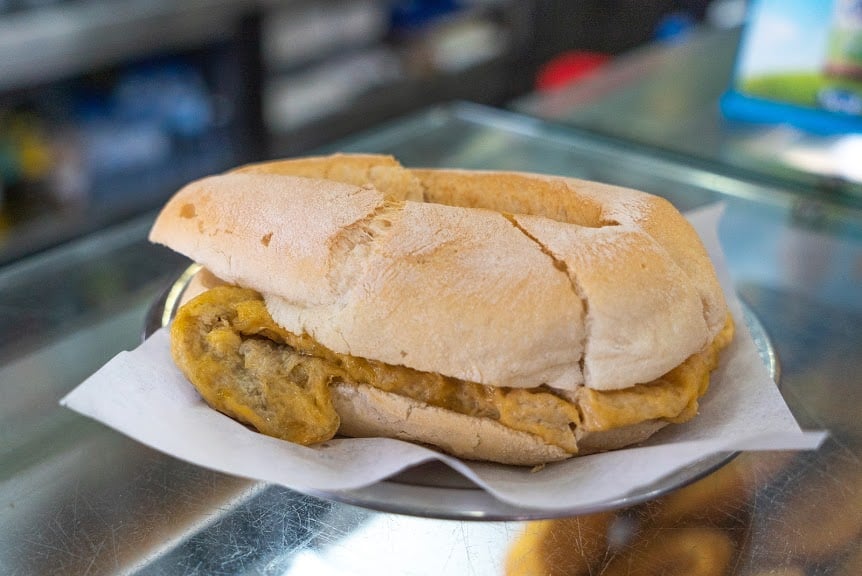 It's one of the best street foods in Lisbon, and you'll find it hard to stop at one! On this self-guided bifana tour, taste the best of the best throughout the historic city center.
The best bifana in Lisbon: the food tour stops
O Trevo: In Lisbon's literary quarter, this no-frills bar boasts Anthony Bourdain's favorite bifana! Get shoulder-to-shoulder with locals and grab a freshly made sandwich, washed down with local beer. It can't get more local than this! Praça Luís de Camões, 48.
Café Beira Gare: Bifanas are the specialty at this old cafe near the gorgeous Rosso Train Station, and are a bargain at only €2.90 each! Praça Dom João da Câmara, 4.
Casa das Bifanas: The House of the Bifana is a local favorite, filled day and night with Lisboetas gobbling down their sandwich of choice. Aside from bifanas, you can also try the prego (a beef version). Praça da Figueira, 6.
As Bifanas do Afonso: It's standing room only at this classic eatery on the border of the Alfama neighborhood. And don't forget to grab some of the homemade mustard emulsion! Rua da Madalena, 146.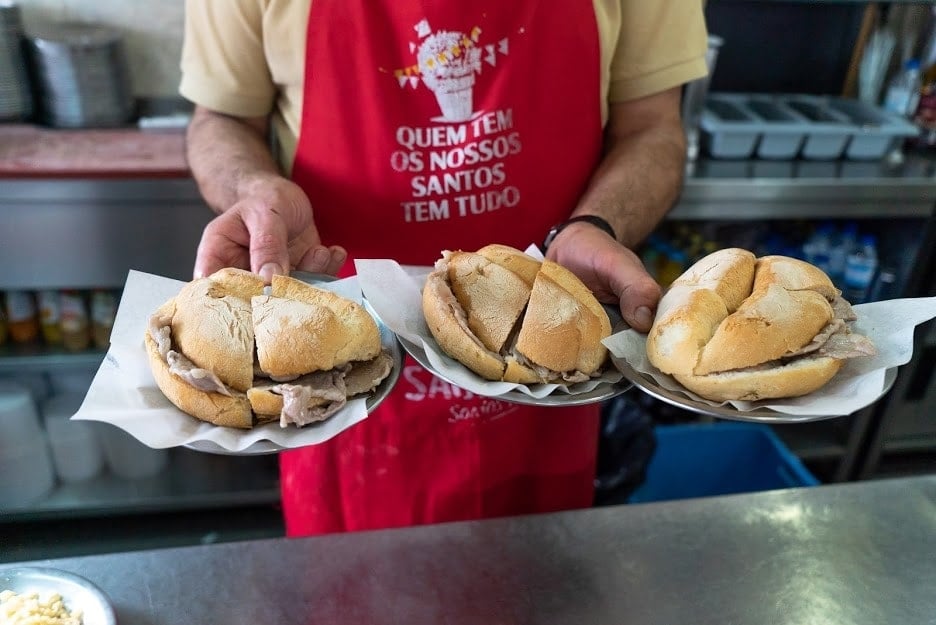 Are you hungry yet? These six best food tours in Lisbon will satisfy all of your cravings, and let you discover the cuisine of the city. Which one are you going to try first?