Looking for a fun tapas menu for two? These are the eight best tapas for date night at home, and they make the perfect romantic meal. So put on your apron and show your special someone how much you care with these delicious (and simple!) date night tapas recipes.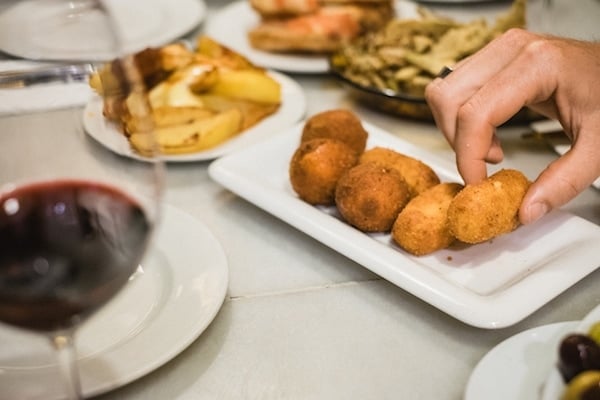 I've never been one to celebrate Valentine's Day by going out -- in fact, having worked in restaurants for many years I actually avoid going out on Valentine's Day! Restaurants are crowded, overpriced, and the menu is often limited.
So each Valentine's Day I try to cook something special at home. And since I love the idea of eating lots of little things (ideally most of which can be made in advance) a tapas date night is the perfect way to go.
Date Night Tapas Recipes
These eight tapas recipes make the perfect meal for two. The best part? Each tapa is simple and quick (you are making eight, after all), and most can be made well in advance.
Ready to impress your loved one? Turn on some Spanish music and let's get cooking!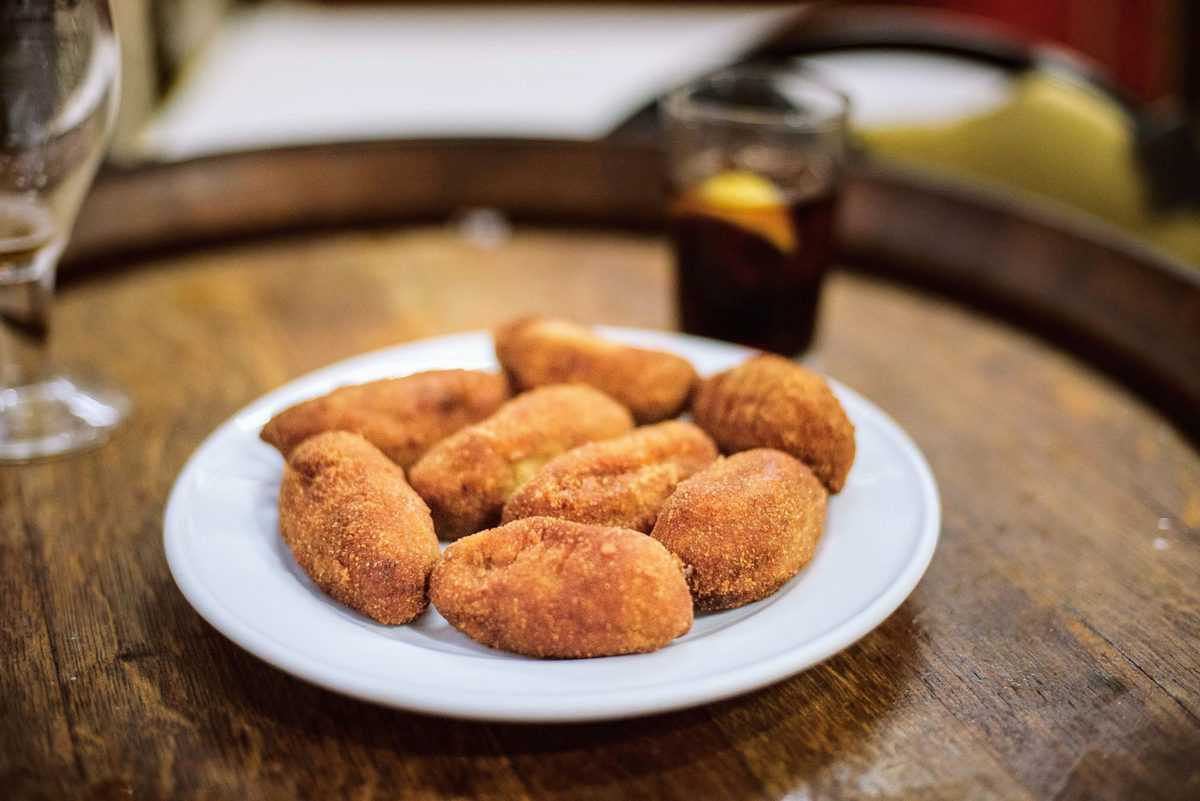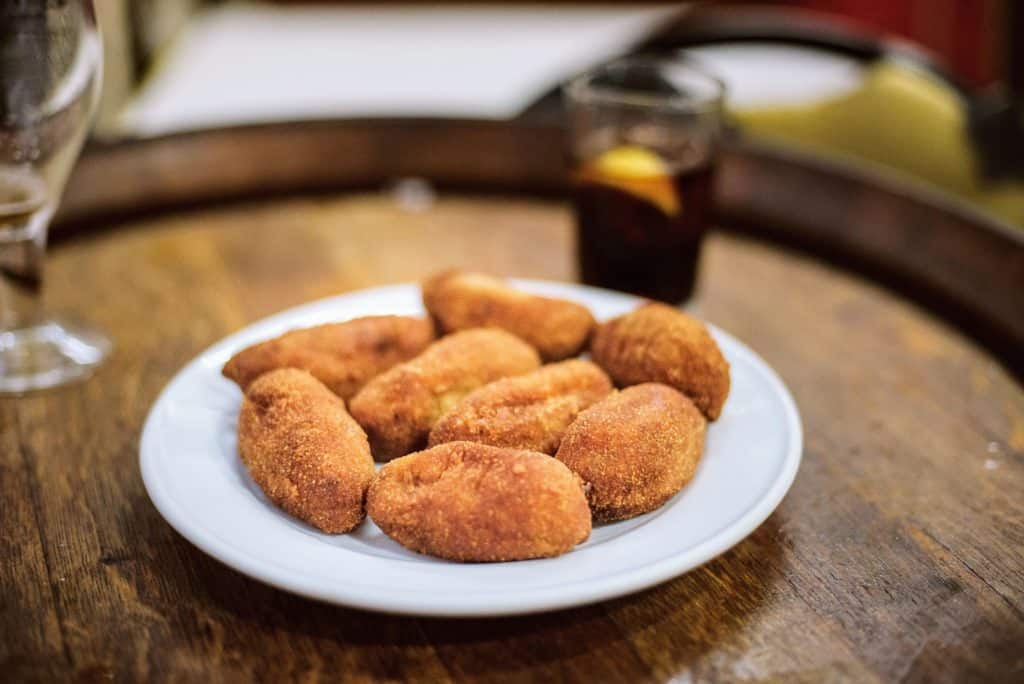 Let's start with the most complicated recipe on this list -- but also the one you can make well in advance.
Croquettes are simple enough to prepare, but they do take time. I recommend making the dough about one week before the dinner and the next day forming the croquettes. Then stick them in the freezer and on the evening of your date night simply take them out about 30 minutes before frying.
Frying them takes only a few minutes and there is nothing better than a piping hot Spanish croquette to start a tapas themed meal!
Vegetarian adaptation: You can substitute the ham in these croquettes for a vegetarian option, like mushrooms or spinach and pine nuts.
Wine pairing: There's nothing better than starting your Spanish tapas meal with a glass of cold red vermouth.
Get the recipe: Ham Croquettes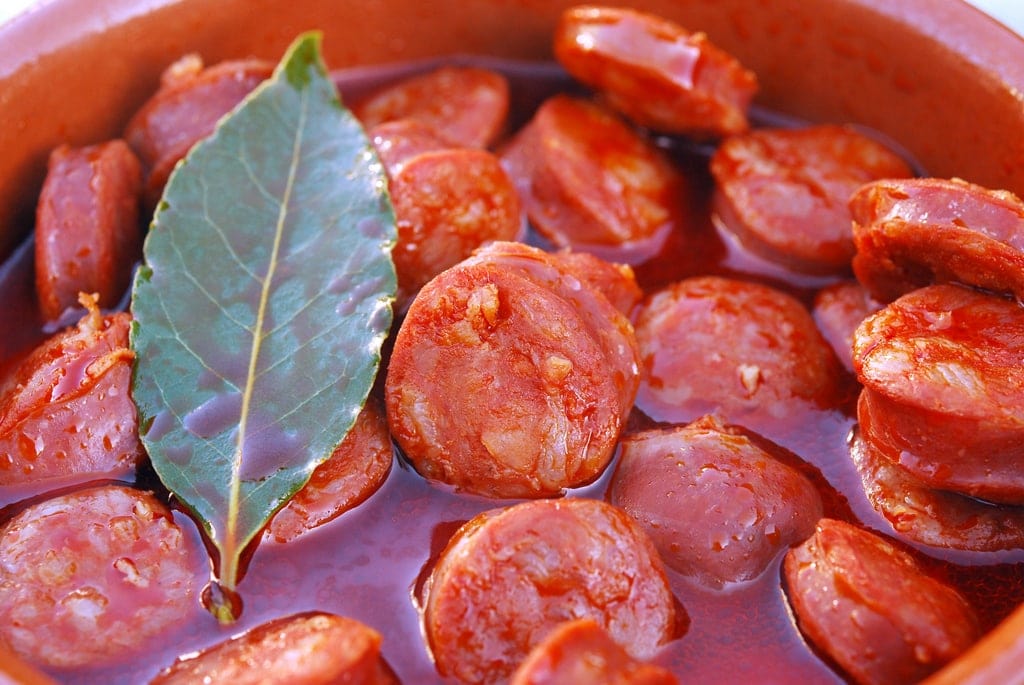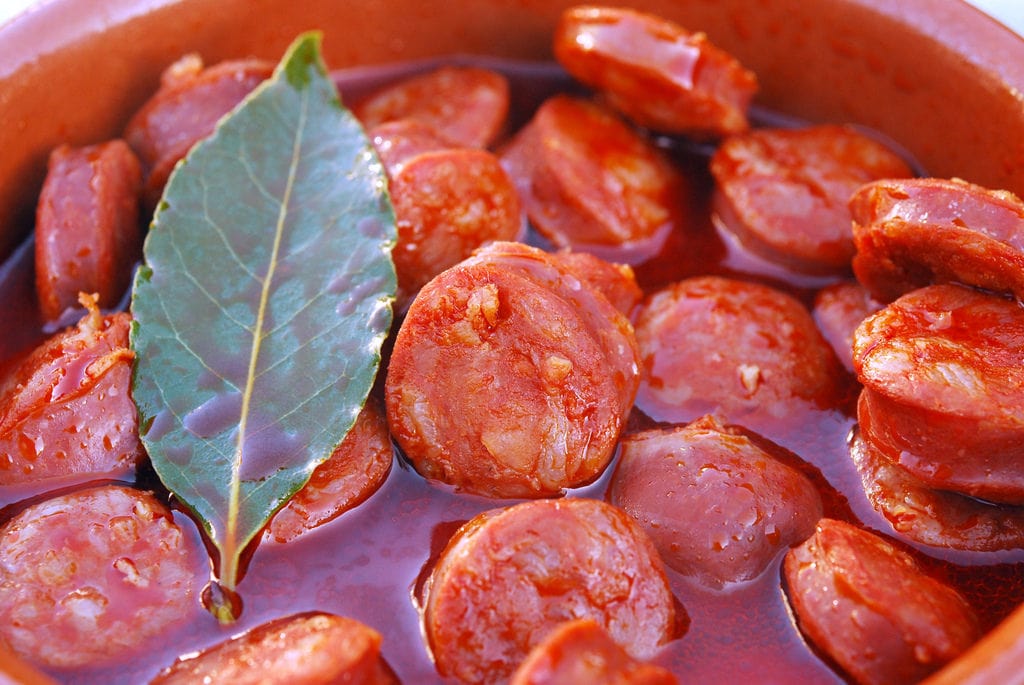 Spanish chorizo cooked in cider is one of the most simple, quick, and delicious tapas there is.
You will need to get a good quality Spanish chorizo in advance (if in the US you can order from La Tienda), but on the night of the dinner, this dish takes only 15 minutes to prepare!
Wine pairing: It's not quite wine, but I'd recommend serving this tapa with a dry Spanish cider -- even the one you cooked it with!
Get the recipe: Chorizo a la Sidra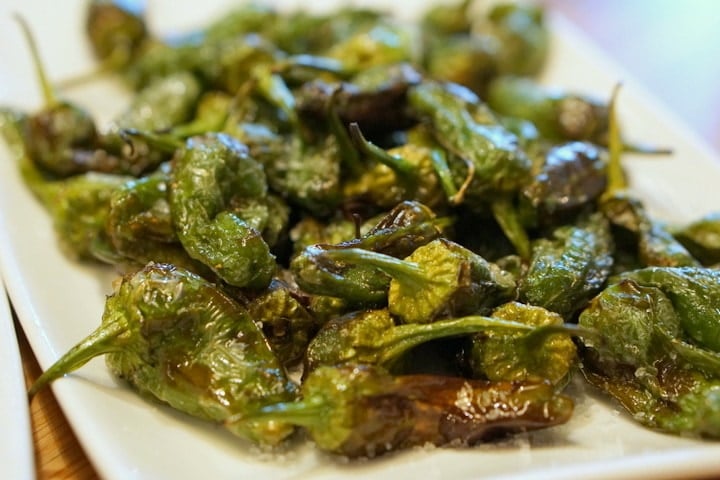 Before you start filling up too much, let's include something green on the menu! Padrón peppers are delicious small Spanish peppers that are prepared quickly by flash frying. You can use the same oil as the croquettes to fry these in no time. Then just sprinkle with sea salt and enjoy!
Wine pairing: Move on to a Spanish white wine at this point, a fruity Albariño would be a great choice.
Get the recipe: Padrón peppers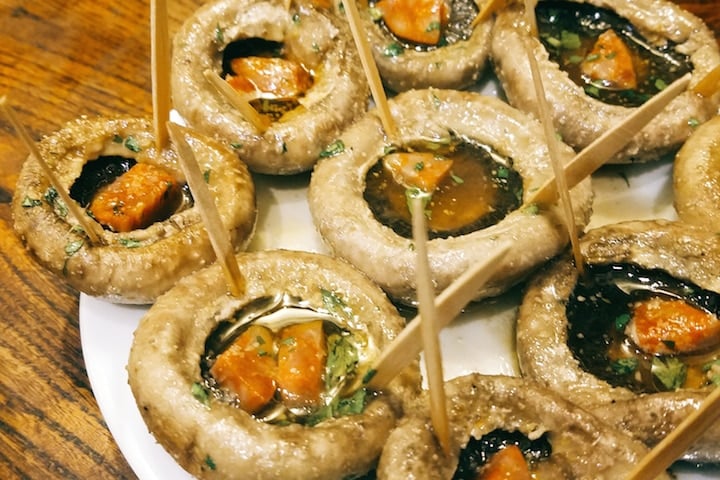 Another delicious vegetable dish is stuffed mushrooms. You can prepare these in advance and then just bake for 25 minutes while preparing other things in the meantime.
This recipe stuffs the mushrooms with chorizo, but you can omit and they are just as delicious. You could also stuff with Spanish jamón instead.
Wine pairing: I love sherry wines with my mushrooms. I'd try a dry fino or amontillado if you can find them.
Get the recipe: Stuffed mushrooms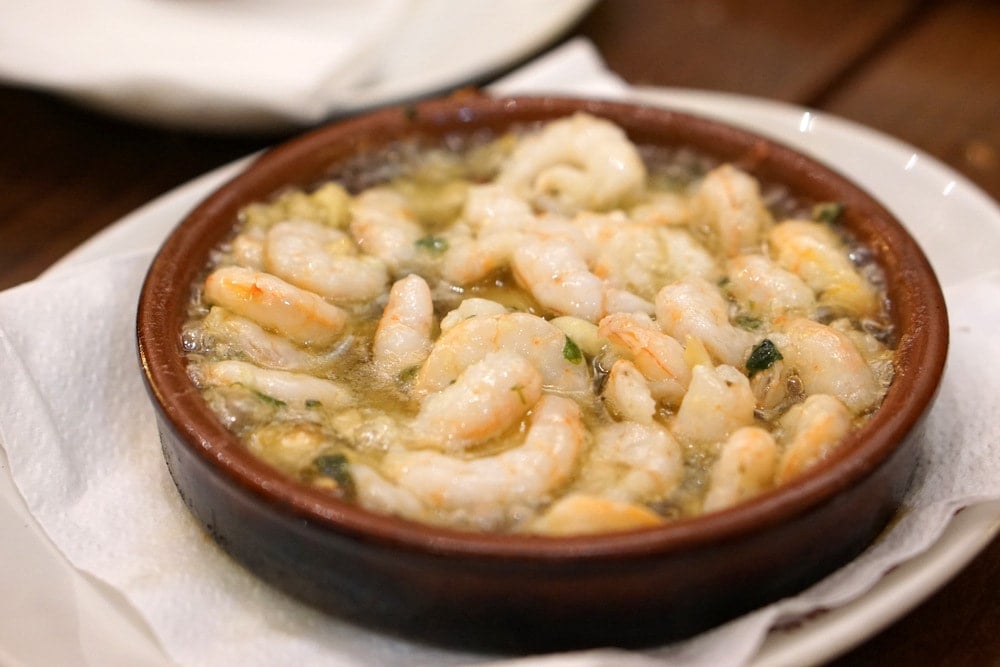 You'll feel like you've escaped to the tapas bars of historic Madrid with a heaping dish of gambas al ajillo.
These delicious garlic shrimp couldn't be easier to make -- just add minced garlic to plenty of olive oil, add the raw shrimp (quality counts!), and cook for a couple of minutes until just pink. Top with diced parsley and enjoy with crusty bread.
Wine pairing: I love a glass of brut nature cava with my gambas al ajillo.
Get the recipe: Gambas al ajillo.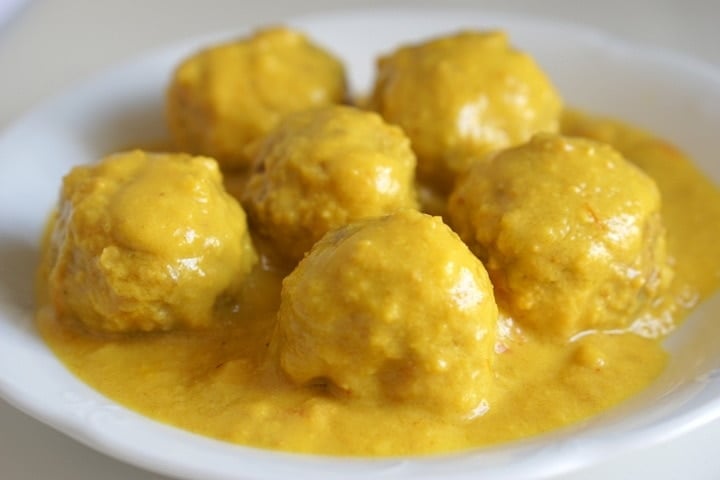 There are a few different ways you could go here. A classic pork meatball, a seafood meatball (super popular in Andalusia), or a meatball cooked in a delicious (but slightly time-consuming) almond saffron sauce.
I'll let you choose -- all are delicious and can be cooked in advance!
Wine pairing: It depends on the meatball you choose, but feel free to switch to a light red wine here -- I recommend a Mencía from Ribera Sacra.
Get the recipe: Pork meatballs, seafood meatballs, and meatballs in almond saffron sauce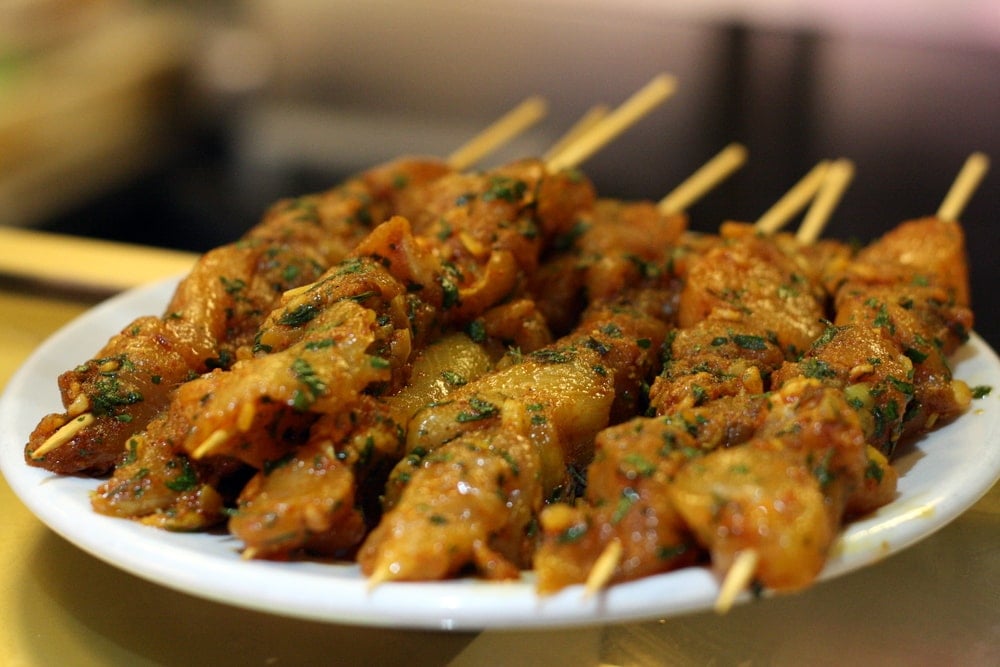 These delicious pork skewers (you could substitute chicken or lamb if preferred) are the perfect choice to impress. They can be marinated well in advance and then you can simply grill them on a hot grill or cast-iron skillet.
Wine pairing: Go for a bold red here to stand up to all that spice! Try an Andalusian red wine, like Garum or Barbazul if you can find them.
Get the recipe: Pinchos morunos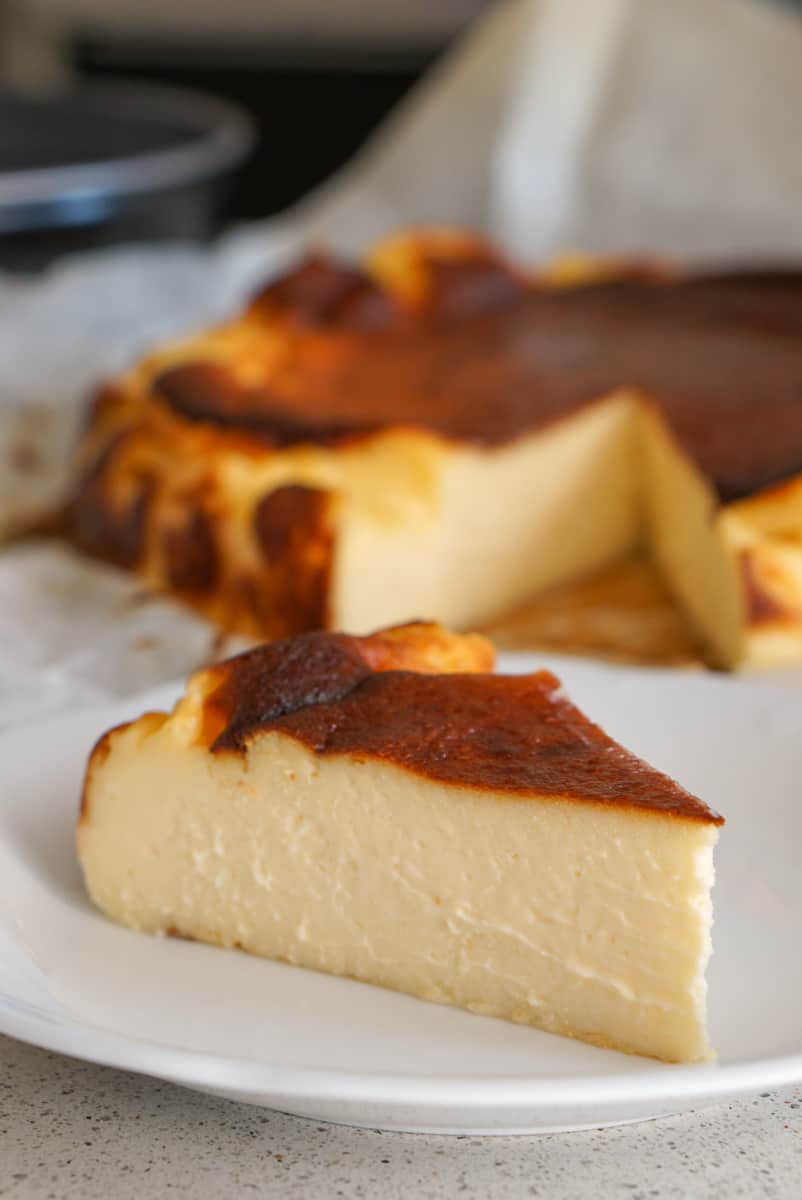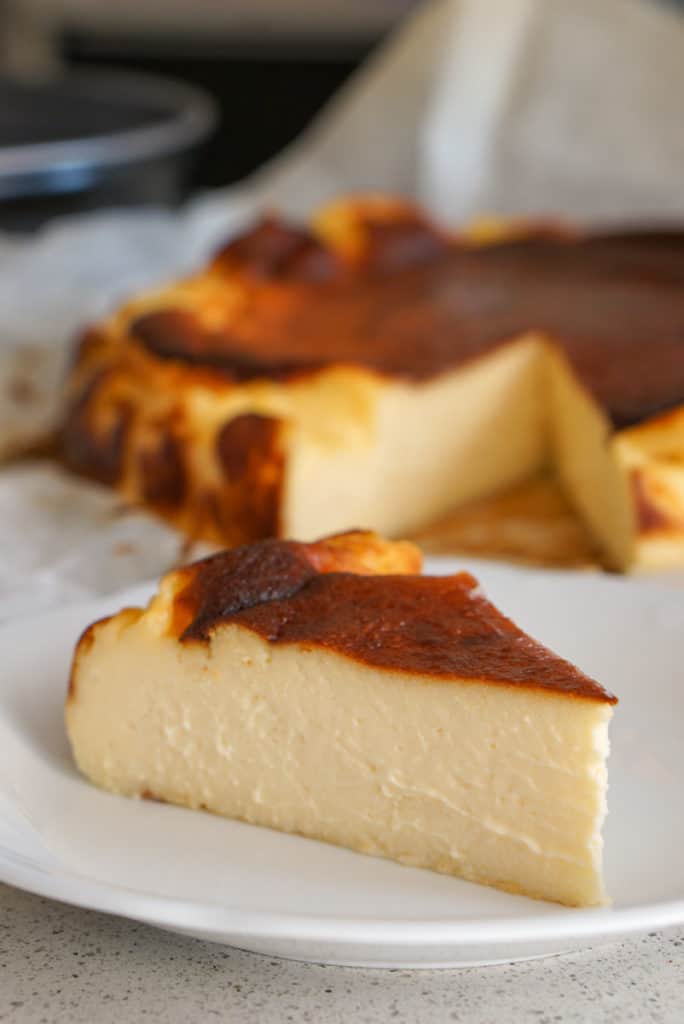 The perfect finale to your romantic tapas dinner for two? Basque burnt cheesecake!
This popular dessert has become a worldwide phenomenon. And it is so simple to make. It literally has five ingredients and doesn't need any fancy equipment!
You do need to make it at least one day in advance (and up to three). But it's well worth it.
Wine pairing: The classic pairing is a sweet sherry wine called Pedro Ximénez.
Get the recipe: Basque burnt cheesecake
Putting it All Together
Putting eight dishes together might seem daunting, but it's easier than it looks. Here's how to do it:
At least one day before: Make the croquettes dough and refrigerate. Make the Basque cheesecake and refrigerate.
One day before (or the morning of): Shape the croquettes and cover with egg and breadcrumbs. Refrigerate or freeze (this can be done further in advance if you wish). Marinate the pinchos morunos. Prepare the stuffed mushrooms and cover them with plastic wrap (unbaked). Make the meatballs (optional -- but I prefer to do this in advance).
The evening of the dinner: Cut the chorizo, wash the Padrón peppers, and mince the garlic and parsley for the shrimp. I recommend serving the tapas a few at a time -- this dinner is not meant to be rushed!
Tapas time! Start with the croquettes, chorizo and peppers. Fry the croquettes and when they are done, put in the peppers. While frying, cook the chorizo in the cider.
When you've almost finished these tapas, put the prepared mushrooms in your pre-heated oven. While these are baking (and have about 10 minutes to go), make the gambas al ajillo.
When you finish these, heat the meatballs in a saucepan while you grill the pinchos morunos.
The grand finale: Finally, take the cheesecake out about a half an hour before serving. Enjoy!
I hope you enjoyed this special tapas menu for two! I truly believe these are some of the best tapas for date night at home -- what do you think?