Spain may be known for its jamón, but this country's cuisine has much more to offer than meat. Here are our picks for the best vegetarian tapas in Madrid, from Spanish classics to innovative creations!
Traveling while vegetarian isn't always easy, but these days more and more establishments are catering to the non-meat-eaters among us. That said, it can still be tough to find vegetarian food that's an authentic representation of the local culinary culture.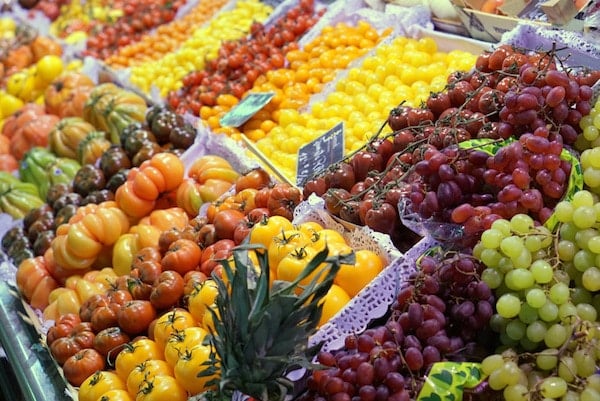 After all, the best part of traveling (in my humble opinion) is getting a true taste of your destination through its cuisine. So if you're in Madrid, don't limit yourself to salads and avocado toast; there are plenty of authentic Spanish dishes that are vegetarian by nature!
Top 5 classic vegetarian tapas in Madrid
Eggs, potatoes, fresh produce, plenty of cheese… these essential Spanish ingredients form the base of many traditional dishes. So which ones should you try? Here are five of our favorite traditional tapas that you'll find on menus all over Madrid—which also happen to be vegetarian. Looking for something more elaborate? Scroll down for some more innovative picks!
1. Tortilla de patatas
Vegetarian or not, everyone who visits Madrid has to try this local specialty. The Spanish tortilla is a thick, round omelet made of eggs, potatoes and (sometimes) onions. It's simple, hearty, versatile… and totally veggie-friendly.
Where to get it: You'll find it pretty much everywhere, but not all tortillas are created equal. Some say the city's best can be found at Casa Dani. I'm a big fan of El Buo/La Buha's massive tortillas, which are perfect to share with friends—try the three-cheese and veggie versions.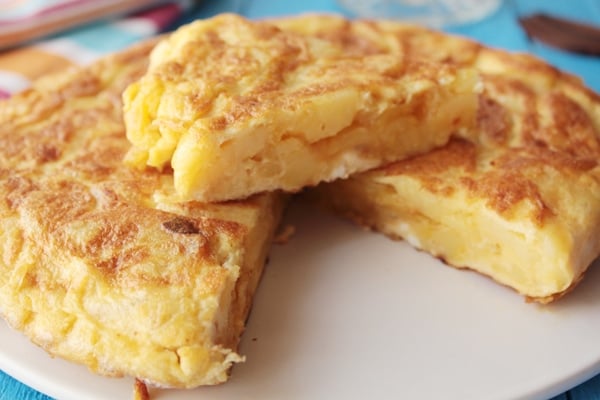 Sample what just might be Madrid's best tortilla on the Ultimate Spanish Cuisine Tour, which can be adapted for vegetarians!
2. Croquetas
These lovely little fried balls of béchamel are comfort food at its finest. While the most common version contains ham, there are several classic vegetarian croquetas (croquettes). My favorite flavors are espinacas (spinach), boletus (wild mushroom) and queso (cheese)—or a combination of the above.
Where to get it: Croquetas are also a ubiquitous menu item, but it's worth seeking out spots that offer special flavors. One local favorite is Casa Julio, where you can order a set of six or twelve croquetas of various flavors. Think blue cheese with mushrooms and leeks, or spinach with raisins and gorgonzola.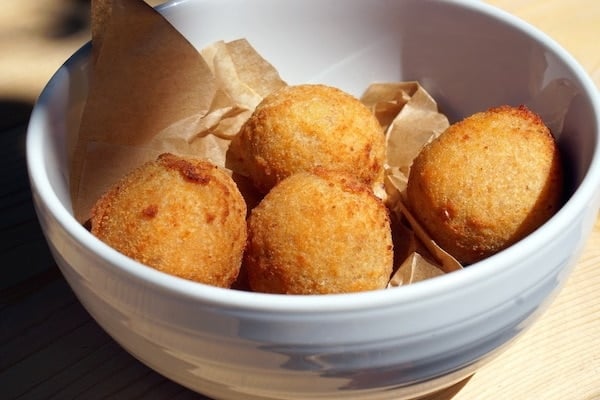 3. Pimientos de Padrón
These bright green peppers come from the Galician municipality of Padrón, and are one of the best ways to get your daily serving of vegetables in Madrid. They're sautéed in olive oil, smothered in salt and served in heaping piles. Beware: most peppers are mild, but about one in every ten is spicy!
Where to get it: If you can't make it up to Galicia, you can find the next best thing in Madrid. Try the pimientos de Padrón at Mesón del Champiñón for a true treat. This place is also famous for its garlicky grilled mushrooms, which aren't technically vegetarian… unless you're willing to pick off a small piece of chorizo (worth it).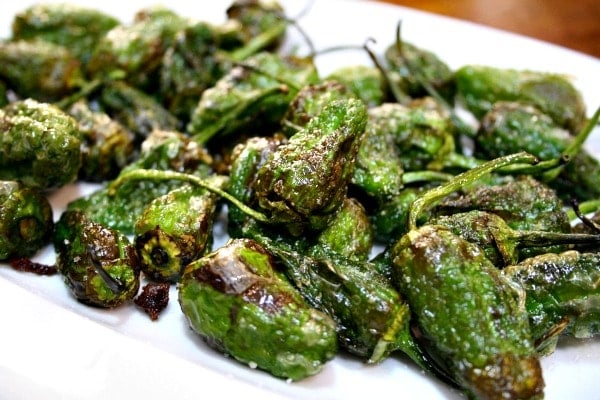 Visit Mesón del Champiñón on a vegetarian-friendly Tapas, Taverns & History Tour.
4. Patatas Bravas / Alioli
Did I mention that Spain loves potatoes? This is the most typical way to eat them: cut into irregular pieces, fried, and drenched in the slightly spicy bravas sauce or creamy alioli (a kind of garlic mayonnaise). You can also find a boiled version of patatas alioli, if you're not in a deep-fried mood.
Where to get it: This tapa varies greatly in quality from place to place; for the very best version, you'll have to go out of your way. I recommend Docamar, whose patatas bravas were named the best in Madrid by James Blick, cofounder of Devour Tours. You can witness his highly entertaining decision-making process in this video.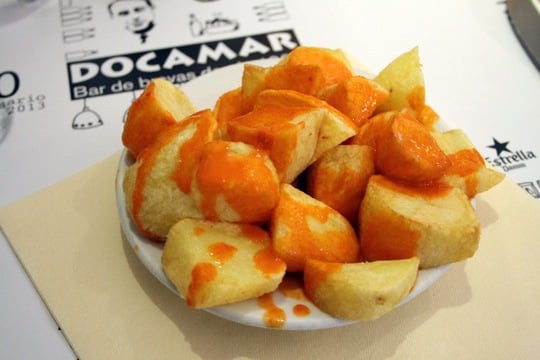 Tip: Some bravas sauces are made with meat-based broth, so make sure you ask beforehand if this dish is vegetarian ("¿Es apto para vegetarianos?").
5. Berenjenas con miel
Eggplant lovers: this one's for you. Before coming to Spain, I never imagined eating eggplant this way—but one bite and I was convinced. This classic tapa consists of lightly battered eggplant, fried until crispy and drizzled with honey. It's sweet, savory and entirely addictive.
Try making this dish at home with Lauren's fried eggplant with honey recipe!
Where to get it: You'll find some of Madrid's best berenjenas at Casa Toni, a traditional tapas spot that also features several other great vegetarian options. Try the pimientos de Padrón, gazpacho, patatas bravas and revueltos (scrambled eggs). Who says vegetarians can't enjoy a full-on Spanish feast?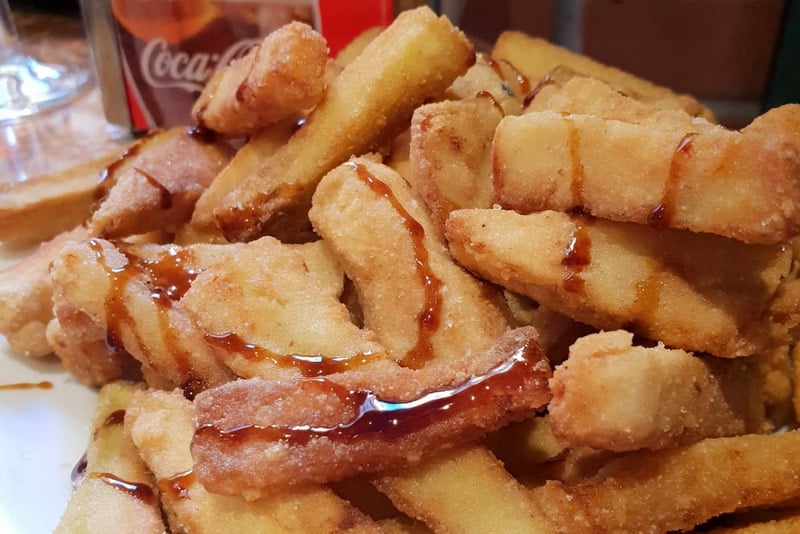 Top 5 creative vegetarian tapas in Madrid
Once you've sampled all the standbys, you might start craving something new. Luckily, plenty of places in Madrid have come up with creative takes on veggie-based tapas. Here are the most innovative—and delicious—options in the city.
1. Chuletón de tomate at Celso y Manolo
Celso y Manolo has a thing for tomatoes. This tapas bar dedicates a whole section of its menu to versions grown in different parts of Spain. The most legendary dish is the tomato "steak," topped with avocado, mango, papaya, red onion, olive oil and fresh herbs. You can also try a tomato "tasting" of four different varieties, along with several other amazing vegetarian dishes.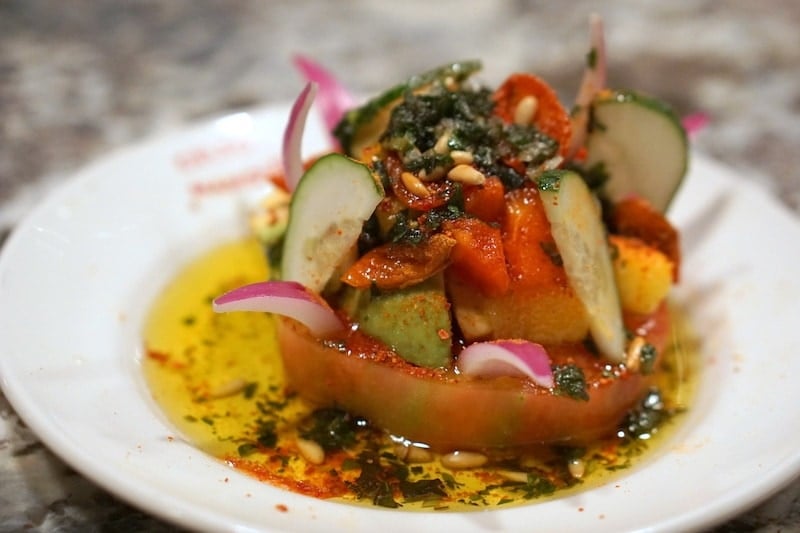 2. Huevos rotos at La Jefa
The only reason huevos rotos didn't make the traditional top five is that it usually includes meat—but not at La Jefa. This place elevates the classic combo of fried potatoes and runny eggs with the addition of tempura veggies and romesco sauce. This indulgent dish adds a deliciously innovative touch to one of the most essential Spanish dishes.
3. Tortillas at Pez Tortilla
I know I already mentioned tortilla, but these crazy creations are in a league of their own. Pez Tortilla has perfected the classic version, but for a real treat try their more creative combinations, like parmesan with arugula and sun-dried tomato. You never know what the daily menu here might offer; I recently had a life-changing tortilla with goat cheese, tomatoes and watercress.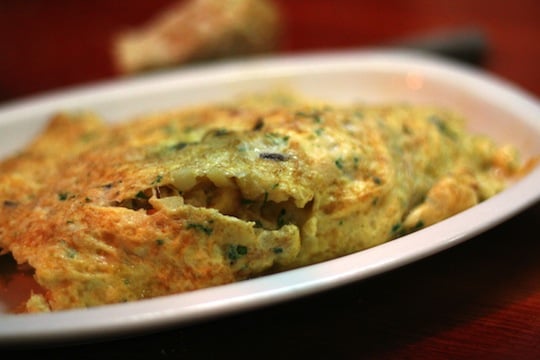 4. Tabla de quesos at La Colmada
Maybe a cheese board doesn't sound so interesting, but at La Colmada it becomes something truly special. This little bar is reminiscent of a traditional grocery shop, with a glass case featuring endless varieties of cheese. Choose the house selection of domestic or international varieties, or pick whatever looks good to build the board of your dreams.
5. El increíble huevo confitado trufado at Juana La Loca
Eggs and truffles are truly a match made in heaven, and this pintxo proves it. Juana La Loca is a classy bar offering various vegetarian options (including a legendary pintxo de tortilla). But I especially recommend "the incredible truffled egg": a perfectly poached egg atop a toast spread with truffle pate. Deceptively simple and undeniably delicious—like all the best vegetarian tapas in Madrid.
Check out our full vegetarian guide to Madrid for even more recommendations and tips for visiting Madrid as a vegetarian!