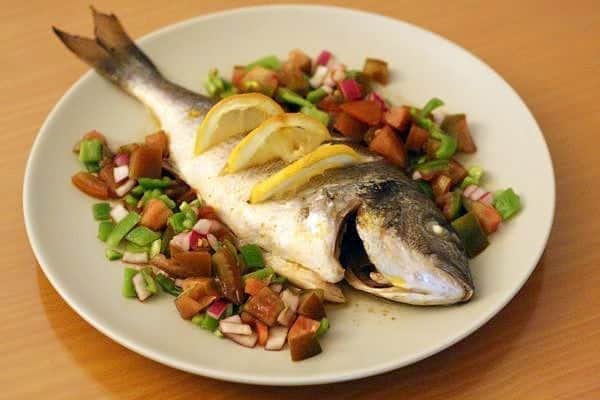 Dorada (or Gilt-Head Bream in English) is a very common fish here in Spain. It was the first fish that I was served whole that I absolutely fell in love with. I'd eaten many whole fish before, but the dorada was undoubtedly my favorite.
My in-laws in Cadiz prepare the gilt head bream on the grill, coated in sea salt. Then, they serve it whole with a heaping side of picadillo, a fresh salad/salsa made of red pepper, onion and tomato.
Since we don't have a grill here in Madrid, here is the dorada recipe for a baked version. I adapted the recipe from Javi Recetas, one of my favorite Spanish food blogs written by a Gaditano (a person from Cadiz). It is shockingly simple, and the only tricky part is eating it– make sure you don't swallow any bones!
Baked Gilt Head Bream with Lemon and Herbs
Author:
Prep time:
Cook time:
Total time:
This baked [b]gilt head bream recipe[/b] is a quick and easy way to prepare [i]dorada[/i], one of Spain's favorite fish!
Ingredients
2 [i]doradas[/i] (gilt head bream) that have been cleaned and prepared for baking (ask your fishmonger to do this)
1 lemon
1 fish bouillon cube
1/4 cup dry white wine
1/4 cup olive oil
Fresh parsley and/or other herbs (I used an dried Herbs de Provence blend)
Salt and pepper
[br]
[b]Picadillo[/b]
[br]
3 firm tomatoes (green, salad tomatoes are best)
1 medium sized red bell pepper
1 medium red onion
Red wine vinegar, extra virgin olive oil, salt, and pepper
Instructions
Set the oven to bake at 285°F (140°C)
In a small bowl mix the wine, olive oil, juice from half the lemon, a pinch of salt, pepper, half a bouillon cube, and the dried herbs (if using).
Make three large cuts diagonally across each fish.
Place the fish on a baking sheet and cover with the marinade.
Cut the other half of the lemon into 6 round slices and place one slice in each crevice.
Dissolve the other half of the bouillon cube in 1/4 cup of hot water and halfway through the cooking process cover in the liquid.
Put the fish in the oven on the middle rack for 40-45 minutes.
For the [i]picadillo[/i], remove the seeds and pulp from the tomato and cut in a small dice.
Deseed the red pepper and do the same, and cut the onion in a small dice too. Season the salsa with salt and pepper and dress with vinegar and olive oil.
Enjoy! To eat the fish slowly pull off the spines and try to get most of the bones out in a few pulls. However, be extremely careful while eating that you don't swallow any bones.
That's it! This gilt head bream recipe has served me well over the years, it's super quick to get in the oven and makes a fast and delicious meal.
What's your favorite Spanish fish recipe?
Pin me!