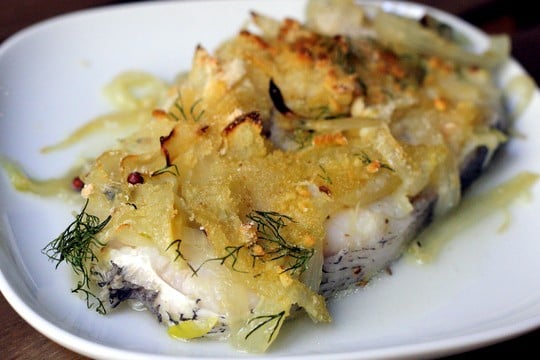 People on my food tours are always fascinated to find that fish plays such an important role in the Madrileño cuisine. As a very central capital (located about three hours or so from the Spanish coast) I understand their confusion. But the fact is, you can get excellent quality fish and seafood in Madrid's markets and restaurants. Historically, immigrants to Madrid often came from the coast and brought with them their love for seafood. Before refrigeration fish would come in dried and salted, and when it did come in "fresh" its flavor was often enhanced with lemon and vinegar. Nowadays Madrid is home to the second largest fish market in the world, MercaMadrid. When I visited last year I was amazed by the sheer quantity of fish being moved throughout its warehouses.
Before moving to Spain I rarely (if ever) cooked fish at home. Salmon was the exception, and sometimes my mother would fry up some cod for dinner. But here in Spain I've been hooked on cooking fish ever since living with my mother-in-law, Antonia, for a few months in the small city of El Puerto de Santa María in Cadiz. In El Puerto fish and shellfish are on the menu every day of the week, as the Atlantic Ocean and the Bay of Cadiz provide a myriad of edible delights. From an oven baked dorada (sea bream) to smoky grilled sardines, I am in seafood heaven each time I visit.
This week I was craving fish, but wanted to try a new recipe. This simple preparation is based on a recipe in a Spanish cookbook I bought myself for Christmas, Delicioso! Regional Cooking of Spain by Penelope Casas. I've changed a few things about it, and it came out perfectly.
Hake with Onions and Dill (Serves 4)
Hake with Onions and Dill (Merluza Encebollada con Eneldo)
Hake with onion and dill is a simple Spanish recipe that is both healthy and delicious. If trying a new Spanish fish recipe, start here!
Print (images optional)
Pin
Rate
Ingredients
3

tablespoons

extra virgin olive oil

2

medium onions sliced thin

¾

cup

of manzanilla or fino sherry

or substitute a very dry white wine

4 1

inch

steaks or filets of hake

another meaty white fish could be substituted, like cod, haddock, or even flounder

Sea salt

Freshly ground pepper

Fresh dill

4

teaspoons

bread crumbs

3

cloves

of garlic

minced

Extra virgin olive oil

to drizzle on at the end of preparation
Instructions
Heat the olive oil in a large pan and sauté the onions on a medium high heat for a couple of minutes, stirring often.

Cover the onions and lower the heat. Cook over a low heat for 10 minutes, stirring from time to time.

Turn up the heat and add the wine. Allow it to reduce by ¾. Remove the onions from the heat.

Place the fish into a baking pan and season with salt and pepper.

Spoon the onions evenly over the fish, and empty the rest to cover the sides.

Mix the minced garlic, breadcrumbs, and some chopped fresh dill together and sprinkle this seasoning over the fish.

Drizzle abundantly with extra virgin olive oil .

Bake at 400°F (205°C) for about 15 minutes (fish should be cooked through).

Serve with your choice of a side, suggestions are rice, mashed potatoes, couscous, and broccoli.
Nutrition
Calories:
209.94
kcal
|
Carbohydrates:
8.54
g
|
Protein:
4.88
g
|
Fat:
14.17
g
|
Saturated Fat:
1.98
g
|
Sodium:
109.1
mg
|
Potassium:
203.4
mg
|
Fiber:
1.03
g
|
Sugar:
2.91
g
|
Vitamin C:
4.77
mg
|
Calcium:
33.66
mg
|
Iron:
0.62
mg
What I think I love most about Spanish fish recipes is that they are so easy! In literally 30 minutes I had lunch on the table, it was healthy, and really delicious.
What's your favorite Spanish fish preparation?