It's time for one last hurrah before the big day, and Granada makes for a great place to hold a bachelorette party. With thousands of years of history represented by beautiful architecture, as well as a youthful and lively modern culture, you can truly get the best of both worlds here. Here are five ideas for a bachelorette party in Granada that you and the girls will never forget.
5 Ideas for an Unforgettable Bachelorette Party in Granada
1. Dress up and hit the clubs
Bachelorette parties in Spain tend to be quite different than in other countries. Here, costumes are a huge deal, especially for the bride-to-be—who's often the last to know! The bride's friends will usually pick out a costume for her, and she won't know what they're dressing her up as until the night of. Costumes can be ironic (like a nun), silly (a cheerleader or schoolgirl) and anything in between. Some of the more eccentric groups even decide for every girl to dress up as something related to the theme!
If you want your bachelorette party in Granada to be along the lines of what the locals do, this is the way to go. Enjoy a classy dinner at one of the best restaurants in Granada before hitting the clubs. Nightlife in Granada is among the best in Spain thanks to the large number of students and young people who call the city home. Get ready to dance until dawn!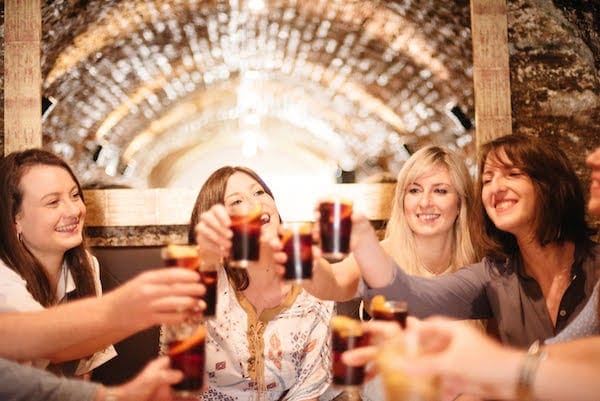 2. Relax with a spa day
Southern Spain's culture is famously laid back and leisurely. As a result, locals know how to enjoy life and treat themselves without feeling guilty. Another great option for a bachelorette party in Granada would be to spend the day getting pampered at an authentic Andalusian hammam.
From the moment you walk through the door, Hammam Al-Andalus (Calle Santa Ana, 16) will transport you to another world. Inspired by the Arabic bathhouses of ancient times, the jeweled tiles and high, vaulting arches will make you feel as if you're in Moorish Spain. Take part in the Water Journey, an ancient ritual that consists of moving between cool, warm and hot pools to invigorate your senses, and combine it with a massage using essential oils to truly indulge. It doesn't get much better than this!
3. Indulge in a wine tasting
Some of the best wine in the country comes from Andalusia. From bone-dry sherries to sweet Malaga tipples to Granada's own beautiful reds, whites and rosés, there's no shortage of vino to try. Locals know how to enjoy their wine, but also understand that there's no need to compromise price for quality, or vice versa. During your bachelorette party in Granada, why not learn the secrets of enjoying wine like a local?
Many of the best wine bars and wine shops in Granada offer regular tasting events. There's nothing better than learning to appreciate truly good wine as you drink it in an intimate, family-run shop, many of which even offer small tapas such as jamón and cheese to complete the experience as you drink. It's one of the most enjoyable ways to spend an evening with friends, and you'll leave armed with knowledge about Spanish wine.
4. Shop 'til you drop
It's no secret that Spain boasts one of the most iconic shopping scenes in the world. Here, it's possible to find top-of-the-line, quality pieces at incredibly fair prices. And of course, shopping is an integral part of any girls' getaway! Be sure to make some time for a shopping spree during your bachelorette party in Granada.
With everything from state-of-the-art malls to tiny hidden boutiques, Granada has it all when it comes to shopping. Treat yourselves to some of the latest trends, grab a beautiful piece to decorate your home, or pick up an authentic souvenir you'll treasure forever. There are so many treasures here just waiting to be discovered!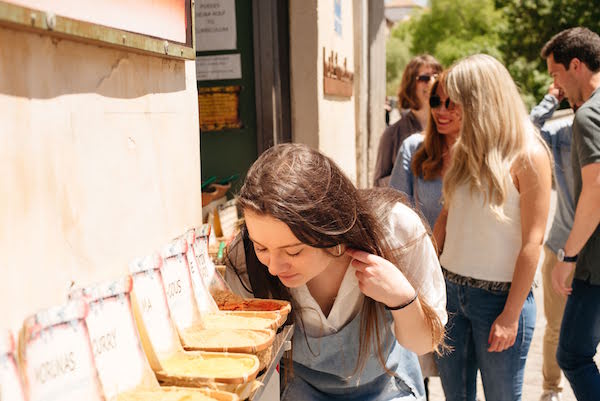 5. Take a tapas crawl
If there's one thing most people know about Granada's food culture, it's that tapas tend to come free. In fact, it would be strange to not get a free tapa with your drink at a bar. A tapas crawl is a great addition to your bachelorette party in Granada, and a great way to experience Spain's lively and fun evening culture.
See Also: Any of these fabulous rooftop bars in Granada would be a fabulous addition to your bachelorette itinerary!
Pin me!