Welcome to Murcia; home to rice paddies, vegetable gardens, and some of the best arroces (rice dishes) in Spain. Largely undiscovered by mass tourism, Murcia is nestled below popular Valencia and is well worth a visit for the food alone. Just don't order "paella"…
No Paella?
Not that anyone seems to agree about what paella really is anyway. The Spaniards on my trip seemed to be even more confused than I was, and the smartest response I heard was that paella doesn't really even exist. They explained that paella is simply the name of the special pan used to cook the rice, while the type of rice it contains and the toppings depend on the region and the chef!
Read more: All about paella and its history here
Murcian Rice
Back to Murcia. Many don't realize that Murcia is home to rice paddies, where the Calasparra and Bomba rice varieties grow. These two rice varieties are very special, and you'll be able to tell by their price. The cost is double or triple compared to most other rices, as the region produces only a small amount (0.4%) of Spain's rice, but it is agreed that they are the best varieties for the traditional rice dishes that have become so famous throughout the country.
What's special about these varieties is their ability to absorb liquids— they can suck up three times as much liquid as a normal long grain rice– but without breaking down like the Italian arborio (the variety used for creamy risotto). When cooked correctly, Bomba and Calasparra rice should be extremely flavorful, but perfectly al dente.
In Murcia, we were traveling with the Madrid based restaurant Restaurante el Caldero. They head to Murcia multiple times per week to shop for the freshest regional ingredients to bring back to Madrid. We were lucky to be able to tag along, and were able to try two of the area's traditional rice dishes, Arroz al Caldero and Arroz con Conejo y Caracoles.
Arroz al Caldero
This typical Murcian dish is famous on the coast, where beachside restaurants called chiringuitos cook up pot after pot. It is a soupy rice dish, made with a flavorful fish and shellfish stock and a blend of ñora peppers. Unlike other rice dishes, it is not generally topped with any proteins. It is typically served with homemade ali oli sauce– a garlic mayonnaise made in a mortar and pestle.
Where to try it: Restaurante Katy in Cabo de Palos (the homemade ali-oli was insanely good!)
Arroz con Conejo y Caracoles
Probably the most traditional rice dish in Spain, Rice with Rabbit and Snails is an impressive feat. We visited a wonderful restaurant called Casa Herminio where the chef has been making rice dishes for decades.
The restaurant boasts a 12-meter long barbecue area that can have 10-12 paellas (the pans) going at the same time. The pans are set atop raging flames which are busy engulfing sun-dried grape vines; this is the way an arroz is supposed to be made. Herminio himself was the cook the day we arrived (and I have the feeling he is probably always the cook) and we were impressed at how he reached his arm in and out of the hot flames.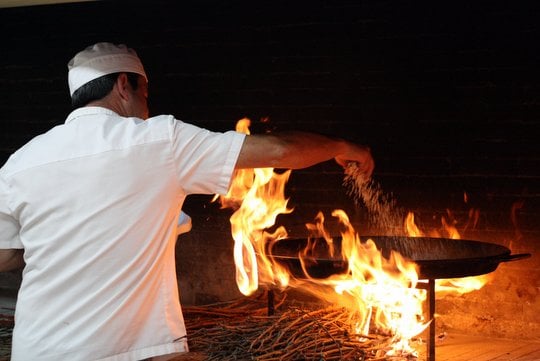 I'm not personally a fan of snails, but the rice and the rabbit were incredible. The paella (pan) was enormous, but there were only 1-2 kernels of rice along the bottom, making 1 large pan enough for about four people. And it was so good— I'm still dreaming about it. It is the type of place I'd drive the three hours to get to just to have lunch.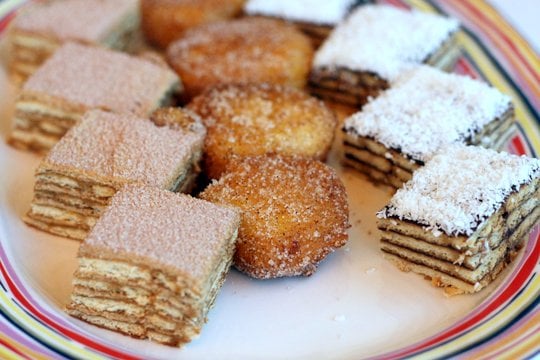 Where to try it: Casa Herminio in Molina de Segura (you can call ahead for rabbit only, chicken, and vegetable versions).
I've lived in Spain for nearly five years and I had never tried anything quite like these dishes. Every time I travel within Spain I am still impressed by how regional the country still is. While this can sometimes be frustrating, it will be a sad day when everything starts to blend together.
If you are spending a significant amount of time in Spain and want to get off the beaten path, I encourage you to check out Murcia, try these rice dishes, and enjoy the mountains and seaside that the region offers.
To try the creamy Arroz al Caldero in Madrid, visit Restaurante el Caldero for a delicious meal!
Where have you had the best rice in Spain?