Accommodation can make or break a trip. A wrong choice can take a relaxing retreat and quickly turn it into the stuff of nightmares.
Whether you intend to do little more than soak up the city's vibrant atmosphere or venture a little further afield on a day trip from Granada, the key to any holiday is where you come back to after a long, tiring day.
When you're in a city as interesting as Granada, we think it'd be a real shame to choose a faceless chain hotel. That's why we've put together this list of our five favorite boutique hotels in Granada to help make your stay extra special.
See also: A complete insider's guide to where to stay in Granada (hotels & neighborhoods)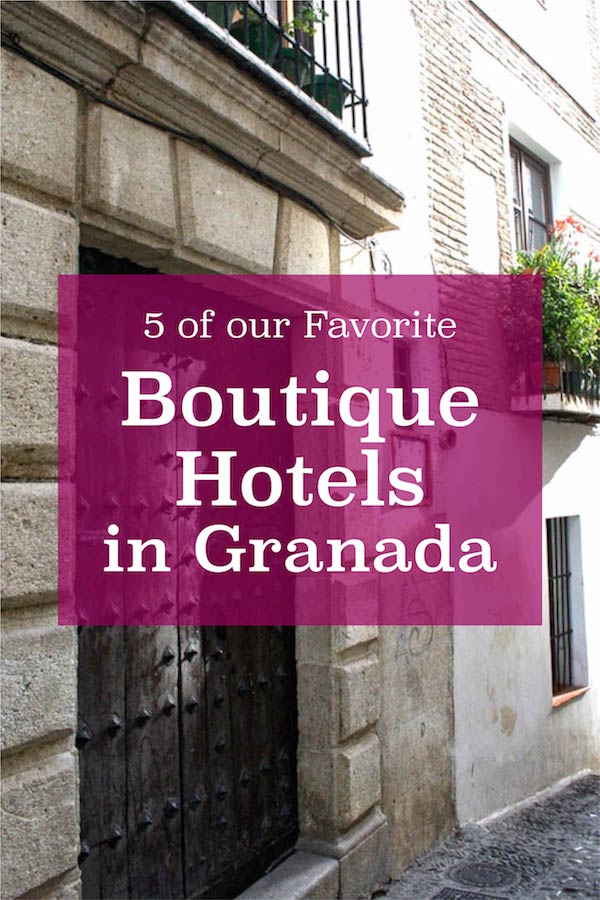 Top 5 Boutique Hotels in Granada
1. Marquis Portago Urban
This contemporary hotel, renovated in 2011, is centrally located and comes with all the mod-cons you'd expect from a boutique hotel. With the bright colors and clean lines, you will think you've stepped into a work of modern art—but don't be fooled, the comfort here is second-to-none. Portago Urban's jewel in the crown, though, is its sleek roof terrace. It's quite easy to sit there for hours as you enjoy an ice-cold cocktail overlooking the breathtaking city skyline. The complete package, perfect for travelers who are after top-notch service and contemporary design, and certainly one of our favorite boutique hotels in Granada.
See more: Top Rooftop Bars in Granada
Address: Plaza Fortuny, 6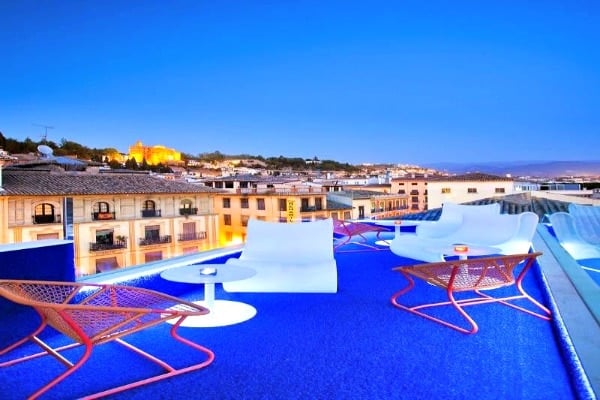 2. Hospes Palacio De Los Patos
Now, while many hotels may describe themselves as palatial, there are very few that can justify using the term. In the case of Hospes Palacio De Los Patos, however, it would not be at all over the top. That's right—this establishment is a lovingly restored 19th-century palace and UNESCO protected building. For those of you looking to really treat yourselves, this is the place for you. The ornate and opulent surroundings of this splendid accommodation make it easily one of the best boutique hotels in Granada
Address: Solarillo de Gracia, 1
3. Room Mate Leo
Despite being a chain in one sense, Room Mate hotels are the epitome of boutique hospitality. Their Granada branch is one of the most popular boutique hotels in Granada. They specialize in individually designed and furnished establishments intended to make you feel right at home and Room Mate Leo in Granada is no exception. Situated within walking distance of all the city's main sites, this hotel boasts wonderful views of the ancient town. You can even pay that little bit extra for a suite with a terrace. The elegant, contemporary design mixes seamlessly with antique touches to create a relaxing space in the heart of Granada.
Address: Calle Mesones, 15
4. Hotel Gar-Anat
This hotel has stories of times gone by seeping from its ancient walls. Set around a central Andalusian courtyard, the Hotel Gar Anat is the ultimate boutique hotel in Granada for the romantic traveler. According to the website, it's a pilgrims' hotel, where guests share the halls with spirits of past patrons, including Federico García Lorca and Washington Irving. This is undoubtedly the most unique and intriguing establishment on the list. Each room's decoration takes inspiration from a string of works of art and literary legends.
Address: Placeta de los Peregrinos, 1
5. Palacio de Santa Ines Hotel
This traditional Andalusian property is one of the most authentically Spanish boutique hotels in Granada. Light floods in through the skylight, conservatory-style roof which rises above the central courtyard. The rooms at Palacio de Santa Ines are simply decorated, in keeping with the traditional andaluz style, but the big plus point for this establishment is that the higher-end suites boast views of the Alhambra Palace. Despite being centrally located for ease of access to the city, it's set back from the road in a quiet and charming plaza. This means rowdy revelers won't wake you in the early hours!
Address: Cuesta de Sta. Inés, 9
No matter which of the boutique hotels in Granada takes your fancy, you'll want to find things to do when not relaxing in your room. Take a look at what else Granada offers:
Still looking for the perfect hotel in Granada? Don't miss the complete guide of where to stay in Granada here!