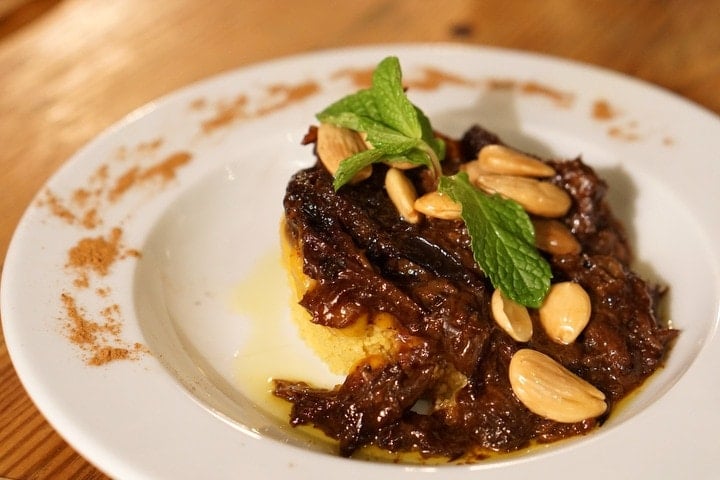 As 2015 came to an end, I felt a pang of nostalgia. It was a great year, full of highs and lows, challenges and personal growth, travel and, of course, great food! It was one of those years that seems to have lasted far more than its 12 months… here's what happened!
A busy beginning
2015 started with lots of travel for work, mainly to Seville, Malaga and Barcelona. We were finalizing our plans to launch our Devour Spain Food Tours in Seville and Malaga, which meant spending over a month in Andalusia.
In March, I spoke at an event for the US Embassy about starting a business in Spain. Later I traveled to Boston to speak at the Women in Travel Summit about blog monetization, and in May visited the Costa Brava to speak at the Travel Bloggers Exchange about using social media for culinary content.
Read the whole story of how I started my business in Spain!
After a few days at home in Madrid, I "moved" to Seville to launch our tours there. I spent the rest of the month of May giving our Seville food tour– something that I greatly enjoyed, as Seville is my home away from home!
Reaching my limit
By early June I was completely burnt out. I was working non-stop, and had spent as many days outside of Madrid as in Madrid! Luckily, a lifeline was on the way.
That month, after three years of HARD work, I took a true vacation. Sure– I'd traveled plenty for both business and pleasure since starting the food tours in 2012, but I'd always continued working while away. Even in the rural mountains of Poland I remember stressing while typing furiously, responding to emails on my smartphone!
Our five day trip to Mallorca was the first time I truly disconnected, while my wonderful business partner and team members made sure everything was working smoothly.
Being able to take those five days reenergized me, and motivated me to keep working on what I love. I enjoy nearly every moment of being an entrepreneur. And I don't think I'll ever stop being one– I have a million ideas for future businesses! I thrive on a bit of stress, a good challenge, and hard work. But finally getting to the point where I saw that I didn't have to be there 100% of the time was a game changer. This trip was a before and after!
Travel is my happy place
Other travel highlights of 2015 were our trip to Asturias (one of the most incredible trips of my life and a place I still plan to write LOTS about) and discovering the off-the-beaten-path Terres de l'Ebre region of Spain (totally worth another visit!). My parents also visited us in Madrid in December (one of the best months to visit Madrid, if you ask me) and we enjoyed Spain's capital city during the holidays, took an incredible day trip to Toledo, and spent a few days at the gorgeous Corral del Rey Hotel in Seville.
But work pays the bills!
Work-wise, we launched our Seville food tour and Seville tapas tour, and doubled our staff in Madrid and Barcelona. We also started working in office space, which has been a before and after for work/life balance– I thought I loved working from home but now realize it had become very unhealthy!
Outside of Devour Spain, I became the Spanish food expert for About.Com— an opportunity that was completely unexpected, and enables me to get into the kitchen each and every month, which is where I may be happiest of all!
I also hired the smart, talented and similarly food-obsessed Amy Bingham to write here at Spanish Sabores– and you guys have been really complimentary of her in-depth Spanish food articles! I hope to continue growing the site in 2016, and make it an outstanding resource for the 'food traveller', while also continuing to grow its recipe base of traditional Spanish recipes.
And in between it all, I managed to complete the Squared Online digital marketing course, which made me feel more comfortable in my growing role in digital marketing for Devour Spain.
Healthy = Happy
Health-wise, I decided that it was now or never, and started taking tap class, barre class and Zumba. While I don't go every week, it felt so good to finally get back to dance and fitness (I danced for 16 years!). I also cooked a lot more the second half of the year, a welcome relief after a year of living on restaurants and take-out!
The good, and the bad
But 2015 wasn't all roses. Let's talk about what didn't happen. First– we never launched our Malaga tour! We realized that what we had planned was too similar to other tours already being offered, and Devour Spain aims to always add something new and creative to the scene. So it was back to the drawing board and we hope to have an amazing Malaga food experience launched by spring.
I also didn't finish the B-School course I signed up for– I just didn't have the hours in the day. Luckily, it gives you access for life because I was really enjoying it!
Overall, I took on too much. I said "yes" too many times. This year will mean scaling back on speaking engagements and conferences, and really focusing my time and energy on what makes me happy and gives results!
Resolutions
Instead of a list of resolutions, this year I made a sort of pyramid. 2016 will be focused on health– because in the end, that's the most important thing! I want to continue with my dance classes, cook even more (and above all vegetarian dishes), read much more and learn to meditate (I've tried, and it's seemed next to impossible…). I also (as usual) want to travel more! We are planning for lots of small trips this year (like Tenerife at the end of the month) and one big trip to Japan in May.
If I'm healthy, I know that the business will continue to grow, and that everything else will fall into place.
Best Bites of 2015
While rounding up this year's best bites, it was difficult to narrow things down. I made a big realization this year– I enjoy traditional, home cooking (at times with an upscale twist) over modern dining. I've tried my fair share of highly reviewed restaurants, Michelin stars included, and almost always leave disappointed. So instead of pretending to like these overhyped places, I'll stick to the best of classic cuisine from now on (and my wallet will stay fuller too!).
1. Barcelona's Best Croissant
This almond croissant from Baluard Bakery at the Hotel Praktik Bakery rocks my world! It's so good, it's sometimes a stop on our Barcelona food tours!
2. My homemade tuna empanada
A lot of what made this list is actually homemade– and that's a HUGE change from last year. Cooking keeps me sane, and being in the kitchen is my favorite thing. I hope to cook even more this year.
Get my tuna empanada recipe here!
3. Grilled Iberian Pork
While visiting Cordoba's spectacular patio festival I finally ate at a restaurant people had long been raving about. La Regadera was as good as everyone promised, and this grilled presa ibérica is one of the reasons I would struggle as a vegetarian!
4. Grandma's raspberries
My maternal grandmother died of colon cancer when I was only two years old. But I will always remember the few visits I had with her, weaving in and out of her raspberry bushes and stuffing my face with the sweet berries, while careful not to prick myself on the thorns. My mother has long had her plants in her own garden, and this summer I enjoyed picking the berries they still provide.
5. Terres de l'Ebre soupy rice
We ate a lot of rice in Terres de l'Ebre, a region of Spain I knew nothing about before visiting. This rice producing region has some wonderful food, and this picture is from the Delta Hotel, a place I'd definitely recommend for rest and relaxation!
6. The world's best sorbet in Mallorca
I would seriously say that this sorbet alone is worth the trip to Palma de Mallorca. I don't know the secret at this 300 year old institution, but would certainly pay to find out!
Check out more tips on what to eat in Mallorca here!
7. Incredible ajo blanco in Seville
Ajo blanco was something I knew I would love before I even tried it. A cold soup of blanched almonds, stale bread, extra virgin olive oil and a bit of garlic, it's one of the most refreshing things you can eat. And the glammed up version at Seville's Sal Gorda is to die for.
8. My first soup dumplings
In between sessions at the Women in Travel Summit, I escaped to Boston's Chinatown for lunch. That's where I discovered the beauty of the soup dumpling. A perfectly made dumpling, filled with hot soup! I need more of these in my life, asap!
See the rest of my best Boston bites here.
9. Best shellfish ever.
And I'm from New England. And my husband is from Cadiz. But man oh man was this Asturian seafood amazing. Tears were almost shed…
More of my Asturias food finds here.
10. Spanish lasaña
I grew up with lasagna, but this lasaña is a whole different beast. Spaniards love their bechamel sauce, and La Mechela restaurant in Seville doesn't hold back. But the sauce is delicious, and this pasta-free, vegetable lasaña is one of the best comfort foods I've ever had.
11. Tuna sashsimi
A bizarre highlight of my Terres de l'Ebre trip was swimming with tuna. One of the most important fish in Spanish history (perhaps tied with bacalao, or Atlantic cod), Spanish tuna is unrivaled. The ventresca (tuna belly, on the left) was unreal.
12. Bacalao ajoarriero
One of my favorite and most relaxing travel experiences of the year was the time I spent with Laura and Esmeraldo of Esme Tours, truly local and authentic cooking experiences in Spain— specifically in the tiny town of Pozos, León. Esmeraldo walked us through the steps of making a 9-course Spanish feast one afternoon, and while everything was absolutely delicious, I especially loved this salt cod dish, topped with hard boiled quail eggs.
13. The famous pastrami on rye
I've probably seen Katz's Deli featured on TV a dozen times. This year while in New York City my curiosity got the best of me and I had to try their famous pastrami on rye! It cost around $20 with tax and tip, but it was incredibly good. I'd go back without a doubt!
14. Cider from Asturias
We visited Trabanco, Asturias' leading cider maker, for a tour and tasting and I fell even harder for one of my favorite Spanish drinks. Natural hard cider from Asturias (around 6% alcohol) is my drink of choice when I want something lighter and more refreshing than wine or sherry. It beats beer any day!
15. Mallorcan Sobrasada
Made from the local Mallorcan pigs, this delicious, spreadable sausage is unreal. I finally convinced the shopkeeper that I wanted the level four "extra picante" (which was spicy, but not by any means overly so), and since Alejandro doesn't eat meat, I had to eat the whole thing over the course of a week or so…
16. Coquinas
I lived in Seville for three years without ever tasting one of the popular coquinas, a favorite of many of my Sevillano friends. That clearly had to change, and to make up for lost time I've been ordering them every trip back. Here they are at La Azotea, sautéed in buttery olive oil, garlic, and served with fried baby artichokes.
17. Pancakes with real maple syrup
Flapjacks Pancake House in Lincoln, New Hampshire makes the fluffiest blueberry pancakes I've ever had, served with whipped butter and real maple syrup. One of the best American breakfasts I've eaten in years!
18. Cave aged Cabrales cheese
Visiting the Cabrales cheese caves with the owners of Francisco Badas Cabrales (the award winning Cabrales cheesemaker) was an incredible experience. I'd argue that this cheese is one of Spain's best, and is a MUST TRY for any true cheese lover. You can find Pepe's cheese at select cheese shops in Madrid and Barcelona (or head up to Asturias and visit him yourself!).
19. Fried organic artichokes
Spending the afternoon at Temps de Terra organic farm/restaurant/animal sanctuary was a highlight of 2015. It was the type of place that makes you want to move out to the countryside and adopt a bunch of animals while taking up vegetable farming. Then you snap back to reality! But the food here was outstanding and simple, letting the ingredients shine. These fried artichokes were better than any fried vegetable (even potato!) that I've ever had.
20. Homemade Catalan fish stew
One of my favorite Claudia Roden recipes, this flavorful fish stew is surprisingly simple to make. And it looks pretty too, doesn't it!?
Get my Catalan fish stew recipe here!
21. Squid at an Asturian Cider House
I loved visiting Sidreria Carroceu, a typical Asturian cider house in Ribadesella, Asturias. We enjoyed a simple and delicious meal, where we wished we could just keep eating! These tender squid, bathed in just a bit of their own ink before being thrown on the grill, were the perfect accompaniment to a fresh glass of cider.
22. Rice "from the field"
Another dish served at Temps de Terra farm was this "country style rice". It was made with all sorts of veggies from the farm (carrots, peppers, beans) and pork ribs. It's a reminder that rice dishes in Spain originate as a countryside (not coastal) dish.
23. Oxtail tagine
Another best bite from La Mechela restaurant in Seville is this oxtail tagine. A nod to Andalusia's Moorish roots, this dish was exactly how it should be– tender and flavorful, topped with roasted Marcona almonds and a dusting of cinnamon.
Get my full guide to eating in Seville here!
24. Homemade watermelon gazpacho
I'm going to end my best bites of 2015 with another homemade dish, in hopes that 2016 will mean even more home cooking! This watermelon mint gazpacho was a quick invention as I was thinking of new dishes for About.Com. If you have access to great quality tomatoes and sweet, crisp watermelon, you simply can't go wrong!
Get my watermelon gazpacho recipe here.
Overall, 2015 was a wonderful year, and one that I feel very fortunate to have enjoyed. I look forward to an equally challenging, rewarding and delicious 2016!
What were your best bites of the year?