Spain may the land of ham and cheese, but did you know it's also home to plenty of delicious vegan tapas? That's right -- there are many traditional Spanish tapas that are totally vegan (thank you olive oil!) and many others that can be easily modified.
Learn the ten most common (and super delicious) vegan tapas recipes here. These easy vegan tapas dishes are perfect when entertaining, or choose a couple and make them a meal anytime!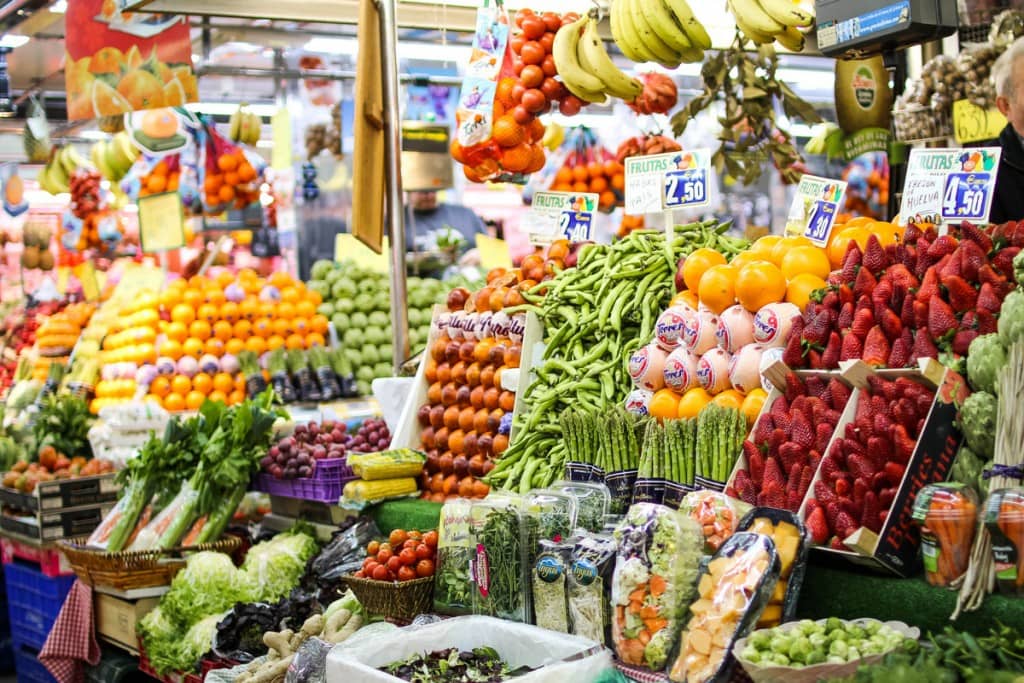 When I first moved to Spain many years ago it wasn't common to find vegan and vegetarian options. But today's Spain is quite different, and plant-based lifestyles are on the rise.
Vegan tapas restaurants exist in all of the main cities and are excellent. But even if you are going to traditional places, you can usually find some good vegan options on the menu.
Vegan Tapas Recipes
These tapas recipes are all either traditionally vegan or easily modified to be vegan.
See also: 25 Vegetarian Recipes from Spain
1. Gazpacho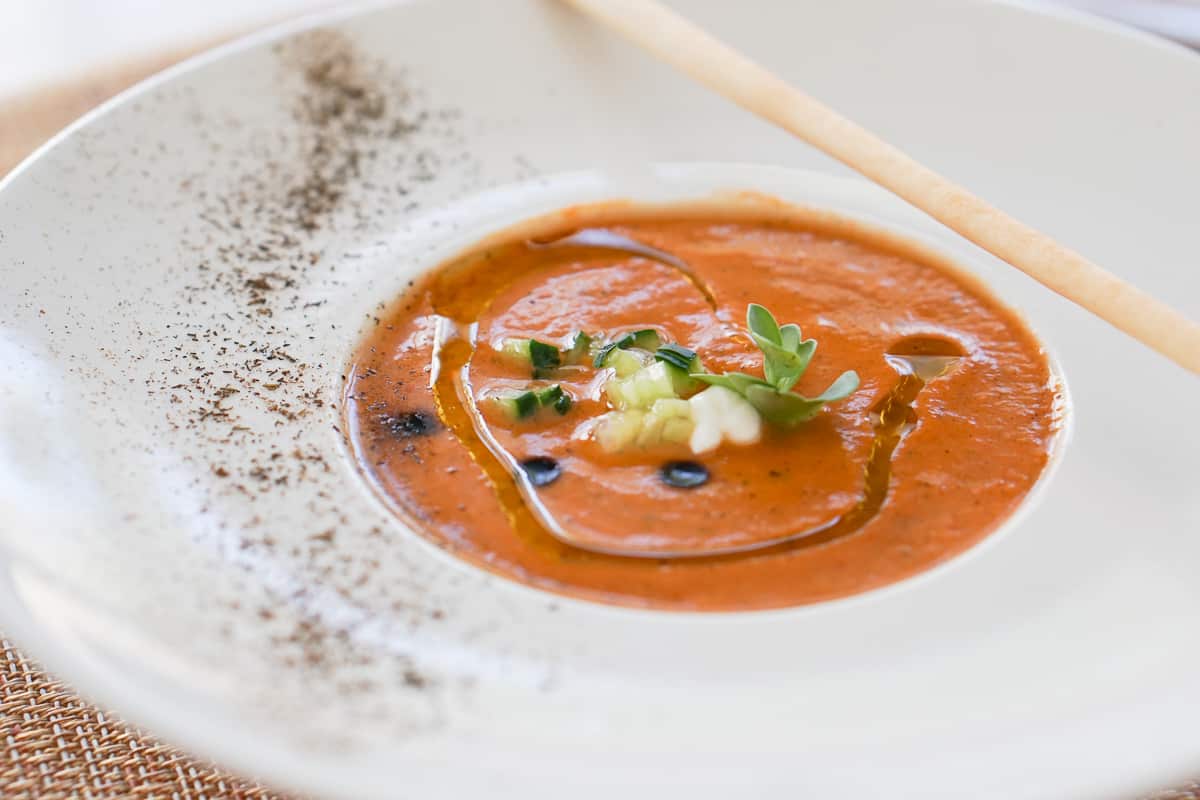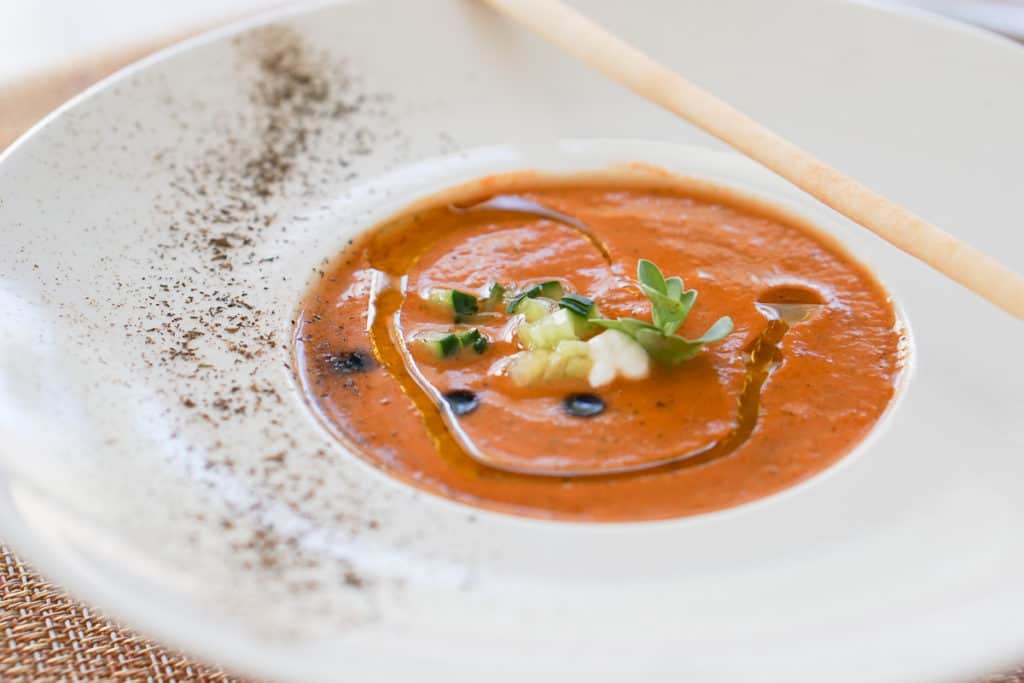 Spanish gazpacho is basically an amazing, healthy veggie juice. Ripe tomato, pepper, onion, cucumber, and garlic blend together with extra virgin olive oil and sherry vinegar for a cool and refreshing snack any time of day. This is my favorite vegan tapa in the summertime -- it's the best way to cool off!
Authentic Gazpacho Recipe
The best Spanish gazpacho recipe I've ever tried. This authentic gazpacho is a blend of different vegetables with olive oil, vinegar, and salt.
Check out this recipe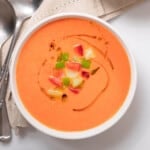 Love gazpacho? Check out these other variations on the classic:
2. Fried Eggplant with Molasses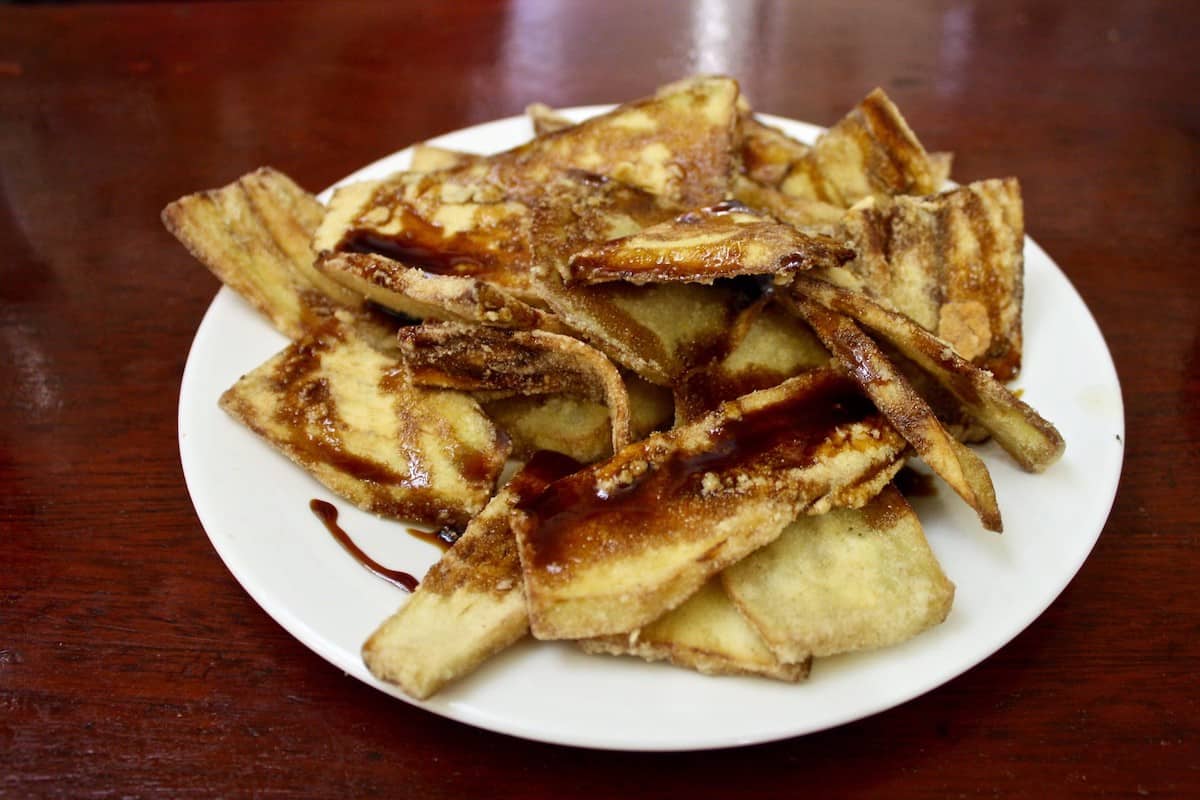 Berenjenas fritas con miel (fried eggplant with honey) is a very popular tapa in the south of Spain. We all know that honey is not vegan, but did you know that the traditional recipe actually refers to miel de caña (literally translated as cane honey)? This means molasses, and these delicious pieces of eggplant are drizzled with it and some sea salt for a delicious snack.
Preparation note: My recipe calls for soaking the eggplant in milk to remove the bitterness. Instead, do a traditional sprinkle of salt and place in between paper towels for 30 minutes.
Fried Eggplant with Honey (Berenjenas Fritas con Miel)
These delicious fried eggplants with honey are a typical Spanish tapa. Easy to make and even easier to eat, try them today!
Check out this recipe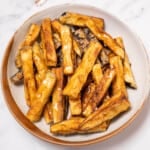 3. Padron Peppers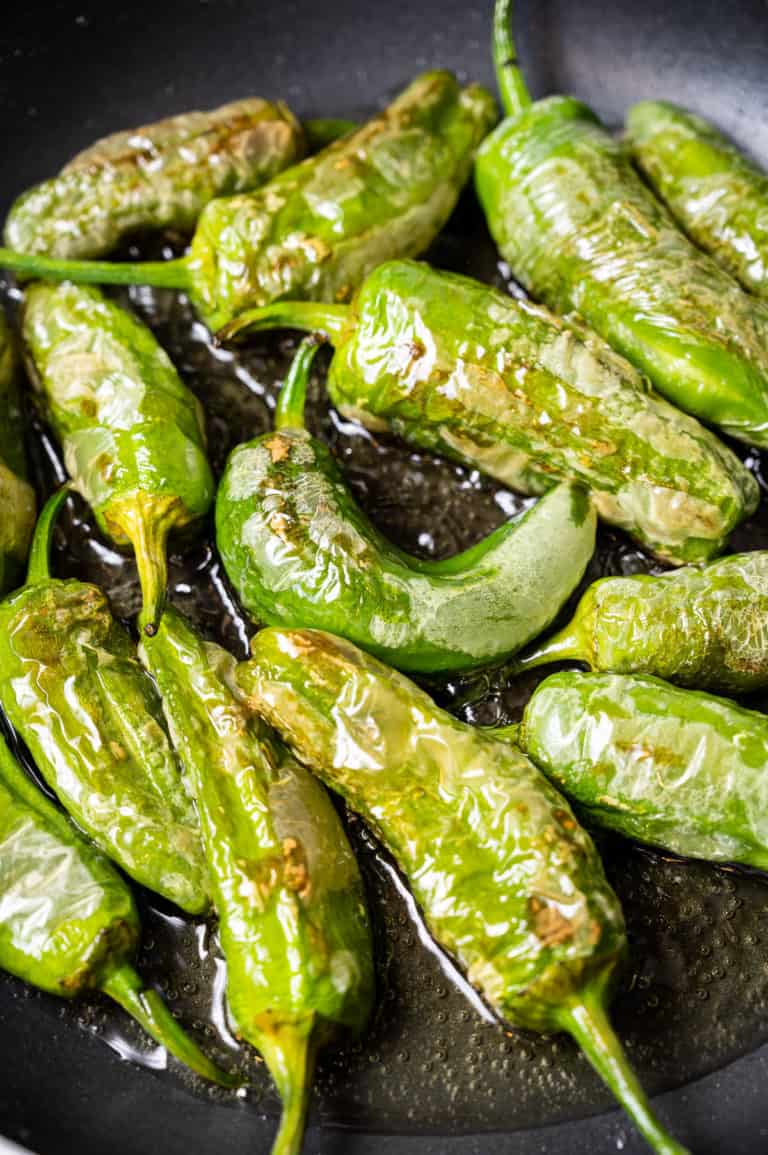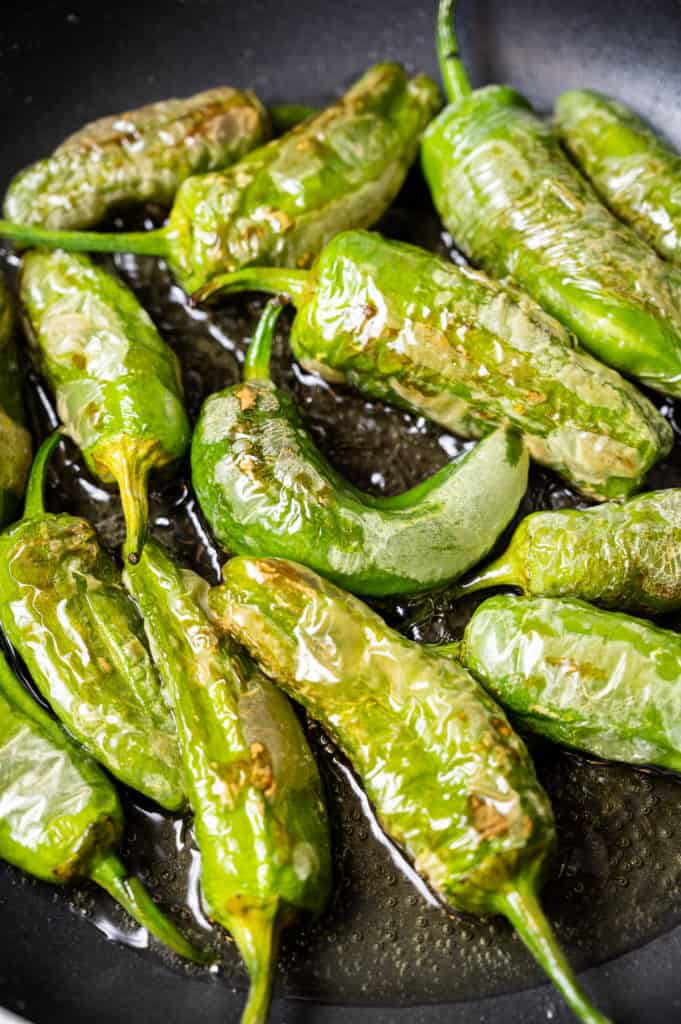 These addictive bright green peppers are simply flash fried and sprinkled with sea salt. They're probably the easiest vegan tapa you'll find on this list! If you can't get Spanish padron peppers, you can try shishito peppers as a substitute.
Spanish Padrón Peppers Recipe
Padrón peppers are one of the simplest and tastiest Spanish tapas. Try making them at home with this easy and authentic recipe!
Check out this recipe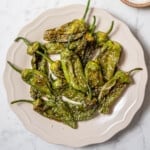 4. Patatas Bravas
Good patatas bravas are the perfect companion to a cold beer, and luckily they're pretty easy to make at home. Pair them with (slightly) spicy bravas sauce and you have a match made in heaven!
Preparation note: Bravas sauce is often made using chicken stock, but as the recipe above says, you can substitute veggie stock without a problem!
Patatas Bravas Recipe
Patatas bravas are one of the most beloved Spanish tapas, thanks to their simple combination of fried potatoes and flavorful sauce. Make them at home with this easy recipe!
Check out this recipe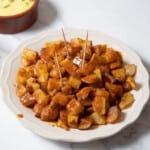 5. Romesco Sauce & Grilled Veggies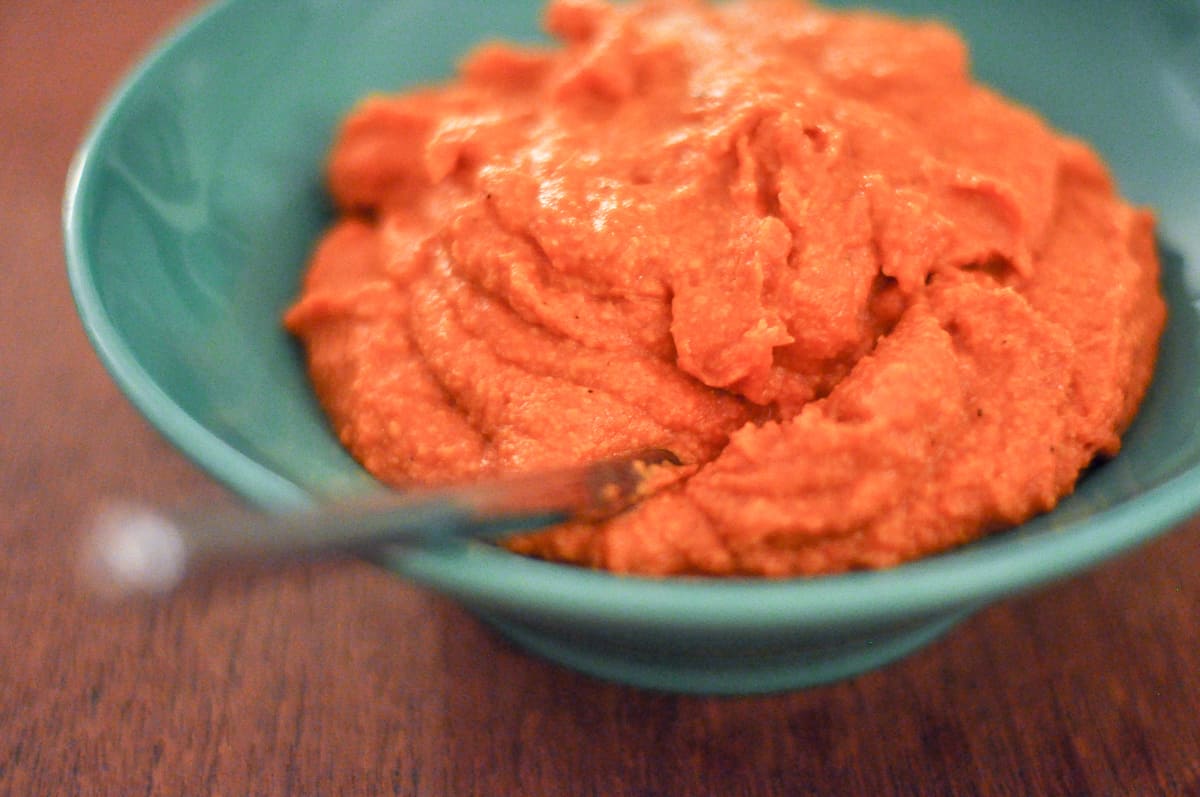 One of my favorite naturally vegan recipes in Spain is salsa romesco -- romesco sauce. This delicious sauce is a blend of almonds, hazelnuts, roasted tomatoes, garlic, sherry vinegar, and olive oil. It pairs perfectly with Mediterranean roast vegetables or a parillada de verduras (a mix of veggies cooked on the grill).
Authentic & Easy Romesco Sauce Recipe - (Salsa Romesco)
This delicious and easy romesco sauce recipe results in my all-time favorite dipping sauce! Nutty and delicious, it's a must-try!
Check out this recipe
6. Garlic Mushrooms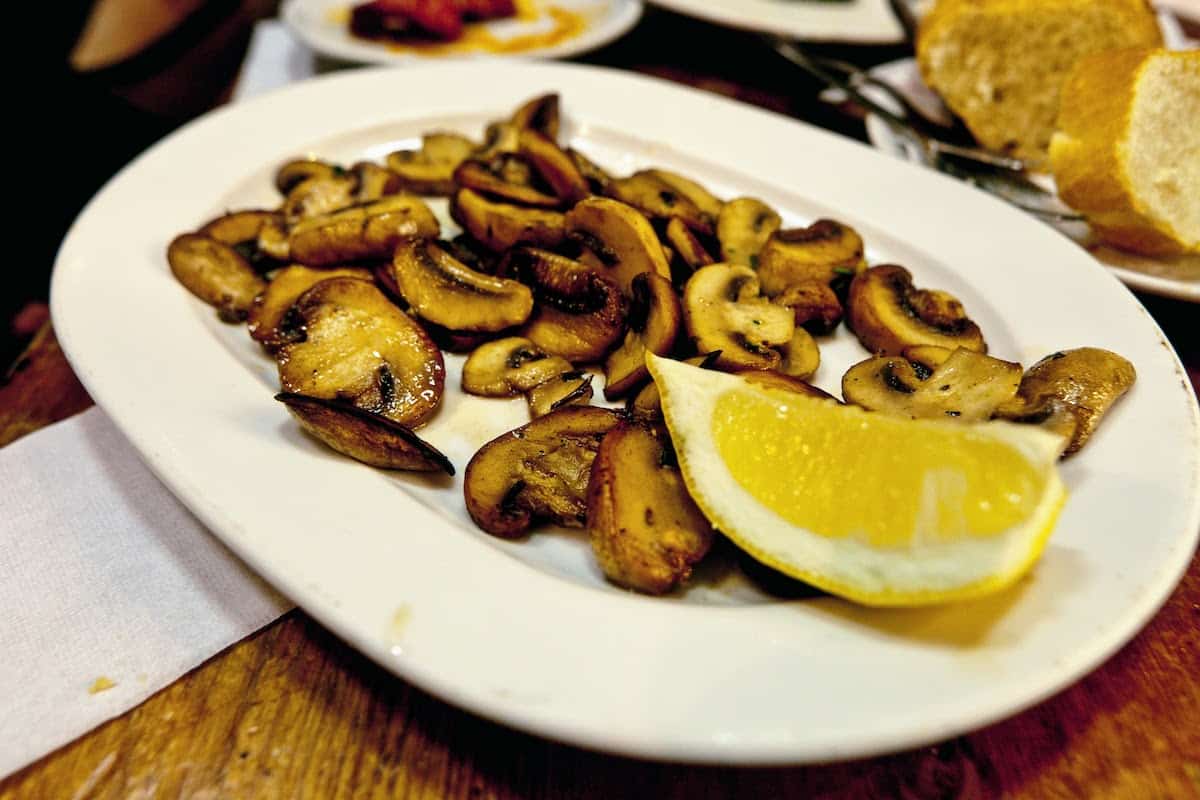 Here in Spain we use a lot of garlic! And there's no better proof of our love than these delicious, garlicky mushrooms. This recipe is super simple and one of the most traditional vegan tapas in Spain. Make sure you use high heat to sauté these in order to get the perfect caramelization.
Champiñones al Ajillo | Spanish Garlic Mushrooms Recipe
This version of champiñones al ajillo (garlic mushrooms) makes the perfect starter for a chilly autumn night. Just make sure that you're sharing the dish (and the garlic breath) with everyone around you!
Check out this recipe
7. Ajo Blanco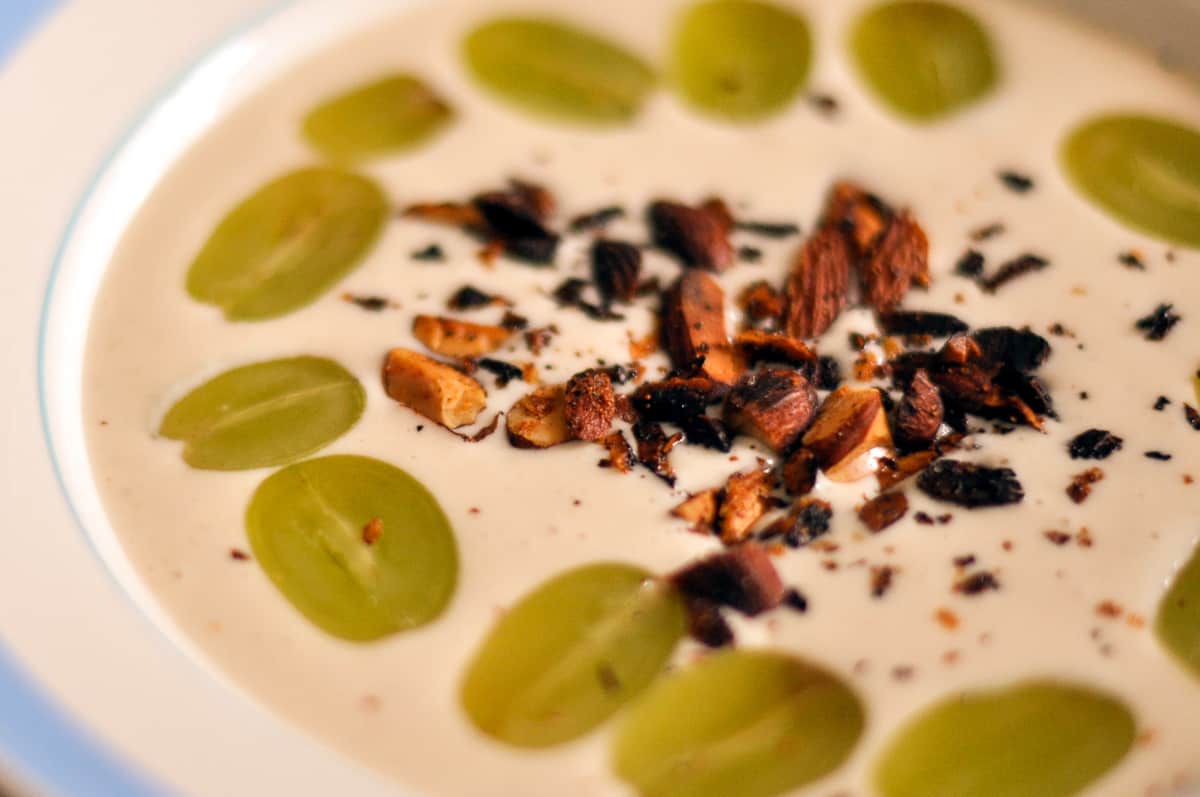 A lesser-known Spanish cold soup, ajo blanco is the precursor to its younger cousin, gazpacho. Before Spain had brought tomatoes back from the Americas, ajo blanco was how locals kept cool in the scorching summer heat. This delicious cold soup combines raw almonds, garlic, stale bread, olive oil, and vinegar. It may sound different, but the taste is delicious. Top it with sliced grapes for a real treat!
Ajo Blanco Recipe - Chilled Almond Soup
This easy and delicious ajo blanco recipe is the perfect soup for a warm summer day.
Check out this recipe
8. Chickpeas & Spinach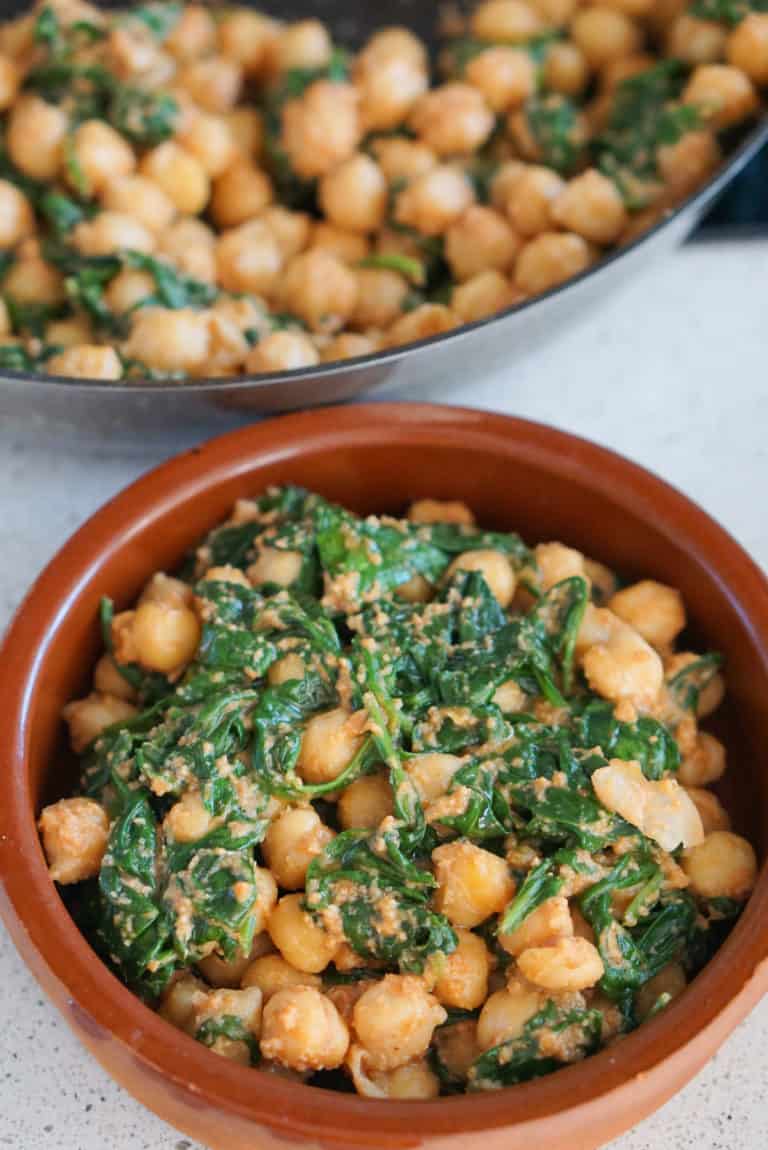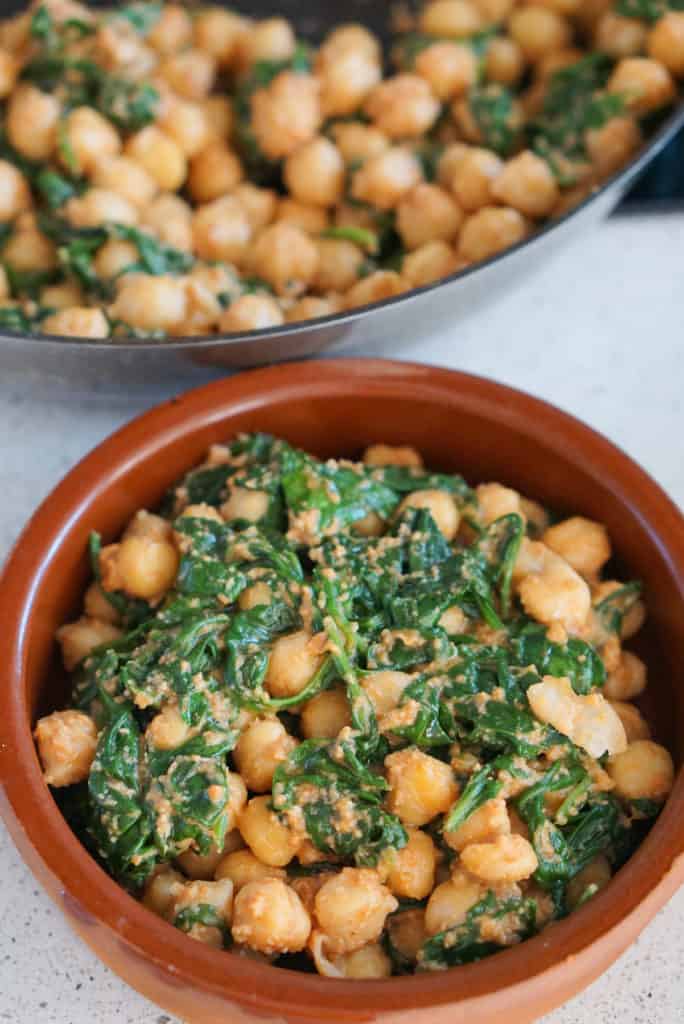 One of Seville's most typical tapas, espinacas con garbanzos (a spinach and chickpea stew) is also vegan friendly. This delicious stew has Moorish roots, which you can taste in the cumin in the dish. This yummy tapa is easy to make in advance, and always impresses. It also makes a great side dish or even a main meal.
Espinacas con Garbanzos (Spinach and Chickpeas)
A Spanish style espinacas con garbanzos recipe (spinach and chickpea stew) that will have you craving another bite!
Check out this recipe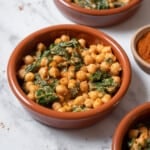 9. Lentil Salad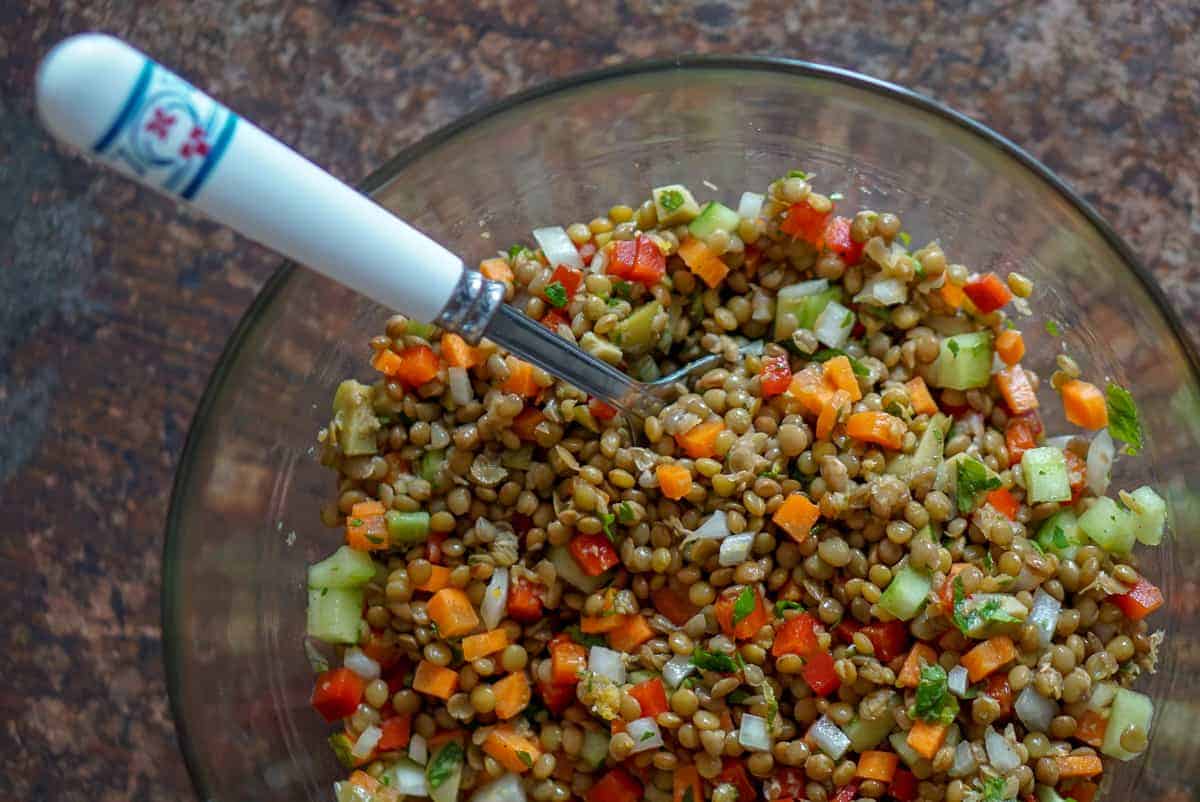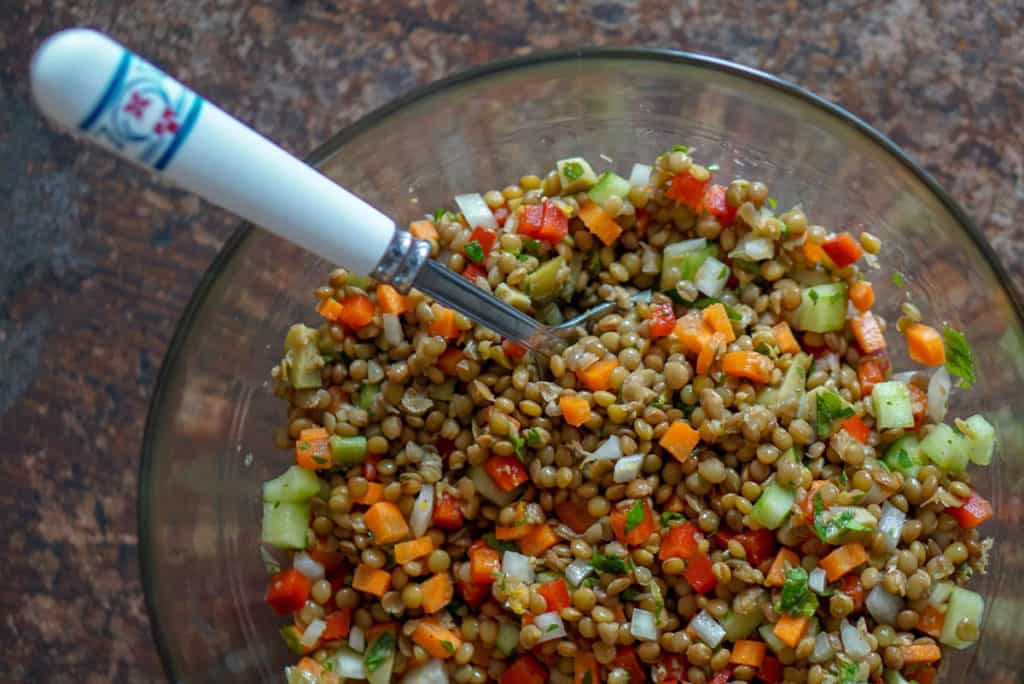 One of the best vegan tapas I had in Madrid was at a popular vegan restaurant in the city center. It was a cold lentil salad, based on popular Spanish flavors. As simple as this dish is, it's one of those that you remember. I love to make this lentil salad recipe and serve it in little clay dishes.
Lentil Salad Recipe
A quick and delicious Spanish lentil salad recipe -- ready in only 30 minutes!
Check out this recipe
10. Spanish Hummus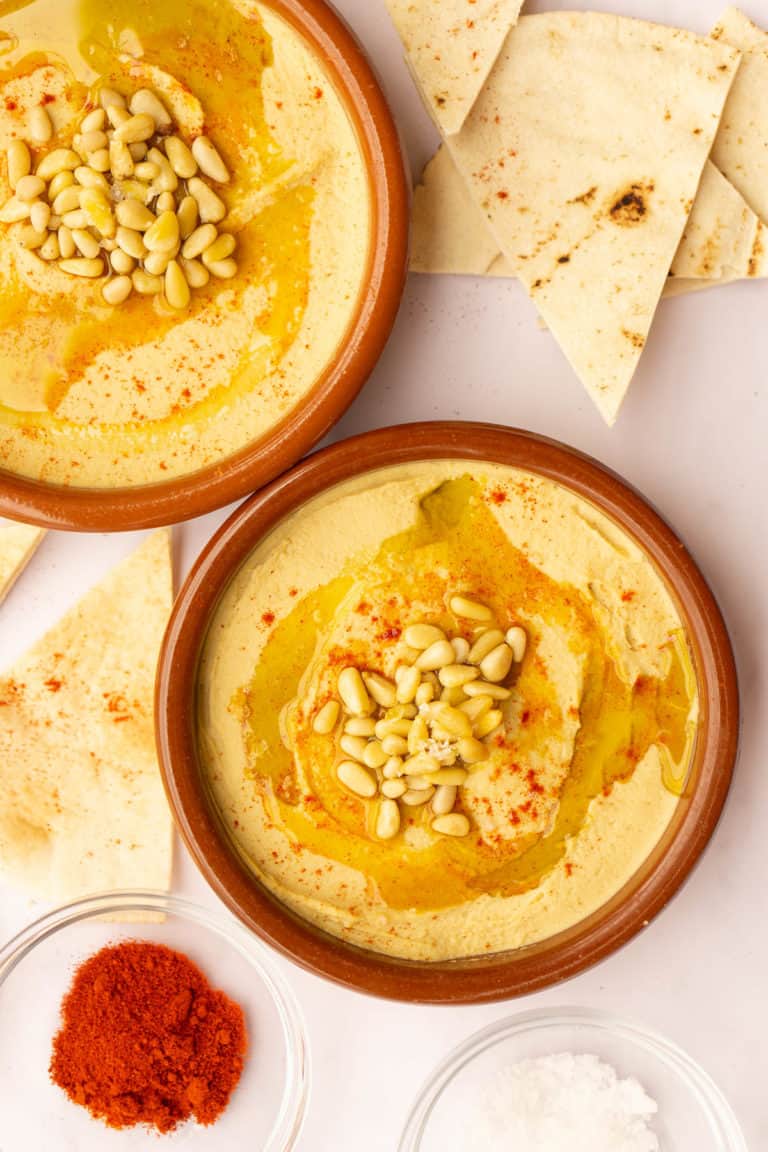 While not one of Spain's traditional tapas, this Spanish hummus recipe deserves a place at your vegan feast. The simple additions of smoked Spanish paprika, pine nuts, and extra virgin olive oil elevate this hummus to new heights. And this is another recipe that's easy to make in advance -- perfect for a vegan tapas party!
Spanish Hummus
This easy Spanish hummus recipe is topped with toasted pine nuts, smokey Spanish paprika, spicy olive oil, and sea salt flakes. Impressive and delicious!
Check out this recipe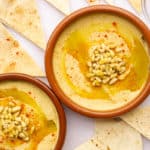 Vegan Tapas FAQs
Are there vegan tapas in Spain?
Yes! Spain is full of vegan tapas options. Some are traditionally vegan tapas (like gazpacho and padron peppers) while other vegan tapas in Spain are new creations. Vegan eating is on the rise in Spain and many new vegan restaurants are opening in major cities like Madrid and Barcelona.
What are popular vegan tapas?
The most popular vegan tapas are simple vegetable dishes like fried padron peppers, sauteed mushrooms and garlic, deep fried eggplant with molasses, and gazpacho.
Can I survive as a vegan in Spain?
Absolutely! Vegans in Spain can find plenty of options at local supermarkets and markets. Spain is home to some of the best fruits and veggies in the world -- making shopping a breeze. But there are also lots of vegan friendly tapas and dishes available on Spanish menus. When in doubt, just ask. Vegan restaurants are also becoming more prominent in major cities.
These are my top picks for vegan tapas -- but there are plenty more if you want to continue exploring. Try my marinated Spanish carrot salad, roasted carrots recipe, or spinach with pine nuts and raisins to start!
Send this post to a friend as a web story.
Love Spanish food? Sign up for my free weekly newsletter and receive a new Spanish recipe once a week! Join today and get my FREE Spanish ingredient essentials guide!