Spain is living proof that when it comes to food, you don't have to sacrifice taste for health. In fact, many healthy Spanish recipes represent the best of the country's cuisine!
These healthy Spanish recipes will help you bring a taste of Spain to your kitchen—with plenty of health benefits to boot!
As a proud purveyor of the Mediterranean diet that was crowned the healthiest country in the world in 2019, Spain makes healthy eating both accessible and enjoyable. Dozens of fruits and vegetables are in season at any given time, nearly 5,000 kilometers of coastline provide unbeatable access to seafood, and more olive oil is produced here than in any other country in the world.
Want to give Spain's delicious and nutritious cuisine a try? Here are some of the best healthy Spanish recipes out there to try at home!
1. Andalusian Gazpacho
Cold, fresh and positively refreshing, gazpacho is a summertime staple in southern Spain. This chilled soup is packed with fresh veggies like tomato, cucumber and green Italian pepper. Gazpacho is often served as a starter to a large lunch or as the star dish of a light homemade dinner.
While the classic tomato gazpacho is the most traditional version, there are plenty of delicious variations out there. Watermelon gazpacho, cherry gazpacho, and even green gazpacho are all worth a try!
2. Catalan Seafood Stew
Hearty without being heavy, Catalan seafood stew (suquet de peix) is packed with protein and potassium. It's one of those rare stews that can be enjoyed year round—it's nice and filling for the winter, but light enough for a summer meal as well.
The real kicker on this one, though, is the picada, a sauce made from blending toasted almonds and garlic which takes this soup to a whole new level of tastiness!
3. Boiled Shrimp
Fresh shrimp are essential to this no-frills recipe, which lets the rich flavor of this beautiful shellfish shine through. Besides being delicious, shrimp also are super healthy! They have fewer calories per serving size than grilled chicken breast and twice as much protein as a glass of milk!
Boiled shrimp is a quick and easy main dish that's both simple and impressive. You can also serve it as part of a tapas spread with some of these other healthy Spanish recipes!
4. Spanish Style Clams
Clams are low in calories and high in iron and protein. But you wouldn't know they were that healthy from this recipe. Garlic, paprika and dry Spanish sherry make this one of the best ways to eat clams, yet it's still packed with a nutritional punch.
This dish, known as almejas a la marinera, is often associated with Galicia, though it's a favorite in Andalusia as well. While many Spaniards consider it a Christmas dish, there's no rule saying you can't make and eat these tasty clams any time of year!
5. Spinach & Chickpea Stew
It may sound pretty basic, but this cozy stew is one of the best things that can happen to spinach and chickpeas. A popular tapa in southern Spain, it's also one of the easiest healthy Spanish recipes to make at home!
A hint of cumin, a dash of paprika and a strong punch of garlic make this vegetarian tapa anything but ordinary. You can also mix up the traditional recipe even more with almonds and tomato.
6. Tuna Belly, Blood Orange and Avocado Spanish Salad
The key to this delicious salad is great tuna. In Spain, canned seafood is a gourmet product, having reached near-luxurious heights. Some of the best cuts of tuna are preserved at their peak freshness in cans with olive oil.
Combine the rich, oily flavor of the tuna with bright blood orange and savory avocado slices and you've got a quick, colorful, and nutritious weeknight salad! You don't even need to whip up a fancy dressing—a drizzle of olive oil is enough to let the rest of the flavors shine.
7. Baked Bream with Lemon and Herbs
The more time you spend in Spain, the more you'll get used to fish heads on the lunch table. Many fish here are served whole, which keeps the juices from escaping the delicate filets.
Gilt head bream, or dorada in Spanish, is one of the tastiest fish often served whole in Spain. With a simple ingredients list including white wine, olive oil, lemon, and herbs, it's baked to flaky and flavorful perfection. Serve with a simple salad of tomato, onion, and red pepper and you've got the perfect healthy Spanish meal!
8. Marinated Carrots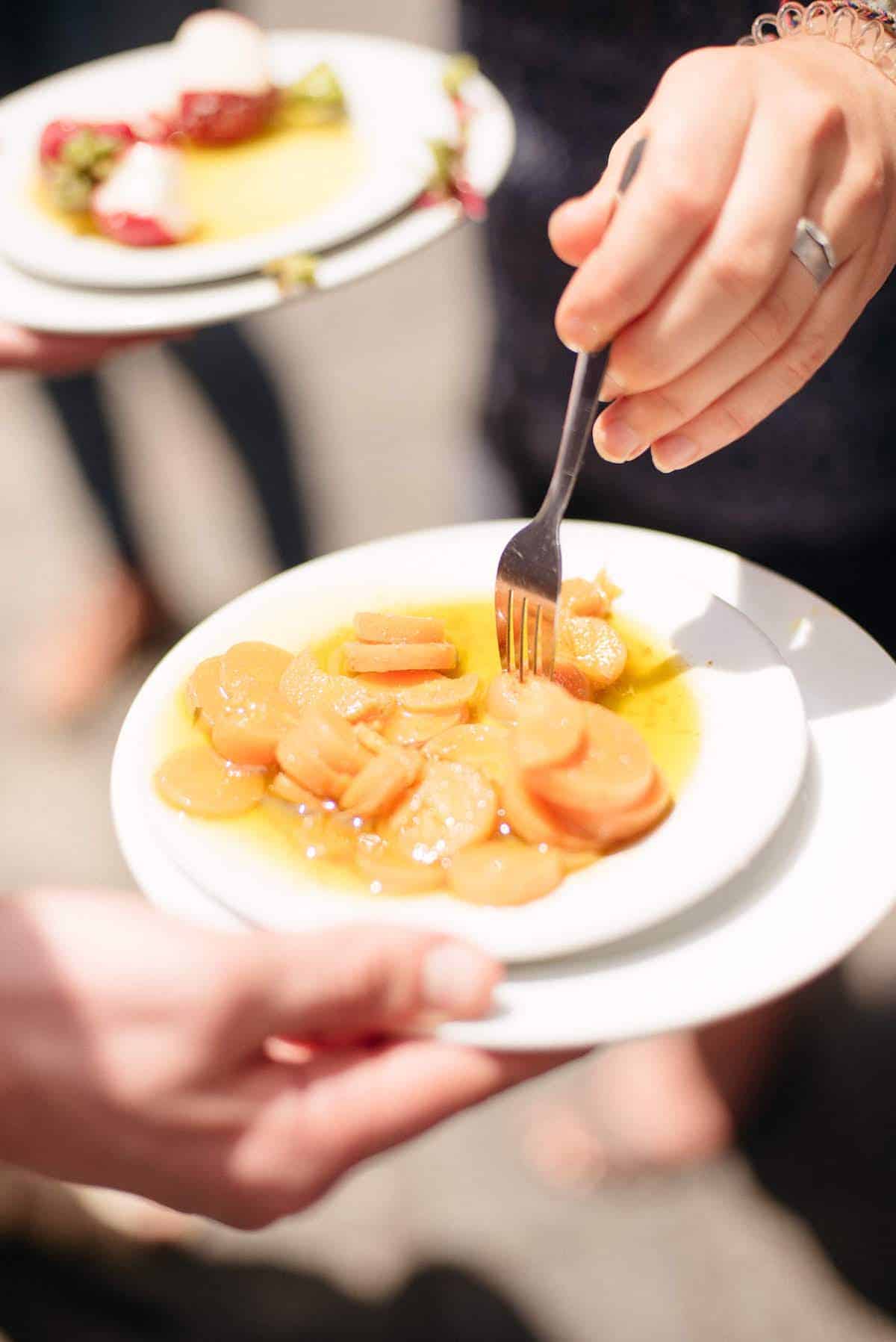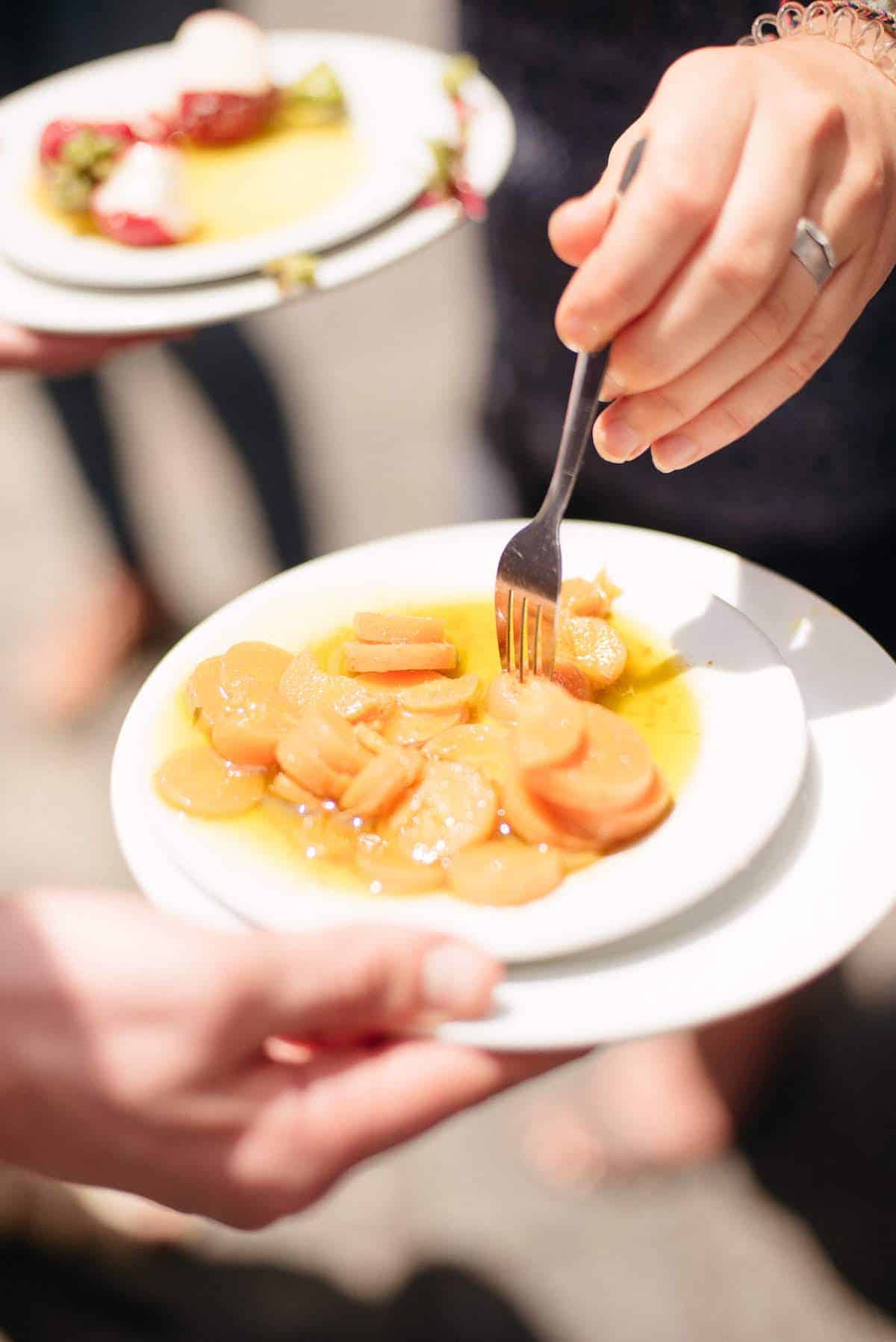 These are not your average carrots. Often served as a cold salad in southern Spain, zanahorias aliñadas (as we call them here in Spain) give your average carrots an upgrade with garlic, oregano, vinegar, and other spices.
The trick here is to parboil the carrots until they're just fork tender. (Nobody wants mushy carrots!) From there, it's simply a matter of tossing together the spice blend and letting them soak up all those wonderful flavors for a couple of hours. Healthy Spanish recipes can't get much easier!
9. Salmorejo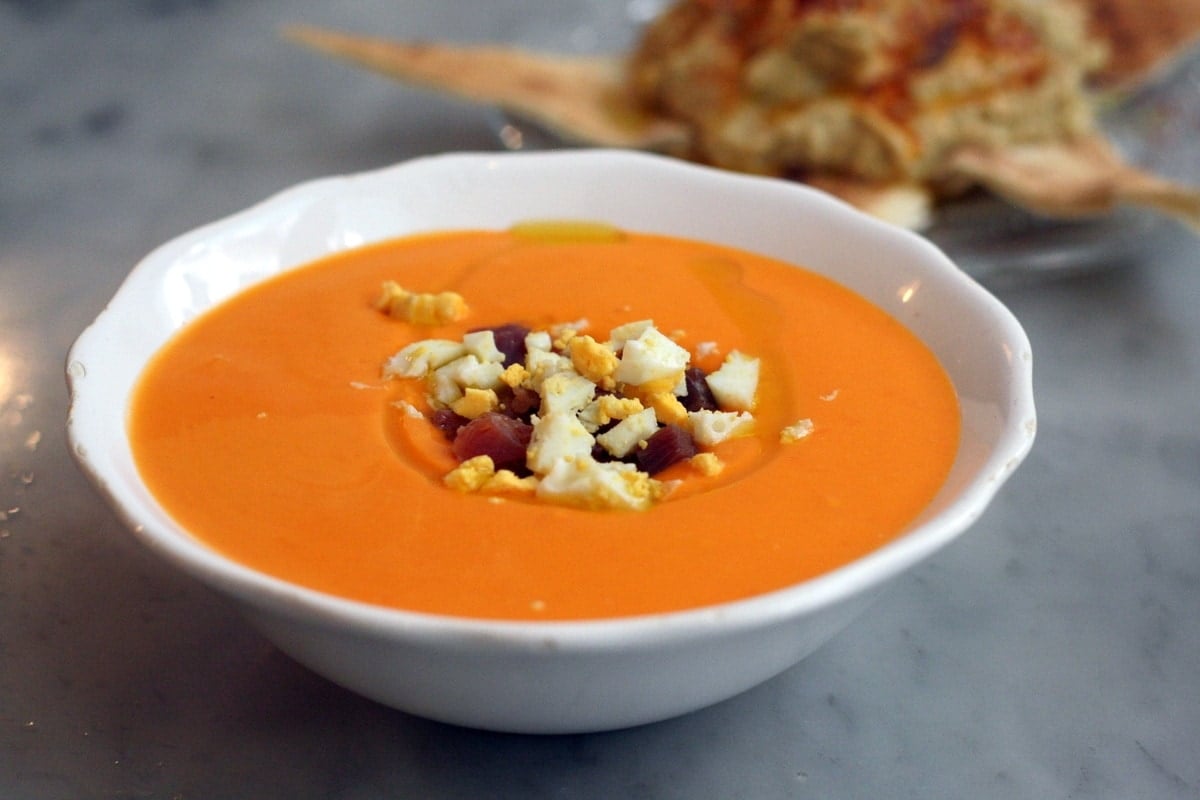 If you love gazpacho, you'll love salmorejo. It's thicker and heartier than its more famous cousin—perfect for when you want something filling yet still refreshing on a hot day.
With a base of tomatoes, garlic, and olive oil, salmorejo is packed with vitamins and antioxidants. It gets its thick, creamy texture from a bit of rustic-style bread, which is often of excellent quality here in Spain.
10. Winter Salad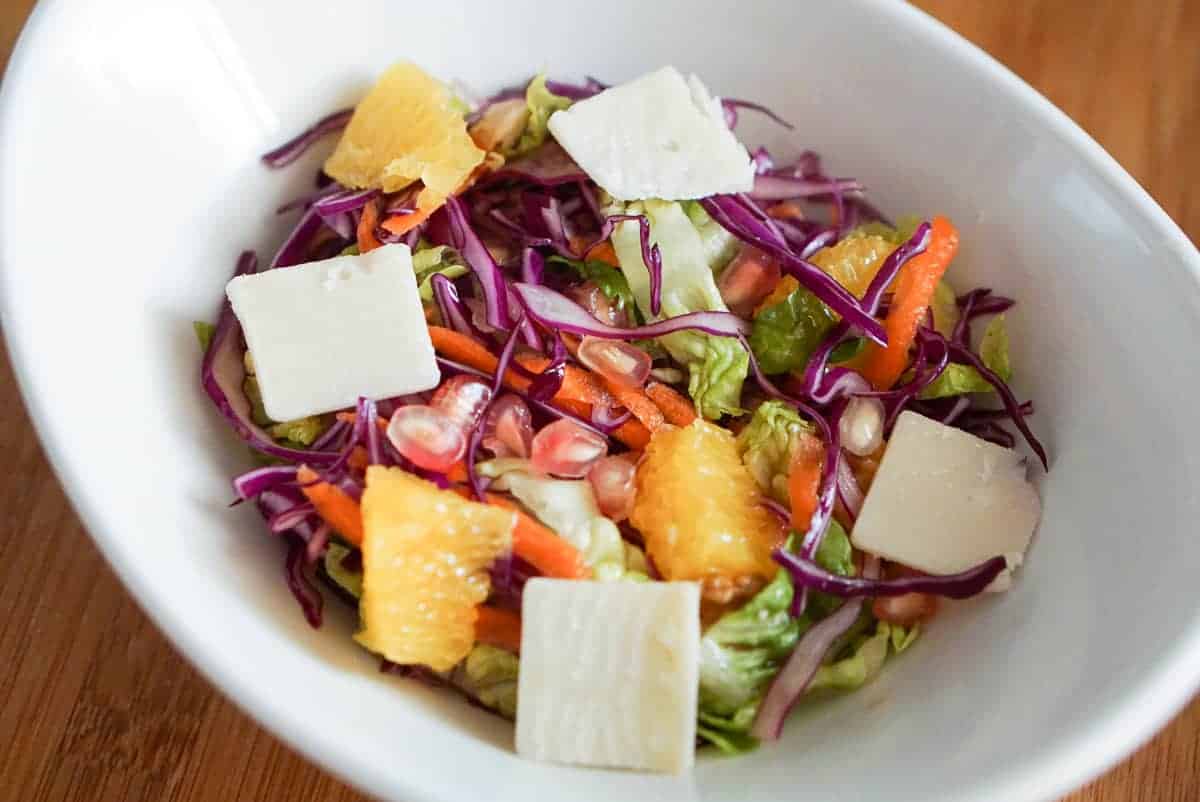 This tasty and simple Spanish winter salad is living proof that salad doesn't have to be bland or boring.
Based on a popular red cabbage salad typically eaten in Madrid during the winter holidays, this dish is packed with seasonal ingredients that provide tons of color and flavor. Whip up a simple orange vinaigrette to top it all off, and you've got the perfect healthy meal!
11. Spanish Hummus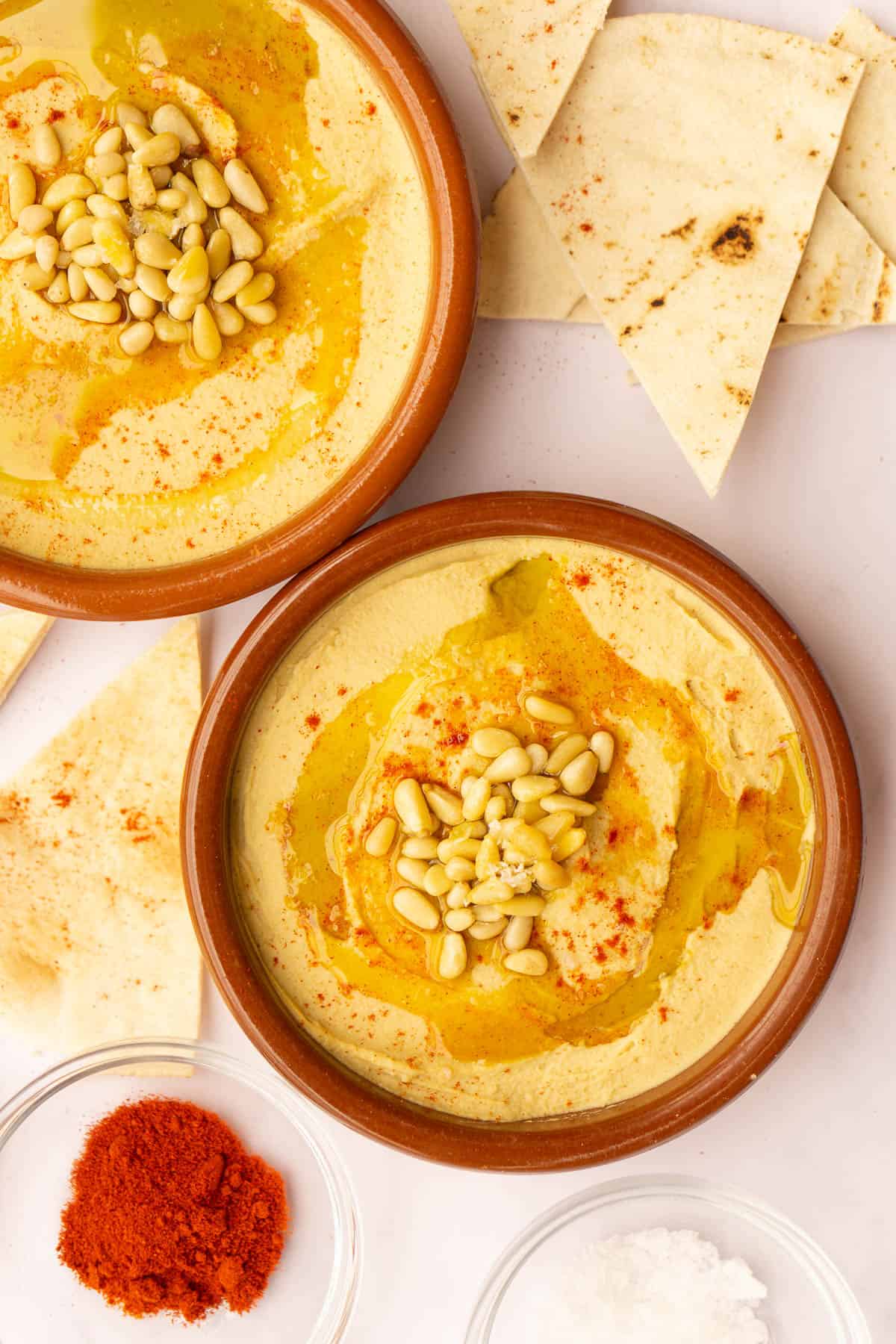 While not native to Spain, hummus has gained major popularity here in recent years. So it only makes sense that one of the best healthy Spanish recipes is a local twist on this delicious dip!
Traditional hummus is a fantastic source of plant-based protein and healthy fats. This Spanish-inspired recipe uses the classic version as a base with a few delicious (and nutritious) additions. Toasted pine nuts, extra virgin olive oil, and smoked paprika each offer a variety of health benefits and make for an absolutely perfect combination.
12. Spanish Roast Chicken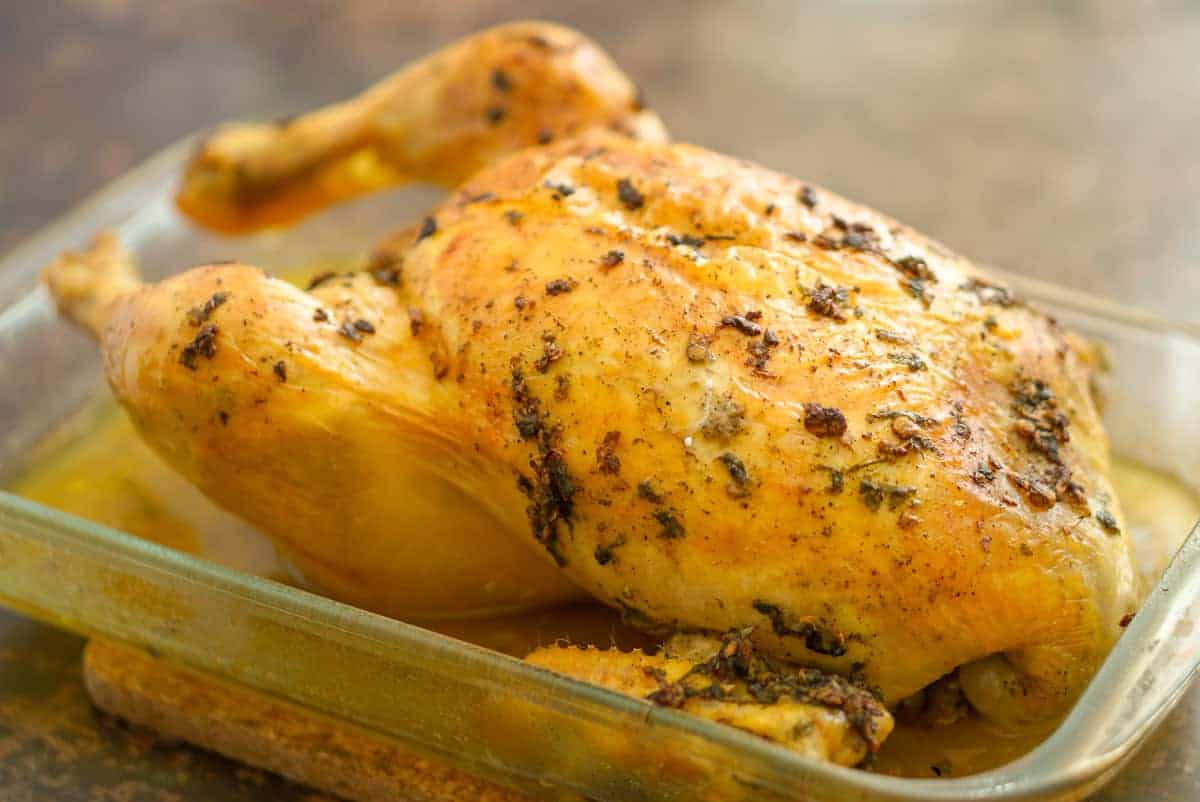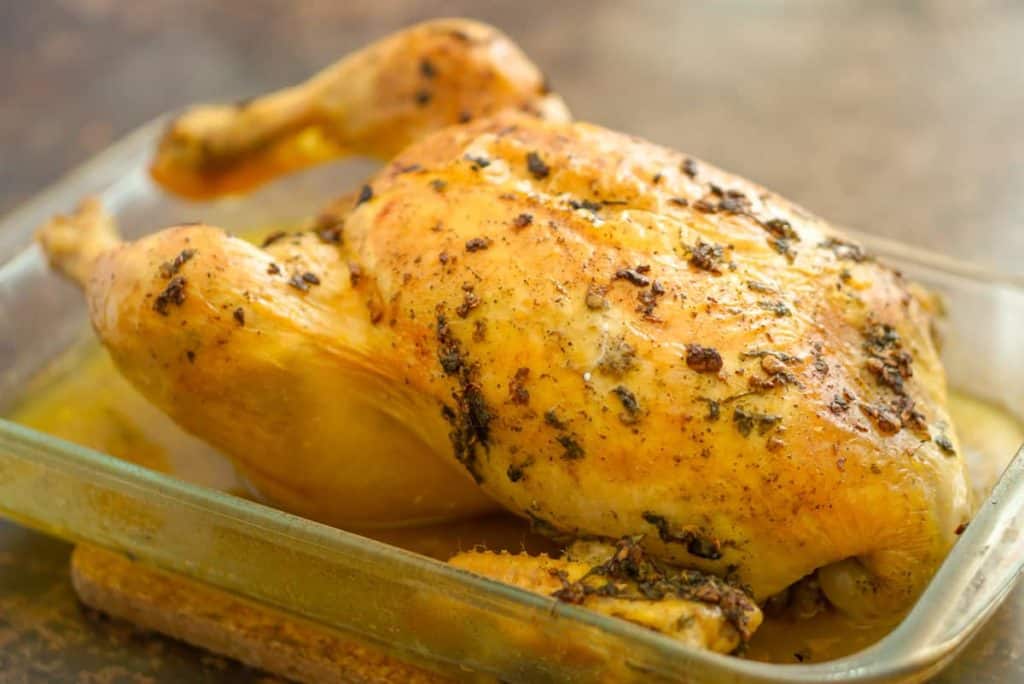 Spanish roast chicken is not only healthy, but it's also unbelievably easy. Just 15 minutes of prep work goes into this protein-packed simple weeknight meal.
To start, whip up a quick garlic and parsley paste and spread it over the chicken. Add some white wine and a stock cube, and pop it in the oven! A little over an hour later, you'll have a juicy and flavorful chicken that the entire family is sure to love.
13. Lentil Salad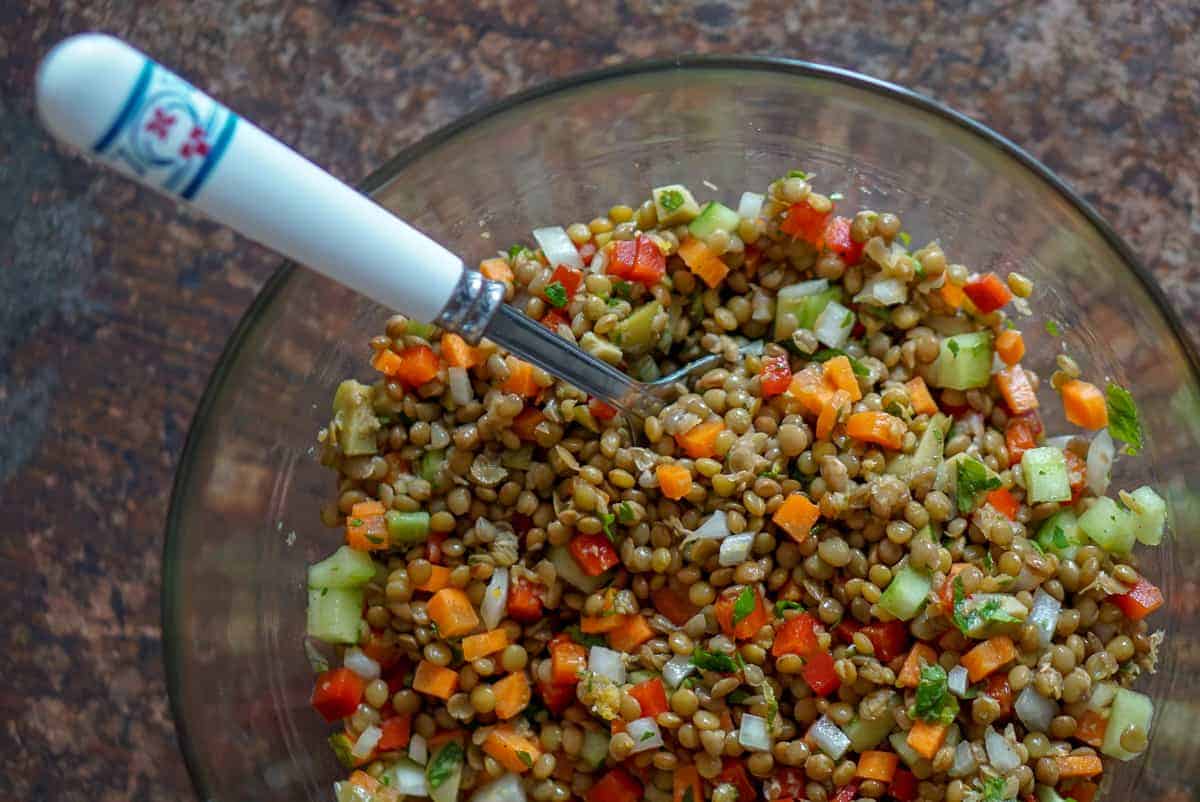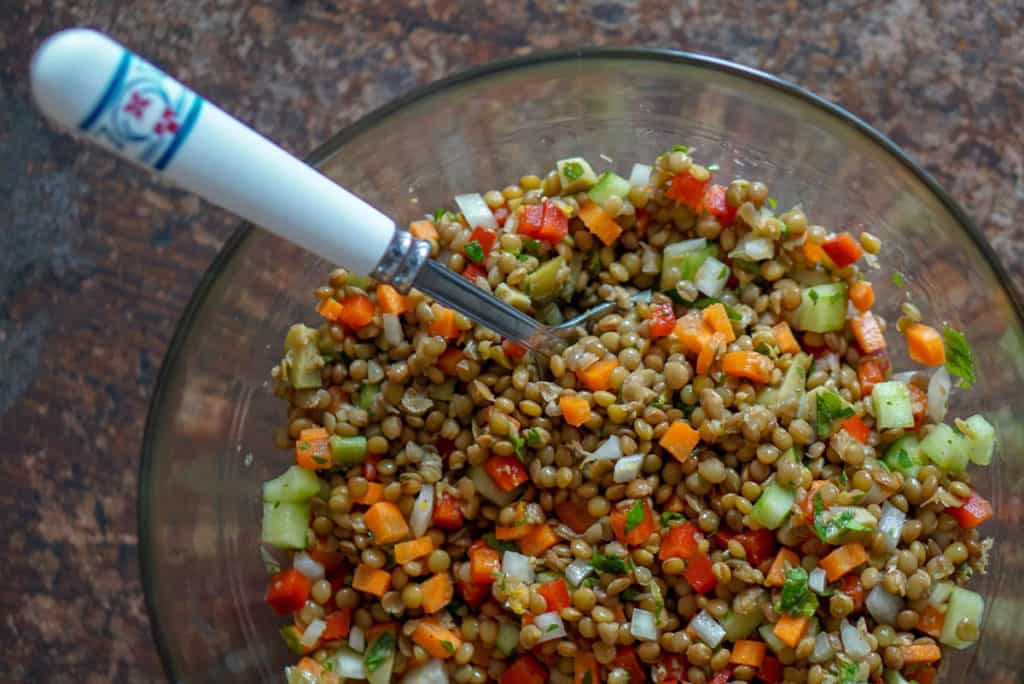 Traditional Spanish lentil soup often comes loaded with chorizo. Delicious, but not exactly one of the healthiest Spanish recipes out there.
Instead, give this lightened up (and vegan) Spanish-inspired lentil salad a try. Perfectly cooked lentils, fresh and crunchy vegetables, and a simple dressing full of Spanish flavors make this a great option for a nutritious and refreshing weekday lunch.
14. Tuna Pasta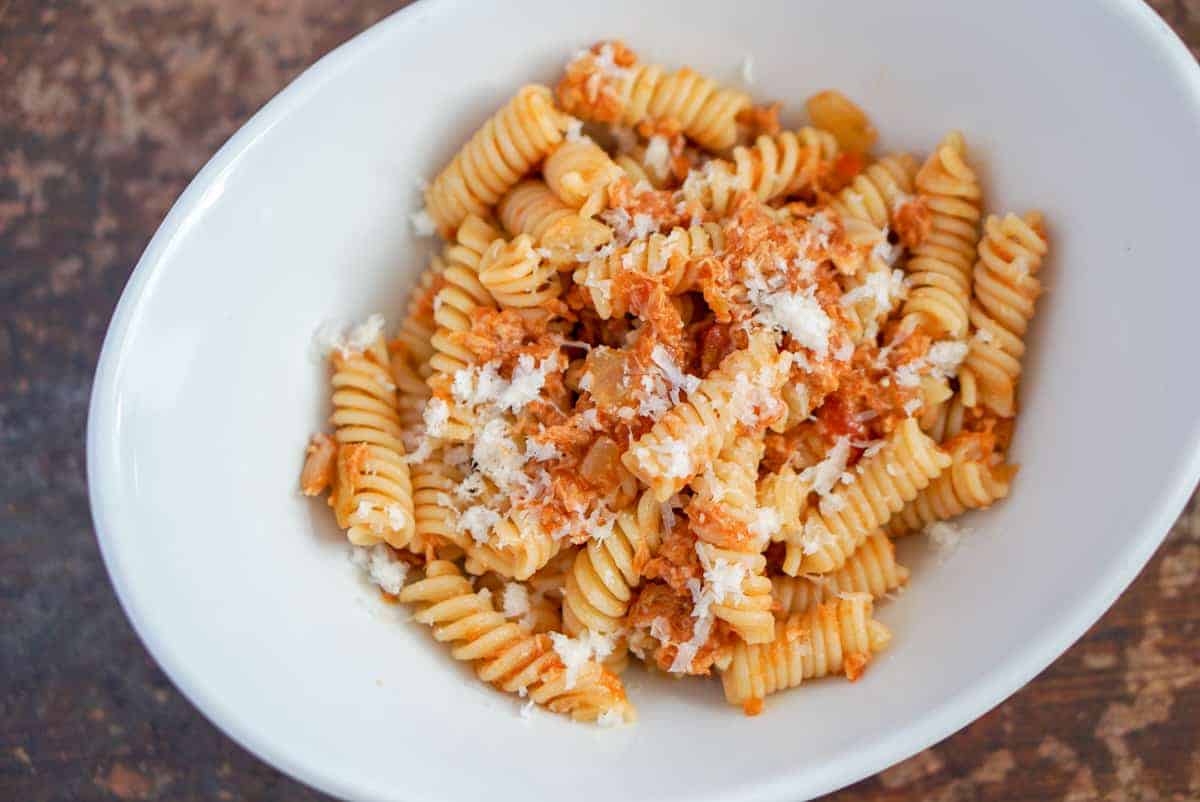 If you've never thought of mixing tuna into pasta, you should start now. This is a popular lunchtime dish in Spain and especially beloved by Spanish kids!
Tuna pasta takes your basic pasta with tomato sauce and ups the health factor with a can of excellent Spanish tuna. Add a bit of grated Manchego cheese for an extra touch of calcium. Optionally, you can also mix in the secret ingredient that gives this dish an extra boost of umami—nobody will ever guess it's an anchovy!
15. Chicken Chilindrón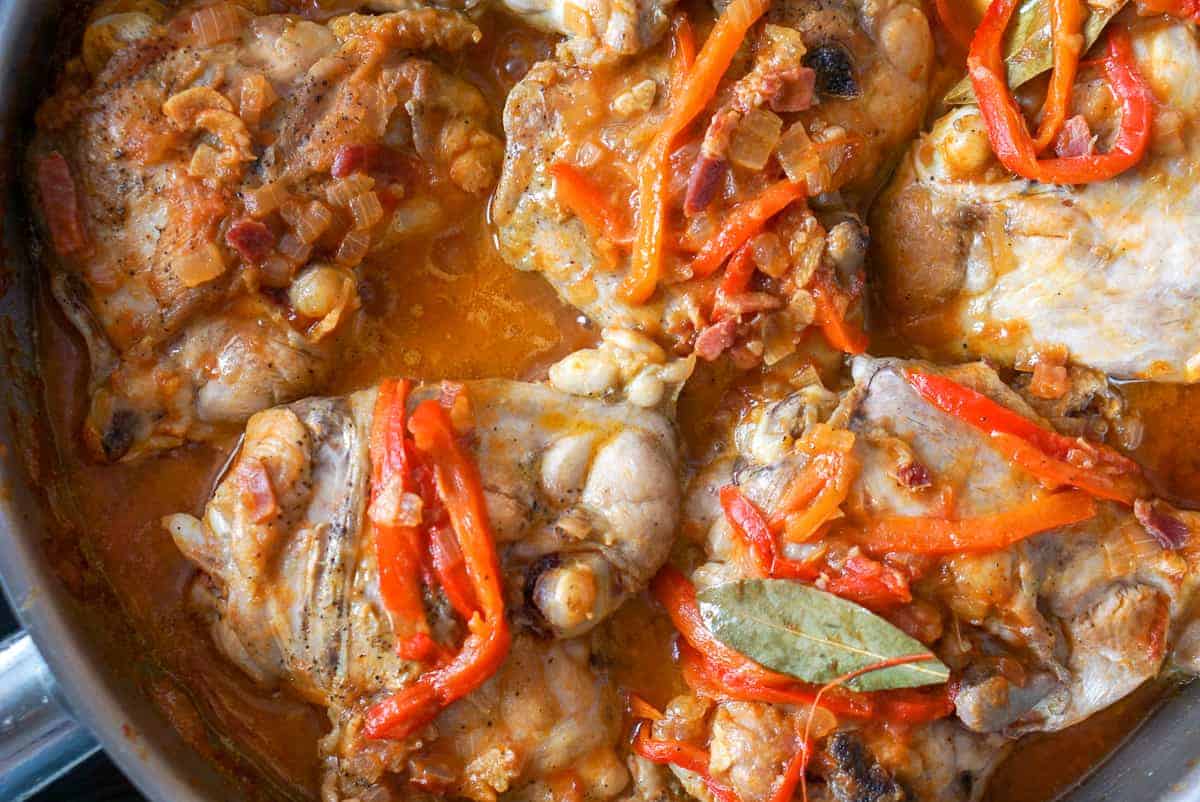 A popular winter dish in the north of Spain, pollo al chilindrón is a hearty, healthy chicken and pepper stew. The chicken provides the protein, the peppers are full of vitamins, and together they make for a healthy and colorful meal that the whole family will love.
16. Mediterranean Roast Vegetables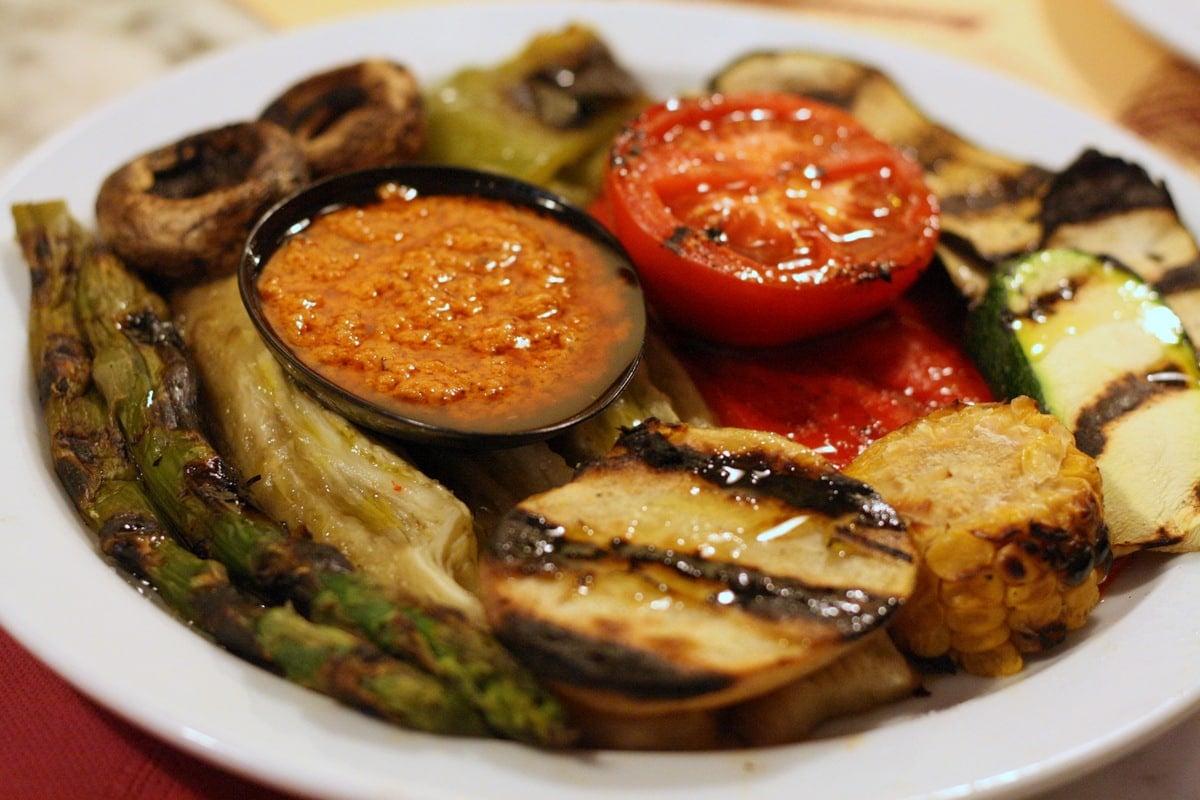 Who says eating your veggies can't be fun?
Mediterranean-style roast vegetables are quick and easy to make. Simply chop your veggies, cover them with olive oil and herbs, and pop them in the oven. In just half an hour you'll have a flavorful and nutritious vegan main or side dish that will have even the staunchest vegetable haters grabbing seconds!
While these vegetables are delicious on their own, a great Spanish sauce really takes them to the next level. Nutty, piquant romesco sauce makes an especially perfect pairing.
17. Chicken & Mushrooms
There's a lot to love about easy and delicious Spanish-style chicken and mushrooms. It comes together in one pan in less than an hour, using basic ingredients you can find anywhere. And it's also healthier than many similar recipes due to the fact that there's no butter or cream.
But that's not to say it isn't hearty and tasty, too. Instead of a creamy sauce, this chicken and mushrooms recipe uses a base of white wine and chicken broth. The result: a super-satisfying weeknight meal that also happens to be one of the healthiest Spanish recipes you can find!
18. Catalan Spinach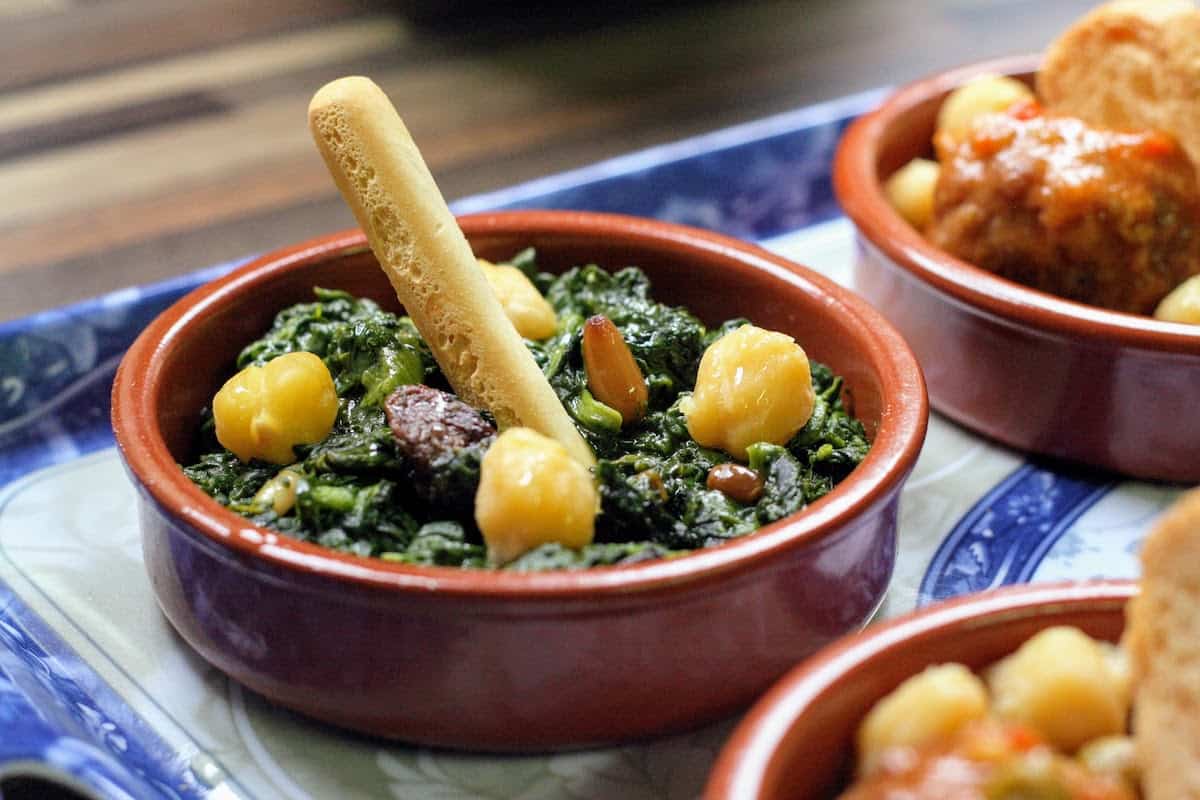 Anyone who claims to hate spinach clearly hasn't tried Catalonia's take on this leafy green.
Espinacas a la catalana has its roots in Sephardic Jewish cuisine and is now a staple of Catalan gastronomy. It beautifully combines sweet and savory flavors into a tasty vegan dish that everyone is sure to love.
The base of this recipe is quite simple: spinach, garlic, pine nuts, and golden raisins. But like many of the best healthy Spanish recipes, it's easy to adapt to your own tastes. Toss in a bit of bacon or cured ham if you're missing the meat, or up the tanginess with some capers.
19. Marmitako
If you haven't yet tried marmitako, or Basque tuna stew, you're missing out! This is one of the healthiest Spanish recipes to make at home, as well as one of the most impressive.
Traditionally prepared and eaten by fishermen along the Basque coast, marmitako started off as an inexpensive and easy to prepare meal that used readily available ingredients. Today, it's a staple on lunch menus all over Spain, and a great option for a family meal!
As with some of the best Spanish stews, recipes for marmitako can vary depending on whatever the cook has on hand. But typically, they include potatoes, bell peppers, paprika, and—the star ingredient—incredible Spanish tuna.
20. Chicken in White Wine & Garlic Sauce
You may have noticed that many of these healthy Spanish recipes are made with chicken, and there's a good reason for that! Chicken is affordable, easy to work with, and a great source of protein.
This particular dish is often referred to in Spain simply as pollo en salsa. While "chicken in sauce" may not seem all that descriptive, the beautiful simplicity of this recipe really makes it shine.
The sauce in question here consists of white wine, chicken stock, bay leaves, and plenty of garlic. It comes together in just about half an hour for a quick and delicious meal that's perfect for the whole family!
21. Pisto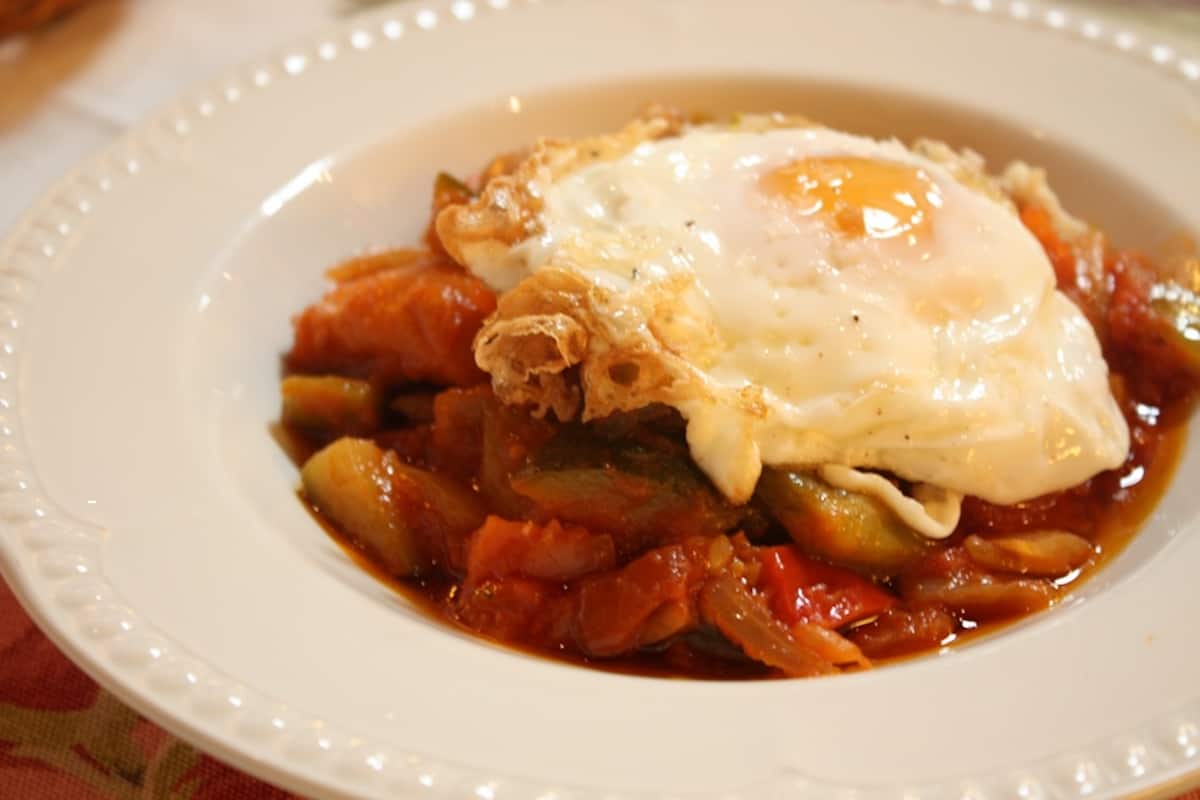 Last but certainly not least is one of the coziest Spanish stews out there: pisto!
If you're familiar with ratatouille, you'll love the Spanish take on it as well. Pisto consists of a simple mix of vegetables simmered to perfection and lightly seasoned with a handful of herbs and spices. While the exact vegetables used can vary, bell peppers, onions, tomatoes, eggplants, and zucchini are the most commonly used.
Traditionally, pisto is served with a fried egg on top (or occasionally with grated Manchego cheese). However, the dish itself is completely vegan, so simply omit those toppings if you want a plant-based version.
Healthy Spanish Recipes FAQs
Update Notice: This post was originally published on January 28, 2016 and was updated with new text and photos on June 28, 2021.
Hungry for more? Sign up for my free weekly newsletter and receive a new Spanish recipe once a week! Join today and get my FREE Spanish ingredient essentials guide!