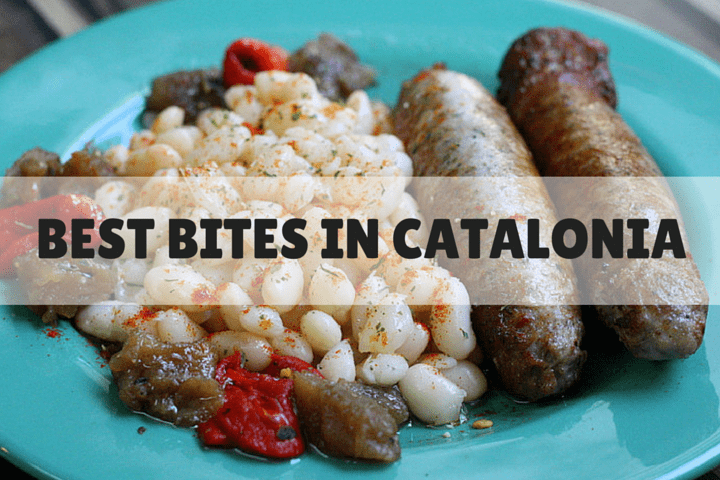 There's may be no corner of Spain with more regional pride than Catalonia.
With a history of independence dating back to the Middle Ages, a pretty Romance language that you shouldn't go calling a mixture of French and Spanish, an industrial heritage not found in the rest of the country, and a strong tradition of art and music, Catalonia strikes outsiders as nearly a separate nation of its own. In fact, many Catalans support the quixotic movement to secede from Spain, waving bold red, blue, and yellow flags from their balconies. But… what about the food?
Safe to say, you shouldn't expect to eat typical "Spanish fare" when you visit the region, especially any destination outside the capital, Barcelona.
Oh, you'll find tortilla and jamón, to be sure, but since Catalonia developed such a distinct culture from the rest of the country, it's worth making the effort to try the dishes handed down from grandparents to grandchildren over the centuries.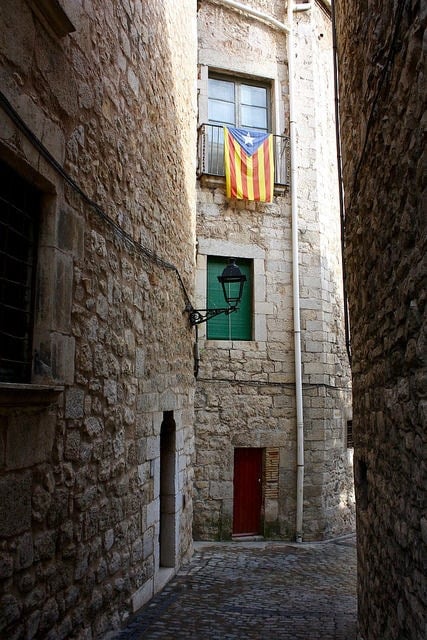 Catalan cuisine benefits from the region's diverse geography—from mountains to the Mediterranean—and its rich past as a crossroads between the Iberian Peninsula and the rest of Europe: the Greeks brought wine and olive oil, the Arabs introduced rice and citrus, while the Castilian conquistadors imported tomatoes and peppers.
This list only scratches the surface, but I hope it points you in the right direction.
Cheat sheet: The Best Bites in Catalonia
Pa amb tomàquet
Calçots
Fuet
Botifarra
Arròs a la cassola
Arròs negre
Escalivada
Esqueixada
Crema catalana
Ensaïmada
Pa amb tomàquet
Although you can find "bread with tomato" anywhere in Spain, Catalans really take this simple dish, pronounced "pahm too-MAH-ket," to the next level. First, they rub a fresh clove of garlic over a slice of toasted bread. Slicing a ripe tomato in half, they then rub the tomato over the toast, squeezing it to release all the pulp and juices and discarding the skin. Finally, they garnish it with olive oil and salt, and chow down on this simple snack at all hours of the day. The key to a delicious pa amb tomàquet is the special thin-crust, bubbly pa de vidre bread typically baked in the region.
Calçots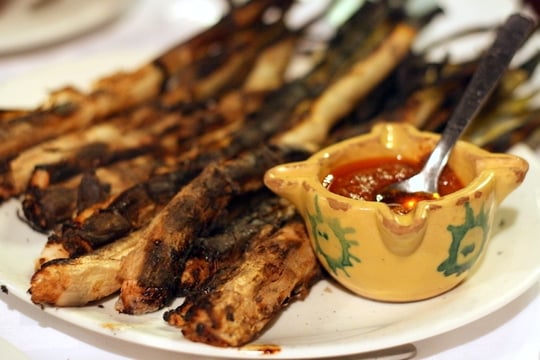 Grown primarily in southwestern Catalonia, these large scallions make a great excuse to throw a party in the gray days of late winter and early spring, when locals eat them at an open-air festival called a calçotada. Here, these leek lookalikes are grilled barbecue-style until the outer layer is nice and charred. Seasoned Catalans know to slip off the inedible, ashy outer layer first before dipping the tender cooked stalk into a bowl of romesco sauce, which is made from almonds, peppers, and tomatoes. Calçots pair nicely with roasted lamb, botifarra sausage, and a glass of bubbly cava.
Fuet
This slender, cured sausage, which takes its name from the Catalan word for "whip," is made with densely-packed pork, lard, salt, and pepper. During the curing process, a powdery white bloom covers the casings and contrasts with the marbled red filling. Fuet can be eaten on its own as a snack or tapa, but you can't go wrong matching it with some pa amb tomàquet.
Try it with a glass of vermouth at La Vermu in Barcelona's Gràcia neighborhood at Calle Sant Domènec, 15
Botifarra
Spelled butifarra in Spanish to reflect how you pronounce it in Catalan, this plain sausage of lean pork meat has several varieties. Raw, uncured botifarra vermella is often thrown on the grill and served with white beans for the traditional Catalan dish called botifarra amb mongetes. Black pepper overwhelms the almost-spreadable white botifarra blanca. And boiled pork blood adds a reddish black color to botifarra negra.
Arròs a la cassola
Think of this dish as a juicy paella cooked in a short earthenware pot, the cassola. In some versions, cooks use pork ribs and rabbit, while in others they toss in whatever shellfish they have on hand. Whatever your preferred protein, arròs a la cassola starts with a base of sofregit, a garlic-onion-tomato sauce to which the short-grain rice and cooked meat are added along with healthy glugs of stock. The dish boils away on the stovetop until the rice is moist and cooked—but you eat it with a spoon to catch all the savory broth.
Arròs negre
"Black rice" (sometimes erroneously called "black paella") consists of nothing more than rice, onions, garlic, squid and/or cuttlefish…and their ink, which stains the white rice a striking deep black. It's traditionally served with a dollop of freshly-made alioli sauce.
Try it at L'Alqueria in Girona at Calle Ginesta, 8
Escalivada
A simple trinity of eggplants, bell peppers, and onions is roasted over an open gas flame or in the oven, sliced into long strips, and served room temperature with olive oil and salt as a tapa, with anchovies, or as a side dish. Escalivar in Catalan refers to the act of roasting something over a fire's glowing embers; so traditional escalivada will have a distinct smoky flavor about it.
Esqueixada
Sometimes referred to as "Catalan ceviche," esqueixada really should be labeled a fresh veggie salad that happens to have uncooked cod in it. Don't worry; it's actually desalted salt cod, which is much safer to eat than fresh raw fish. Pronounced "us-kuh-SHAH-duh," this Old World-meets-New World dish combines hand-shredded Atlantic cod—the Catalan verb esqueixar means "to shred"—with tomatoes, bell peppers, onions, and olives, lightly dressed with oil and vinegar.
Crema catalana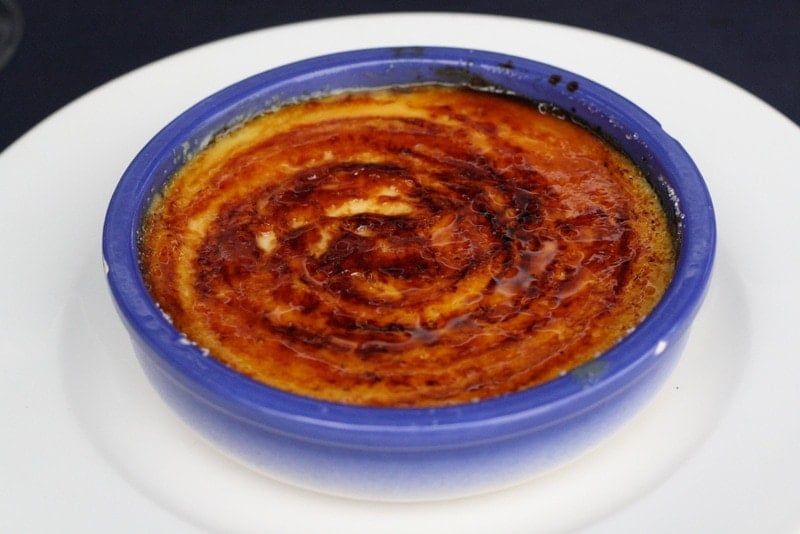 Catalonia has an answer to France's crème brûlée: crema catalana. What smells like roasted marshmallows might throw you off at first, but that's just the delicate, glassy layer of caramelized sugar on top, hiding rich, thick custard beneath.
Ensaïmada
Originally from the island of Mallorca (where they also speak Catalan), light-as-a-cloud ensaïmadas form a tight spiral dusted with powdered sugar. Although traditionally baked with saïm or lard (hence the name), they can also be made with butter or vegetable oil. They're the perfect pastry to go with a morning café amb llet (café con leche in Catalan)… or ideal as an afternoon indulgence.
Have you visited Catalonia? What was your best bite?
About the Author: Trevor Huxham teaches English at an elementary school in a small coastal village on Spain's northwestern coast but calls Santiago de Compostela home. When he's not teaching, you can usually find him hunting down the next best free tapa in town or sharing a plate of octopus with friends. Follow his stories and photos of life abroad and travels across Spain on his blog, A Texan in Spain, on Instagram, or on Twitter.
Taste Catalonia with Devour Barcelona!
Join us for a taste of Catalonia on our Gracia Neighborhood Food Tour! This four hour exploration of one of Barcelona's most local neighborhoods will have you fully immersed in Catalan cuisine and culture. You can read about the food tour and buy tickets in advance here.