This blog post was originally posted on March 18, 2016 and was updated on November 9, 2017.
For too long, Malaga has been considered first and foremost an airport and launch pad for the surrounding beaches on the Costa del Sol, and secondly a tourist destination. But this should definitely not be the case! Malaga is a wonderful city with rich history, fabulous gastronomy, and the added bonus of 300+ days of sunshine per year.
With a past dating back to the Phoenicians, monuments remaining from the Romans, and a long period of occupation by Muslim tribes known as the Moors, Malaga has an interesting and diverse story which had made it into a unique city to visit today. Couple that with friendly locals, delicious seafood, and not just one but two winemaking regions, what's not to love about the Costa del Sol capital? To help plan the perfect stay, this Ultimate Travel Guide to Malaga will show you everything you need to know.
Related: 8 Essential Travel Tips for Malaga
Top Things to Do in Malaga
Alcazaba
Malaga's most important monument is the 11th-century fortification that overlooks the historical center of the city known as the Alcazaba. To get a grip on the city's Moorish past, this monument is a must visit!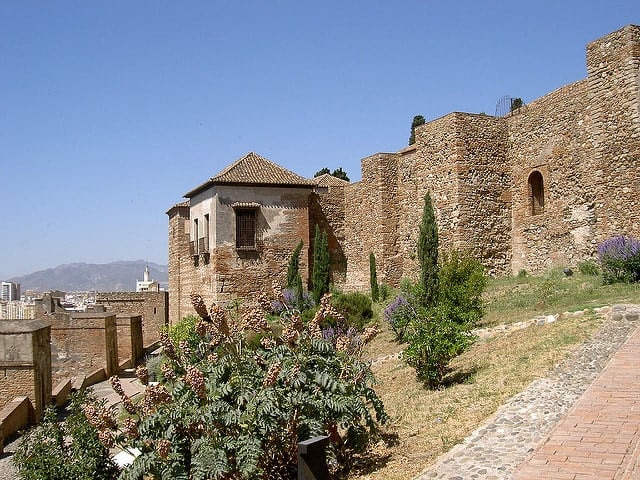 Roman Theater
Just underneath the Alcazaba lies the remains of an ancient Roman amphitheater which date back to the first century. Despite being the oldest monument in the city, the Roman Theater was only discovered in the 1950s after years of being buried underground.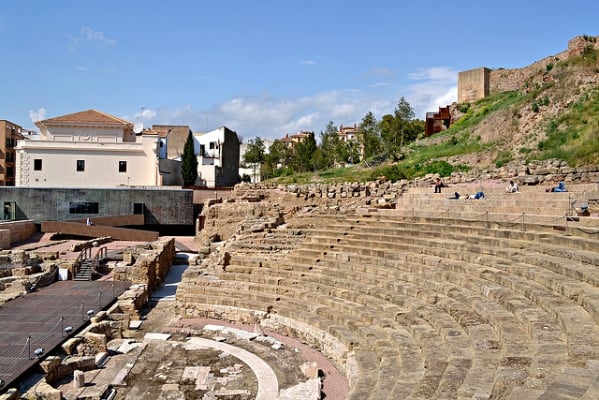 Gibralfaro Castle
Set upon a hill overlooking the city, the 10th-century Gibralfaro Castle has been witness to many a historic event. It was built by the Moors on the site of a Phoenician lighthouse, and is famous for the three-month siege by the Catholic Monarchs, King Ferdinand and Queen Isabella, which ended only when hunger forced the Moors to surrender.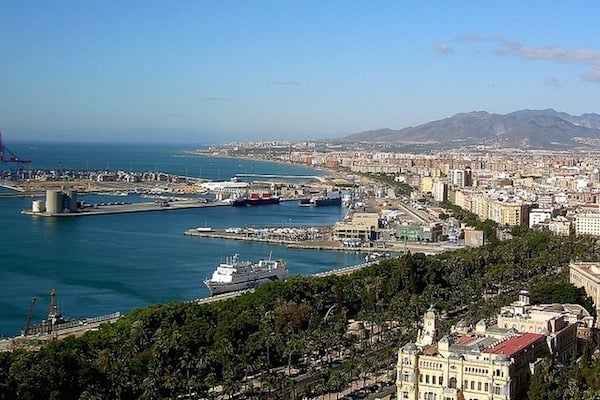 Cathedral
Malaga's Cathedral has an interesting nickname: La Manquita, or "the one-handed woman." The cathedral was built over the course of 250 years in the 16th and 17th centuries, but the truth is that the works were never really finished. The second tower was never completed, hence its nickname today—one tower, one hand.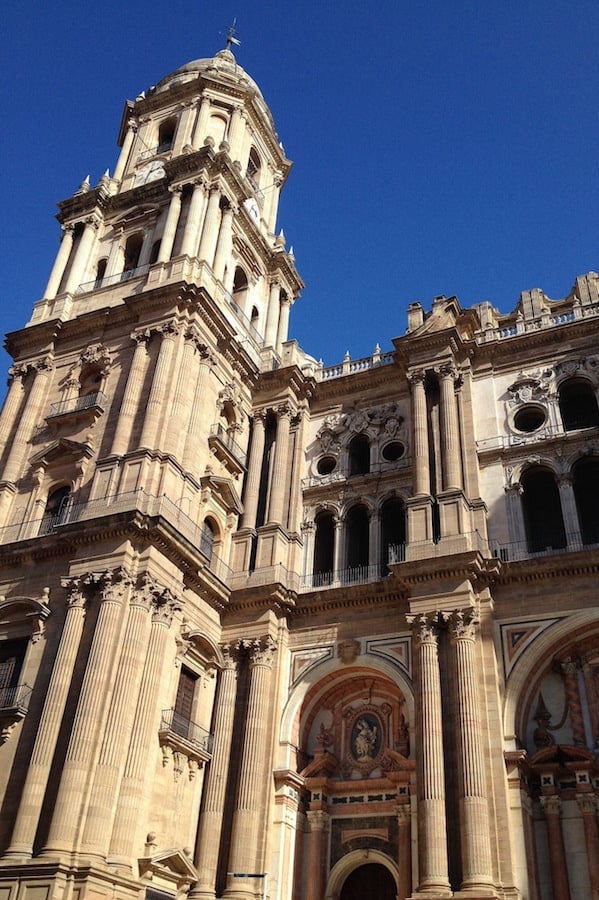 Picasso Museum
Not every city can claim to be the home of one of the most iconic artists of all time. Pablo Picasso was born in Malaga, and today the museum of his works makes a wonderful visit for any art lover. Aside from the museum, his family home by Plaza de la Merced is also open as a tourist attraction.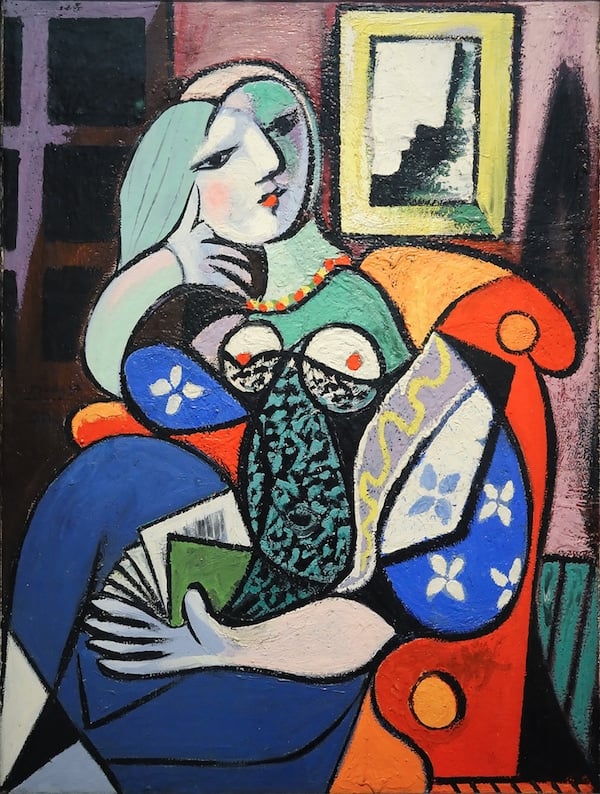 More ideas:
Non-Touristy Things to Do in Malaga
See the street art in Soho
Just out of the city center lies the Soho neighborhood, an area which has become known for its alternative culture and art but is still fairly unvisited by many visitors to Malaga. Galleries, cafes, art spaces, events—you name it, it's happening in Soho. In an effort to revive and brighten up the area, the art has even taken to the street with beautiful street art panels. Take a wander around the neighborhood and check it out for yourself!
Learn more: Street Art In Malaga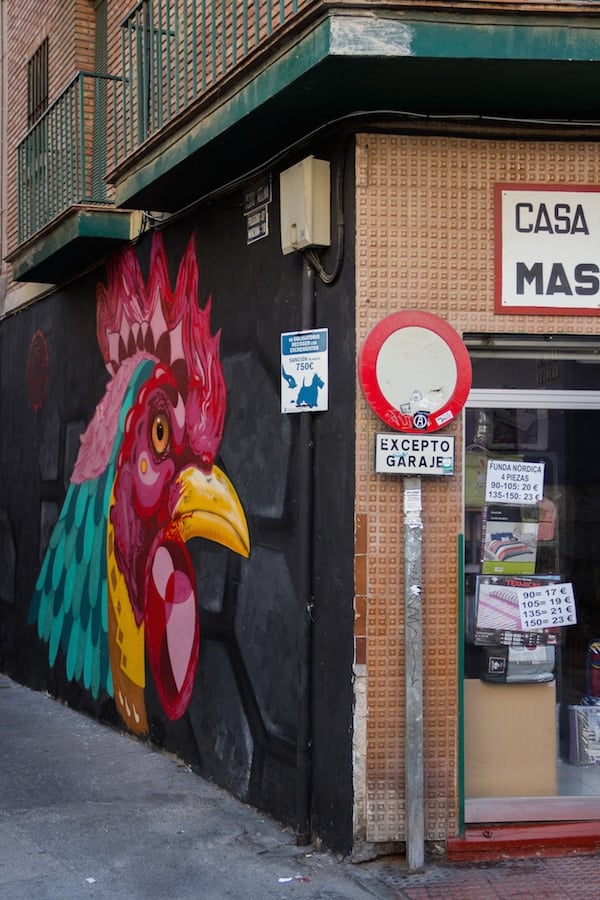 Visit the surrounding fishermen's villages
Malaga is a small city, which means you don't have to go far to find something different. Rent a bike and cycle along the boulevard to find the old fishermen's villages. It's an easy ride with great views, all rewarded with the best fish and seafood in town! One standout is the of village El Palo, where you'll find El Tintero (Avenida Salvador Allende, 97), a malagueño seafood institution. Waiters rush around with different plates shouting the name of the dish and when you see something you like, you have to flag them down!
Start exploring: Guide to Renting Bikes in Malaga
Get into the music, the local way
Malaga is full of fabulous options for live music. Check out the variety at Velvet Club, get your salsa on at Chiquita Cruz (Plaza de las Flores, 7), or enjoy one of the most Andalusian options out there by taking in a live flamenco show.
Plan your night out:
Foodie Things to Do in Malaga
Visit the Mercado de Atarazanas
Malaga has what is perhaps the most impressive local produce market in all of Andalusia. At the Mercado de Atarazanas, you'll find rows upon rows of booths selling almost anything you can imagine: endless varieties of seafood, cheeses & charcuterie, more types of olives than you even knew existed, great value bottles of sweet wine and unfiltered virgin olive oil, and more. Every morning the place gets filled with locals stocking up on their daily supplies. To make it even cooler, the building is an old shipbuilding yard that dates back to the Moorish times!
Learn more: The Best Markets in Malaga
Sip sweet wine
In the world of wine, there's something that sets Malaga apart from the rest. The province has two official winemaking regions, one of which is dedicated entirely to the area's signature delicious sweet wines. There are two emblematic places where you can try this wine in Malaga. The first is Antigua Casa de la Guardia which is located down by the harbor, and the second is El Pimpi on Calle Granada in the center. Both offer their own unique experience, so don't leave without at least trying one.
Learn more: Wines to Order in Malaga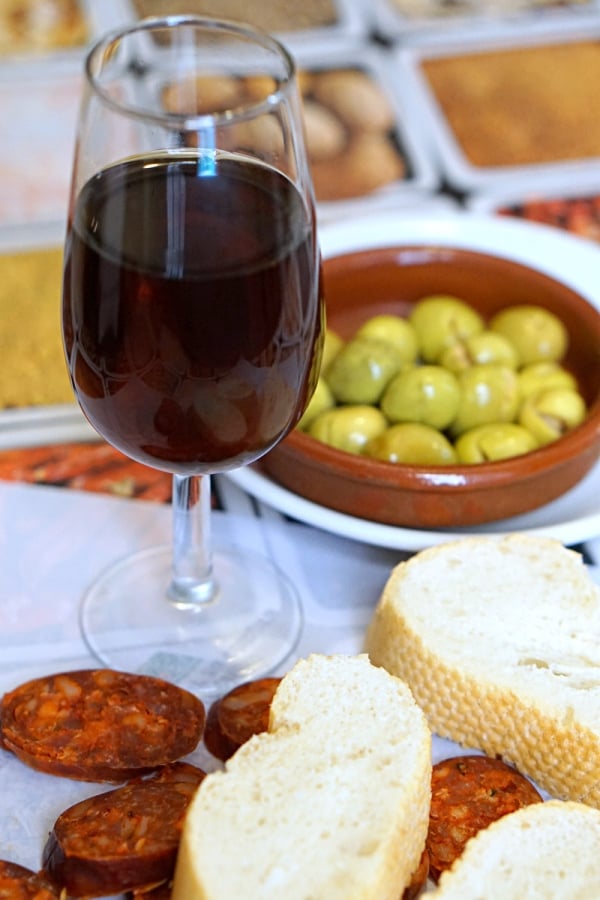 More foodie inspo:
What to Eat in Malaga
Pescado frito
Perhaps the most famous and most well loved of Malaga's cuisine is pescado frito (fried fish). You find it all over the city in many ways, shapes, and forms. Boquerones (white anchovies) are popular, as is cazón en adobo (marinated dogfish). Grab it as a tapa, dig into a cone of it, or eat it by the beach—no matter what you choose, it will be enjoyable!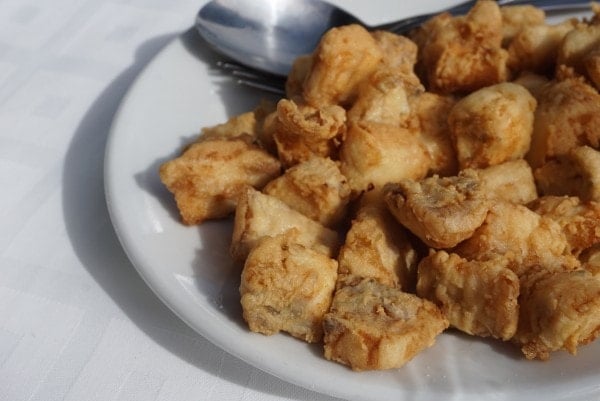 Salchichón de Malaga
Salchichón (cured sausage) is produced and enjoyed across Spain, but salchichón de Malaga is unique in that it is not cured for very long, leaving it very soft on the inside. It's best enjoyed with a side of Malaga's own sweet wine, of course!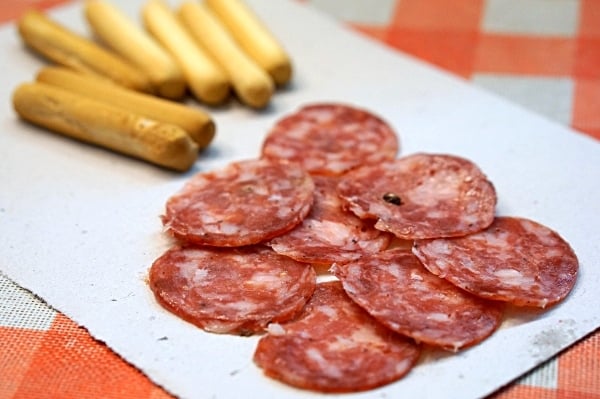 Zurrapa
While the ingredients sound a little interesting—pork combined with lard and paprika—this is a surprisingly delicious spread. Check out buckets of it for sale in the market, or try it spread on top of freshly toasted bread for breakfast.
Espetos
If there is one food that screams "Malaga," it's espetos (sardine skewers). You generally need to go out to the beach to enjoy this local specialty, as the skewers are barbecued over open pit fires, which are usually fashioned out of an old boat and sitting on the beach.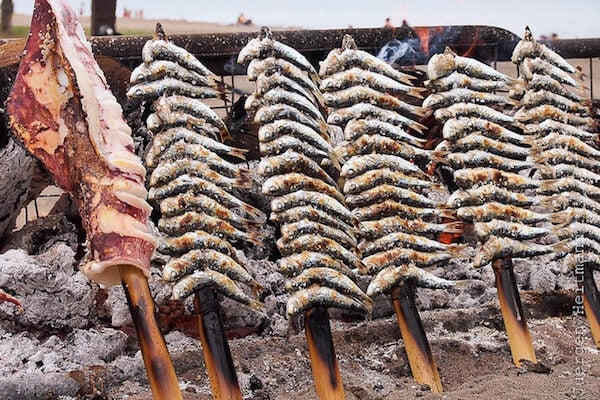 Hungry yet? All About Espetos in Malaga
Almonds
Almonds are another nod to Malaga's Moorish past, having been brought here by the Moors themselves. Locals love grabbing a cone of almonds from the sellers around town to snack on throughout the day, or nibbling on them with some cheese and wine.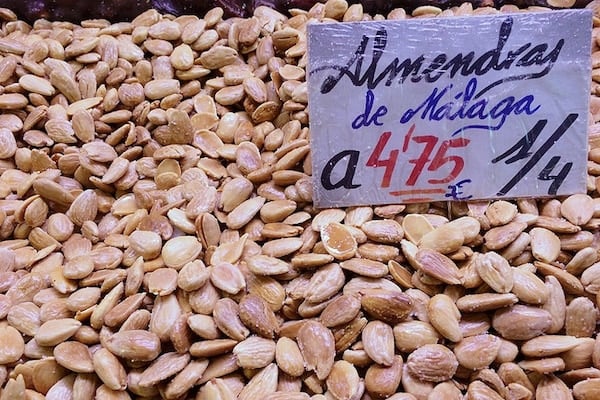 Ensalada malagueña
There's nothing like a light salad when the weather is hot, and Malaga is no different. The local specialty is made from bacalao (salt cod), potato, orange, hard boiled egg, onion and olives, all finished off with a bit of olive oil, salt and pepper.
Porra antequerana
Some think it's the same as salmorejo, others confuse it with gazpacho, but in Malaga this cold tomato soup is known as Porra antequera and is a must—especially on a hot summer day! This cold tomato soup is sometimes made with bell pepper too and thickened with bread—the final product is even thicker than the more common salmorejo, originating from Cordoba.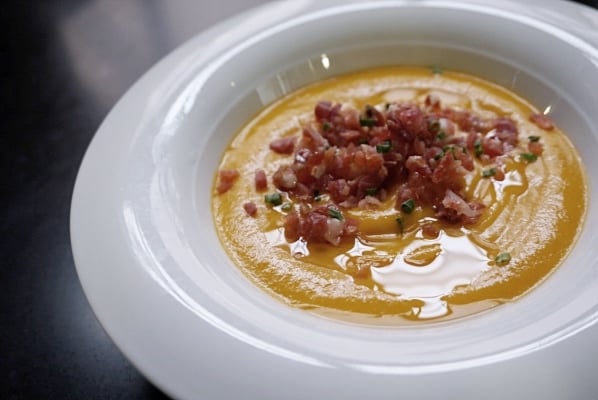 Discover more deliciousness:
Where to Eat in Malaga
Breakfast
While Malaga might be famous for its fabulous seafood and array of tapas before its breakfast choices, there are actually some wonderful breakfast options available right in the middle of the historic center.
La Recova: Part bar, part gallery and store, this is a breakfast spot that everyone must experience once in their life. For €2.40, you'll get a coffee, two slices of toast, and a plate of five different toppings—three local savory spreads and two homemade marmalades. No poring over the menu is needed; just sit down and eat! Pje. Ntra. Sra. de los Dolores de San Juan,5

Casa Aranda: If a breakfast of churros dipped in thick, hot chocolate sounds like your idea of a good time, this malagueño institution is just the place for it. It's the very definition of no-frills and simple, but the locals know this is one of the best places for in Malaga for this doughy treat! Herreria del Rey, 3

Cafe Central: This is a historic place to come for breakfast in Malaga—after all, it was this place that invented Malaga's 10 different ways of ordering coffee that you won't find anywhere else in Spain! Here you can try the most typical breakfast in Malaga, pitufo, which is toasted bread filled with an array of toppings, such as the simple jamón iberico and tomato. Plaza de la Constitución, 11
More breakfast ideas: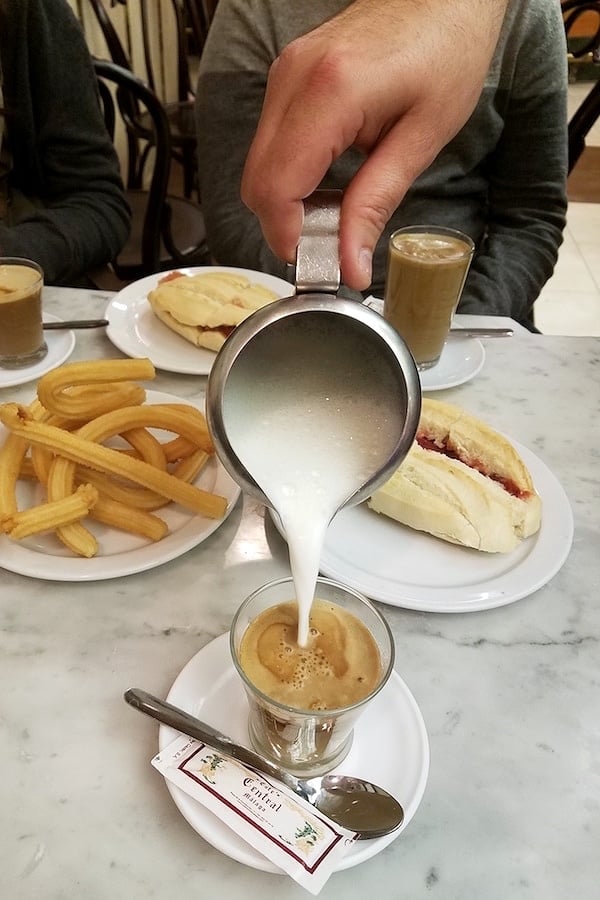 Traditional Bars
La Tranca: This is the place to come for vermut casero and empanadas, which are freshly made and come with a range of fillings. From chicken to pork to cheese and even vegetarian offerings, there's an empanada for everyone! Calle Carreteria, 93

Mesón Mariano: This bar and restaurant is possibly the most authentic place you'll find in the historic center of Malaga. Home to typical malagueño cuisine, they specialize in artichokes, bacalao and goat. Calle Granados, 2

Bar Orellana: This is a tiny, traditional bar right in the center of Malaga which offers a range of local tapas and a lively local atmosphere. Expect standing room only and some delicious dishes to go with it. Calle de Moreno Monroy, 5

See also: Where To Eat in the Historic Center of Malaga
Modern Bars
Tapeo de Cervantes: The place is tiny, but if you manage to get in, it's worth the wait. It's little more expensive than other dining options in Malaga, but the tapas are creative and the wine list is long and varied. Calle de Carcér, 8

Wendy Gamba: This is one of locals' favorite bars nestled right into the center of town, serving up a small range of tapas including local favorites done in a modern way as well as totally new inventions. Don't miss the bull's tail burger—it's life changing! Calle Fresca, 10

Uvedoble: Traditional and modern are wonderfully combined at this great restaurant, making it the perfect place to come to try traditional favorites with an interesting flair. Calle Cister, 15
Seafood
Casa Marisqueria San Vincente: You'll love this lively seafood joint down near the market. It's a no-frills kind of place, with paper tablecloths and plastic buckets on the table to discard the remains of the house specialty: shrimp. The boquerones (fried white anchovies) are also worth trying. Calle de Comisario, 2

Bar La Comba: This is the only place in town where you can get Malaga's iconic fried fish served in a cone to go. It's about a 10–15 minute walk from the historic center, but totally worth the journey. Calle Compas de la Victoria, 17

El Cabra: Malaga wouldn't be Malaga without eating seafood on the beach, especially espetos, or sardine skewers barbecued over an open fire pit on the beach. And what better place do it than this local favorite? Expect to find all manner of seafood, simply prepared and fresh—the way it should be. Paseo Maritimo el Pedregal, 17
Where to Stay in Malaga
Boutique Hostels in Malaga
Hostels have undergone a major facelift in recent years in many cities around the world, and Malaga is no exception. There are some wonderful hostels combining charm, design and style with wallet-friendly prices.
Dulce Dreams: This is a super cute hostel not far from the main sights in the city center. If the pastry-themed rooms aren't enough (think carrot cake, blueberries or tiramisu), there's a cafe downstairs which is the perfect stop for a coffee and something sweet. Plaza de los Mártires Ciriaco y Paula, 6
Alcazaba Premium Hostel: Located in between the Alcazaba and Gibralfaro Castle, this hostel is enclosed by history and filled with art, with pieces adorning the walls inside. On the rooftop you'll find a great rooftop bar which is popular with both visitors and locals in Malaga, and a great place to wind down with a drink after a long day. Calle Alcazabilla, 12.

Patio 19: Located in a typical 17th-century palace, this hostel encapsulates the charm and passion of Andalusia. The relaxed vibe and family-style atmosphere, as well as the option of dorm or private rooms, make this a great place for travelers of all ages, with all of the important sights of Malaga within an easy walking distance. Calle Mariblanca, 19.

Budget hotels in Malaga
Staying in a typical hotel doesn't have to break the bank. There are some wonderful budget hotels around town with simple but functional rooms and a friendly atmosphere.
Ibis Budget Hotel: If you don't want to stay right in the thick of things, this hotel is located on the other side of the river from the city center. Not only is it still within walking distance to all the main sights, but it's just a stone's throw from the train and bus stations, too. With clean and functional rooms, it's a good option no matter what your trip to Malaga is for! Calle Calvo, 4

Hotel Sur: The rooms are simple with all the basic amenities you might need, but with such a central location, you can't go wrong with Hotel Sur. The hotel is located a short walk from Malaga's most important sights and is quite small, giving it that homestyle charm with friendly staff who will point you in the right direction and make sure your stay in Malaga is a great success. For the road-trippers, parking is available on site for an additional cost. Calle Trinidad Grund, 13

Hotel Carlos V: This is another place that is all about location—nestled in a street in between the cathedral and Alcazaba, it's perfectly positioned so you can set off and explore the city. The rooms are simple and classically styled, but most importantly they are clean, comfortable and quiet—perfect for a relaxing night's sleep. Calle Cister, 10

Boutique Hotels in Malaga
For some people, their choice of accommodation will dictate their level of enjoyment while on vacation. If you're one of those people, don't miss staying in a boutique hotel that has it all: great location, well-thought-out design and family-like care. Even if you aren't one of those people, why not enjoy the finer things in life?
Top picks: The Best Boutique Hotels in Malaga
Which neighborhood?
Sometimes the big question might be not so much the hotel, but which area of Malaga to stay in. Whether you love being close to the action, want to get off the beaten path, or prefer a more relaxed vibe, there's a Malaga neighborhood that's calling your name.
Read more: Where to Stay in Malaga
Shopping in Malaga
With a compact historic center that's easy to navigate and home to a wide range of stores, shopping in Malaga really is a pleasant experience. Whether you're after the latest fashions, interesting souvenirs, or trendy vintage finds, you're guaranteed to find anything you might be looking for.
All about shopping: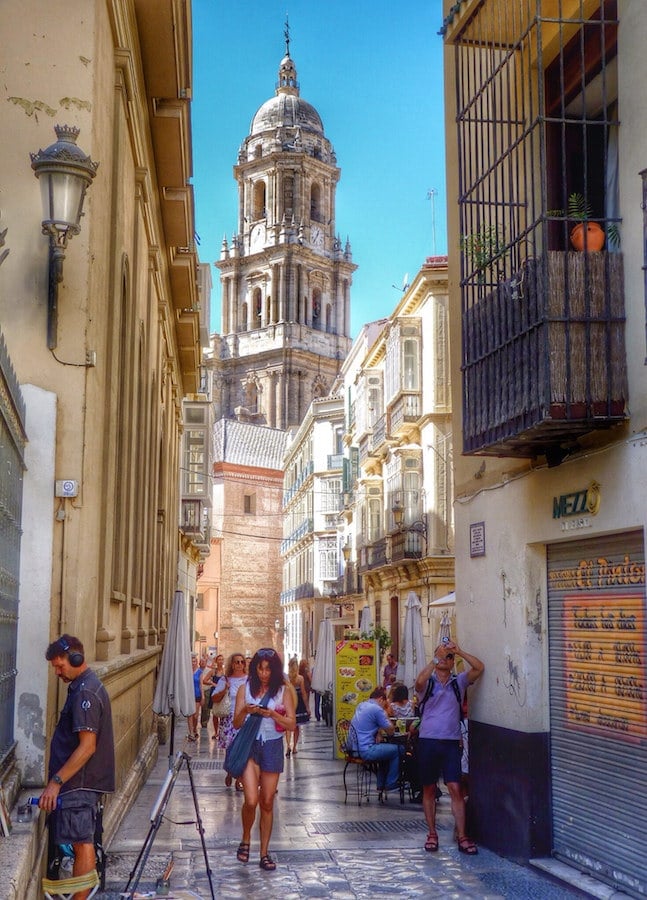 See Also: Where to Park Your Car in Malaga
Day Trips from Malaga
Ronda
It might be the most famous—and most visited—of all of Andalusia's pueblos blancos, but Ronda is not to be missed. This charming town, which is dramatically hung on either side of a deep gorge, is a little over two hours' drive through the mountains from Malaga. Once in the city, you can check out the gorge and the valley around from the various viewpoints around Ronda, visit the oldest bullfighting arena in Spain (which was once upon a time the set for one of Madonna's music videos!) and explore the charming city center.
Nerja
It might be a 90-minute bus ride from the city, but this is probably one of the best beach towns near Malaga. Once inhabited by the Moors, Nerja was a working-class Spanish fishing village until the not-so-distant past, and nowadays it's a cute town to wander around.
Plaza de Europa is the central point with wonderful views out over the coastline and ocean, but the best part is the beach! Nerja's beautiful small beaches are enclosed in little coves—in summer it really feels like a tropical destination.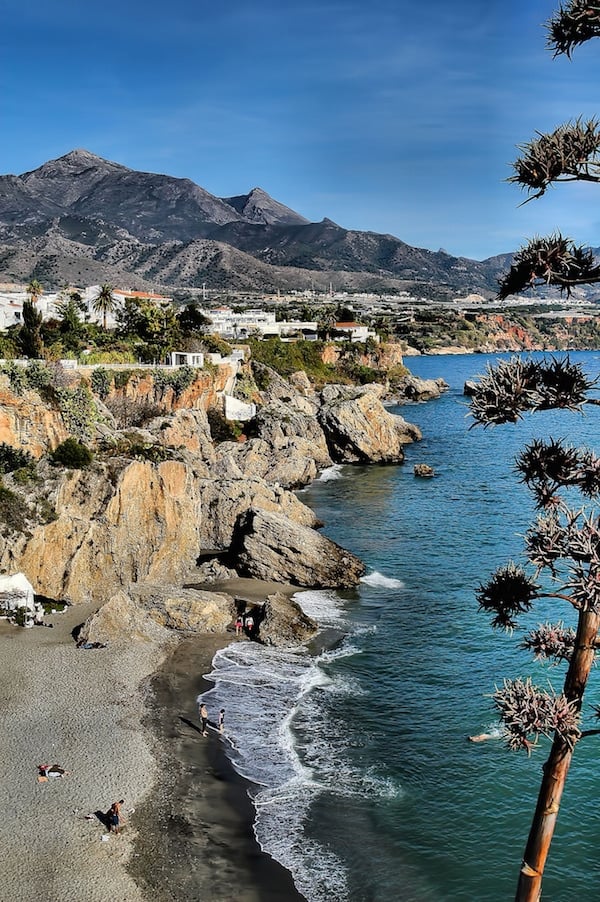 Antequera/Torcal
About an hour and a half from Malaga, you'll find Antequera, otherwise known as the "city of churches" thanks to the little churches and chapels scattered all over the city. Aside from this, there are lots of little nice squares to sit down and enjoy the city with a cold cerveza in hand, adding to the romantic vibe of the city. If getting out of town is more your thing, Torcal National Park is right next to Antequera, where you can go hiking and check out the interesting rock formations.
Start planning:
Pin me!